Back to top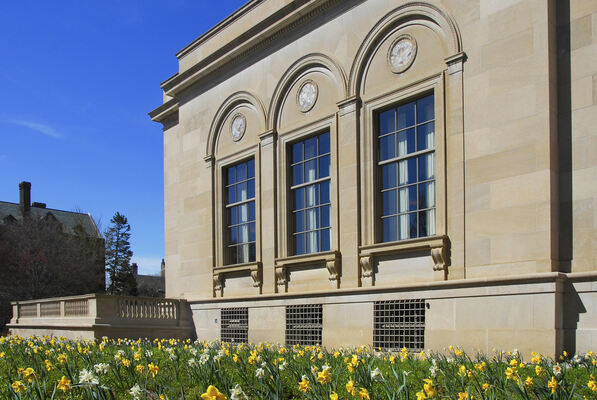 Address

:

909 South University Avenue

Ann Arbor, MI 48109, USA
Charles Winstone letter book, 1777-1786
Using These Materials
---
Restrictions:

The collection is open for research.
Summary
Creator:

Abstract:

The Charles Winstone letterbook, 1777-1786, contains the business correspondence of Winstone, attorney general and planter in Dominica during and after the American Revolution.

Extent:

1 volume

Language:

English

Authors:

Collection processed and finding aid created by Shannon Wait, August 2010
Background
Scope and Content:

The Charles Winstone letterbook contains 131 letters written between December 22, 1777, and July 20, 1786, comprising a total of 210 pages. Winstone wrote 126 of the letters. His clerk, Thomas Pryor, wrote an additional 5 items, on Winstone's behalf, during Winstone's business trip to Antigua from July to September 1780. The letters primarily concern legal, financial, and plantation affairs, and are addressed to 40 different recipients. They include references to the effect of the American Revolution on trade, the activities of American privateers, the defenses of Dominica, French naval and military activities in the West Indies, the capture of Dominica by France, and conditions there after the capture. Winstone wrote most frequently to John Rae (29 letters), Benjamin Sandford (13 letters), David Chollet (11 letters), John Fordyce (8 letters), John Greg (5 letters), and the firms of Bordieu, Chollet & Bordieu (7 letters) and Langston & Dixon (5 letters).

Many of the letters narrate political activities and developments in the West Indies during and after the American Revolution, including the increasing presence of the French Navy, the French invasion and capture of Dominica, and conflict over neighboring islands. On December 22, 1777, Winstone wrote to the governor of Dominica, William Stuart, and described the "very weak state" of Dominica's garrison, Fort Shirley, as well as the "swarming" of numerous "Rebel Privateers" around the island. He also nervously anticipated "something unfriendly" based on the presence of 12,000 soldiers and numerous ships at the nearby islands of Martinique and Guadaloupe. Several months later, he wrote to James Irvin, and recounted the story of Sharpe, a slave stolen by an American privateer and later recovered (January 6, 1778). A highlight of the letterbook is Winstone's letter to David Chollet of October 26, 1778, in which he described Dominica's feeble resistance to France's invasion and subsequent takeover: "we had only the Name of a Garrison [and] about forty Regulars to carry Arms…. We partly lay the blame on our Admiral who remained [at] an Anchor in Carlisle."

Winstone wrote particularly revealing letters concerning the war's financial consequences, to which he was well attuned. He noted that property in the West Indies had lost half of its value, and bemoaned the embargoes enacted by the British to halt French trade via Dominica, which had made his position as attorney general unprofitable (October 26, 1778). On June 18, 1779, he reported the difficulty of trading because of the risks associated with sending items to St. Eustatius en route to Europe. He also provided the prices of sugar, beef, and salt-fish, and requested assistance from Chollet in convincing Dutch ships to come to Dominica for trading purposes. On January 12, 1780, he wrote to Robert Melvill and described the ubiquitous high prices, the seizure of livestock for use by the military hospital, and the general suffering of the population. A terrible hurricane and destructive fire in the town of Roseau, described by Winstone on July 16, 1781, compounded the distress of the inhabitants.

Although many letters in the volume relate to political events and their financial consequences in Dominica, others concern more routine financial matters and events. On October 27, 1778, Winstone wrote a letter to accompany a slave he sold to Thomas Campbell, in which he intimated, "the Reason of my selling the Fellow is that he is disliked by the rest of the Negroes on the Plantation & he is addicted to running away." Many later letters relate strictly to financial matters, such as the mortgages of planters and the settling of accounts. The final letter in the volume, dated April 30, 1786, gives a rare glimpse into Winstone's personal life; in it, he hopes his daughter Rebecca ("Becks"), wife of his business associate Benjamin Sanford, has successfully delivered her first child.

Biographical / Historical:

In 1765, Charles Winstone entered Gray's Inn in London for the study of law, and 13 years later, on August 8, 1778, King George III appointed him the attorney general of Dominica, an office which he held for several years. During this time, he managed absentee estates, as well as his own plantation, on which several hundred slaves produced coffee and other crops. As the American Revolution made trade with Europe nearly impossible, Winstone contemplated a move to nearby St. Kitts or Antigua. In 1780, he was appointed solicitor general of Antigua and settled there in September 1781. In 1783, when the British reclaimed control of the island from the French and conditions became more favorable to trade, he returned to Dominica. He lived there until at least 1795.

Sometime before 1770, Winstone married Antigua-born Rachel Ireland, daughter of John Ireland and Rebecca Bacon. The Winstones had one child Rebecca who survived to maturity.

Acquisition Information:

1931. M-126 .

Processing information:

Cataloging funded by the National Endowment for the Humanities (NEH) and the "We the People" project.

Rules or Conventions:

Finding aid prepared using Describing Archives: A Content Standard (DACS)
Related
Additional Descriptive Data:

Related Materials

Several collections at the Clements Library relate to the impact of the American Revolution on the West Indies:

List of recipients of letters:

John Rae
William Stuart
John Powell
Andrew Grant
James Irvin
Mr. Gordon
Thomas Storie
David Roberts
Cavid Chollet
John George Felton
William Pollock
Thomas Crawford
Ascanius William Senior
Alexander Wardrobe
Joseph Smith
Maze & LeChavalier
Lanston & Dixon
Thomas Campbell
William Dickinson
Samuel Chollet
Charles Ferguson
Robert Melvill
Elizabeth Weire Vere
John Park
Thomas Parkinson
Louis LeBlanc
William Cane
Benjamin Sandford
William Harris
John Greg
Richard Eaton
Richard Richards
Mr. [Bowdoin]
Joseph Robley
John Fordyce
George Rose
Bordieu, Challot & Bordieu
William Pulteney
Richard Woodham
Subjects
Click on terms below to find any related finding aids on this site.
Subjects:

Formats:

Names:

Places:
Contents
Using These Materials
---
RESTRICTIONS:

The collection is open for research.

USE & PERMISSIONS:

Copyright status is unknown
PREFERRED CITATION:

Charles Winstone Letter Book, William L. Clements Library, The University of Michigan