Back to top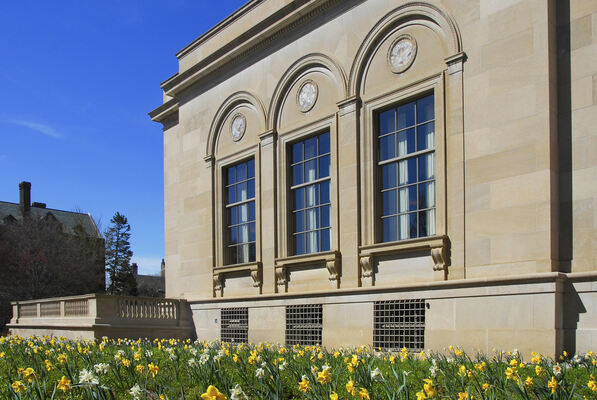 Address

:

909 South University Avenue

Ann Arbor, MI 48109, USA
Fyffe family papers, 1756-1847 (majority within 1756-1786, 1841-1847)
Using These Materials
---
Restrictions:

The collection is open for research.
Summary
Creator:

Abstract:

The Fyffe family papers contain correspondence that documents the lives of three brothers who emigrated from Scotland to America in the 1740s, and another descendant who served in the British 46th Regiment of Foot in the West Indies during the 1840s.

Extent:

60 items

Language:

English

Authors:

Collection processed and finding aid created by Emiko Hastings, February 2008
Background
Scope and Content:

The Fyffe family papers contain correspondence of various members of the Fyffe family from two periods, 1756-1786 and 1841-1847.

The majority of the eighteenth-century letters are written by William Fyffe and addressed to his sister Elizabeth Fyffe in Dundee, Scotland. In these letters, he described activities such as his medical practice and rice plantation, as well as family news. After the death of Alexander Fyffe in 1766, much of their correspondence concerned the settlement of his estate and business matters, particularly attempts to resolve Elizabeth's inheritance. William also wrote to Elizabeth concerning the education of his sons James and Charles, whom he had entrusted to her care. In two letters from William to his father James Fyffe, he discussed contemporary issues in South Carolina such as paper currency, the Regulator movement, and the dissolution of the South Carolina Assembly. Elizabeth also received a letter each from her brothers Alexander and Charles, one from William's wife Anne Fyffe, and two from her cousin David Fyffe. This part of the collection is completed by a receipt from John Fyffe and a memorial for Elizabeth and Magdalen Fyffe concerning the 450 acres in Georgia they inherited from Alexander.

The nineteenth-century correspondence consists of letters written by David Fyffe of the 46th Regiment, while he was stationed at Barbados and St. Vincent in the West Indies. He regularly wrote to his mother, Helen Fyffe, and his sister, whom he affectionately referred to as "Wifey." His letters, which are full of gossip and anecdotes, contain useful information about the islands and the British army in the West Indies. They document various aspects of military life in the West Indies, such as the movements of regiments, living arrangements, periodic outbreaks of yellow fever, and the English mail packets. David Fyffe also described theatrical productions, balls, races, and other social entertainments organized by the soldiers. In a letter dated March 7, 1842, he told his mother about a recent earthquake in the West Indies which had caused great destruction on the islands of Guadaloupe and Antigua. The same letter also described a large comet he had observed. In 1844, he discussed the issue of emancipation in the West Indies and mentioned a census riot which had occurred in Dominica (1844 March 20, June 6).

Biographical / Historical:

Alexander, Charles, and William Fyffe of Dron were three brothers who emigrated from Dundee, Scotland, to America in the 1740s. Alexander Fyffe settled in Savannah, Georgia, as a merchant with the business Alexander Fyffe and Company. William Fyffe, a doctor and planter, had a plantation on the Black River, Georgetown, South Carolina. Charles Fyffe, also a doctor and planter, first settled in Norfolk, Virginia, and then moved to Georgetown, where he purchased a lot and built a house in 1763. The brothers in America maintained ties with their family in Scotland, including their father James Fyffe, sisters Elizabeth and Magdalen, and brother John, a merchant in Edinburgh. The family also corresponded with a cousin, David Fyffe of Drumgeith, who traveled to Jamaica.

When Alexander Fyffe died in 1766, his family had considerable difficulty in settling his estate and collecting the debts owed to him. Alexander's will listed his sisters Magdalen and Elizabeth Fyffe as executrices, but as they both lived in Scotland, his brothers Charles and William were appointed in their stead. Over the next several years, William and Charles struggled to ascertain the condition of the estate and the debts owed to Alexander. As a result of the difficulty of traveling to Savannah in person, they were dependent upon correspondence with Alexander's former business partners, whom William suspected of dishonesty.

William sent his young sons, James and Charles, back to his family in Scotland to be educated, entrusting them to the care of his father and sisters. He hoped that the change in climate would improve their poor health. Intending for Jamie to become a merchant, he arranged an apprenticeship for him with his uncle John to learn the retail business, and planned for him to return to South Carolina at the age of 21. William wrote that if "his Merit should recommend him as a Partner in a good House, or his Friends would support him with sufficient credit to commence Business...he could hardly fail with a common Share of Understanding & Industry to acquire an Easy Fortune in a Short Time." Of his younger son, he wrote," if Charly lives & has an Inclination to Physick cherish it, it has its advantages, its a genteel business no capital necessary" (1771 May 17).

In later years, William's medical practice declined and rice planting took more of his attention. He wrote to his sister, "indeed the number of doctors in this Town and my usual sickness in the Fall when we've most chance for business makes me find Physick less profitable than the labour of the few slaves I have in the field" (1771 November 15). In William's last letter to his sisters, he described his symptoms of growing paralysis and made final arrangements to conclude his business affairs. He ended, "My Blessing to my sons God grant them Health Virtue and Happiness. Adieu my dear Sisters since the Pleasure of meeting in this world is denied us that we may have a joyful meeting hereafter is the earnest Prayer of your most affectionate Brother, William Fyffe" (1771 December 1). After William's death, Charles continued his efforts to settle Alexander's estate on his sisters' behalf. Cousin David took on the responsibility of providing for William's sons in Scotland, who needed financial assistance to continue their education and become apprenticed. Plans were somewhat altered by the advent of the American Revolution. On September 25, 1775, David wrote to Elizabeth that Charles "desires that Jamie shall not go out to Carolina untill the disturbances & madness now reigning there are subsided, at present they are in the utmost confusion."

During the Revolutionary War, Charles Fyffe was in charge of a loyalist refugee hospital in Charleston. After the war, his estate was confiscated and auctioned off. He returned to South Carolina in 1784, but was living in New York by 1786.

In 1836, a descendant of David Fyffe of Drumgeith, also named David Fyffe, enlisted in the 46th, or South Devonshire, Regiment of Foot. He was the eldest son of Major David Fyffe of the 44th Regiment, whose family resided at the Lodge in Broughty Ferry, on the estate of Smithfield near Dundee. With his regiment, he embarked for Gibraltar in 1837, then sailed to Barbados in the British West Indies in 1842. David strongly disliked Barbados when he first arrived, calling it "hot, dull, stupid and unpleasant with hardly a redeeming quality" (1842 March 6). In 1843, he was transferred to the island of St. Vincent, which he described as "a beautiful island, all fine grand looking hills covered from top to bottom with rich, green, beautifully green wood" (1843 September 6). He also noted that "There are a tremendous lot of Scotch people in this island" (1844 April 3).

David Fyffe's time in the West Indies was punctuated by frequent appeals for leave to visit his family in Scotland, which were consistently denied. While in St. Vincent, he fell in love with and proposed to a young woman, Mary Cumming, but his parents refused permission and he was forced to break the engagement. Afterwards he wrote to his mother, "I could not think of it as you both disapprove, nor would I for a moment entertain the idea of marrying a girl without means to support her...but let me tell you this...however fickle you may think me, having once experienced what a woman's love is I can never forget it. I may never marry at all, but I'll never have anybody else, so bid goodbye to all your dreams of heiresses" (1844 November 26).

When the 46th embarked for Canada in 1845, David Fyffe was delayed by a court martial which required his testimony. To rejoin his regiment, he traveled on his own from the West Indies through New York to Nova Scotia, stopping along the way to see Niagara Falls. He was later transferred to the Depot in Ireland, where he finally had an opportunity to visit his family. In 1853, he was able to purchase a commission as major from a retiring officer. He died in 1858.

Acquisition Information:

1925. M-01 .

Rules or Conventions:

Finding aid prepared using Describing Archives: A Content Standard (DACS)
Related
Additional Descriptive Data:

Related Materials

Fyffe family letters, 1750-1821, MS1655, National Library of Jamaica, Kingston.

William Fyffe letters, 1752-1773, Manuscript Division, Thomas Gilcrease Institute of American History and Art, Tulsa, Oklahoma.

Bibliography

Brock, William R. Scotus Americanus: A Survey of the Sources for Links Between Scotland and America in the Eighteenth Century. Edinburgh: Edinburgh University Press, 1982.

Burke, Bernard. Burke's Genealogical and Heraldic History of the Landed Gentry, ed. 5. Vol. 1. London: Harrison, 1875. (p. 479)

Cannon, Richard. Historical Record of the Forty-Sixth, or the South Devonshire, Regiment of Foot: Containing an Account of the Formation of the Regiment in 1741 and of its Subsequent Service to 1851. London: Parker, Furnival, and Parker, 1851.

Death of Alexander Fyffe, Georgia Gazette, May 21 1766.

Death of David Fyffe, The Gentleman's Magazine and Historical Review 204 (1858): 684.

Death of William Fyffe, South Carolina Historical and Genealogical Magazine 17 (1916): 48.

Dobson, David. Scottish Immigration to Colonial America, 1607-1785. Athens, Ga.: University of Georgia Press, 1994.

Greene, Jack P. Negotiated Authorities: Essays in Colonial Political and Constitutional History. Charlottesville: University Press of Virginia, 1994.

Hamilton, Douglas J. Scotland, the Caribbean and the Atlantic world, 1750-1820. Manchester: Manchester University Press, 2005.

Hart, G.H. The New Annual Army List, vol. 13. London: John Murray, 1852. (p. 197)

Landsman, Ned C., ed. Nation and Province in the First British Empire: Scotland and the Americas, 1600-1800. Lewisburg: Bucknell University Press, 2001.

MacBean, William M. Biographical Register of Saint Andrews Society of the State of New York. Vol I. New York: Printed for the Society, 1922.

The Scottish Jurist: Containing Reports of Cases Decided in the Supreme Courts of Scotland and in the House of Lords on Appeal from Scotland, vol. 13. Edinburgh: M. Anderson, 1841. (p. 540)

Warden, Alexander Johnston. Angus or Forfarshire, the Land and its People, Descriptive and Historical. Dundee: Charles Alexander and Co., 1884.

Watts, Francis. Bulletins and Other State Intelligence for the Year 1853. London: Harrison and Sons, 1854. (p. 1172)

Young, Jeffrey Robert. Domesticating Slavery: The Master Class in Georgia and South Carolina, 1670-1837. Chapel Hill: University of North Carolina Press, 1999.

Partial Subject Index

Fyffe, Alexander (d. 1766)
Fyffe, Anne
Fyffe, Charles
Fyffe, David (d. 1807)

1775 September 25
1775 November 8

Fyffe, David (1817-1858)
Fyffe, Elizabeth (d. 1810)
Fyffe, Helen
Fyffe, James (d. 1769)

1767 August 3
1769 January 20

Fyffe, John
Fyffe, Magdalen (d. 1804?)
Fyffe, William (d. 1771)
Fyffe, Elizabeth-Graham ("Wifey")
Contents
Using These Materials
---
RESTRICTIONS:

The collection is open for research.

USE & PERMISSIONS:

Copyright status is unknown.
PREFERRED CITATION:

Fyffe Family Papers, William L. Clements Library, The University of Michigan