Back to top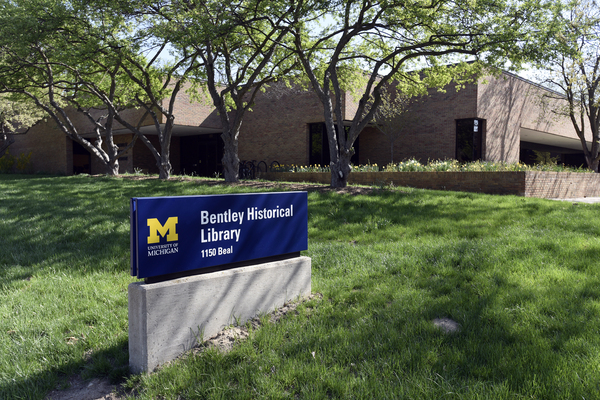 Address

:

1150 Beal Avenue

Ann Arbor, MI 48109-2113, USA
Richard B. Brandt papers, 1935-1996 (majority within 1955-1992)
Using These Materials
---
Restrictions:

The papers are open to research.
Summary
Creator:

Abstract:

Philosopher and ethicist, professor at the University of Michigan 1964-1981, papers include notes, writings, course materials and correspondence.

Extent:

7.5 linear feet

Language:

English.

Call Number:

9873 Aa 2

Authors:

Finding aid prepared by: Kathy L. Steiner
Background
Scope and Content:

The collection is primarily comprised of papers which document the breadth and depth of Brandt's investigations into philosophical questions -- including notes, writings, commentary on collected works of others, and teaching materials. Except for a few correspondence files, there is little of a personal nature, and there are no records representing Brandt's tenure as chair of the Philosophy Department at the University of Michigan. Papers include detailed course materials (particularly on moral philosophy); published and unpublished writings on a range of philosophical issues; and extensive commentary on readings. Researchers should note that there is considerable overlap between the various series. Correspondence, for example, is often associated with an article or included in a topical file; research notes and topical files frequently contain similar subject matter; and articles and manuscripts sometimes include research notes. These overlaps are evidence of Brandt's integrated approach to his life's work -- research, teaching, and writing, as well as much of his correspondence, each influencing and informing the other.

Biographical / Historical:

Richard B. Brandt (1935-1996), one of the most influential moral philosophers of the second half of the twentieth century, taught at the University of Michigan for seventeen years, assuming chairmanship of the Department of Philosophy upon his arrival in 1964. During his academic career, he was a fellow of the Guggenheim Foundation, a fellow at the Center for Advanced Studies in Behavioral Sciences, Stanford, California, and a Senior Fellow of the National Endowment for the Humanities. He served as President of the American Philosophical Association, western division, and was a member of the American Academy of Arts and Sciences. A prolific writer, Brandt authored nearly one hundred articles and six books. In 1974, he was selected to give the John Locke lectures at Oxford University, which became the basis for A Theory of the Good and the Right published in 1979, considered his crowning achievement in ethics.

Brandt was born in Wilmington, Ohio on October 17, 1910 and graduated from Denison University in 1930. Following graduation, he studied at Trinity College, Cambridge University, where he received a BA in 1934, followed by two years of study at Tuebingen University. After returning to the United States, he received his Ph.D. in Philosophy from Yale University in 1936. He taught philosophy at Swarthmore College before coming to Michigan, where he was later named the Roy Wood Sellars Distinguished College Professor of Philosophy. Although he retired in 1977, Brandt continued to teach as visiting professor at the Institute for Philosophy and Public Affairs at the University of Maryland, Florida State University, the Georgetown University Law Center, and University of California-Irvine.

Brandt's major philosophical interests were in ethics and in the nature and origin of knowledge. He also had strong interests in psychology and anthropology as they influenced or reflected ethical values - evidenced particularly in his 1954 publication Hopi Ethics: A Theoretical Analysis which was based upon meticulous research in Arizona on the Hopi people. Brandt's interest in drawing upon a vast range of learning expanded the scope of contemporary philosophy. In modern psychology, for example, he explored theories of motivation, learning and psychotherapy.

Unconfined to traditional foundations of ethics, Brandt worked on a wide range of philosophical problems and on public moral issues such as suicide, the rules of war, defective newborns, and welfare policies. According to a colleague, Brandt insisted that, "Traditional philosophical questions ... are often confused, and a philosopher must work to identify what is clear and important in them... [Brandt] rejected appeals to 'intuition,' and worked to find better ways to support philosophical conclusions. [He] was creative and insightful in reformulating questions, proposing solutions to them and arguing for his positions ... always determined to get to the root of an issue." Decision making for complex problems, according to Brandt, is time consuming, but as the proverb goes, "Decide in haste, repent at leisure."

Brandt's theory of the good and the right, which evolved over several decades and appeared at various stages of its evolution in numerous articles and two major books, was intended to address - and to recommend itself - to the present age. In 1959, he set forth in Ethical Theory his highly regarded form of rule-utilitarianism. Rule-utilitarianism, a leading theory of moral right and wrong, bases answers to questions essentially on the benefits that flow from the widespread acceptance of moral rules in a society - a moral system that is "welfare maximizing" (which Brandt believed carries inherent implications for law and government). The volume, considered a primary source in moral philosophy, was translated into Italian, Spanish and Polish. In a second book, A Theory of the Good and the Right published in 1979, Brandt asked, "Why should philosophers not actively introduce definitions which enable people to think more clearly and disabuse them of misconception?" One of the clarifying functions of a philosopher Brandt believed, is to offer more precise and useful definitions of words. It was his view that the philosopher can play a useful role by evaluating and ordering the philosophical principles underlying function, including, for example, legislation. "Taking a broad view," he said, "could have spin-offs -- suggest options which otherwise would not have been thought of, or make the dilemmas seem less serious by placing them in perspective."

Brandt's last monograph Facts, Values and Morality was published just a year before he died in 1996. In a University Record tribute in 1997, Allan F. Gibbard, the Richard B. Brandt Distinguished Professor of Philosophy, spoke to Brandt's contribution to philosophical scholarship: "Richard Brandt was one of the most eminent and influential moral philosophers of his generation. His books were landmarks, and he was prolific with important articles to the very end of his long life. His writing was always careful and clear, trenchant and imaginative."

Richard Brandt delighted in discussion on wide ranging issues with department colleagues and with those from other disciplines and in the community. He was a lunch-time regular from its inception at the "Ethics Roundtable," a weekly discussion group at the Michigan League, which he initially organized. Brandt had a son, Richard, a daughter, Karen, and two grandchildren, Jared and Kristen.

Acquisition Information:

The papers were donated by Karen Brandt in 1998. (Donor no. 8679 )

Arrangement:

The Richard B. Brandt papers span the years 1935 to 1996, however the bulk of the collection covers the years 1955 to 1992. Except for the removal from the collection of a large amount of printed material that was not Brandt's work, the papers reflect the content and filing orientation maintained by him. There are six series in the collection: Biographical; Articles and Manuscripts; Course Material; Research Notes; Topical Files; and Correspondence.
Subjects
Click on terms below to find any related finding aids on this site.
Contents
Using These Materials
---
RESTRICTIONS:

The papers are open to research.

USE & PERMISSIONS:

Donor(s) have not transferred any applicable copyright to the Regents of the University of Michigan. Patrons are responsible for determining the appropriate use or reuse of materials.
PREFERRED CITATION:

item, folder title, box no., Richard B. Brandt papers, Bentley Historical Library, University of Michigan