Back to top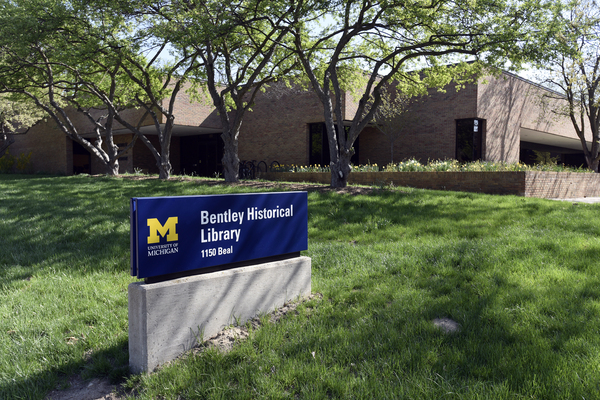 Address

:

1150 Beal Avenue

Ann Arbor, MI 48109-2113, USA
College of Pharmacy (University of Michigan) publications, 1880-2019
Using These Materials
---
Restrictions:

College of Pharmacy (University of Michigan) publications are open for research.
Summary
Creator:

Abstract:

Includes bibliographies, pamphlets, bulletins and college catalogs, histories, manuals such as Drugs and Pharmacy, newsletters such as the College of Pharmacy Newsletter, posters, proceedings and programs. Also contains publications from the Pharmacy Advancement Program such as Interactions and InterUMactions, as well as alumni directories and student publications such as Capsules, Equilibrium, The Hash Sheet, Pharmacy Newsletter, and Pharmacy Paper.

Extent:

2.8 linear feet (in 4 boxes)
1.2 MB (online)

Language:

English.

Call Number:

97119 Bimu C81 2

Authors:

Finding aid prepared by: Stacy Foley, May 1994 Marilyn M. McNitt, October 1997
Background
Scope and Content:

The College of Pharmacy Publications (2.6 linear feet in four boxes) are divided into four series: Unit Publications, Sub-Unit Publications, Topical Publications, and Student Publications. Some publications (or their successors) may no longer be available in print but are available on the school's website.

Biographical / Historical:

The College of Pharmacy dates from the appointment of Douglass Houghton in 1839 as professor of Geology, Mineralogy, and "with the subjects of Chemistry and Pharmacy, till Regents take further order in relation thereto." In 1844, Houghton was joined by his cousin Silas Hamilton Douglass who was charged with assisting in the instruction of chemistry and related sciences. Although it does not appear that Douglass taught any pharmacy courses, it was under his direction in 1860 that the first pharmacy laboratory course was offered by an assistant, Alfred DuBois. Upon DuBois' departure from the university in 1863, the regents appointed two student assistants to cover DuBois' responsibilities, Henry S. Cheever and Albert B. Prescott. Prescott completed his academic degree in 1864, served for a year in the U.S. Army, and returned to the University as an assistant professor of chemistry. In 1868, the regents established "Pharmaceutical Chemistry" as a degree-granting program within the Department of Literature, Science, and Arts. The program expanded again, in 1876 to become the School of Pharmacy with Prescott as dean. (The name was changed to the College of Pharmacy in 1915, in accordance with university policy adopted at that time.)

Under Prescott's leadership the curriculum was set at a year-and-a-half program leading to a pharmaceutical chemistry degree. Recognition of the program by the American Pharmaceutical Association was initially refused in 1871 because the Michigan format emphasized basic sciences instead of the apprenticeship system. By 1885, however, several major universities had copied the Michigan program and accreditation followed as the value of the scientific approach was recognized. A graduate studies program had been added in 1882 and in 1895 a bachelor of sciences degree was initiated to supplement the basic undergraduate program.

Upon the death of Dr. Prescott in 1905, the deanship was assumed by Julius O. Schlotterbeck, who served for twelve years and ushered in an era of expanded student services and activities. Field trips to pharmaceutical firms such as Upjohn Company, and Parke-Davis, and Company became annual activities. Student financial support was provided through the Prescott Memorial Loan Fund beginning in 1906. Two student societies were formed in 1908 to encourage scholarship and social interaction. The Aristolochite Society was formed as a local honors organization for exceptional pharmacy students. In 1922, it became the Alpha chapter of the Rho Chi (RX) Society. The Prescott Club, which was open to all pharmacy students, sponsored lectures and social activities. In 1946 the Prescott Club became the A.B. Prescott Student Chapter, American Pharmaceutical Association.

In 1920, after a three-year period in which the college was led by Alviso B. Stevens (1917-1919) and Henry Kraemer (1919-1920), Edward H. Kraus began a fourteen-year tenure as dean. He initiated the doctoral program in pharmacy and encouraged corporate-sponsored fellowships for graduate students. Kraus gave Professor Frederick F. Blicke responsibility for training graduate students in synthetic organic pharmaceutical chemistry. Blicke became a recognized leader in this field and was mentor to dozens of doctoral candidates.

Howard B. Lewis served as dean of the College of Pharmacy from 1933 to 1947, and steered the school through the difficult years of the Great Depression and World War II. From a low point of only forty four students in February 1933, Lewis was able to increase enrollment to seventy two students in March, 1935. Thereafter, the College of Pharmacy continued to grow until the outbreak of war in 1941-1942. As a result of the military draft and accelerated programs, the enrollment dropped to a low of thirty one students in May 1944. During the war years, the College of Pharmacy participated in a Navy training program and in two research projects concerning synthetic and "sulfa" drugs.

The strengthening of community relations can be traced to Dr. Lewis' tenure. The "Annual Pharmacy Lectures" began in 1932. Thereafter, the college annually sponsored a day when pharmacists from throughout the state gathered to hear papers on a variety of pharmacy topics. With Lewis' support the lectures became an important link between the university and the statewide community. In 1937, the college began to broadcast pharmacy lectures of general interest over Ann Arbor and Detroit radio stations. The programs covered a diverse spectrum of subjects ranging from "Food and Drug Legislation" to "Chewing Gum." An extension course in pharmacy was offered for the first time in 1941, on a co-operative basis by the University of Michigan, the Michigan State Pharmacy Association, and the State Board of Control for Vocational Education. The course was conducted in Ann Arbor by a local retail pharmacist and enrolled 110 practicing pharmacists before the war interrupted the program.

Dean Lewis resigned in 1947 and was succeeded by Charles H. Stocking, a popular faculty member and secretary of the College of Pharmacy. A postwar resurgence of students saw enrollment double during the late 1940s. Demand for pharmacists far exceeded the supply and several additional faculty members were hired to meet the increased demands placed upon the college. Additional room for both students and faculty was provided for the college when an addition was completed to the Chemistry Building.

In 1951, Dean Stocking retired and was succeeded by Thomas D. Rowe, former dean of the Rutgers University College of Pharmacy. During Rowe's term (1951-1975) chemical and biochemical course work was strengthened and in 1960 the undergraduate program was lengthened to five years. In graduate work, a new Doctor of Pharmacy program was instituted to replace several masters-level programs. A significant site expansion of the college occurred in 1960 when the Pharmacy Research Building was completed. In addition, renovations in the C.C. Little Building provided the space for laboratories, classrooms, and offices necessary for the increased size and scope of the College.

Upon Dean Rowe's retirement in 1975, Ara G. Paul was named dean of the college. During the initial years of Paul's deanship extensive evaluation was undertaken in order to position the college for optimal growth through the end of the century. Among the significant curricular changes undertaken during the period 1975-1988 were:

The implementation of one integrated curriculum, to be taken by all students. (Previously, several curricula had been available.)
The termination of the B.S. Pharmacy degree in 1984.
The standardization of the internships program.
The introduction of an accelerated Ph.D. program for highly motivated students.

Ara Paul retired as dean in December 1995. He was succeeded by James W. Richards. Richards initially served as interim dean and was elected to a two-year term as dean on July 1, 1996. George L. Kenyon became dean in 1998 and served until 2004, when Frank Ascione was appointed to a five-year term. In 2009, Ascione was appointed to a second five-year term. One of the more notable developments during Ascione's tenure was the university's acquisition of the former Pfizer Research and Development facility (renamed North Campus Research Complex) in 2009, which enabled a variety of new research and educational opportunities for the college. The college hired many former Pfizer scientists to lead research programs.

For current academic program information see the College of Pharmacy website located at http://www.umich.edu/~pharmacy/.

Deans of the College of Pharmacy

| Date | Event |
| --- | --- |
| 1876-1905 | Albert B. Prescott |
| 1905-1917 | Julius O. Schlotterbeck |
| 1917-1919 | Alviso B. Stevens |
| 1919-1920 | Henry Kraemer |
| 1920-1933 | Edward Krause |
| 1933-1947 | Howard B. Lewis |
| 1947-1951 | Charles H. Stocking |
| 1951-1975 | Thomas D. Rowe |
| 1975-1995 | Ara Paul |
| 1995-1998 | James W. Richards |
| 1998-2004 | George L. Kenyon |
| 2004-2014 | Frank J. Ascione |
| 2014- | James T. Dalton |

Administrative Unit Titles

| Date | Event |
| --- | --- |
| 1868-1876 | Pharmaceutical Chemistry Program, Department of Literature, Science, and the Arts |
| 1876-1915 | School of Pharmacy |
| 1915- | College of Pharmacy |

Acquisition Information:

The publications are received periodically from the College of Pharmacy (donor # 3112 ).
Contents
Using These Materials
---
RESTRICTIONS:

College of Pharmacy (University of Michigan) publications are open for research.

USE & PERMISSIONS:

Copyright is held by the Regents of the University of Michigan but the collection may contain third-party materials for which copyright is not held. Patrons are responsible for determining the appropriate use or reuse of materials.
PREFERRED CITATION:

[item], folder, box, College of Pharmacy (University of Michigan) Publications, Bentley Historical Library, University of Michigan.