Back to top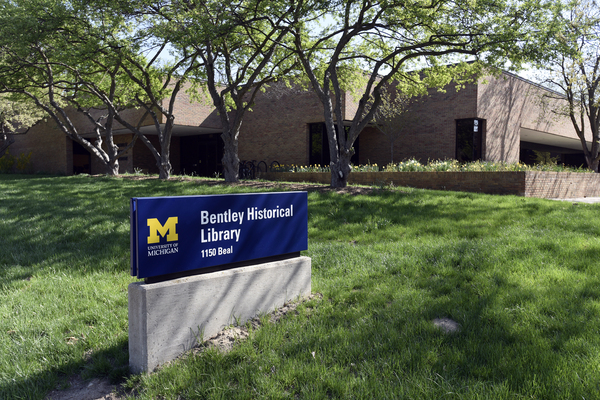 Address

:

1150 Beal Avenue

Ann Arbor, MI 48109-2113, USA
Department of Recreational Sports (University of Michigan) records, 1913-1992 (majority within 1922-1988)
Using These Materials
---
Restrictions:

The records are open for research.
Summary
Creator:

Abstract:

University of Michigan department which manages recreational sports and fitness program for students faculty and staff and oversees intramural competition; includes administrative records, competition results, news clipping scrapbooks and photographs.

Extent:

13.5 linear feet
6 oversize volumes

Language:

English.

Call Number:

9649 Bimu 2

Authors:

Finding aid prepared by: Greg Kinney, 1996
Background
Scope and Content:

The records of the University of Michigan Department of Recreational Sports document the administration of the program, construction and management of facilities, and the results of intramural sports competitions. The records are arranged in four sub-groups: Historical File, Administrative Records, Competition Results and Scrapbooks. The records include minutes, correspondence and reports of departmental and university-wide committees as well as the Big Ten Recreational Sports Director's Association, a topical file, scrapbooks of newspaper clippings on department activities. Printed material from the department is described in a separate finding aid.

Biographical / Historical:

The Department of Recreational Sports traces its origins to the appointment of a director of intramural sports in 1913. The function of the department is to coordinate and promote participation in intramural, club and recreational sports among the student body, faculty and staff of the University of Michigan and to manage athletic facilities.

Before 1913 there was no central organization to promote sports for the general student body. Athletic contests among students date back at least to the 1860s. The Pioneer Cricket Club, formed in 1862, was the first formally organized athletic team. More or less organized competitions developed between teams representing classes, schools or departments in football, baseball, track and basketball, and other sports. In the 1880s and 1890s the student controlled Athletic Association of the University sponsored an annual "field day" featuring both individual and team events. The Athletic Association controlled the principal athletic fields used in intercollegiate competitions and permitted them to be used for intramural sports.

In the fall of 1912 assistant football coach Prentis Douglas was appointed by the student Athletic Association of the University to a half-time position to oversee intramural athletics. The following year Floyd Rowe was appointed Intramural Director on a full-time basis. His program sponsored thirteen sports, attracting over 2000 participants. The Intramural Program was suspended during Word War I in favor of physical training for military service.

Following the war, the intramural program was revived and expanded under Dr. Elmer D. Mitchell who served as Director of Intramural Athletics from 1919 to 1942. In 1921, administration of the program was transferred from the Athletic Association to the newly created Division of Hygiene, Public Health and Physical Education and its name was changed from Department of Intramural Athletics to Department of Intramural Sports.

In 1925 acting President Lloyd appointed a committee, headed by Business School Dean Edmund E. Day, to examine the control and management of athletics at the university. As a result of the "Day Committee" report, the intramural program was placed under the reorganized Board in Control of Athletics in 1926. The Board in Control of Athletics was renamed Board in Control of Physical Education in 1936 and became the Board in Control of Intercollegiate Athletics in 1942. Professor Elmer Mitchell was named chairman of the Department of Physical Education for Men in 1942 and Earl Riskey was placed in charge of intramural sports. Further Athletic Department administrative restructuring occurred in 1968 and 1974. Two associate director positions, for Men's Athletics and for Physical Education, were established in 1968. In 1974 the positions of Associate Director for Recreational Sports and Associate Director for Women's Intercollegiate Sports were created to complement the positions created in 1968. All reported to the Director of Athletics. Rod Grambeau succeeded Earl Riskey as Director of Intramurals in 1968. Michael Stevenson was named Associate Director for Recreational Sports in 1974.

As part of the 1968 reorganization, an Advisory Committee on Recreation, Intramurals and Club Sports (ACRICS) was established by action of the Regents. The committee, composed of faculty, student, and staff representatives was to advise the Director of Athletics (later the Associate Director for Recreational Sports) concerning "the needs of the university with respect to the development and maintenance of the facilities for and programs in 'drop-in', special interest recreation, club sports, and intramural competition and the policies applicable to such facilities and programs." (Regent's By-laws, section 11.1220)

The intramural program originally consisted primarily of the "class leagues" made up of organized teams representing colleges, schools or departments. In 1919 the first inter-fraternity competition was held. Faculty tournaments were first sponsored in 1929/30 and a separate graduate student league was established in 1938. A Residence Hall league was formed in 1939 with teams from the seven houses of West Quad. There have also been leagues for independent students (i.e., not fraternity or residence hall based) and an open, all-campus league. Women's and co-rec programs were started in the 1970s. Prior to this, women's intramural athletics had been managed by the Women's Athletic Association.

Sports sponsored by the intramural program have included, badminton, baseball, basketball, bowling, boxing, cricket, diving, fencing, golf, handball, hockey, football, lacrosse, paddleball (invented at UM by Earl Riskey in 1931), racquetball, softball, speedball, squash, swimming, track, volleyball, wrestling and waterpolo. Club sports have included archery, fencing, judo, rugby, sailing, and weightlifting.

With the construction of Yost Field house in 1923, most varsity athletic activity moved out of Waterman Gymnasium, thus freeing the facility for expanded intramural use. The Sports Building (IM Building) was completed in 1927. It was the first university owned building in the nation devoted primarily to intramural sports. Palmer Field was developed in 1928. Wines Field (later renamed Elbel Field) was acquired in 1956/57. The Margaret Bell women's pool was built in 1954. The Sports Coliseum (ice rink) was renovated for use by the intramural program in 1973. The Central Campus Recreation Building (CCRB) and North Campus Recreation Building (NCRB) both opened in 1976. The Fuller fields were renovated and renamed Elmer D. Mitchell Field in 1981.

Acquisition Information:

The records (accession no. 8287 ) were acquired from the department through Michael Stevenson and Jan Wells in 1994.

Arrangement:

The Department of Recreational Sports are organized in four series and several subseries:

Historical File
Administrative Records, 1929-1984, (bulk 1968-1984)

ACRICS (Advisory Committee on Recreation, Intramurals and Club Sports), 1968-1984
President's Advisory Committee
General Administrative
Reports
Topical File
Photographs
Big Ten Recreational Sports Directors Association

Intramural Competition Results, 1922-1989
Scrapbooks, 1913-1990

Physical Location:

Portions of the collection are stored offsite; two days notice required for retrieval.
Related
Additional Descriptive Data:

Related Record Groups

Women's Athletic Association, for women's athletic activity prior to the 1970s
University of Michigan. Housing, the Residence Hall-West Quad series includes information on the early years of the Residence Hall League.
University of Michigan. Board in Control of Intercollegiate Athletics, the minutes of the Board include material on the intramural program.
University of Michigan. Sailing Club, minute books of the club and two scrapbooks.
Subjects
Click on terms below to find any related finding aids on this site.
Contents
Using These Materials
---
RESTRICTIONS:

The records are open for research.

USE & PERMISSIONS:

Copyright is held by the Regents of the University of Michigan but the collection may contain third-party materials for which copyright is not held. Patrons are responsible for determining the appropriate use or reuse of materials.
PREFERRED CITATION:

item, folder title, box no., Department of Recreational Sports (University of Michigan), Bentley Historical Library, University of Michigan