Back to top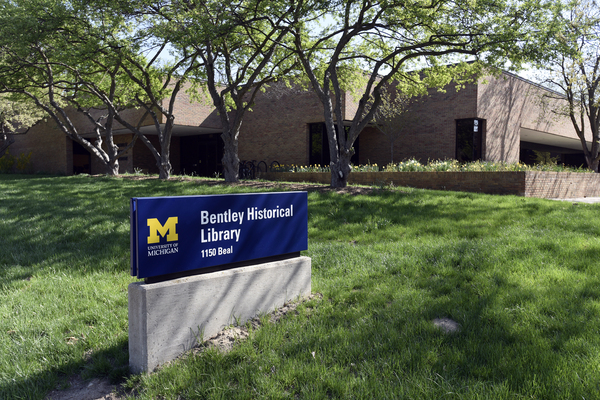 Address

:

1150 Beal Avenue

Ann Arbor, MI 48109-2113, USA
George B. Brigham papers, 1925-1967
Using These Materials
---
Restrictions:

The collection is open to research.
Summary
Creator:

Abstract:

Architect; professor of architecture at the University of Michigan. Client files, topical file, and miscellaneous presentation drawings.

Extent:

3 linear feet
10 drawers (blueprint drawers)

Language:

English

Call Number:

9634 Aa 2

Authors:

Finding aid created by Mary Sies, 1982; Thomas E. Powers (1996 reprocessing)
Background
Scope and Content:

The George Brigham collection consists of three linear feet and 10 oversize drawers of architectural drawings, photographs, correspondence, and subject files relating to his career as a practicing architect in southeastern Michigan (mainly Ann Arbor), but also including some materials when he was based in Pasadena, California.

The collection has been arranged into five series: Client Files; Client Drawings Files; Prefabrication Drawings Files; Miscellaneous Drawings Files; and Topical Files

The Client Files and the Topical Files have been placed together in the collection (boxes 1-3). The Client Drawings Files, the Prefabrication Drawings Files, and the Miscellaneous Drawings Files, consisting of oversized architectural materials, have been placed together in flat storage drawers.

The Client Files and the Client Drawings Files will be discussed here together as the distinction between them is primarily one of size rather than content. Each of these series is arranged alphabetically by the name of the client for whom Brigham either designed a structure (mainly private residences), additions to existing structures, or proposed a design for which the structure was never built. As a rule, the Client Files consist of photographs, specifications, smaller original drawings, correspondence, and other materials relating either to the project or to the client, while the Client Drawings Files, as the name states, consists of the original designs from conception to final revisions as given to the contractor. There is some mixing of materials between the two series with an occasional oversize photograph located in the Client Drawings Files and with some smaller-sized drawings located in the Client Files. The researcher should also note that while the lists of names for the two series are basically the same they are not identical. The disparities depend upon whether a structure was actually built or not and whether all of the materials have survived. As a group, these two series document Brigham's creative process from first contact with a client through to the construction phase. The series also documents the introduction of a new style of domestic architecture into the Ann Arbor community, particularly areas where the faculty of the University of Michigan resided such as Barton Hills.

The Prefabrication Drawings Files and the Miscellaneous Drawings Files are not client-based files and instead concern Brigham's design innovations in the area of low-cost, prefabricated structures. Unfortunately with the passage of time and the transfer of material about, the original order of these drawings has been lost. An attempt has been made to put the drawings into a subject arrangement but there are still many items imprecisely identified or fragments that were once part of a series of drawings. Some identification is of course possible with clearly defined units of material carrying such labels as 12 panel recreation shelter, a square folding portable shelter and plank wall construction. The largest grouping of drawings here is for Brigham's modular designs, which he called "Unit Built Structures." Perhaps the most significant portion of the Miscellaneous Drawings series relates to the Youtz Unit System of building on which Brigham worked during World War II.

The final series - Topical Files - contain a miscellanea of personal materials, speeches and articles, subject files on his general interest in architectural design. Of interest here in this series are several files relating to Brigham's work with Philip Youtz and his design work on the Youtz Unit House. As mentioned previously, there are also complementary drawings on the Youtz system.

Biographical / Historical:

George Bickford Brigham was born in 1889 in Westboro, Massachusetts. His childhood interest in building crafts influenced his career choice, and in 1910 he began his professional education in architecture at M.I.T., finishing in 1913. After working for various architectural offices in the Boston area, and teaching at Tufts and M.I.T., Brigham moved to California in 1920. There, he again worked for several firms, finally settling in Pasadena and beginning to design rather traditional houses in 1926.

In 1930, Brigham accepted a teaching position at the University of Michigan and entered a new phase of his career. Using the building lull during the depression to rethink his ideas, he began a series of houses in 1930 which exhibited contemporary design ideas and novel uses of modern materials such as glass blocks, Stran-steel, and concrete blocks. Combining these elements with new construction techniques, Brigham introduced the first "modern" house in Ann Arbor for Walter Badger in 1936. Other domestic commissions of note were the Anna Burt "Two-family" house in Ann Arbor, 1938; the Donald Bacon house in Ann Arbor, 1956; the William Kennedy house and pool in Ann Arbor, 1957; and the Henry Newman house in Bloomfield Hills, 1959.

While Brigham continued to design a handful of houses each year until his retirement from the university in 1959, he was an innovator in other significant areas as well. As a dedicated teacher, he established one of the first architectural clinics in the country; under his supervision, students were able to supplement their training by gaining experience with actual design problems selected from Brigham's architectural practice. During the World War II years, Brigham became concerned with the need to produce low-cost houses in the building industry. He initiated a series of experiments with prefabrication, and directed the first sponsored architectural research program at an American university. Brigham's interest in prefabrication continued to be very active in his retirement years. In 1967, after visiting migrant labor camps in California, he created a series of prefabricated units based on a modular system and designed to alleviate the substandard housing conditions which he had witnessed on his visit. Between 1965 and 1970, he developed a series of prefabricated designs for Unit Built Structures, a company formed with local backing. Brigham continued his innovative but sensible design activities until his death in 1977.

Acquisition Information:

The collection was transferred from the U-M Art and Architecture Rare Book Library (donor no. 8439 ) in 1996.

Accruals:

Periodic additions to the records are not expected.

Rules or Conventions:

Finding aid prepared using Describing Archives: A Content Standard (DACS)
Contents
Using These Materials
---
RESTRICTIONS:

The collection is open to research.

USE & PERMISSIONS:

Donor(s) have not transferred any applicable copyright to the Regents of the University of Michigan. Patrons are responsible for determining the appropriate use or reuse of materials.
PREFERRED CITATION:

[item], folder, box, George B. Brigham papers, Bentley Historical Library, University of Michigan