Back to top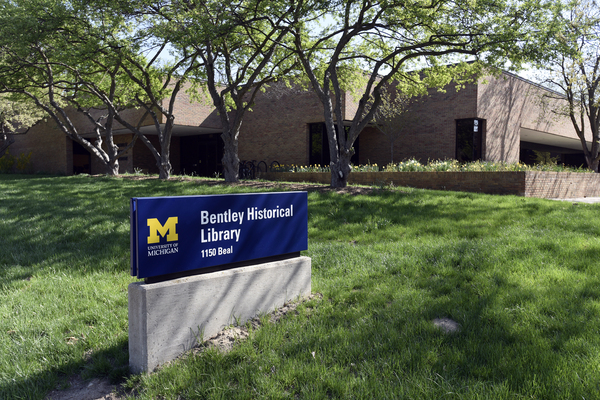 Address

:

1150 Beal Avenue

Ann Arbor, MI 48109-2113, USA
William D. Ford papers, 1955-1995 (majority within 1965-1995)
Using These Materials
---
Restrictions:

The collection is open for research.
Summary
Creator:

Abstract:

Democratic Congressman from Michigan's 15th District, 1964-1994, member of the Labor and Education Committee his entire career - becoming chairman in 1991, also chairman of Post Office and Civil Service Committee; papers include subject files, legislative and committee files, campaign material, photographs and videotapes.

Extent:

152 linear feet

Language:

English.

Call Number:

9552 Aa 2

Authors:

Finding aid prepared by: Lisa Humm, 1995
Background
Scope and Content:

The William D. Ford papers are divided into seven series: Subject Files, Legislative Files, Committee Files, Campaign Material, Public Relations, Photographs, and Audiovisual Material. The collection is primarily an office file which documents Ford's activities as a local representative, federal legislator and politician. Constituents' opinions and concerns are represented as well, particularly in the correspondence and questionnaire response files.

Biographical / Historical:

William D. Ford represented Michigan's Fifteenth Congressional District for thirty years, from 1964 to 1994. A Democrat, Ford was elected in the largely blue-collar district at the beginning of Lyndon Johnson's Great Society, and this determined the course of his congressional career. A strong proponent of government sponsored social programs and the labor movement, Ford has been described as "a crusty old pol, blunt, aggressive and partisan" [Duncan, p.762].

Ford was born August 6, 1927 in Detroit; his parents were autoworkers who had immigrated from Scotland. His working-class background and Depression era upbringing helped form his political views, and also proved to be a political asset in the Fifteenth District. Ford served in the Navy from 1944 to 1946, and the GI Bill enabled him to attend Nebraska State Teachers College (1946), Wayne State University (1947-1948), and the University of Denver, from which he received a Bachelor of Science degree in 1949, and a Juris Doctor degree in 1951.

Ford held political positions at the local level in Wayne County before being elected to the Michigan State Senate in 1962. When the Fifteenth District was created in 1964, he had the support of state Democratic leaders to take the seat and was elected with minimal opposition. Ford was never seriously challenged for the seat, consistently winning elections by at least 60% of the vote.

The relative ease with which Ford held his seat in Congress allowed him to concentrate his energies in Washington. He sat on the Education and Labor Committee for his entire congressional career, and became its chairman in 1991. The committee brought together Ford's two main interests, and he concentrated on building a reputation for handling education and labor legislation. He is perhaps best known for his work on college aid programs which targeted middle class voters, and he was also a proponent of vocational education. On labor issues, Ford worked for 14 years to pass a plant-closure notification bill, which became law in 1987 after intense negotiation and compromise by Ford.

Ford also served as chairman of the Post Office and Civil Service Committee, and regularly voted in favor of pay increases for federal employees and legislators; the relative security of his seat made the latter politically feasible. However, political pragmatism was a hallmark of Ford's career, and his legislative decisions were usually made with his constituents' reactions in mind. This was particularly true of his response to controversial issues such as court-enforced busing of schoolchildren, which he voted against, and economic protection of U.S. industry, which he strongly favored

Ford's congressional career reflects widespread changes in American political life. Fundraising at the start of his career tended to involve local events and traditional letter campaigns; by the 1980s, Ford depended heavily on financial support from Political Action Committees, and his fundraisers took place in Washington and New York City, as well as the Detroit area. He was also forced to deal with changes in his constituents' political views, as Fifteenth District voters became in many respects prototypical "Reagan Democrats" in the early 1980s. An extreme manifestation of many voters' shift away from Great Society liberalism was the candidacy of Gerald Carlson, a self-described "white rights" advocate who gathered nearly 40% of the vote against Ford in 1984.

In 1994, Ford chose not to run for office again, and retired from Congress to work for a Washington law firm.

Sources Consulted:

DeSimone, Bonnie. "The Quiet Ford", Ann Arbor News, July 1, 1985.
Duncan, Phil, ed. Congressional Quarterly's Politics in America, 1992. Washington, 1992, pp. 762-765.
Zuckman, Jill. "Will Clinton Restore Good Will to Education and Labor?", Congressional Quarterly Weekly Report, v.50, no.46, pp. 3671-3675.

Acquisition Information:

The collection was donated by William D. Ford (donor 8315 ) in January 1995.

Arrangement:

The William D. Ford papers are organized into seven series Some series are further divided into chronological subseries.

Subject Files

1965-1969 [boxes 1-4]
1969-1971 [boxes 5-9]
1971-1974 [boxes 10-15]
1974-1976 [boxes 16-21]
1976-1979 [boxes 22-27]
1980 [boxes 150-151]
1980-1981 [boxes 27-30]
1982-1984 [boxes 31-37]
1984-1986 [boxes 38-43]
1986-1988 [boxes 43-48]
1988-1990 [boxes 49-53]
1990-1992 [boxes 54-61]
1992-1993 [boxes 62-67]
1993-1994 [boxes 67-73]
1994-1995 [boxes 73-76]
Busing Correspondence [boxes 77-78]

Legislative Files

1965-1967 [boxes 79-81]
1967-1969 [boxes 82-84]
1970-1971 [boxes 85-87]
1971-1972 [box 151]
1973-1974 [boxes 88-89 and boxes 151-152]
1975-1980 [boxes 90-94]

Committee Files

Education and Labor Committee

Topical Files, 1969-1994 [boxes 95-101]
Floor Statements and Extensions of Remarks, 1990-1994 [box 101]
Memos from Committee Staff, 1994 [box 101]
Michigan Material, 1990-1994 [box 102]
Speeches, 1990-1994 [box 103]
Testimony, 1990-1994 [box 103]
Topical Briefing Notes and Correspondence, 1990-1994 [box 103]
Mass Mailings, 1991-1994 [boxes 103-109]
Subcommittees

Elementary, Secondary, and Vocational Educational Subcommittee, 1991-1994 [boxes 109-116]
Post-Secondary Education Subcommittee, 1977-1994 [boxes 116-120]

Post Office and Civil Service Committee [POCS], 1975-1983 [boxes 120-121]
Staff Files: Ross Eisenbrey, 1979-1988 [boxes 121-125]

Campaign Material

1962-1990 [boxes 126-132]
Gerald Carlson Information Files (including audiotapes of Carlson), 1980-1986 [box 132]

Public Relations

Michigan State Senate Activities, 1960-1965 [box 133]
Speeches, 1965-1991 [boxes 133-136]
Press Releases, 1964-1981 [box 136]
Press Logs, 1989-1993 [box 137]
Congressional Record Inserts and Bills Introduced, 1967-1976 [boxes 137-139]
Daily Schedules, 1968-1969 and 1982-1991 [box 140]
District Office Reports, 1965-1971 [box 140]
Biographies, Newsclippings and Publicity, 1964-1992 [box 140]
VIP Scrapbooks, 1968-1983 [boxes 141-142]

Visual Material

Photographs, 1955-1994 [boxes 143-144]
Videotapes, 1987-1994 [boxes 145-149]

Physical Location:

Portions of the collection are located offsite; two days notice required for retrieval.
Contents
Using These Materials
---
RESTRICTIONS:

The collection is open for research.

USE & PERMISSIONS:

Donor(s) have not transferred any applicable copyright to the Regents of the University of Michigan. Patrons are responsible for determining the appropriate use or reuse of materials.
PREFERRED CITATION:

item, folder title, box no., William D. Ford papers, Bentley Historical Library, University of Michigan