Back to top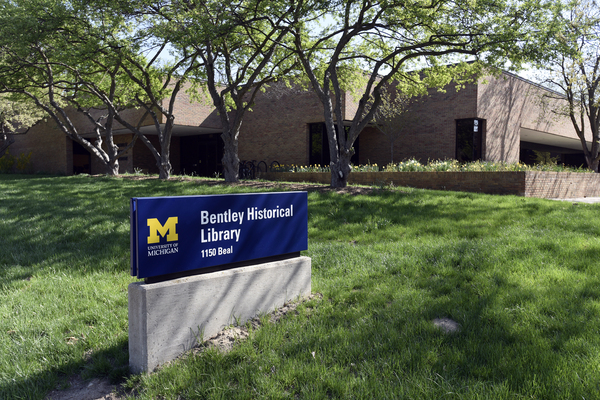 Address

:

1150 Beal Avenue

Ann Arbor, MI 48109-2113, USA
Theodore H. Hubbell papers, 1833-1988 (majority within 1852-1970)
Using These Materials
---
Restrictions:

The collection is open for research.
Summary
Creator:

Abstract:

Professor of entomology at the University of Michigan. Personal and professional papers of Hubbell and his wife Grace Griffin Hubbell; also collected genealogical and family papers relating to the Hubbell and Hussey families (Grace Griffin Hubbell's mother was Lenora Hussey Griffin); Hussey family series includes papers of John Milton and Mary C. Hussey and their children and relate to John M. Hussey's Civil War service, Ohio agriculture and Grange activities and family life and customs; Hubbell family series includes papers of Clarence W. and Winifred Waters Hubbell relating in part to his work as engineer in the Philippines, 1907-1913; and collected Hubbell family photos and albums, including views of Benzonia, Michigan family farm and relating to C. W. Hubbell's service as engineer in the Philippine Islands, 1909-1911; also personal photograph series, including various residences of Hubbell, his scientific field trips to Tennessee, Florida, and the Philippines, and postcard views of Michigan communities.

Extent:

7.4 linear feet

Language:

English.

Call Number:

90180 Aa 2

Authors:

Finding aid prepared by: Matthew Schaefer, July 1990
Background
Scope and Content:

The Theodore Huntington Hubbell papers form a disparate collection that documents not only his professional career as an entomologist and curator, but also sheds light on the late nineteenth and early twentieth-century Hubbell and Hussey families. The far-reaching scope of these papers derives from Theodore H. and Grace Griffin Hubbell's diligent collecting of family papers and photographs. The bulk of the early materials are Hussey family papers consisting of the personal papers of Grace's mother, Lenora Hussey Griffin, and her mother's nuclear family. This family consisted of Lenora's parents, John Milton and Mary C. Hussey, and her siblings, William J., Edgar P., Arthur, and Alice, and their spouses.

The Theodore H. Hubbell papers should be viewed as a subset of a larger universe of collections which include the Hussey family and Hubbell family collections here at the Bentley Historical Library and the John Milton Hussey letters and diary at the University of Michigan's William Clements Library. The strengths of this collection are diverse, ranging from a rich run of Civil War correspondence between John Milton and Mary C. Hussey, to Lenora Hussey Griffin's letters to her family about her education at Stanford, to Theodore Hubbell and J. Speed Rogers correspondence with various entomologists regarding field work and collecting. The collection will be of use to researchers interested in nineteenth-century agriculture, the Grange in Ohio, family life and customs, Joseph B. Steere's expedition to the Philippine Islands, and visual images of turn of the century Michigan and the University of Michigan. The collection is weak on documenting Theodore Hubbell's work as a teacher and curator of the Museum of Zoology; these records are retained by the museum for use in administering their collections.

The Theodore H. Hubbell papers span the years 1833-1988, with the bulk of materials covering the years 1852-1970; they are organized into five series: Genealogy, Hussey Family, Hubbell Family, Personal, and Professional. The first three series reflect Theodore and Grace Griffin Hubbell's efforts as genealogist/archivist for their respective families. The Personal series primarily deals with the private lives of Theodore and Grace Hubbell, but it also contains some materials linked to the first three series in the correspondence with Lenora Hussey Griffin. The materials in the first four series were rearranged during the course of processing to facilitate access to the Hussey and Hubbell family papers. The last series consists of Theodore Hubbell's professional correspondence (including letters to his cousin Roland F. Hussey) and project related materials; this series retains its original order.

Biographical / Historical:

Theodore Huntington Hubbell was professor of entomology at the University of Michigan from 1946 to 1968 and director of its Museum of Zoology from 1956 until his retirement in 1968. Even after his ostensible retirement, Hubbell came to the museum daily and served as "everybody's mentor" until his death in 1989. Hubbell's professional reputation rested on his enduring interest in and extensive writings on Orthoptera, and his local reputation rested on the organizational skills he demonstrated in the administration of space and resources within the museum. Theodore was born in Detroit in 1897 to Clarence (Detroit's Civil Engineer) and Winifred Hubbell. The family spent the years 1907 to 1913 in the Philippine Islands where Clarence worked as civil engineer for Manila and where Theodore first developed his interests in natural history and entomology. The younger Hubbell earned two degrees from the University of Michigan: his B.A. in 1920 and his Ph.D. in 1934, working in the interim as a professor of entomology in Gainesville at the University of Florida.

In one sense Hubbell never left Ann Arbor for, as he continued his doctoral research, he was building up the collection of Orthoptera in the Museum of Zoology. This continuing relationship was doubtless encouraged by Hubbell's mentor, Alexander Ruthven, and by the construction of a new museums building in which to house the burgeoning collections. While in Florida, Hubbell did not stray far from his Michigan roots intellectually as he joined a staff anchored by J. Speed Rogers, another student of Ruthven. Both men took to heart Ruthven's teaching that a systematic understanding of zoology, one that linked historical geography and habitats to the distribution and evolution of insects, was the most rational natural philosophy. This close relationship between environment and fauna was a hallmark of University of Michigan zoologists and may be seen as laying the groundwork for the ecological sciences. Both Rogers and Hubbell returned to the University of Michigan in 1946, Rogers as director of the Museum of Zoology, Hubbell as curator of insects at the museum and professor of entomology.

Rogers' and Hubbell's impact on the museum was immediate and beneficial as they reorganized the extensive holdings of the insects to make them more accessible to the appropriate researchers. They each brought their own considerable area of expertise to play on the museum's holdings of craneflies and grasshoppers. With the unexpected death of Rogers in 1955, Hubbell assumed more obvious control of the administrative aspects of the museum. Under his direction, existing programs of teaching and research were broadened, ties with the zoology department were strengthened, systematic biology came to prominence in the curriculum, and a research wing was added to the museum with monies from the National Science Foundation. Hubbell was instrumental in the formation of the inter-university Organization for Tropical Studies, played a significant role in expanding the study of biological systematics in a number of contexts, and advised the National Science Foundation on facilities and programs most needful to zoological museums. In recognition of his accomplishments and service the University conferred a distinguished faculty achievement award upon Hubbell.

Theodore Hubbell married Grace Griffin in Ann Arbor in June 1927. By so doing, Hubbell linked himself to a family with further ties to the University of Michigan. Grace's uncle, William J. Hussey, was professor of astronomy at the university in 1891-1892 and from 1915 until his death in 1926; William's wife, Ethel Fountain Hussey, was a distinguished alumna whose philanthropy is commemorated by an eponymous room in the Michigan League. Grace's cousin, Roland F. Hussey, taught Ornithology in 1918 and returned (at the behest of Theodore Hubbell) as visiting zoologist specializing in Hemiptera during the 1950s. Another cousin, Russell C. Hussey, was professor of geology during the 1920s and served as assistant to the dean of the College of Literature, Science, and the Arts during the 1930s. Theodore and Grace had three children, Roger, Mary Joan, and Stephen.

Acquisition Information:

The collection (Donor No. 4509 ) was received in May 1990 from Roger Hubbell, executor of the Theodore H. Hubbell estate.
Contents
Using These Materials
---
RESTRICTIONS:

The collection is open for research.

USE & PERMISSIONS:

Donor(s) have transferred any applicable copyright to the Regents of the University of Michigan but the collection may contain third-party materials for which copyright was not transferred. Patrons are responsible for determining the appropriate use or reuse of materials.
PREFERRED CITATION:

item, folder title, box no., Theodore H. Hubbell Papers, Bentley Historical Library, University of Michigan