Back to top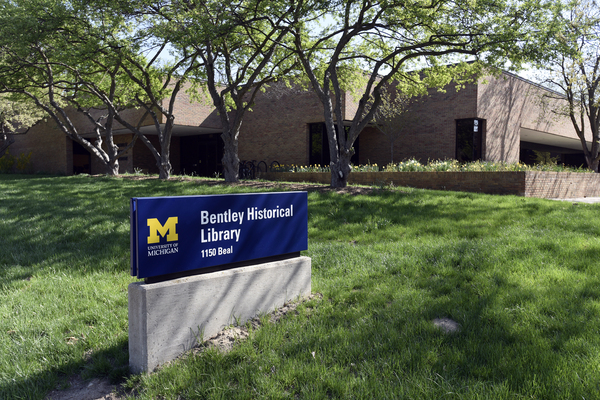 Address

:

1150 Beal Avenue

Ann Arbor, MI 48109-2113, USA
Second Baptist Church (Detroit, Mich.) Records, 1911-1989 (majority within 1926-1988)
Using These Materials
---
Restrictions:

The collection is open for research.
Summary
Creator:

Abstract:

Oldest African American church in Michigan; administrative records, papers of individual pastors, church publications.

Extent:

14 microfilms
1 folder

Language:

English.

Call Number:

90121 Ba/2

Authors:

Finding aid prepared by: Matthew T. Schaefer
Background
Scope and Content:

This record group thoroughly documents Second Baptist's efforts to tend to both the spiritual and physical needs of Black Detroiters since the 1920s. The Administration, Pastors' Papers, Publications, and Photographs series reflect, respectively, the internal workings of the church, the private efforts of the pastors over time, and the publicly presented external face of Second Baptist. The microfilm (representing 6 linear feet of manuscript material) consists of annual reports, financial records, histories, minutes of advisory board meetings, pastoral correspondence, annual and quarterly publications, and weekly bulletins. There is also a scattering of photographs. The work of Second Baptist before the 1920s is visible retrospectively in histories and reminiscences sanctioned by the church in the 1930s. The records of the church for the nineteenth and early twentieth centuries were evidently destroyed in the fires of 1916 and 1917.

Biographical / Historical:

Second Baptist Church (Detroit, Mich.) is the oldest Black church in Michigan. It was founded in 1836 when thirteen former slaves broke with First Baptist of Detroit over the issue of paying dues to a church which would not let Blacks vote on church matters. Second Baptist prides itself on its stability and longevity; it is the oldest Black church that continues to serve downtown Detroit. This stability owes much to the breadth of vision of capable pastors beginning with the first pastor, William Monroe, continuing through Supply Chase during the Civil War, and extending to the twentieth century tenures of Robert Bradby and A.A. Banks. Second Baptist leaders saw the mission of the church going beyond the spiritual needs of the congregation, extending to efforts to secure political, economic, and social freedom and equality for Blacks. In the nineteenth century, these efforts were manifested in the church's serving as a station on the underground railroad, hosting Frederick Douglass and John Brown, and twice hosting conventions to secure suffrage for Blacks in Michigan. In the twentieth century, these efforts were evident in Bradby's securing jobs (often at Ford Motor Co.) for immigrant Blacks in the 1920s and 1930s, in the social services provided by the Frances Harper Inn for Employed Girls, and in the support of Martin Luther King, Jr.'s Montgomery Improvement Association. Second Baptist's stability, able leadership, and freedom seeking social activism combined to create a well-defined sense of the historical significance of the church.

The sense of historical importance has been preserved by Second Baptist despite fires in 1854, 1916 and 1917 which evidently destroyed much of the historical record for the church in the nineteenth century. Fortunately the strong oral tradition and the edifice of the church itself preserved some of the highlights of the early years. Second Baptist's crucial role as a station on the underground railroad was well remembered and amply evidenced by basement rooms reserved to hide fugitive slaves. With the church's pastors serving as station masters and member George De Baptiste often providing ferry service to Windsor, it has been estimated that Second Baptist aided four to five thousand former slaves in gaining their freedom. Given that freedom was so valued, it is not surprising that Second Baptist member, William Webb, was host to a meeting of Frederick Douglass, John Brown, De Baptiste, and others who planned the emancipation of slaves shortly before John Brown's heroic and doomed raid on the Harper's Ferry armory. Second Baptist also hosted the Concerned Colored Citizens of Detroit in 1843 and 1865; these meetings resulted in a call for universal suffrage to include Black men. Both calls were unheeded by the Michigan legislature.

The twentieth-century history of Second Baptist is better documented and is very much shaped by the pastors who guided the flock through the challenging and rewarding times of peace and war, prosperity and poverty, growth and retrenchment. The first of the two monumental figures to stand at the helm of Second Baptist was Robert L. Bradby, pastor from 1910 until his death in 1946. Bradby was committed to doing missionary work among the sick, the poor, and the unemployed in Detroit. He was equally devoted to preserving Second Baptist as the downtown haven for both established Black Detroiters and the new migrants drawn north by manufacturing jobs after 1916. This missionary zeal, growth in Detroit's Black population due to migration, and Bradby's ability to link men and jobs led to a rapid growth in the size of the congregation. Second Baptist had never had more than 300 members in the 1800s; under Bradby this number rose to 1000 by 1920 and 3000 by 1930. Many of these new members were drawn by Bradby's spirited revivals; other were attracted by the various lay groups which reached out to the local community. With this growth came a concomitant rise the congregation's influence in Detroit and in the national Black community.

With Bradby's sudden death in 1946, Second Baptist was faced with the difficult task of finding a pastor capable of leading a large congregation and guiding the growth of the church. A.A. Banks was just the man to fill the bill. Like Bradby, Banks coupled a missionary zeal "to win the unsaved and to teach the saved" with a strong sense of organization. The former attribute (and a second wave of Black migration after World War II) accounted for the continued growth of Second Baptist. Membership reached 4000 by 1950, peaked at 4800 in the early 1950s, before drifting back toward 4000 by 1970. Banks developed a group fellowship system which broke the congregation down into 48 groups of 100 so that individual members could feel a closer sense of community within the whole church. Banks, noting that his congregation was aging (as was Banks), devoted much time and energy in his later years to developing youth organizations which he hoped would link the young people of Second Baptist more closely to the church. At the time of Banks' death in 1977 this continued to be a concern.

Robert Holloman took over the reins of Second Baptist in 1978. Almost immediately friction developed between the new pastor and the deacons and trustees. After a bitter, public, and protracted conflict, including court actions, Holloman was forced to step down as pastor in June 1982. Second Baptist, faced with declining numbers of members, an aging congregation, and anxious to put the bitter Holloman affair behind them, selected William Epps as pastor. Unfortunately for Second Baptist, Epps found that his calling was a California ministry. In 1988, for the third time in ten years, the church selected a new pastor, Kevin Turman.

Pastors of Second Baptist Church

| Date | Event |
| --- | --- |
| 1836-1846 | William C. Monroe |
| 1847 | William P. Newman |
| 1848-1851 | Samuel H. Davis |
| 1851-1856 | D.G. Lett |
| 1857-1859 | William Troy |
| 1860-1861 | O.W. Anderson |
| 1861-1874 | Supply Chase |
| 1874-1876 | Thomas F. Scott |
| 1876-1881 | John P. Wills |
| 1882-1883 | W.R. Davis |
| 1883-1886 | W.A. Burch |
| 1886-1887 | R.H. Porter |
| 1888-1891 | E.H. McDonald |
| 1891-1892 | N.H. McBayne |
| 1893-1896 | A.D. Chandler |
| 1896-1901 | W.S. Bradden |
| 1902-1905 | Holland Powell |
| 1906-1910 | William Jones |
| 1910-1946 | Robert L. Bradby, Sr. |
| 1947-1977 | Allan A. Banks, Jr. |
| 1978-1982 | Robert F. Holloman, Jr. |
| 1983-1987 | William S. Epps |
| 1988- | Kevin M. Turman |

Acquisition Information:

The church allowed the library to microfilm its records in 1989-1990. Donor no. 7617 . The original records are held by the church.

Arrangement:

The records of Second Baptist comprise 14 reels of microfilm (representing 6 linear feet of manuscript material) and 1 folder of photographs. The extant materials are arranged in four series: Administration, Pastors' Papers, Publications, and Photographs.
Subjects
Click on terms below to find any related finding aids on this site.
Subjects:

Formats:

Names:

Places:
Contents
Using These Materials
---
RESTRICTIONS:

The collection is open for research.

USE & PERMISSIONS:

Donor(s) have transferred any applicable copyright to the Regents of the University of Michigan but the collection may contain third-party materials for which copyright was not transferred. Patrons are responsible for determining the appropriate use or reuse of materials.
PREFERRED CITATION:

item, folder title, box no., Second Baptist Church (Detroit, Mich.) Records, Bentley Historical Library, University of Michigan