Back to top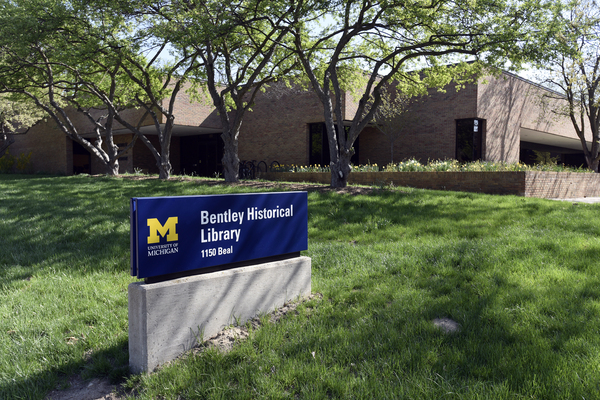 Address

:

1150 Beal Avenue

Ann Arbor, MI 48109-2113, USA
Susan Wineberg papers, 1900s-2018 (majority within 1977-2003)
Using These Materials
---
Restrictions:

The collection is open to research.
Summary
Creator:

Abstract:

Susan Wineberg is a historian of Ann Arbor, Mich., and historic preservationist. She became involved in historic preservation in 1974 and has served as a commissioner on the Ann Arbor Historic District Commission (1982, 1984-1988) and as a member on its committees since 1977. Wineberg also has authored books and articles on historic buildings in Ann Arbor and been active in other local organizations. The collection includes correspondence, articles, brochures, clippings, printed ephemera and realia, photographs, and subject files relating mostly to Ann Arbor, Detroit, and Michigan historic properties and businesses.

Extent:

85.4 linear feet (in 88 boxes)
2 oversize folders

Language:

English

Call Number:

89449 Aa 2 UAl

Authors:

Finding aid created by Michigan Historical Collections Staff
Background
Scope and Content:

The Susan Wineberg Papers document local efforts to research and protect historic properties in the Ann Arbor area. The collection is a rich source of information for the history of many buildings and areas in Ann Arbor. Wineberg has assembled clippings, stories, records, and photocopies of pictures about local preservation, conflicts over preservation laws, and historic buildings. The collection documents not only Wineberg's involvement in historic preservation, but also the activities of governmental and community organizations that have sought to preserve Ann Arbor's heritage and encourage adoption of their sense of responsible development. Moreover, the records reveal the evolution of historic preservation since the 1970s. They document the debates within the community between those who favor governmental measures that aim to protect the city's historic properties and those who view such protective ordinances and regulations as an intrusion on individual property rights. Additionally, several of the series document the history of Ann Arbor, Detroit, Washtenaw County, and Michigan through collected photocopies, photographs, and assorted ephemera.

The collection is organized into 18 series: Personal Files, Ann Arbor Historic District Commission, Ann Arbor Historic Preservation and Development Materials, Audio Materials, Visual Materials, Research / Reference files, Printed Ephemera and Realia, Printed Ephemera and Realia, 1969-2004, Collected Historical Materials, and Washtenaw County Historical Society. The rest of the collection is arranged into series based on when they were received by the Bentley, and as such there may be some overlap in subject matter.

Biographical / Historical:

Susan Cee Wineberg is an Ann Arbor historian and historic preservationist. She was born on February 5, 1946 in Chicago, Illinois, but moved to Ann Arbor in 1964. She received her B.A. (1967) and M.A. (1971) in Near Eastern Studies and an M.A. (1976) in Anthropology from the University of Michigan. In 1984, she became a Ph.D. candidate specializing in archaeology. She also married Lars Bjorn in 1984. While a student at the University of Michigan, she became interested in local history and historic preservation through her research on her home at 311 E. Ann Street and her involvement on the Save the Waterman-Barbour Gym Committee in 1974. Beginning in 1977, she became involved with the Ann Arbor Historic District Commission and other local history and preservation groups. From 1980 to 1984, she was assistant to the photography curator at the Bentley Historical Library. She also has conducted freelance research on many historic buildings in the Washtenaw County area. She received state grants in 1982 to document central Ann Arbor architecture before 1940 and in 1989 to document a proposed Downtown Historic Marker Project. In addition, she has published articles about historic buildings in the Ann Arbor Observer and other publications, and co-authored Historic Buildings, Ann Arbor, Michigan in 1992 with Marjorie Reade. In 1994, she received an M.S. in Historic Preservation from Eastern Michigan University. As an activist and researcher, Wineberg has collected the records of committees and organizations in which she has participated and other materials about Ann Arbor's architectural history.

Wineberg was a member of the Ann Arbor Historic District Commission from April to October 1982, November 1984 to June 1985, September 1985 to September 1988, and 2002 to 2008. The Historic District Commission was established by city ordinance in 1971 as the successor to the Historical Commission. The Ann Arbor mayor appoints seven members to the commission, who are then approved by the City Council. The commission's functions include: to identify historically and architecturally significant properties, landmarks, and areas; to oversee the city's historic districts and investigate the adoption of new historic districts or properties; to develop design guidelines and review applications for the construction, alteration, or removal of properties within historic districts; and to provide information about local history and encourage appreciation of local heritage. Each month the Historic District Commission hears petitions from owners of protected property who are seeking to alter or renovate their buildings. The commission reviews and monitors the projects to ensure they follow an approved plan.

Wineberg also has chaired and served on multiple committees related to the commission's activities between 1977 and the present. Between 1977 and 1983, Wineberg served on the Division Street Historic District Study Committee (also known as the Old Fourth Ward Historic District Study Committee after 1981). The Ann Arbor City Council appointed the committee in 1977 as a result of petitions to designate neighborhood structures as historic landmarks. The committee was composed of nine Historic District Commission members and ten interested residents of the area. In 1978, the committee proposed the Ann Street Historic Block. Between 1980 and 1983, it proposed that the remaining area under study be designated the Old Fourth Ward Historic District. Wineberg researched all of the buildings that became protected under the ordinances.

Between 1986 and 1988, Wineberg was chair of the Landmarks Historic Preservation Study Committee. The Ann Arbor City Council appointed this committee in 1986 to identify, research, and recommend landmarks for preservation under a local ordinance. It consisted of current members of the Ann Arbor Historic District Commission and six Ann Arbor citizens. The committee recommended forty-seven properties for protection. They also determined that a register of all historically significant resources in the city was necessary to protect properties within historic districts as well as those individual historic properties outside of historic districts. The committee drafted an ordinance with new incentives and a mission statement. It passed unanimously in April 1988 and resulted in the Ann Arbor Register of Historic Places.

Wineberg was a member of the Downtown Historic District Study Committee between 1986 and 1992. The Ann Arbor City Council created the study committee in 1979 to study how to best preserve the historic character of downtown. It was composed of Historic District commissioners, downtown owners, and residents. In 1988, the committee recommended the passage of three historic commercial districts and two historic residential districts: Main Street, State Street, Kerrytown, East William Street, and East Liberty Block. By 1989, after much debate, only the Main Street, Kerrytown, and East William Street Historic Districts were approved. The other two were approved in 1992.

Wineberg has served as a member of the Awards Committee of the Ann Arbor Historic District Commission from 1988 to the present and as its chair from 1990 to 1998. The Awards Committee recognizes building owners and organizations for their efforts to preserve the city's architectural heritage.

Despite success in developing historic districts and registering properties with the Register of Historic Places, much of this work was invalidated in 2001, when the Michigan Court of Appeals declared Ann Arbor's Individual Historic Properties register (IHP) invalid. This ruling was the result of a lawsuit by the Draprop Corporation, which tried to claim that the city did not have the right to designate a property to be historic without the owner's consent. While the court did not agree with Draprop, they did agree that Ann Arbor's historic districts did not meet the definition of a historic district as defined by Michigan law.

Wineberg was appointed to the Individual Historic Properties Historic District Study Committee in 1990 and has served as chair since 1993. The Ann Arbor City Council created the standing committee in 1990 to research and recommend individual properties that meet the criteria of the Historic District Code. The committee consists of nine appointed members who reside or own property in Ann Arbor, at least two of whom are from the Ann Arbor Historic District Commission and one of whom is an architectural historian. In 1994, the committee succeeded in adding seventy-three properties to the Ann Arbor Register of Historic Places.

In 1989, Wineberg served as a research consultant for the Downtown Historical Street Exhibit Program. The program was sponsored by the Ann Arbor Historic District Commission and the Citizen's Council of the Downtown Development Authority as a means to showcase local history. The exhibit program consisted of published guides and permanent outdoor displays focusing on urban development.

Wineberg has been active in other local organizations separate from the Historic District Commission. She was a founding member and secretary of the Old Fourth Ward Association from 1984 to the present. The Old Fourth Ward Association is a non-profit corporation that strives to maintain and improve the quality of life, historic architecture, and residential character of the Old Fourth Ward Historic District. It also fosters the development of social relationships and community identity in the neighborhood. In addition, Wineberg has been a board member of the Ann Arbor Historical Foundation since 1986, a member of the Lower Town Historic District Study Committee (2005-2006), and a member of the Germantown (4th and 5th Avenue) Historic District Study Committee (2009-2010). She also has been involved in the Washtenaw County Historical Society since 1988, including vice-president (1993-1994), president (1995-1999), chair of the Museum Planning Committee, and was editor of The Impression for five years (1999-2003).

Acquisition Information:

The collection was received in several accessions from Susan Cee Wineberg (Donor no. 5400 ) beginning in 1974.

Accruals:

Periodic additions to the papers are expected.

Rules or Conventions:

Finding aid prepared using Describing Archives: A Content Standard (DACS)
Contents
Using These Materials
---
RESTRICTIONS:

The collection is open to research.

USE & PERMISSIONS:

Donor(s) have not transferred any applicable copyright to the Regents of the University of Michigan. Patrons are responsible for determining the appropriate use or reuse of materials.
PREFERRED CITATION:

[item], folder, box, Susan Wineberg papers, Bentley Historical Library, University of Michigan