Back to top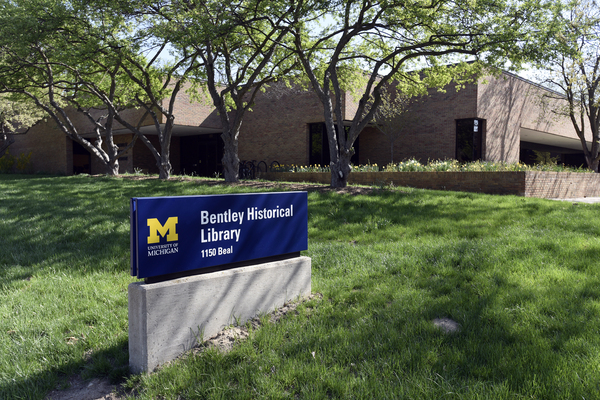 Address

:

1150 Beal Avenue

Ann Arbor, MI 48109-2113, USA
William G. Milliken papers, 1961-1982
Using These Materials
---
Restrictions:

The collection is open for research.
Summary
Creator:

Abstract:

Republican governor of Michigan, 1969-1982. Papers include governor's office correspondence, administrative and subject files, staff files, materials relating to his campaigns for governor and Republican Party affairs, and a limited amount of photographs and sound recordings.

Extent:

1000 linear feet (at Bentley Historical Library; approximate)
700 linear feet (at Michigan State Archives; approximate)

Language:

English.

Call Number:

8924 Aa 2

Authors:

Finding aid prepared by: Avra Michaelson, 1983-1984 Michigan Historical Collections staff, 1984, 1991-1992
Background
Scope and Content:

The William G. Milliken Papers is the most important source available for the study of Michigan's state government from 1969-1982. The collection currently measures 1478 linear feet and includes correspondence, memoranda, reports, agenda and minutes, briefing books, press releases and public statements, legal briefs and decisions, legislative bills and bill analyses, clippings, and printed works that pertain to Milliken's years as governor. Half of the papers arrived at the Bentley Historical Library in December 1982, from State Record Center retirement. Another portion came directly from the Capitol Complex at the end of Milliken's term. Several hundred feet arrived in 1983 from the governor's Traverse City office. Smaller accessions related to politics and political appointments were received in the late 1980s.

Materials in the collection concern the official conduct of state government including the governor's role in legislative activity; the interface of state-federal jurisdictions; and the administration of the executive office, departments, commissions, and regional offices. The papers provide a rich resource for the study of executive response to concerns such as economic development, hazardous wastes, civil rights and affirmative action, labor, energy, minority populations, education, urban development, sex discrimination, and regional issues. As the governor remained active in the Republican party and sought election three times, the collection also includes materials on political matters. Files created by Milliken while Lieutenant Governor appear as well.

Biographical / Historical:

William Grawn Milliken was governor of Michigan from 1969-1982, the longest term in state history. A Yale-educated businessman and politician, he was elected Lieutenant Governor in 1964 and 1966, after serving four years in the State Senate, the last two as majority floor leader. He assumed the governorship on January 22, 1969, when George Romney resigned to become secretary of the United States Department of Housing and Urban Development in Richard Nixon's cabinet. Michigan voters returned Milliken to office in the 1970, 1974, and 1978 elections. His first gubernatorial victory was narrow, with just a 44,000 vote margin. But citizen favor for him grew, and by 1978, his last test at the polls, Milliken won by nearly 400,000 votes. Many of his supporters were ticket-splitters or former Democrats.

Although chief executive during the deepest economic crisis experienced in Michigan since the Depression, Governor Milliken was generally popular among both the people of the state and his political peers. A well-regarded politician, he chaired the National Governor's Association during 1977-1978 and the Midwest Governor's Association in 1974. He was the principal leader of the state GOP and a national force in the moderate wing of the Republican Party. Conservative elements within the party were often critical of the bipartisan, alliance-building style that led him to court labor, occasionally appoint Democrats to state jobs, and supported pro-choice legislation on abortion.

Milliken led the state during a conflict-ridden era that frequently tested his ability as a crisis manager--for example, the General Motors strike of 1970, two Arab oil embargoes, contamination of the food chain with the toxic chemical PBB, and a controversy surrounding the state mental health system. He was admired for a firmness of conviction on issues that mattered greatly to him, such as the responsibility of government to cities, the arts, the environment, and the poor. The state revenue sharing program that helped Detroit during troubled economic times was adopted largely through Milliken's efforts. His administration was noted for its commitment to conservation and the passage of the Environmental Protection Act of 1970, which serve a model legislation throughout the nation; the budget stabilization fund and efforts at economic development; and, in the last days of his term, worker and unemployment compensation reforms and enactment of a transportation package. Milliken announced his decision not to seek reelection on December 22, 1981. After retiring from public office, he joined Chrysler Corporation's board of directors and chaired the Center for the Great Lakes, a private economic and environmental research center devoted to protecting regional lake resources.

William Milliken was born in Traverse City on March 26, 1922, to James Thacker Milliken and Hildegarde Grawn. A waist-gunner on a World War II B-24 bomber, he received military honors, including the Purple Heart, for participation in 50 combat missions. From 1947-1955, he served on the Michigan Waterways Commission. The U.S. State Department selected him in 1953 to spend 75 days in West Germany in an intercultural exchange program and in 1971 to tour the Soviet Union and Romania. Governor Milliken is a past president of J.W. Milliken, Inc., a Michigan department store chain headquartered in Traverse City, with outlets in Manistee and Cadillac. William G. Milliken passed away on October 18, 2019. His wife was the former Helen Wallbank of Denver, Colorado; they had two children, William, Jr. and Elaine.

Acquisition Information:

December 1982: Received 850 feet from State Record Center Storage and 850 feet from Capitol; November 1983: Received 150 feet from Milliken's Traverse City Office. Donor No. 7522 .

Processing information:

Boxes 555-557, 588-594, 851-900, 949-971, 1029-1052, 1170-1205, 1229-1282, 1453-1473, 1494-1537, 1539-1540, and 1596-1618 were eliminated during reprocessing.

Arrangement:

The Milliken papers are organized in six subgroups: Correspondence, Administrative/Executive, Regional Offices, Political, Miscellaneous, and Audio-Visual Material. The Correspondence subgroup contains routine constituent incoming and outgoing mail and scattered policy-related materials. Items are indexed by correspondent in the master suspense card file. The Administrative/Executive subgroup includes the collection's core policy documents. Regional Offices consists of policy and operational materials on the governors official outposts. The Political subgroup contains sequences on the governor's appointments to office, fundraising and campaigns for the governorship, participation in presidential elections, and participation in the state and national Republican party. Miscellaneous subgroup contains papers created while Milliken served as Lieutenant Governor; audits, conference proceedings, task force recommendations, and general reports. Audio-Visual Materials includes the collection's scant holdings of artifacts, photographs, scrapbooks, and sound recordings.

Some peculiarities characterize the files. Users should note that correspondence appears as both a subgroup and type of document found in all principal series. Folder headings are titled inconsistently throughout the inventory. Files on the same topic may appear in one series under a subject title, in another by geographic location, and in a third by the name of participant. To insure a thorough search, scan the contents list for all conceivable headings.

Summary Contents List

Correspondence

Chronological (Boxes 1-554; 1538) (Transferred to the Michigan State Archives)

1969

General Subjects (Boxes 1-8)
Departments and Commissions (Boxes 8-27)
Federal (Boxes 27-30)
Legislative (Boxes 30-32)

1970

General Subjects (Boxes 32-39)
Departments and Commissions (Boxes 39-66)
Federal (Boxes 66-70)
Legislative (Boxes 70-72)

1971

General Subjects (Boxes 72-80)
Departments and Commissions (Boxes 80-103)
Federal (Boxes 104-105)
Legislative (Boxes 105-106)

1972

General Subjects (Boxes 106-114)
Departments and Commissions (Boxes 114-137)
Federal (Boxes 137-138)
Legislative (Boxes 138-139)

1973

General Subjects (Boxes 140-148)
Departments and Commissions (Boxes 148-172)
Federal (Boxes 172-174)
Legislative (Boxes 174-178)

1974

General Subjects (Boxes 179-191)
Departments and Commissions (Boxes 191-222)
Federal (Boxes 222-223)
Legislative (Boxes 223-225)

1975

General Subjects (Boxes 226-237)
Departments and Commissions (Boxes 237-270)
Federal (Boxes 270-272)
Legislative (Boxes 272-274)

1976

General Subjects (Boxes 274-285)
Departments and Commissions (Boxes 286-311)
Federal (Boxes 311-313)
Legislative (Boxes 313-314)

1977

General Subjects (Boxes 315-325)
Departments and Commissions (Boxes 326-354)
Federal (Boxes 355-356; 1538)
Legislative (Boxes 356-357)

1978

General Subjects (Boxes 357-367)
Departments and Commissions (Boxes 368-395)
Federal (Boxes 396-397)
Legislative (Boxes 397-398)

1979

General Subjects (Boxes 399-406)
Departments and Commissions (Boxes 407-433)
Federal (Boxes 433-434)
Legislative (Boxes 434-435)

1980

General Subjects (Boxes 436-447)
Departments and Commissions (Boxes 447-475)
Federal (Boxes 475-477)
Legislative (Boxes 477)

1981

General Subjects (Boxes 478-490)
Departments and Commissions (Boxes 490-518)
Federal (Boxes 518-520)
Legislative (Boxes 520-521)

1982

General Subjects (Boxes 521-530)
Departments and Commissions (Boxes 530-552)
Federal (Boxes 552-554)
Legislative (Boxes 554)

Study Commissions, 1969-1982 (Boxes 558-572)
Additional Correspondence (Boxes 1474-1493; 1541-1595)

Special Letters (Boxes 1474-1477)
Petitions and Citizen Mail (Boxes 1477-1486)
TWX Messages (Boxes 1487-1489)
Unfiled Correspondence (Boxes 1490-1493)
Governor Personal, 1969-1982 (Boxes 1541-1595)
Multiple (Robo) Responses (Boxes 1619-1771) Transferred to State Archives

Administrative /Executive

State Administrative Board, 1968-1982 (Boxes 573-587)
Internal Memoranda and Correspondence (Boxes 595-626)

Governor's (Boxes 595-596)
Staff

1969-1973 (Boxes 596-599)
1974 (Boxes 599-600)
1975 (Boxes 600-601)
1976 (Boxes 602-604)
1977 (Boxes 604-606)
1978 (Boxes 606-608)
1979 (Boxes 608-611)
1980 (Boxes 611-614)
1981 (Boxes 614-618)
1982 (Boxes 618-622)

Subject Files (Boxes 623-626)
Office of Lt. Governor (Boxes 627-628)
Gordon Alexander (Boxes 629-632)
Glenn Allen (Boxes 632-635)
Holly Angell (Boxes 636-639)
Patrick Babcock (Boxes 640-649)
Janis Bocskay (Boxes 650-652)
Barbara Debrodt (Boxes 653-655)
Tom DeCair (Boxes 656-658)
Dave Duncan (Boxes 659-661)
Peter Ellsworth/Ken Frankland (Boxes 662-705)
Christine Fedewa (Boxes 706-708)
Steven M. Fetter (Boxes 709-710)
Glenn Friedly (Boxes 710-715)
Don Gordon (Boxes 716-718)
Jeff Graham (Boxes 719-724)
Billie Harrison (Boxes 724-728)
Richard Helmbrecht (Box 729)
William Hettiger (Boxes 730-738)
Phil Kazmierski/Tom Drake (Boxes 739-753)
James Kellogg/Mark Mason (Boxes 754-763)
Bob Law (Boxes 763-774)
William Long (Boxes 775-779)
William Lukens (Boxes 780-781)
Richard McLellan (Boxes 782-783)
Marc Obershulte (Box 783)
Dennis M. Payne (Boxes 784-786)
Stanley C. Pratt (Boxes 787-789)
Craig Ruff (Boxes 789-790)
Bill Rustem (Boxes 790-794)
Isabella Saxton (Boxes 795-804)
Libby Schleiffarth (Box 805)
Linda Slotsema (Boxes 806-814)
Kathy Stariha (Boxes 815-822)
Manfred Tatzmann (Boxes 822-823)
George Weeks (Boxes 824-845)
Miscellaneous Early Program (Boxes 846-850)

Briefings (Boxes 972-1028)

Daily Commitments (Boxes 972-1022)

Appointments/Scheduling (Boxes 972-974)
Memoranda (Boxes 974-976)
Speaking Commitments (Boxes 977-1022)

Topical Files (Boxes 1023-1028)

Michigan House Bills and Senate Bills (Boxes 1053-1169)

Unofficial Amended Resolutions, Bills, and Bill Analyses (Boxes 1053-1163)
Topical Files (Boxes 1163-1169)

Press Office (Boxes 1206-1228)

Master Press Releases (Boxes 1206-1214)
Newspaper Column "Ask the Governor" (Box 1214)
Press Conference Transcripts (Boxes 1215-1216)
Special Messages (Box 1217)
Speeches (Boxes 1217-1218)
Topical Files (Boxes 1219-1228)

Regional Offices

Detroit/Urban Affairs (Boxes 901-935)
Upper Peninsula (Boxes 936-944)
Washington, D.C. (Boxes 945-948)

Political

Appointments (Boxes 1283-1407)

Boards, Commissions, Task Forces (Boxes 1283-1354)

Master Index (Fragmentary) (Box 1283)
Summary Information and Lists (Box 1283)
Topical (Boxes 1284-1347)
Colleges/Universities (Boxes 1348-1351)
County Jury Boards (Boxes 1352-1353)
Social Services Board (Box 1353)
Study Commissions (Box 1354)

Judicial (Boxes 1355-1379)

Circuit Court (Boxes 1355-1361)
Common Pleas (Box 1362)
Court of Appeals (Box 1363)
District Court (Boxes 1364-1371)
Probate Court (Boxes 1372-1376)
Recorders Court (Boxes 1377-1378)
Supreme Court (Box 1379)
Miscellaneous (Box 1379)

Persons Appointed (Boxes 1380-1403)
Public Administrators (Box 1404)
Recall Positions (Box 1404)
Special Assistant Attorney General (Box 1404)
Office Files/Joce Braithwaite (Boxes 1405-1408)

Campaigns (Boxes 1408-1426)

1970 (Boxes 1408-1410)
1974 (Boxes 1410-1414)
1978 (Boxes 1414-1424)
1982 (Boxes 1425-1426)

Republican Party (Boxes 1426-1438)

Fundraising (Boxes 1426-1429)
Michigan (Boxes 1430-1437)
National (Boxes 1437-1438)

Miscellaneous

Lieutenant Governor, 1961-1972 (Boxes 1439-1442)
Reports (Boxes 1443-1449)

Topical (Boxes 1443-1449)
Special Reports of the Governor (Box 1449)
Departments and Commissions (Box 1449)

Audio-Visual Material

Artifacts (Box 1450)
Photographs (Box 1451)
Scrapbooks (Box 1452)
Sound Recordings (Boxes 1772-1773)

Physical Location:

Portions of the Milliken papers are stored offsite; two days notice required for retrieval. Parts of the papers, principally the correspondence files, described in this finding aid and originally housed by the Bentley Historical Library have been transferred to the Michigan State Archives.
Related
Additional Descriptive Data:

Index to staff responsibility by subject area

The following list may assist in providing some subject access to the Staff Files. It lists broad policy and program areas and the staff members principally responsible for them.
Aging
Agriculture

Phil Kazmierski
James Kellogg/Mark Mason
Dennis Payne

Affirmative Action
Alcohol and Drug Abuse

Steven Fetter
Richard McLellan

Arts

Holly Angell
Elizabeth Schleiffarth
Kathy Stariha

Budget

Gordon Alexander
Glenn Allen
Bob Law
Stan Pratt

Chrysler Corporation
Civil Rights
Commerce
Community Development

Office of Lt. Governor
Linda Slotsema

Consumer Affairs
Corrections

Barbara Debrodt
Steven Fetter

Departments and Commissions

Billie Harrison Phil Kazmierski Bob Law Bill Long

Economic Growth and Development

Pat Babcock Dave Duncan Jeff Graham Linda Slotsema George Weeks

Education

Dave Duncan
Don Gordon
Phil Kazmierski
James Kellogg/Mark Mason

Emergency Disasters
Energy

Pat Babcock Linda Slotsema George Weeks

Environment

James Kellogg/Mark Mason
William Lukens
Marc Obershulte
Dennis Payne
Bill Rustem

Executive Council
Federal Issues

Glenn Friedly
Linda Slotsema

Governors' Associations and Conferences

Tom DeCair
Glenn Friedly
Linda Slotsema

Handicapped Concerns
Hazardous Wastes
Health
High Technology
Housing
Human Services

Janis Bocskay
Stan Pratt
Craig Ruff
Linda Slotsema

Intergovernmental Relations
Labor

Pat Babcock
Dave Duncan
James Kellogg/Mark Mason
George Weeks

Legal Matters

Barbara Debrodt
Peter Ellsworth/Ken Frankland
Steven Fetter

Legislative Matters

Glen Allen
Pat Babcock
Richard Helmbrecht P
Phil Kazmierski
Bob Law
Bill Long
George Weeks

Mental Health

Pat Babcock
Janis Bocskay
Dave Duncan
William Lukens
Stan Pratt

Military Affairs
PBB

Pat Babcock
Kathy Stariha
George Weeks

Personnel

Gordon Alexander
Don Gordon

Pesticides
Press
Public Health

Pat Babcock
Janis Bocskay
Dave Duncan
Stan Pratt
Craig Ruff

Racing

Phil Kazmierski
James Kellogg/Mark Mason

Recipient Rights
Recreation Bond
Social Services

Pat Babcock
Janis Bocskay
Craig Ruff

State of the State
Taxes

Pat Babcock
Don Gordon
Jeff Graham
James Kellogg/Mark Mason
Stan Pratt
George Weeks

Transportation

Phil Kazmierski
James Kellogg/Mark Mason

Urban Affairs

Jeff Graham
Linda Slotsema

Youth/Juveniles

Pat Babcock
Barbara Debrodt.
Richard McLellan
Subjects
Click on terms below to find any related finding aids on this site.
Subjects:

Formats:

Names:

Places:
Contents
Using These Materials
---
RESTRICTIONS:

The collection is open for research.

USE & PERMISSIONS:

Donor(s) have transferred any applicable copyright to papers held by the Bentley Historical Library to the Regents of the University of Michigan but the collection may contain third-party materials for which copyright was not transferred. Patrons are responsible for determining the appropriate use or reuse of materials.
PREFERRED CITATION:

item, folder title, box no., William G. Milliken Papers, Bentley Historical Library, University of Michigan