Back to top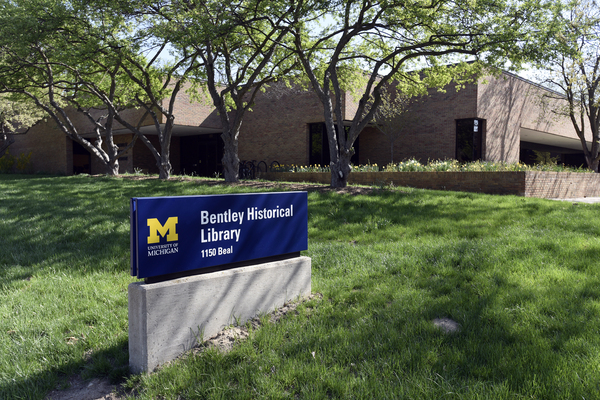 Address

:

1150 Beal Avenue

Ann Arbor, MI 48109-2113, USA
Edward Nicholas and Dollie Ann Cole papers, 1829-2016 (majority within 1960-1977)
Using These Materials
---
Restrictions:

The collection is open without restriction.
Summary
Creator:

Abstract:

Edward (Ed) Nicholas Cole was a President of General Motors Corporation and highly influential automotive engineer. His wife Dollie Ann was a well-known philanthropist and socialite in Michigan and Texas. Collection include correspondence, reports, technical records, speech transcripts, genealogical papers, photographs, audiovisual materials and scrapbooks.

Extent:

19 linear feet
2 oversize boxes
1 film reel
1 oversize folder

Language:

English

Call Number:

88180 Aa 2 UAl

Authors:

Finding aid created by Elizabeth Hannigan, April 2018.
Background
Scope and Content:

The Edward Nicholas and Dollie Ann Cole papers contain materials from influential automotive exectuive Edward Nicholas Cole and his wife Dollie Ann Cole. The collection has been organized into two series:

The Edward Nicholas Cole series contains correspondence, business records, reports, photographs, audiovisual materials, transcripts, and blueprints. The series has been divided into four subseries: the Correspondence subseries contains personal and professional letters, the Project Files subseries includes documents related to Cole's career with General Motors, Chevrolet, Checker Motors Corporation and other projects. The Speeches and Appearences subseries chronicles Cole's public speaking engagements in the early 1970s and the Personal Materials subseries contains photographs, audiovisual materials and other materials related to Cole's family and recreational interests.

The Dollie Ann Cole series contains correspondence, papers, photographs and scrapbooks. The series has been organized into two subseries: the Correspondence series which contains letters dated between 1968-1976 and the Topical files series which includes materials related to Cole's charitable and community work, her media appearances and other pursuits.

Biographical / Historical:

Edward "Ed" Nicholas "Ed" Cole was born in 1909 to a farming family in Marne, Michigan. Cole began tinkering with motors, electricity and other mechanical devices from a young age. After a year at Grand Rapids Junior College, in 1930 he transferred to the General Motors Institute in Flint, a cooperative education program General Motors (GM) used to develop engineers and managers. While in school, Cole demonstrated clear engineering aptitude and went on to begin his professional career in the Cadillac Division of the company.

Cole quickly rose through the ranks at Cadillac and during World War II was named Chief Design Engineer for light tanks and combat vehicles. After the war, he was named Chief Engineer (1946) and Works Manager (1950) at Cadillac and was responsible for overseeing operations at the Cadillac light tank factory in Cleveland during the Korean War. In 1952, Cole was named Chief Engineer at Chevrolet and in 1956 became the General Manager of Chevrolet and a Vice-President of General Motors.

While at Chevrolet, Cole was responsible for many significant innovations that shaped the automobile industry. He was member of the team that developed the first Corvette sports car and is known as the "father" of the Chevy small block V8 engine. The engine was a major technological advancement due to it's small size, power and affordable production and continues to influence automotive engineering today. Cole was named to the Board of Directors of General Motors in 1961.

One Cole's most significant projects as general manager of Chevrolet was the development of the Chevrolet Corvair, the company's first entrance into the burgeoning "compact car" market. Released in 1960, the Corvair was an early commercial success and lauded for its engineering and design innovations. Cole was pictured on the cover of Time Magazine in 1959 and the Corvair was named the 1960 "Car of the Year" by Motor Trends magazine. In 1965, the Corvair was highlighted in Ralph Nader's landmark book "Unsafe at Any Speed", which accused General Motors of compromising on consumer safety to develop cheaper and faster cars. Cole publicly refuted Nader's criticisms of the design of the Corvair and the debate led to the creation of the National Highway Traffic Safety Administration and a new focus on consumer safety in the industry.

In 1967, Cole was appointed President of General Motors, a position he served in until his retirement in 1974. As president, he oversaw the development of Chevrolet Vega, instituted an increased emphasis on consumer safety and was a pioneer in considering environmental impact of automobiles. In the early 1970s, Cole anticipated the establishment of stronger federal regulations against exhaust emissions. He led GM engineers in developing engines with lower compression rates and introduced the automotive catalytic converter. The design used unleaded gasoline which is significantly less harmful to both humans and the environment than traditional leaded gasoline. The catalytic converter helped reduce exhaust emissions while improving fuel economy and is considered a pivotal automotive engineering development.

A prodigious worker, Cole was granted 18 separate patents before his retirement from General Motors in 1974. After retirment, he became Chairman and CEO of the Checkers Motor Corporation, a Kalamazoo, Michigan company that produced taxicabs. Cole was also the Chairman of International Husky, a partnership with Boeing that looked to pioneer the heavy duty air freight industry. In 1977, Cole was killed in a private plane crash over Kalamazoo. He was survived by his wife, Dollie Ann Cole, and five children including his son from his first marriage, David E. Cole, a University of Michigan alumni and chairman of the Center for Automotive Research.

Dollie Ann Cole was born in 1930 in Fort Worth, Texas and attended the University of Texas. She married Ed Cole in 1963. Dollie Cole became well known in the automotive industry for her style and outspoken and vivacious personality which included once calling into the Phil Donahue Show to defend General Motors against criticism from a supporter of Ralph Nader. The production of the first GM cars equipped with airbags was attributed to Cole asking her husband to design a safety solution that would accommodate her fur coats better than lap seatbelts. She took an active interest in the auto industry and in 1972 was the first woman to ride in the pace car at the Indianapolis 500.

Dollie Cole was a featured columnist for the Saturday Evening Post and made several appearances on radio and television shows of the day. She was heavily involved in charity work, serving as the Vice Chairman of the Smithsonian Air and Space Museum, director of National Corvette Museum, a board member of the Public Broadcasting Service and was involved in local Michigan organizations. After Ed Cole's death in 1977, she moved to the Briarpatch Ranch near Austin, Texas where she was a fixture in local society and continued to be involved in community and charity work. Dollie Ann Cole passed away in 2014.

Acquisition Information:

Donated by Joan A. Caine Hoelaars (donor no. 7414 ).

Additional materials were donated by David Cole (donor no. 11441 ) in February 2016 and the Estate of Dollie Ann Cole (donor no. 11483 ), received in in two accessions in April 2016.

Processing information:

The collection was previously titled "Edward Nicholas Cole papers, 1829-1986." In 2016, Bentley Historical Library received substantial additional materials. In August 2018, the title was changed to "Edward Nicholas and Dollie Ann Cole papers, 1829-2016."

In preparing digital material for long-term preservation and access, the Bentley Historical Library adheres to professional best practices and standards to ensure that content will retain its authenticity and integrity. For more information on procedures for the ingest and processing of digital materials, please see Bentley Historical Library Digital Processing Note. Access to digital material may be provided either as a direct link to an individual file or as a downloadable package of files bundled in a zip file.

Rules or Conventions:

Describing Archives: A Content Standard
Contents
Using These Materials
---
RESTRICTIONS:

The collection is open without restriction.

USE & PERMISSIONS:

Copyright has not been transfered to the Bentley Historical Library. Patrons are responsible for determining the appropriate use or reuse of materials.
PREFERRED CITATION:

[item], folder, box, Edward Nicholas and Dollie Ann Cole papers, Bentley Historical Library, University of Michigan.