Back to top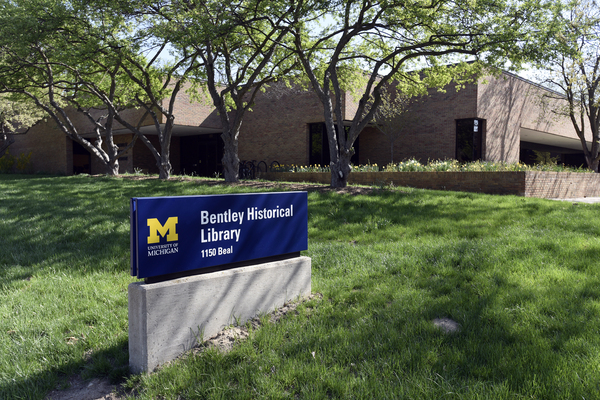 Address

:

1150 Beal Avenue

Ann Arbor, MI 48109-2113, USA
James K. Pollock papers, 1920-1968
Using These Materials
---
Restrictions:

The collection is open for research. The collection contains audio tapes from which digital copies have been made. Source tapes are for staff use only. Audio files are only available in the...
Summary
Creator:

Abstract:

University of Michigan professor of political science, special advisor to the U.S. Military Government in Germany after World War II, participant in numerous government commissions; papers include correspondence, working files, speeches, course materials, and visual and sound materials.

Extent:

87 linear feet
3 oversize folders
2 film reels
6 phonograph records (oversize)
16.3 GB
19 digital audio files

Language:

English.

Call Number:

8635 Aa 2 Ac UAm

Authors:

Finding aid prepared by: Dennis Anderson, 1969 Beth Lindblom, 1989
Background
Scope and Content:

The James K. Pollock papers represent an accumulation of files from a lifetime of academic teaching and research and an extraordinary number of public service responsibilities to both his state and his nation. The files within the collection fall into two categories: types of document (such as correspondence, speeches and writings, visual materials, etc.) and files resulting from a specific activity or position (such as his work as delegate to the Michigan Constitutional Convention or his service with the Office of the Military Government in Germany after World War II).

The collection is large and of a complicated arrangement because of Pollock's many activities. When received in 1969, the files were maintained as received; very little processing was done to the collection so that an inventory to the papers could be quickly prepared. The order of material is that devised by James K. Pollock and his secretarial staff in the U-M Department of Political Science. Recognizing the anomalies within the order of the collection, the library made the decision to list the contents to the collection while at the same time preparing a detailed card file index (by box and folder number, i.e. 16-8) to significant correspondents and subjects. While there was much to be said for this method of preparing a finding aid expeditiously, it also covered up some problems in arrangement. Thus series and subseries of materials are not always grouped together as they were created by Pollock. Files on the Hoover Commission and the Michigan Constitutional Convention, for example, come before Pollock's work in Germany after the war. In 1999, effort was made to resolve some of the inconsistencies and obvious misfilings of the first inventory but because of the numbering system used in 1969 and the card index prepared for the files, there are still some problems. Researchers should be alert to these difficulties and take time to examine different parts of the collection for material on a similar topic.

Biographical / Historical:

James K. Pollock was born in New Castle, Pennsylvania, on May 25, 1898. He began his academic association with the University of Michigan as a student from 1916 to 1921. He received his A.B. degree in 1920 followed by the M.A. in 1921. While working on his Ph.D. degree at Harvard University, 1921-1925, he taught at Geneva College in Pennsylvania and at Ohio State University. In 1925 he accepted an instructorship in political science at the University of Michigan. He was promoted to full professor in 1934, served as departmental chairman, 1947-61, and occupied the Murfin chair from 1948 until his retirement in 1968. Although involved in many non-academic activities as well, Professor Pollock always considered himself primarily a teacher. Upon his retirement as departmental chairman, he insisted upon spending his remaining years on the faculty teaching undergraduates. In recognition of his achievements, the University of Michigan gave him its Distinguished Faculty Award in 1959.

Professor Pollock's work at the University of Michigan was only one facet of a varied career, however. His interest in political parties, campaigns, and elections, both in America and in Europe, was not just academic. Over the years, his expertise in these subjects led both the state of Michigan and the U.S. government to request his advice on various occasions.

In 1935 Professor Pollock accepted a request to head the newly created Michigan Civil Service Study Commission, which investigated the problem of political "spoils" and devised methods of creating an adequate personnel agency and improving working conditions for civil servants. Michigan enacted a basic civil service law in 1937, and strengthened it in 1940 despite attacks by the beneficiaries of the spoils system. In the course of the struggle, Pollock was instrumental in helping to found the Michigan Merit System Association, designed to improve and protect civil service in Michigan. He maintained an active interest in the system throughout his life, and for his work he has been termed "the father of Michigan's civil service."

However, it was Pollock's interest in foreign political systems, particularly in those of Germany, which was to dominate his career. His interest began in the 1920s, and in 1928 a grant from the Social Science Research Council financed a trip to Europe which resulted in studies of parties and elections in Great Britain, France, Ireland, and Germany. Professor Pollock's interest became increasingly focused on Germany, and as a result of his work on German elections, the Plebiscite Commission of the League of Nations chose him as the American observer at the Saar plebiscite in 1935, in which the Saarlanders voted to reunite with Germany.

Professor Pollock's status as an expert on German affairs led the U.S. government to tap him for wartime activities. He lectured at the Provost Marshal General's School at Fort Custer in 1942-43, and participated in both the Judge Advocate General's School and the Civil Affairs Training School at Michigan from 1943 to 1945. In addition, from 1941 to 1943 Pollock gave weekly news analyses and speeches on various Detroit radio stations. Throughout the war, Professor Pollock wrote prolifically on the topic of Germany, the question of her responsibility and guilt, and the problem of how a defeated Germany was to be treated following the war. Although Pollock strongly condemned the Nazis and did not hesitate to insist that the Germans themselves were responsible for Hitler, he rejected the ideas, current among many in the U.S., that all Germans were Nazis and that Germany should be destroyed territorially after her defeat. Pollock believed that a postwar democratic state in Germany was possible, but insisted it could only be built by the Germans themselves. To this end, he offered various concrete proposals regarding the occupation of Germany, all of them involving the direct participation of non-Nazi Germans in the government at an early stage, and geared toward the most rapid reconstruction possible.

The constructive nature of Professor Pollock's approach no doubt had much to do with the U.S. government's request in 1945 that he serve as special adviser to General Lucius D. Clay, deputy governor of the American zone in Germany. Clay faced enormous problems resulting from lack of coordination and communication between the zones, as well as from lack of local government within the American zone. Pollock's assignment was to develop a political and governmental framework for the zone. This was done by dividing the zone into four Lander or states, each with a Minister-President at its head, supported by a skeletal bureaucracy. To coordinate and supervise these state governments, the American Military Government established a Regional Government Coordinating Office (RGCO) at Stuttgart, with Pollock as its director. In addition, a German counterpart called the Landerrat or Council of States was established, consisting of the Minister-Presidents, their supporting personnel and a central secretariat. The Landerrat met regularly in Stuttgart and, with American counseling, established patterns for regional and local government, helped to recreate systems of justice and security, and made preparations for drafting constitutions for future self-government. Pollock deliberately remained in the background, encouraging the Landerrat to be as self-sufficient as possible, with the result that a much more rapid political revival occurred than in the other zones.

Professor Pollock returned to Ann Arbor in September 1946, but went back to Germany in 1947 and 1948 on observatory missions for the Office of Military Government in Germany, United States Zone. In 1950, following the unification of the non-Soviet zones of occupation and the enactment of the Basic Law of 1949, the cornerstone of the Federal Republic, he conducted a fact-finding mission for the United States High Commissioner for Germany. Professor Pollock was formally honored by both the U.S. and German governments for his work with the Landerrat. In 1946 President Truman conferred upon him the U.S. government's highest civilian award, the Medal of Merit, and in 1956 and 1959, respectively, the German government awarded him the Grand Cross Order of Merit and the Knight Commander's Cross.

During the postwar years, Professor Pollock was active in a number of organizations (particularly the Franz Lieber Foundation) which promoted better understanding between Germans and Americans, and which were dedicated to keeping the cause of a unified Germany in the public eye of this country. In addition, Pollock expanded his duties in the Political Science department at the university, and became involved with the American Political Science Association and the International Political Science Association, serving as president of the former in 1950 and of the latter from 1955 to 1958.

In 1947, Pollock was appointed a member of the Committee on the Organization of the Executive Branch of the Government, better known as the Hoover Commission, which had just been created by Congress. Its purpose was to attempt to bring the machinery of the executive branch of the federal government back within the control of the president, increasing its efficiency and its responsiveness at the same time. Pollock served on the committee until 1949, and remained concerned with these problems throughout the 1950s. The final report of the Hoover Commission made a request for a "continuing agency" to deal with the problems in this area, and in 1959, after several intermediate commissions, the Advisory Commission on Intergovernmental Relations was created by act of Congress. Pollock served as vice-chairman of the Commission from 1959 to 1961. Professor Pollock's interest during the 1950s in the relationship between federal and state governments also led to his one attempt at elective office; he was elected as a delegate of the Republican party to the Michigan Constitutional Convention in 1961.

Professor Pollock retired as departmental chairman in 1961, and retired from the University of Michigan in 1968. Unfortunately, his desire to pursue further such various topics such as the reform of state government, the reorganization of the federal executive and the problems of governments abroad was cut short by his death a few months later, on October 4, 1968.

Acquisition Information:

The bulk of the collection was donated by James K. Pollock (donor 1048 ) in several accessions, the last in 1968. The 1989 accession was donated by Robert Pollock, son of James K. Pollock.

Processing information:

Box 57 was eliminated during reprocessing.

In preparing digital material for long-term preservation and access, the Bentley Historical Library adheres to professional best practices and standards to ensure that content will retain its authenticity and integrity. For more information on procedures for the ingest and processing of digital materials, please see Bentley Historical Library Digital Processing Note. Access to digital material may be provided either as a direct link to an individual file or as a downloadable package of files bundled in a zip file.

Arrangement:

Summary Contents List

Correspondence, 1912-1968

1912-1938 -- Boxes 1-3
1926-1939 -- Boxes 3-7
1938-1945 -- Boxes 7-11
1945-1961 -- Boxes 11-16
1946-1966 -- Boxes 20-28
1946-1968 -- Boxes 28-30

Organizational Affiliations and Professional Interests, 1935-1968 -- Boxes 16-20, 31-33
Research Files -- Boxes 33-37
Government Public Service

Hoover Commission, 1948-1949 -- Boxes 38-44
Advisory Commission Intergovernmental Relations, 1959-1961 -- Boxes 45-48
Michigan Constitutional Convention, 1962-1963 -- Boxes 48-55

Germany: Research and Official Responsibilities

Saar, 1935, 1955 -- Box 56, 58
Office of the Military Government of Germany, 1945-1946, 1947-1950 -- Boxes 58-64
University of Michigan Civil Affairs Training School -- Boxes 64-65
Later German Activities and Interests -- Boxes 65-69
German Election Studies --Boxes 69-70
Franz Lieber Foundation -- Boxes 71-72

European Election Studies -- Boxes 72-73
University of Michigan -- Boxes 74-77
Speeches and Writings, 1920s-1968 -- Boxes 78-82
Clippings, 1924-1968 -- Box 83
Visual Materials

Photographs -- Box 84 and outsize folders
Motion Pictures -- Box 85 and outsize

Personal/Miscellaneous -- Boxes 87-88
Related
Alternative Form Available:

Microfilm: A microfilm negative of the entire subseries Office of the Military Government for Germany (U.S.), 1945-1946 and later official observatory and fact-finding missions to Germany, 1947, 1948, 1950 of the series Germany: Research and Official Responsibilities is available.

Digitization: The Library has undertaken the digitization of a number of sound recordings within this collection. The resulting audio files are available for playback only in the Bentley Library Reading Room. Links to item images and additional information are available within this finding aid. Original sound recordings are only available for staff use.

Digitization: A number of recordings within this collection have been digitized. The resulting files are available for playback online or in the Bentley Library Reading Room according to rights. Original media are only available for staff use.
Contents
Using These Materials
---
RESTRICTIONS:

The collection is open for research.

The collection contains audio tapes from which digital copies have been made. Source tapes are for staff use only. Audio files are only available in the Bentley Historical Library reading room on designated Bentley Library computers.

Select recordings within this collection have been digitized. Original sound recordings are only available for staff use.

USE & PERMISSIONS:

Robert Pollock has transferred any applicable copyright to the Regents of the University of Michigan, effective March 30, 1991, but the collection may contain third-party materials for which copyright was not transferred. Patrons are responsible for determining the appropriate use or reuse of materials.
PREFERRED CITATION:

item, folder title, box no., James K. Pollock Papers, Bentley Historical Library, University of Michigan