Back to top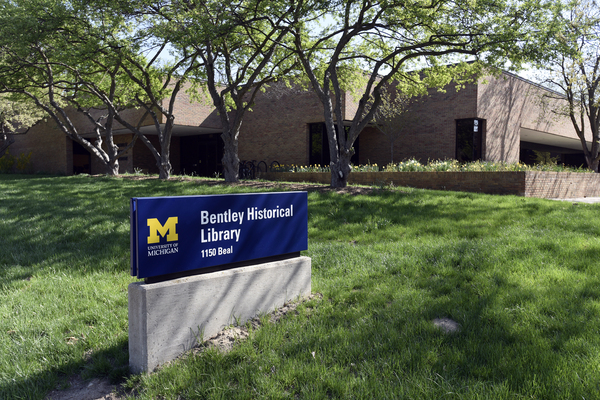 Address

:

1150 Beal Avenue

Ann Arbor, MI 48109-2113, USA
George Robert Swain photographs and papers, circa 1870-1947 (majority within 1913-1947)
Using These Materials
---
Restrictions:

The collection is open for research.
Summary
Creator:

Abstract:

University of Michigan staff photographer, 1913-1947 and commercial photographer in Ann Arbor, Michigan. Collection includes some manuscript material but is primarily photographic prints and negatives made by Swain. Photo subjects include university buildings, faculty, and student activities, archeological expeditions to the Near East and, Ann Arbor scenes and landscapes form his travels in the western United States and Canada.

Extent:

20 linear feet (in 34 boxes)
1 oversize folder

Language:

English.

Call Number:

86169 Aa 2; UAm; UAx

Authors:

Finding aid prepared by: Michigan Historical Collections Staff, 1984 Kathy Steiner, 1996
Background
Scope and Content:

The papers and photographs of George R. Swain mainly document Swain's accomplishments as university photographer at the University of Michigan from 1913 to 1947. Researchers should note, however, that this is only a sampling of the photographer's work during these years. The Kelsey Museum of Archaeology at the University of Michigan has an extensive collection of Swain's archaeological negatives and prints, and researchers interested in his full career will want to also look at the Kelsey collection. The Bentley Library material, while including several folders of fine photographs Swain made on his travels with Professor Frances Kelsey, for the most part documents Ann Arbor and the University of Michigan.

The collection at the Bentley Library consists of three series: Miscellaneous Papers; Photographers Log; and Photographs (prints; negatives; and lantern slides. Since the bulk of the collection is comprised of early twentieth century images of Ann Arbor and the University of Michigan, the materials will be of most interest to researchers searching for visual documentation of this part of the state in that time period. There are very few materials beyond the visual, although the lengthy captions attached to many overseas images and the essays, diaries, and letters, are extremely interesting and offer insight into how Swain approached his craft, both as a professional photographer and in his personal work.

Biographical / Historical:

George Robert Swain was born on July 15, 1866 in Meredith, New Hampshire. He died at the age of eighty on April 8, 1947, in Ann Arbor, Michigan. An educator and a photographer, his career included thirty-four years of service to the University of Michigan as university photographer from 1913 to 1947.

After irregular primary school education in New Hampshire, Swain traveled to California, where he took and passed the teacher's examination in 1888. He taught first in ungraded country schools and then at a high school in Ventura, California, where one of his students was Edith Louise Rice, who would later become his wife.

Swain received his B.A. degree from the University of Michigan in 1897 and his M.A. degree in 1900. The future Mrs. Swain also spent her last two years of college at Michigan. After receiving the B.A. degree, Swain accepted the position of principal at the Great Falls, Montana High School. Subsequent to the awarding of the M.A. degree, he took another position at a school for boys in Cleveland, Ohio. He did not remain in Cleveland long, however, because as he remarked in a newspaper article, the required dormitory living interfered with his marriage plans.

The Swains settled in Ann Arbor after their marriage in 1900. A few months later, George was offered principalship at the East Side High School in Bay City, Michigan. He served in that capacity for ten years, from 1900-1910. This position led to a similar post at the Lockport Township High School in Lockport, Illinois, where the Swains lived from 1911 to 1912.

In 1913 Swain returned once again to the University of Michigan and began his work on campus with Professor Francis W. Kelsey of the Latin Department. Having previously traveled 2000 miles in 1899 by bicycle through France, Switzerland, Belgium, Holland, and Germany covering Caesar's battlefields with his camera, he was well suited to accompany Professor Kelsey on trips to Europe as a photographic technician. During the four trips they made, Swain photographed valuable manuscripts for the university collection. In addition, immediately after World War I, the two men spent a year traveling throughout Europe on diplomatic passports, offering Swain another opportunity to utilize his photographic talents.

In 1924 and 1925 Swain was part of a university expedition which conducted excavations at Antioch in Pisidia. He and Professor Kelsey drove university cars from Brussels to Naples and three hundred miles across Asia Minor. Their travels also led to a photographic study of the Roman aqueducts. In 1925 and 1926 Swain traveled to Italy, Greece, Mount Athos, and Patmos. He worked with the Franco-American committee in Tunisia and Algeria and was permitted to photograph old manuscripts in eleven monasteries, eight of which were on Mount Athos. On one trip he is reported to have exposed some 1,200 heavy glass plates, all of which were brought back for developing. At one time or another Swain traveled the entire Mediterranean coastline, with the exception of Spain and Morocco.

As university photographer, Swain was allocated an office in the old campus library, where he produced negatives for lantern slides that were used in conjunction with lectures. His work was constantly in demand, and he worked long hours to produce the slides, which were particularly valued by faculties of the fine arts and engineering. Negatives were not developed on campus, however, but in his home darkroom at 1103 Packard Avenue, since the use of chemicals was forbidden in the library building. Examples of George Swain's work can be found in many university, student, and other publications emanating from Ann Arbor during these years.

In addition to commitments as university photographer, George and his wife Edith directed a summer camp for girls, Kamp Kairphree near Alpena, Michigan and later at Lake Charlevoix. Young women from across the country were reported to have attended the camp. Swain also conducted a private photographic business and pursued personal interests with his camera. When the family traveled, he took his camera along and when not traveling, he focused his lens on the campus and surrounding city and countryside. His landscapes, cityscapes, waterscapes, portraits and campus views are a rich historical resource -- all of a remarkable quality -- providing researchers with a unique visual record of the Ann Arbor area in the early twentieth century.

Acquisition Information:

The collection came from three different sources: Mr. Edwin L. Swain ( 6184 ); the University's Kelsey Museum ( 6687 ); and Mrs. D. W. Hayne ( 2778 ).

Arrangement:

The Swain papers are organized into three series:

Miscellaneous Papers (box 1)
Photographers Log (box 1)
Photographs

Prints (boxes 2-3)
Negatives (boxes 4-33).
Lantern slides (box 34)
Contents
Using These Materials
---
RESTRICTIONS:

The collection is open for research.

USE & PERMISSIONS:

Donor(s) have not transferred any applicable copyright to the Regents of the University of Michigan. Patrons are responsible for determining the appropriate use or reuse of materials.
PREFERRED CITATION:

item, folder title, box no., George Robert Swain Papers, Bentley Historical Library, University of Michigan