Back to top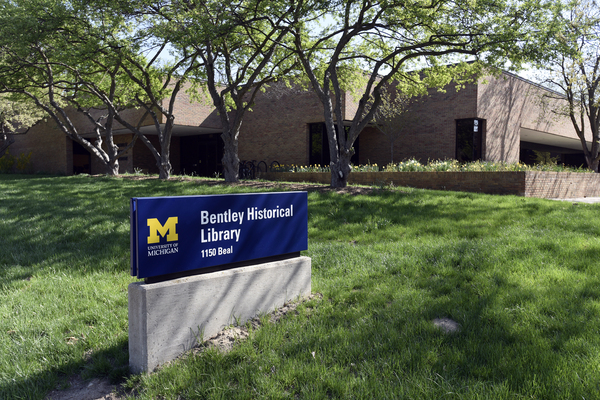 Address

:

1150 Beal Avenue

Ann Arbor, MI 48109-2113, USA
Prohibition National Committee (U.S.) records, 1872-1972
Using These Materials
---
Restrictions:

The record group is open to research.
Summary
Creator:

Abstract:

Minutes, 1888-1919, including; correspondence, newspaper clippings, and scrapbooks concerning party affairs; also papers, 1929-1970, concerning Prohibition Party in Michigan; papers, 1918-1930, concerning prohibition in Great Britain; papers, 1951-1958, concerning the National Temperance and Prohibition Council; and minutes, 1872, of the State Central Committee of the Prohibition Party of Michigan; also photographs and films.

Extent:

8 linear feet
1 oversize folder
2 oversize volumes

Language:

English

Call Number:

86124 Bt 2

Authors:

Finding aid created by Randall C. Jimerson and R. David Myers
Background
Scope and Content:

The Prohibition National Committee record group is arranged into the following series: Correspondence; Minutes and other papers; Press and printed; Sound recordings; Other organizations; and Visual materials. Except for the significant minute books of the party's national executive committee in the 1880s, most of the record group dates from the 20th century after the passage of the 18th Amendment. Information regarding the earliest years of the Prohibition Party in unfortunately missing in this record group.

Biographical / Historical:

The Prohibition Party constituted the partisan political element of the prohibition movement. Although the party achieved few victories at the ballot box, it provided an important forum for prohibition appeals and made the liquor issue a significant element in American politics for many years. The Prohibition National Committee was the governing body of the national Prohibition Party.

In 1869, top officials of the Independent Order of Good Templars, the Sons of Temperance and the Temple of Honor issued a call for a national convention to organize a Prohibition Party committed to securing and enforcing legislation to prohibit the production, distribution and sale of alcoholic beverages. On September 1, 1869, nearly 500 delegates representing nineteen states gathered at Farwell Hall, Chicago, where they organized the Prohibition Party, adopted a platform and elected as the first chairman of the Prohibition National Committee John Russell of Michigan. As leader of the first state-wide effort to organize a prohibition party, Russell had earned the recognition he later received as "Father of the Prohibition Party." Convinced that the liquor problem required political solutions, that success could only be secured through the party system, and that neither of the two major parties would ever give unqualified support to prohibition, the Prohibition Party's founders drew inspiration from the Republican Party's example of abolishing slavery by forming a new party based upon one dominant moral issue.

Like the Republican Party, the Prohibitionists recognized that they could never hope for electoral success by fastening themselves to a single issue. The Party's first presidential ticket and national platform, in 1872, were the first to advocate woman's suffrage, civil service reform, direct election of United States Senators, and prohibition. In 1896, the Prohibition Party endorsed a national income tax plan, making it the first political party to advocate each of the four issues which became amendments to the United States Constitution between 1872 and 1932. Party leaders boasted of their record as the vanguard of progressive political reforms. As a minority party, Prohibitionists sought support from many other political reform parties and societies. They fought not merely against saloons but also against the corrupt political parties and "debased politics" of the era. At various times resolutions of cooperation were considered or convention delegate representatives were exchanged with the Union Labor Party, the Populist Party the Socialist Labor Party, the Women's Party and the Universal Union War Extinction Prohibition Party. Yet the most important organization with which the Prohibition Party developed close relations was the Woman's Christian Temperance Union which, under the leadership of Frances E. Willard, from 1884 to 1898 exchanged delegates and gave ringing endorsements to the Prohibition Party. As vice-chairman of the Party for several years, Miss Willard strengthened the Party's stand in favor of woman's suffrage and its call for more education in public schools on alcohol problems.

The Prohibition Party never achieved significant success at the ballot box. From 1872 to 1932, the party's presidential candidates only twice, in 1888 and 1892, received more than 2% of the popular vote, and never gained more than 2.2%. Having received only 10,000 votes in its third presidential campaign in 1880, the Party was substantially reorganized to become by 1884 an aggressive, militant nation-wide political organization. In that year, former Republican governor of Kansas John P. St. John received over 150,000 votes on the Prohibition presidential ticket. He received more votes in New York than the margin of Grover Cleveland's close victory over James G. Blaine, thereby in effect denying the Republicans a national victory. Yet the Prohibition Party's national vote reached its peak of 270,000 in 1892, and never exceeded 1% of the vote after 1916. Although in certain states and in several local elections the party received consistent support and won occasional victories, the only candidates ever elected to national office on the Prohibition ticket were Kettel Halvorson of Minnesota, who won election to Congress in 1890, and Charles H. Randall of California, elected to Congress in 1914. Randall was re-elected twice, and served from 1915 to 1921 as a leading Congressional spokesman for prohibition. Although the Prohibition Party gained few election victories, it made prohibition an important political issue, exerting more influence over public opinion than the party's membership or votes would indicate.

The growth of the Populist and Socialist Parties, beginning in the 1890's, resulted in a decline of support for the Prohibition Party among those radical reformers whose commitment to prohibition was less strong than their interest in other social problems. Even among dedicated prohibition advocates, the party lost ground to the Anti-Saloon League, which was founded in 1893. The Anti-Salon League's "omni-partisan" policy supported and endorsed the most acceptable anti-liquor candidates for election, regardless of party, urging all temperance and prohibition voters to unite behind these candidates. The League explicitly rejected any alliance with the Prohibition Party, which they considered weak and ineffectual. Prohibitionists, in turn, denounced the Anti-Saloon League's willingness to compromise high principles in order to gain partial fulfillment of its goals and its support for local option laws, which blocked immediate progress toward state or national prohibition.

Ratification of the Eighteenth Amendment seemed, to many people, to many people, to mark the end of any need for the Prohibition Party, and some Party members even suggested disbanding the organization. Yet Prohibition Party leaders declared that only half of the battle had been won and that national prohibition could only be enforced and perpetuated when a party dedicated to these goals gained control of the government. At party conventions and National Committee meetings throughout the 1920's, Prohibitionists called for renewed efforts to gain final victory and adopted resolutions demanding that the major parties advocated and carry out strict enforcement of major victory and adopted resolutions demanding that the major parties advocated and carry out strict enforcement of prohibition laws. In defending the new legal status quo, the Prohibition Party moved farther and farther away from its earlier radical affiliations. In 1921, party leaders requested the government to deport any alien convicted of violating the Eighteenth Amendment and to deprive United States citizens similarly convicted of the right to vote. The 1924 Prohibition platform contained one plank proclaiming that the Bible should have a larger place in public schools and another declaring that unassimilated aliens were a menace to American institutions and should be Americanized. This was a far cry from the first Prohibition Party platform in 1872, which endorsed the Constitutional guarantees of civil and religious freedom and advocated the promotion of foreign immigration. The threat of prohibition repeal reinforced the party's backward-looking tendencies, making it for a number of years a conservative organization opposed to social change. Despite its greatly reduced influence and prestige, the Prohibition Party still continues to work for many of its original goals and to nominate candidates for office.

Acquisition Information:

The record group was deposited by the party (donor no. 4545 ) and came through executive secretary Earl Dodge.

Accruals:

Periodic additions to the records are not expected.

Rules or Conventions:

Finding aid prepared using Describing Archives: A Content Standard (DACS)
Related
Additional Descriptive Data:

Selective Index to Correspondents

| | |
| --- | --- |
| American Council on Alcohol Problems. | |
| American Youth for Political Action. | |
| Brown, Edmund G. (Edmund Gerald), 1905-1996. | |
| Christian Amendment Movement. | |
| Coate, Lowell H. | |
| Collins, LeRoy. | |
| Courtney, Kent. | Dec. 28, 1960, Apr. 11, 1967 |
| Cox, James M. (James Middleton), 1870-1957. | |
| Decker, Rutherford L. | June 30, 1947, July 8, 1947 |
| Dodge, Earl Farwell, 1932- | 1958, 1959, 1960, 1961, 1963, 1967, 1968 |
| Fisher, Rolland E. | |
| Gibbons, Delmar D., 1913- | 1958, 1959, 1960, 1961, 1963, 1964, 1965, 1966, 1967 |
| Hamblen, Stuart, 1908- | |
| Hammaker, Wilbur Emery, 1876-1968. | Nov. 19, 1958, Jan., 31, 1968, May 20, 1968, May 28, 1968 |
| Haydock, Earl Henry. | |
| Hays, Will H. (Will Harrison), 1879-1954 | 1920? Sept. 3, 1920, July 22, 1920 |
| Hinshaw, Virgil G. (Virgil Goodman), 1876-1952. | Mar. 21, 1923, (1920?), July 22, 1920, July 17, 1916 |
| Holdridge, Herbert C. | Nov. 20, 1954, Dec. 15, 1954, Jan. 13, 1955, Jan. 20, 1955 |
| Hunt, H. L. | |
| Kellogg, Frank B. (Frank Billings), 1856-1937. | |
| Kohler, Julia B., d. 1969. | |
| Levin, Sander, 1931- | |
| MacArthur, Douglas, 1880-1964. | |
| Morris, Sam. | |
| Munn, Earle Harold, 1903- | Nov. 19, 1958, Nov. 20, 1958, 1963, 1964, 1967, 1966, 1968 |
| Murphy, George, 1902-1992. | |
| National Reform Association. | |
| Ohio Council on Alcohol Problems. | |
| Overholt, Gerald. | |
| Shaw, Mark Revell, 1889- | 1967, Sept., 1968 (Sept. 20) |
| Universal Union War Extinction Prohibition Party. | |
| Wallace, George C. (George Corley), 1919-1998. | Apr. 11, 1967, July 22, 1968 |
| Watson, Claude A., 1885- | June 30, 1947, July 8, 1947, July 8, 1955, Oct- 12, 1964, Oct. 2, 1967 |
| Woman's Christian Temperance Union. | Correspondence throughout |
| Young, Coleman A. | |
Contents
Using These Materials
---
RESTRICTIONS:

The record group is open to research.

USE & PERMISSIONS:

Copyright is not held by the Regents of the University of Michigan. Patrons are responsible for determining the appropriate use or reuse of materials.
PREFERRED CITATION:

[item], folder, box, Prohibition National Committee (U.S.) records, Bentley Historical Library, University of Michigan