Back to top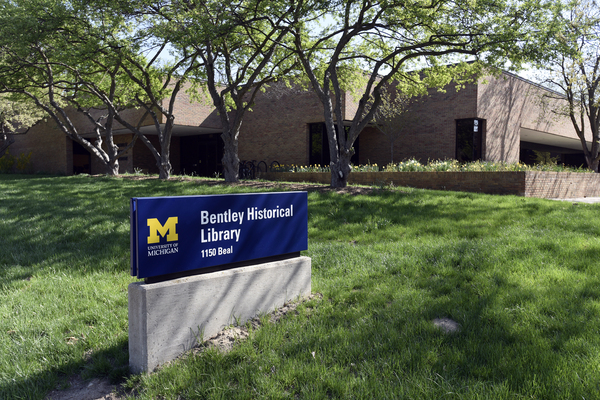 Address

:

1150 Beal Avenue

Ann Arbor, MI 48109-2113, USA
Wilber M. Brucker Papers, 1877-1968
Using These Materials
---
Restrictions:

The collection is open for research. The collection contains audio tapes from which digital copies have been made. Source tapes are for staff use only. Audio files are only available in the...
Summary
Creator:

Abstract:

Prosecuting attorney of Saginaw County, Michigan, attorney general of Michigan, 1929-1931, governor, 1931-1932, general counsel to the Department of Defense during the Army-McCarthy Hearing, 1954-1955, and Secretary of the Army, 1955-1961. Correspondence, speeches, tapes, appointment books, scrapbooks, photograph albums, newspaper clippings, and other materials concerning his political career.

Extent:

54 linear feet
2 oversize folders
22 GB (online)

Language:

English.

Call Number:

85874 Aa 2; Ac; UAl

Authors:

Finding aid prepared by: Michigan Historical Collections staff
Background
Scope and Content:

The Wilber M. Brucker Collection consists of correspondence, subject files, scrapbooks, tape recordings, visual materials, political ephemera, and other materials from a lifelong career in public service. The collection provides significant, though not always extensive, material on his activities as state attorney general, governor, and secretary of the army. In addition, the papers include documentation from Brucker's private career: his law practice, his involvement in the preparation of a plan for the reapportionment of the Michigan Legislature, his devotion to Republican Party causes, his activities with the Knights Templar of Michigan, and as a member of the World War I Rainbow Division. With some exceptions, the early phases of Brucker's life are not as well represented as one might hope. There is really no body of Brucker gubernatorial materials extant. What remains are scattered items, largely concerning the election campaigns of 1930 and 1932.

The collection has been arranged into twelve series: Biographical; Correspondence; Family Papers; Subject Files; Knights Templar; Rainbow Division; Appointment Books; Speeches; Secretary of the Army; Newspaper Clippings; Personal: Albums, Scrapbooks, etc.; and Visual Materials.

Biographical / Historical:

Wilber Marion Brucker, government official and governor, was born in Saginaw, Michigan, June 23, 1894, the son of Ferdinand and Roberta (Hawn) Brucker. His father was a judge and congressman. Wilber M. Brucker received his preliminary education at public schools in his native city and was graduated LL.B. in 1916 at The University of Michigan. He was admitted to the Michigan bar in the same year. He helped earn his way through school by waiting on tables, selling newspapers, and doing various summer jobs.

After graduation in 1916, he enlisted as a private in the 33d Infantry of the Michigan National Guard and participated in the U.S. Army expedition against Pancho Villa on the Mexican border. From 1917 to 1919, during and after the First World War, he was in the U.S. Army, advancing in rank from second to first lieutenant. He attended Officers' Training Camp at Ft. Sheridan, Ill., and was commissioned and sent to France, where he attended the French Warfare School for American officers and was assigned to the 166th Infantry, 42d (Rainbow) Division. He participated in the Aisne-Marne, Saint-Mihiel, and Meuse-Argonne offensives, and later served with the Army of Occupation on the Rhine in Germany until his return to this country in 1919.

In 1919 he established an independent practice of general law in Saginaw, later that year becoming assistant prosecuting attorney of Saginaw County. Elected prosecuting attorney in 1922, he served two terms, and in 1926 he was appointed assistant attorney general of Michigan, remaining in that office until he was appointed attorney general in February 1928, to fill a vacancy. Elected to a full term in November 1928, Brucker served as attorney general until 1930.

During his tenure as attorney general, he went before the Federal Communications Commission and secured the first radio communication equipment for the Michigan State Police. Also as attorney general, he tried the famous House of David case in the Supreme Court of the United States and won the case against the Chicago Drainage Canal, a case which involved water diversion from the Great Lakes.

He was elected governor of Michigan in the fall election in 1930 and served one term (1931-32). In 1933 he moved to Detroit, Mich., where he conducted a general independent law practice until 1937, after which he was a partner in the law firm of Clark, Klein, Brucker & Waples, Detroit, until 1954.

During the latter period he continued to be active in the Republican party serving as a delegate from Michigan to the Republican national conventions in 1932 and 1936, as chairman of the 14th Congressional District Committee during 1945-49 and the Michigan State Convention in 1948, and as a member of the platform committee and as Michigan delegate at the 1948 Republican National Convention. In 1954 Dwight D. Eisenhower nominated him as general counsel of the U.S. Department of Defense, and after confirmation by the U.S. Senate he served as general counsel for about one year.

Appointed secretary of the army to succeed Robert T. Stevens in 1955, Brucker remained in that post until 1961, when he returned to the practice of law in Detroit, forming the firm of Brucker & Brucker with his son, Wilber M. Brucker. In 1968 the partnership merged with two other law firms becoming Brucker, McInally, Rockwell, Wetzel & Brucker, of which he was a senior partner until July 1968, and counsel thereafter until the close of his life. His business interests included the First Federal Savings of Detroit, of which he was a founder and director.

As governor of Michigan, Brucker instituted a broad economy program which conserved state funds during the national economic depression of the period, and to those men on welfare he gave work building roads in the state. He allowed no new taxes or state bond issues, insisted upon keeping politics out of law enforcement, and, refusing to grant pardons, placed the parole system upon a merit basis. During his tenure, he strengthened the Michigan state police by adding 100 men to the force and was credited with promoting construction of the state police administration building in East Lansing.

As general counsel to the Department of Defense at the time of the Army-McCarthy hearings before the senate committee headed by Joseph R. McCarthy, Brucker insisted that the military give the committee all the facts it wanted, and in so doing he was considered instrumental in defusing some of the crisis atmosphere at the hearings. He appeared at hearings held by a senate government operations subcommittee on a U.S. government employee security program to urge legislation to help the Defense Department keep subversives out of defense plants and other strategic facilities. He also directed the effort which resulted in the codification of military statutes and inaugurated a new defense plant program under which a central office in the Pentagon would screen and review security cases. He testified before the Senate foreign relations committee on the proposed U.S. ratification of 1949 Geneva Convention for the protection of war victims, and he urged U.S. ratification of conventions designed to modernize and broaden international law relating to war prisoners and civilians in wartime. The conventions were approved by the Senate in 1955.

Under Brucker's leadership as secretary of the army, the army's arsenal of defensive and offensive guided and ballistic missiles and rockets was greatly expanded and work was furthered in all fields of research and development to assure the technological superiority of American arms. The army placed in orbit the country's first earth satellite on Jan. 31, 1958, and subsequently two additional satellites were launched. The army's combat divisions were completely reorganized according to the so called pentomic concept in order to adapt them fully to the requirements of either an atomic or nonatomic war on any scale; the powerful, mobile Strategic Army Corps was created, ready for movement by air to deal promptly with aggression in any part of the world; and the Army's Ready Reserve Forces were built to greater strength and effectiveness. Additionally, a large housing program was inaugurated and carried out at army installations at home and abroad, and policies and programs were put into effect which increased the attractiveness of an army career. In 1957 Brucker won acclaim for his supervision of the National Guard's intervention in Little Rock, Ark., to halt obstruction of school integration there. As secretary of the army, Brucker battled against suggestions that the United States stop defending Quemoy and Matsu, the Chinese Nationalist islands off the Chinese mainland, and he affirmed the government's intention to maintain U.S. troops in Berlin.

In addition to his other activities, Brucker was called upon in 1963 by the Republican party in Michigan to lead its efforts to negotiate with the Democrats on a new plan for apportioning state legislative seats. The following year he served as co-chairman of the Legislative Apportionment Commission set up by the new state constitution, and he scored a temporary victory by winning the Michigan Supreme Court's approval of a Republican redistricting plan. The court later rescinded its approval after the Supreme Court of the United States adopted its one-man, one-vote decision, and a Democratic plan was put into effect instead.

As a member of the Masonic order (33d degree), which he served as most eminent grand master of the Grand Encampment of Knights Templar of the United States from 1964-67, he was particularly active in the Grand Commandery, Knights Templar Eye Foundation, a Masonic charity for eye disease. During his three-year term as most eminent grand master, he was responsible for raising the endowment of the foundation from $100,000 to $1 million. Earlier he served the Knights Templar as commander of Detroit Commandery No. 1 and subsequently as grand commander of that body in the State of Michigan.

A member of the American Bar Association, he was chairman of the association's committee on ethics during 1953-55, and a book of his determinations while on that committee was published for the State Bar of Michigan, in which he was active as a member of the committee on professional and judicial ethics from the time of the founding of the committee in 1936 until retiring from the post in 1950 and was chairman of the committee from 1942 to 1950. During that period he was credited with writing most of the committee's formal opinions on a variety of ethical questions. From 1949 to 1955 he was a member and during 1953-55 was chairman of the state bar's committee on professional ethics and grievances. Furthermore, he was a member of the Federal and Detroit bar associations, American Judicature Society, American Bible Society, Phi Gamma Delta, Delta Sigma Rho, Sigma Delta Kappa, Historical Society of Michigan, American Legion, Veterans of Foreign Wars, Rainbow Division Veterans (pres. 1933 34), National Sojourners, University of Michigan Lawyers Club, Detroit Citizens League, and the Players, Kiwanis, and Economic clubs of Detroit.

He was married in New York City, Aug. 18, 1923, to Clara Helen, daughter of Emil and Regina Hantel of Saginaw, and had a son, Wilber Marion, who married Doris Shover. Wilber M. Brucker died in Detroit, Mich., Oct. 28, 1968.

Acquisition Information:

The collection was donated by Wilber M. Brucker (donor no. 3767 ) in several accession beginning in 1961.

Processing information:

In preparing digital material for long-term preservation and access, the Bentley Historical Library adheres to professional best practices and standards to ensure that content will retain its authenticity and integrity. For more information on procedures for the ingest and processing of digital materials, please see Bentley Historical Library Digital Processing Note. Access to digital material may be provided either as a direct link to an individual file or as a downloadable package of files bundled in a zip file.

Physical Location:

Collection stored offsite, two working days notice required for retrieval.
Related
Alternative Form Available:

Digitization: The Library has undertaken the digitization of a number of sound recordings within this collection. The resulting audio files are available for playback only in the Bentley Library Reading Room. Links to item images and additional information are available within this finding aid. Original sound recordings are only available for staff use.
Contents
Using These Materials
---
RESTRICTIONS:

The collection is open for research.

The collection contains audio tapes from which digital copies have been made. Source tapes are for staff use only. Audio files are only available in the Bentley Historical Library reading room on designated Bentley Library computers.

USE & PERMISSIONS:

Wilber M. Brucker, Jr. transferred any applicable copyright in his father's papers to the Regents of the University of Michigan but the collection may contain third-party materials for which copyright was not transferred. Patrons are responsible for determining the appropriate use or reuse of materials.
PREFERRED CITATION:

item, folder title, box no., Wilber M. Brucker Papers, Bentley Historical Library, University of Michigan