Back to top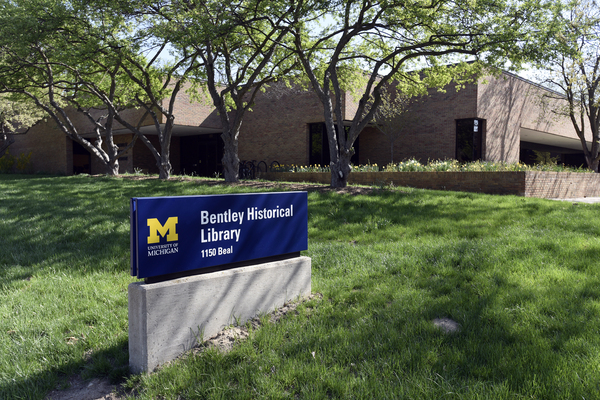 Address

:

1150 Beal Avenue

Ann Arbor, MI 48109-2113, USA
Gerald L. K. Smith Papers, 1922-1976
Using These Materials
---
Restrictions:

The collection is open for research.
Summary
Creator:

Abstract:

Founder of the America First Party, head of the Christian Nationalist Crusade, and outspoken anti-Semite. Correspondence, speeches, oral history transcript, memoranda and other materials detailing his criticism of America's participation in World War II, his Michigan senatorial race in 1942, his campaign for the presidency in 1944, his opposition to the spread of communism after the war, and his support of conservative Christian causes and right wing individuals and organizations; and photographs. Portraits of Smith and his wife, Elna Smith; photographs of meetings and conventions of the America First Party, of picketing and other political activity in support of Smith and his platform, and of Smith's associates and supporters; also photographs and portraits of celebrities, buildings, and activities, which Smith collected, probably for use in his publication The Cross and the Flag.

Extent:

102 linear feet
2 phonograph records

Language:

English.

Call Number:

85818 Aa 2

Authors:

Finding aid prepared by: Michigan Historical Collections Staff
Background
Scope and Content:

The papers of Gerald L.K. Smith include correspondence, speeches, oral history transcript, memoranda and other materials detailing his criticism of America's participation in World War II, his Michigan senatorial race in 1942, his campaign for the presidency in 1944, his opposition to the spread of communism after the war, and his support of conservative Christian causes and right wing individuals and organizations; and photographs.

The major portion of the Gerald L.K. Smith papers came to the library in the spring of 1982. Before then, the library had accumulated a smaller group of Smith materials, mainly publications of the Christian Nationalist Crusade, mailings out of the Smith office from the 1960's and 1970's, the tapes and transcripts of an interview conducted with Smith in 1968 by a library staff member, and a few microfilm reels of a very small section of Smith's papers.

With the 1982 accession, the Smith collection now totals 102 linear feet of correspondence, memoranda, clippings, published materials, and photographs and motion pictures. The collection covers the years, 1922-1976, but bulks largest for the period since 1939. Regrettably, only scattered materials for the period before 1939 have survived so there is slight documentation of Smith's activities in Louisiana with Huey Long. What has survived from these years are a few letters from parents, some published sermons and radio speeches, and an assortment of notes, clippings, and meeting materials. It is perhaps surprising that not more of the collection had been discarded or mislaid. As the papers came from storage in Eureka Springs, Arkansas, the earlier files had been shifted about several times as Smith and his organization moved their base of operation: from Louisiana to Detroit, to St. Louis, to Los Angeles, and then to Eureka Springs. Smith seems to have been a careful record-keeper, however, and very little of the post-1939 files needed processing.

Biographical / Historical:

Gerald Lyman Kenneth Smith was born February 27, 1898 in Pardeeville, Wisconsin. Called to the ministry like his father, Lyman Z. Smith, and other members of his family before him, Smith attended Valparaiso University and Butler University in Indiana, and was then ordained a minister of the Disciples of Christ. In 1922, Smith married Elna Marion Sorenson, who came to be an active and important co-worker in the causes of her husband.

During his early ministry, Smith held pastorates in Indianapolis, Indiana and in Shreveport, Louisiana. While in Louisiana, Smith became a close friend and supporter of Governor and later U.S. Senator, Huey Long. A noted orator, Smith soon became a major spokesman for Long's "Share the Wealth" Program, and was called upon to conduct the funeral service for Long following his assassination in 1935. During the 1936 election campaign, Smith was associated with Father Coughlin and Francis Townsend in the work of the Union Party.

Even before election day, Smith had started to organize the Committee of 1,000,000, though it was not formally launched until March 1937. Formed as a nationalist front against the spread of communism, the Committee was isolationist, anti-union, and bitterly critical of the Roosevelt New Deal. In these years before World War II, Smith was searching for a base. He traveled about the country speaking whenever he could, and refining his image as a self-proclaimed crusader against communism and the C.I.O. In 1939, he began a series of broadcasts over WJR in Detroit, a powerful Midwestern station. Because of the receptiveness of this audience, some of whom were his larger financial backers, Smith decided to locate permanently in Detroit, moving there sometime that same year.

Smith worked with the Committee of 1,000,000 into the early 1940's. In April 1942, he published the first issue of the Cross and the Flag which came to be the principal means by which he spread his ideological message. Also in 1942, Smith ran unsuccessfully in the Republican primary for the United States Senate from Michigan. Undaunted by the returns, he ran as an independent in the fall election, but was again badly defeated.

In January 1943, Smith established the America First Party with the avowed purpose to provide an outlet for voters who might be dissatisfied with the candidates selected by the major parties in the 1944 national election. As Smith explained it, he hoped that his party would never have to go on the ballot, but since the Democrats and Republicans had already betrayed him and his followers in 1940 when they nominated "internationalists," he did not want them to be without recourse again. Smith did what he could to influence the choices of the major party conventions in 1944, but he was dissatisfied with Dewey and unalterably opposed to Roosevelt, so he felt compelled to run for president himself on the America First ticket.

After the war, about 1946, Smith formed the Christian Nationalist Crusade, a federation of over 60 right wing organizations, all with the purpose of fighting communism and upholding the ideals of "Christian Americanism." Smith was made national director of the CNC which was then headquartered in Detroit. In 1947, he moved his base of operation from Detroit to St. Louis. He himself then decided to live in Tulsa.

The Christian Nationalist Crusade, like most of Smith's other ideas, was based upon fear of a changing world and hatred of the supposed enemies of American and Christianity. Under the auspices of the CNC, Smith championed a variety of conservative and anti-communist causes. The CNC sponsored numerous meetings, distributed literature, organized petition campaigns, and lent their organizational skills to political candidates whose positions most resembled their own views. In 1952, Smith actively supported the candidacy of Douglas MacArthur for president. In the 1960's, he became a supporter of George Wallace.

Despite its St. Louis base, some of the most important activities and conventions of the CNC were centered in California, where Smith found some of his most influential backers. Thus, in 1953, Smith moved to Los Angeles, California. He and the CNC stayed there nearly twenty years, then moved to Eureka Springs, Arkansas. Smith devoted the final years of his life to a number of religiously-oriented projects. One was the management of a full-scale Passion Play presented each year in Eureka Springs. Another was the completion of a towering Christ of the Ozarks statue for which Smith had helped to raise the money. Other plans for Eureka Springs stalled with his death on April 15, 1976.

Acquisition Information:

The bulk of the Smith collection (Donor No. 1082 ) came to the library in March 1982 following the probating of Smith's will. Prior to that, the library had collected some of the published materials of Smith, an oral history interview, and a microfilm copy of a portion of the papers, filmed while still in Smith's custody.

Processing information:

Original processing by Thomas Powers, March-December 1982. Smaller portions of the collection processed by Roy Tryon, Darwin Matthews, Helmi Raaska, Roberta Keniston, Kurt Harrison, and Eric Uhl.

In preparing digital material for long-term preservation and access, the Bentley Historical Library adheres to professional best practices and standards to ensure that content will retain its authenticity and integrity. For more information on procedures for the ingest and processing of digital materials, please see Bentley Historical Library Digital Processing Note. Access to digital material may be provided either as a direct link to an individual file or as a downloadable package of files bundled in a zip file.

Arrangement:

The Gerald L. K. Smith Papers are organized into ten series. The largest portion is in a chronological series with separate alphabetically arranged topical file for each year or range of years. There are a number of smaller subject series and series based on format of material including an audio-visual materials series with subseries of photographs, motion pictures and sound recordings.

Chronological files

1922-1938 [Box 1]
1939-1942 [Boxes 1-7]
1943 [Boxes 7-11]
1944 [Boxes 11-14]
1945 [Boxes 14-17]
1946 [Boxes 17-20]
1947 [Boxes 20-22]
1948 [Boxes 22-26]
1949 [Boxes 26-29]
1950 [Boxes 29-33]
1951 [Boxes 33-36]
1952 [Boxes 36-38]
1953 [Boxes 38-40]
1954 [Boxes 41-42]
1955 [Boxes 43-44]
1956 [Boxes 45-46]
1957 [Boxes 46-48]
1958 [Boxes 48-49]
1959 [Boxes 50-51]
1960 [Boxes 51-53]
1961 [Boxes 53-54]
1962 [Boxes 55-56]
1963 [Boxes 56-58]
1964 [Boxes 58-59]
1965 [Boxes 59-61]
1966 [Box 61]
1967 [Box 61]
1968 [Boxes 61-63]
1969 [Boxes 63-65]
1970 [Boxes 65-69]
1971 [Boxes 69-71]
1972 [Boxes 71-74]
1973 [Boxes 74-76]
1974 [Boxes 76-79]
1975 [Boxes 79-81]
1977 [Box 81]

Personal (scattered dates) [Box 81]
Administrative files [Boxes 82-90]
Loan file, 1969-1974 [Box 91]
Christian Nationalist Crusade

Newsletters [Boxes 92-93]

Oral History/Microfilm Project (and other MHC collected materials)

Transcripts of oral interviews, 1968 [Box 94]
Books and pamphlets published or distributed by the CNC [Box 95]
Microfilm of Smith collection [Box 96]

L. Z. Smith papers [Box 97]
United Farmers of America [Box 97-98]
Newsletters, pamphlets of other conservative individuals and groups [Box 99]
Audio-Visual Materials

Photographs [Box 100]
Motion Pictures [Boxes 101-102]
Sound recording discs [located in phonorecord collection]
Contents
Using These Materials
---
RESTRICTIONS:

The collection is open for research.

USE & PERMISSIONS:

Donor(s) have transferred any applicable copyright to the Regents of the University of Michigan but the collection may contain third-party materials for which copyright was not transferred. Patrons are responsible for determining the appropriate use or reuse of materials.
PREFERRED CITATION:

item, folder title, box no., Gerald L. K. Smith papers, Bentley Historical Library, University of Michigan