Back to top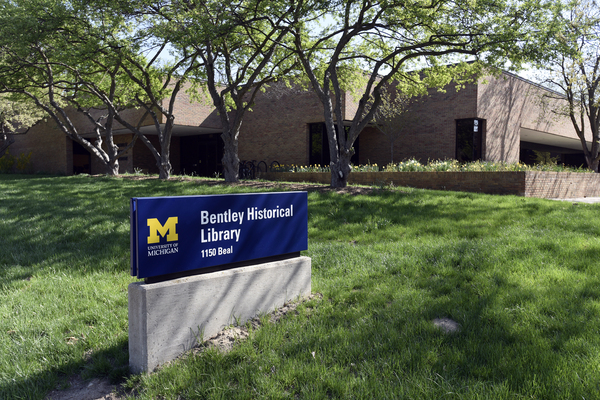 Address

:

1150 Beal Avenue

Ann Arbor, MI 48109-2113, USA
Southwestern Michigan Urban League records, 1962-2007
Using These Materials
---
Restrictions:

The record group is open to research.
Summary
Creator:

Abstract:

Interracial, non-profit, non-partisan community service organization in Battle Creek, Michigan (formerly Battle Creek Area Urban League) founded in 1966 and affiliated with the National Urban League. Series include: History, Administration, Correspondence, Reports, Meetings, Programs, Community Memberships, Public Relations, Events, Battle Creek Area Urban League Guild, and Visual, Audio, and Digital Materials.

Extent:

23 linear feet

Language:

English

Call Number:

85808 Bd 2

Authors:

Finding aid created by Kathy L. Steiner (1996) and Matt Strand (2008)
Background
Scope and Content:

The records of the Southwestern Michigan Urban League span the years 1962-2007. The League's mission of providing and administering services for minorities and the disadvantaged, as well as internal operations, are reflected in the records, which consist mainly of administrative and program materials, correspondence, minutes, reports and proposals. While the years represented incorporate tenures of numerous executive directors, the records most fully document leadership provided by Benjamin Richmond (1982-1987) and Joyce Brown (1988-1992).

The Southwestern Michigan Urban League Records are relevant to the study of the administration of African American social service organizations, especially Urban Leagues, within the context of particular communities. The collection is strong in illuminating the effectiveness of collaboration -- civic, business and educational groups addressing interrelated community issues. Both Richmond and Brown maintained high profiles on numerous boards and committees working in Battle Creek to solve social problems and promote economic development.

Biographical / Historical:

The Southwestern Michigan Urban League (formerly Battle Creek Area Urban League) is an interracial, non-profit, non-partisan community service organization affiliated with the National Urban League. The seventh affiliate to organize in Michigan, its initial mission followed traditions of Urban Leagues in similar city centers -- to secure equal opportunities for minorities and the disadvantaged through community planning and non-confrontational negotiations with employers and government officials. The League continues to implement its mission through advocacy and bridge building, along with research and services in areas of education, employment, health, community and economic development. Governed by a board of directors, programs are administered by an executive director and staff. Corporations, foundations, and the United Way of Greater Battle Creek provide programmatic funding.

In 1953 Roy Norris, a field representative of the National Urban League visited Battle Creek and met with the Human Relations Committee, which later expanded and became the Battle Creek Area Council on Human Relations. Nine years later, under the leadership of Evelyn Golden, the Council's employment committee invited Paul I. Phillips, executive director of the Grand Rapids League to attend one of their meetings to discuss a youth incentive program. His visit rekindled interest in the League and in July of 1962, the Council wrote to Whitney M. Young, Jr., Executive Director of the National Urban League, requesting affiliation information.

Early in November 1963, Evelyn Golden was named chair of the Urban League Study Committee of the Council of Human Relations. In February 1964 an associate director of the national organization visited Battle Creek to confer with community leaders. A second twenty-one member Urban League Study Committee was appointed by the Calhoun County Community Council in July 1964. Its major goal was to conduct a study documenting the economic and cultural conditions of African Americans in Battle Creek.

Dr. Warren Banner, research director of the National Urban League, was invited to assist with the survey. His report, "A Review of Economic and Cultural Problems in Battle Creek," indicated that a wide gap existed between black and white residents of the community in areas of health, education, employment and housing. Following review of the 145 page document, the Committee recommended to the Community Council and the United Fund that a League be established by January 1966 with a budget of $18,000. Agencies and organizations including the City Commission, Council of Churches, General Foods Corporation, Michigan Bell, W.K. Kellogg Company, AFL-CIO and YWCA offered support.

In June 1965, Whitney Young, Jr. visited the city to meet with a group of twenty-five Battle Creek business and industrial leaders. The following November the League was accepted as a member agency of the United Way with funding scheduled to begin January 1967. A $6,000 grant from the Kellogg Foundation made it possible to begin operations earlier and in September of 1966 Milton R. Robinson was named executive director and Lillian Chase secretary. A board of directors was appointed consisting of twenty-nine Battle Creek citizens selected to represent a cross section of the community. Evelyn Golden was elected board president; Ray Briggs vice president; Lucille Mitchell secretary; and Thaddeus Taylor treasurer. The Board held its first meeting on March 28, 1966. On May 17 the League was formally accepted by the National Urban League as an affiliate.

Battle Creek Urban League quickly established itself as one of the major social service agencies in the area. Active committees focused on employment, health and welfare, education and youth incentives. Meetings were held with the school board and school officials, job training programs were developed, voter registration drives were instituted, and the League became a strong advocate for fair housing. Whitney Young, Jr. was guest speaker at the first annual dinner held in March 1967. Director Milton Robinson wrote a weekly column, "Robinson on Race," for the Battle Creek Enquirer and News.

The early 70s were marked by the development of broad new programs. "New Thrust" was designed to address problems in youth employment and housing through block clubs and leadership training. A project developed in collaboration with four other cities focused on moving minorities into building trade unions. A grant from the Michigan Department of Education funded a food program for low-income children. From the late 1970s through the early 1980s, however, the League suffered from a series of short-term executive directors, lack of support staff, depressed membership, weak record keeping and financial management, reducing the effectiveness and efficiency of programming efforts. The lowest point in this period was in October 1976 when the League's food stamp operation came under charge of mismanagement.

In 1982 Benjamin Richmond was appointed executive director. Richmond immediately became active in local civic organizations, increased community support, relocated the offices of the League, and hired additional staff. During his tenure, the Battle Creek Area Urban League realized the restoration of fiscal solvency and an increase in membership, committee participation and programming. The Employment Procurement Program assisted adults in finding jobs. The Linear Park project involved youth in the construction of a Battle Creek landscaped parkway. The Community Interest Group, a collaboration with local businesses and organizations including the W.K. Kellogg Company and the Battle Creek Area Chamber of Commerce, provided employment services to area young people. Challenge IV, a joint venture with Kellogg Community College, offered both education and employment services to students planning on pursuing higher education. Additional programs linked teenagers with senior citizens, assisted single parents, developed neighborhood watch groups, provided scholarships, and hosted an annual community Family Day.

When Benjamin Richmond resigned in 1988 to head the Urban League in Louisville, Kentucky, Joyce Brown was selected to head the organization in Battle Creek. During Brown's tenure the agency continued its active involvement in civic affairs, solidified its administrative structure, and developed long-range strategic plans. In that same year the National Urban League called attention to a pressing nationwide need for educational initiatives, including increased community involvement and partnership with neighborhood schools. Brown established an Education Department and launched the Education Initiative Program with three components -- parental involvement, mentoring and tutoring. The Education Department also managed a stay-in-school program and a program to assist high school drop-outs. Meanwhile, the Employment Department continued the work of Challenge IV, the Community Interest Group, Linear Park, and job assistance for adults. Outreach also became a major focus. Family Day continued as an annual event, bringing neighborhoods, churches and civic groups together each summer; Urban League Sunday was celebrated each February; and a community networking reception designed to promote community awareness and problem solving was inaugurated.

In 1992 the Battle Creek Area Urban League, under the leadership of James Graham, changed its name to Southwestern Michigan Urban League. During this decade, the organization continued to focus on employment, education and youth issues. Programs like STRIVE, and the Urban League's contract compliance monitoring services served to increase minority employment opportunities and ensure equitable work environments. Likewise, youth programs such as the Community Leaders Program, and various scholarships offered and organized by the Urban League provided the youth of Battle Creek with guidance and educational opportunities.

After the departure of James Graham in 1997, the Southwestern Michigan Urban League went through interim CEOs Joyce Brown and Dizzy Warren before hiring Kenneth Little to the position in 2002. Little's tenure saw the Urban League, under the guidance of Chairman of the Board, John Harper, focus its attention on the goal of realizing the dreams of disadvantaged children in Battle Creek. To this end, programs such as "I Saw the Light," and "Can You Hear Me," were enacted, as well as collaborative efforts with the Urban League Brass Band. After Little's departure in 2004, Carl Word was hired to the position of CEO and President.

Acquisition Information:

The record group was first deposited by Battle Creek Area Urban League in 1974 (donor no. 5499 ). Periodic additions have been received.

Accruals:

Periodic additions to the records are expected.

Rules or Conventions:

Finding aid prepared using Describing Archives: A Content Standard (DACS)
Contents
Using These Materials
---
RESTRICTIONS:

The record group is open to research.

USE & PERMISSIONS:

Donor(s) have not transferred any applicable copyright to the Regents of the University of Michigan. Patrons are responsible for determining the appropriate use or reuse of materials.
PREFERRED CITATION:

[item], folder, box, Southwestern Michigan Urban League records, Bentley Historical Library, University of Michigan