Back to top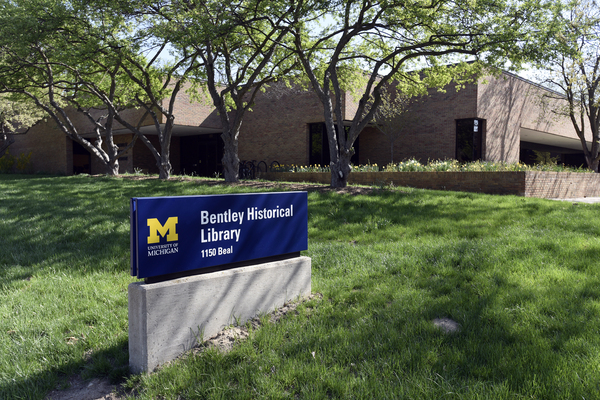 Address

:

1150 Beal Avenue

Ann Arbor, MI 48109-2113, USA
Hobart Taylor, Jr. Papers, 1961-1981
Using These Materials
---
Restrictions:

The collection is open for research.
Summary
Creator:

Abstract:

Attorney and businessman, associate counsel to President Lyndon Johnson, later director of the Export-Import Bank; correspondence, speeches, and oral history interviews; files relating to his work with Plans for Progress, a voluntary association of business and industry working to promote equal employment opportunities; his work on the President's Committee on Equal Employment Opportunities, the NAACP, the Commandant of the Marine Corps' Advisory Committee for Minority Affairs; topical files relating to Democratic politics in the 1960s, and his work with Johnson and Vice-President Hubert Humphrey; and photographs.

Extent:

23.1 linear feet (in 25 boxes)

Language:

English.

Call Number:

85542 Aa 2

Authors:

Finding aid prepared by: Gary Kwiatek
Background
Scope and Content:

The Hobart Taylor, Jr. papers document his work in various staff positions in the Kennedy and Johnson administrations, Democratic Party activities and his service on several government committees and work with business and civic organizations relating to civil rights, equal employment opportunities and economic development. The papers have been organized into the following ten series: Personal, Correspondence, President's Committee on Equal Employment Opportunities, Plans for Progress, National Association for the Advancement of Colored People, Commandant of the Marine Corps' Advisory Committee on Minority Affairs, Export-Import Bank, Topical files, Awards, and Photographs.

Biographical / Historical:

Hobart Taylor, Jr. was born on December 17, 1920 in Texarkana, Texas. He attended Houston public schools, received an A.B. from Prairie View State College (1939) and an A.M. in economics from Howard University (1941). He attended law school at the University of Michigan, where he was a student editor of the Michigan Law Review. In 1943 he received a J.D. from the University, and in 1944 he was admitted to the Michigan Bar.

Taylor was employed from 1944-1945 as a research assistant to the Chief Justice of the Michigan Supreme Court. He became a junior partner in the Detroit law firm of Bledsoe & Taylor (1945-1948) and then a senior member of the firm Taylor, Patrick, Bailer & Toe, also of Detroit (1958-1961).

From 1951-1961, he was an assistant prosecuting attorney in Wayne County, Michigan.

Taylor began work in the federal Government shortly after the inauguration of the Kennedy-Johnson Administration in January 1961. He became a special assistant to then Vice-President Lyndon Johnson and also served as Special Counsel to the President's Committee on Equal Employment Opportunities (PCEEO), which was formed in 1961 by President Kennedy to end hiring bias by government contractors and agencies. Having been given the authority to actually cancel contracts of non-complying firms or unions, this Committee proved more effective than its two Eisenhower predecessors-the Committee or Government Contracts and the Committee on Government Employment Policy.

In September, 1962, President Kennedy appointed Taylor Executive Vice Chairman of the President's Committee; he thus became the first non-white head of a Presidential committee staff. Taylor held this position until 1965 in addition to continuing his work as special counsel to the Committee.

While Executive Chairman, Taylor worked with Charles E. Spahr, then President and later Board Chairman of Standard Oil of Ohio, when Spahr was chairman of the Advisory Council to Plans for Progress, a voluntary cooperative association of major American corporations in support of equal employment opportunity. Taylor contributed to the Plans for Progress program by seeking to include employers in every field; by enlisting greater Participation of labor; by setting up special education programs at colleges and universities; by moving into Southern areas like Birmingham, Alabama; and by convincing the advertising industry to conduct a nationwide equal employment campaign. Taylor was also instrumental in bringing about non-discriminatory hiring practices by contractors at the federal space center in Huntsville, Alabama.

In April, 1964, President Johnson appointed Taylor Associate Counsel to the President. From this office at the White House, Taylor continued to direct the activities of the President's Committee while carrying out his responsibilities as Associate Counsel. Taylor resigned both positions when he became a Director of the Export-Import Bank in 1965, but at the request of Vice-President Hubert Humphrey, he continued to help direct the Plans for Progress program.

Taylor returned to private law practice in 1968 as a partner in the Washington, D.C. law firm of Dawson, Riddell, Taylor, Davis & Holroyd in which he remained until 1979. In 1980, he was named Counsel for Jones, Day, Reavis & Pogue, also of Washington, D.C.

Taylor's extensive business interests over the years included board of director memberships in such prestigious American corporations as Aetna Life Insurance Co., A & P, Standard Oil of Ohio, Westinghouse, National Urban Corporation, Eastern Air Lines, and the Burroughs Corporation.

Taylor was involved over the years in a number of civic and charitable activities. He was, for example, active in the affairs of the Democratic National Committee and helped to plan the Lyndon Johnson Inauguration (Jan., 1965). He was a leading figure in the NAACP and served for many years as a Trustee of the NAACP Special Contributions Fund. In 1979 he became a member of the National Board of the NAACP. He was a trustee of Dillard University, Howard University, and the Loomis Institute (Windsor, Connecticut).

Taylor's other charitable and civic activities include the following: Board member, A Better Chance, Inc. (1964-1972); Board member, National Merit Scholarship Corporation (1965-1973); official representative of President Johnson to the Fifth Anniversary Celebration of the Republic of the Ivory Coast in Africa (1966); Chairman, Commandant of the Marine Corps' Advisory Committee on Minority Affairs (1968-1974); Governor and member of the Executive Committee, American National Red Cross (1970-1978); member, Commission on Postal Service (1977-1978); Vice Chairman and Trustee, Wolf Trap Foundation for the Performing Arts; Trustee, United States Supreme Court Historical Society; Board Member, Development Council at the University of Michigan; and member, Committee of Visitors of the University of Michigan Law School.

Taylor belonged to a number of clubs, including the University Club (New York), George Town Club (Washington), and Lyford Cay Club (Nassau, Bahamas). He received honorary degrees from the Agricultural Technical College of North Carolina, Pacific University, Sham University, and Knoxville College. Among his numerous awards and commendations, the following may be cited: Achievement Award, National Business League (1964); Distinguished Service Award, U.S. Department of Labor (1964); Commandeur de l'Ordre National de la Republique de Cote D'Ivoire (1969); University of Michigan Sesquicentennial Award (1972); Distinguished Public Service Award, U.S. Navy (1974); and the NAACP Award for Distinguished Service (1975).

Hobart Taylor died on April 2, 1981.

Acquisition Information:

The Taylor papers were received from Hobart Taylor, Jr. (donor 5443 ) in four accessions, beginning in 1973. The major body of material was received in December 1981.

Physical Location:

Portions located in offsite storage; prior notification required for access.
Subjects
Click on terms below to find any related finding aids on this site.
Subjects:

Formats:

Names:

Places:
Contents
Using These Materials
---
RESTRICTIONS:

The collection is open for research.

USE & PERMISSIONS:

Mr. Taylor has transferred any applicable copyright to the Regents of the University of Michigan but the collection may contain third-party materials for which copyright was not transferred. Patrons are responsible for determining the appropriate use or reuse of materials.
PREFERRED CITATION:

item, folder title, box no., Hobart Taylor, Jr. Papers, Bentley Historical Library, University of Michigan