Back to top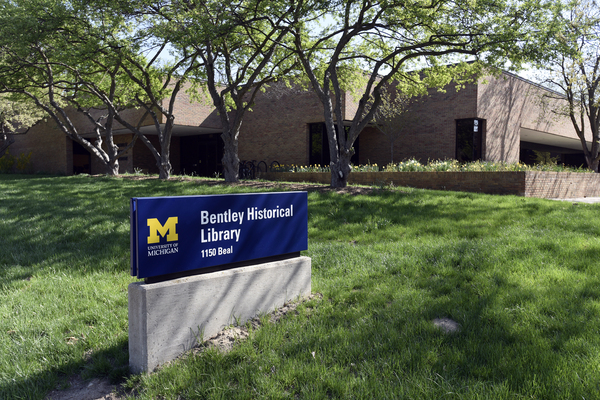 Address

:

1150 Beal Avenue

Ann Arbor, MI 48109-2113, USA
West Michigan Environmental Action Council Records, 1968-2012
Using These Materials
---
Restrictions:

The record group is open to research.
Summary
Creator:

Abstract:

Grand Rapids, Michigan-based environmental protection organization. Administrative, educational, legislative, and litigation files relating to various environmental issues, notably the Pigeon River Country State Forest oil drilling controversy, the problem of solid waste disposal, land and water use, and nuclear energy; contain files created during the tenures of executive directors Joan Wolfe, Roger Conner, Kenneth Sikkema, Frank Ruswick, Jr., Robert Newberry, Thomas Leonard, and Rachel Hood.

Extent:

28 linear feet

Language:

English

Call Number:

85504 Bn 2

Authors:

Finding aid created by Bentley Historical Library staff, updated by Jennifer Sharp in 2005 (reprocessing), and Devon Proudfoot in April 2017.
Background
Scope and Content:

The records of the WMEAC, received in multiple accessions, but now melded together, have been retained in an order approximate to that maintained by the organization in its earlier years. The records include administrative, educational, legislative, and litigation files relating to various environmental issues, notably the Pigeon River Country State Forest oil drilling controversy, the problem of solid waste disposal, land and water use, and nuclear energy; contain files of executive directors Joan Wolfe, Roger Conner, Kenneth Sikkema, Frank Ruswick, Jr., Robert Newberry and Thomas Leonard. the records are organized into eight series: administrative files, educational files, legislative files, litigation files, chlordane ban efforts, WMEAC non-serial publications, WMEAC publicity and media coverage, and WMEAC serial publications.

Biographical / Historical:

Founded in 1968 as a non-profit organization by Mrs. Joan Wolfe and other concerned citizens, the West Michigan Environmental Action Council (WMEAC) was established to protect and restore the quality of Michigan's environment. By means of programs of education, legislation, and litigation, WMEAC worked toward the goal of "translating concern into action."

Throughout the 1970s, as the membership of the organization grew, so too did the number of legislative initiatives and court cases in which WMEAC was involved. During the tenure of Mrs. Joan Wolfe, executive director from 1968 to 1973, the membership grew to seven hundred individuals and sixty Grand Rapids civic and professional organizations. The budget of the organization in this period was $60,000. By 1978-1979 the budget had expanded to $100,000 and membership numbered eight hundred and fifty individuals and seventy civic and professional organizations.

Originally WMEAC focused its attention on the Grand Rapids and Kent County area. However, the leaders of WMEAC realized that the environmental issues of concern to the Grand Rapids area were identical to problems being faced in other parts of the state. As a result, the leadership decided to establish a series of statewide coalitions and committees of organizations and individuals sharing similar environmental goals. The resulting coordinated effort of similar-minded organizations and individuals was able to produce more effective legislative and legal action in environmental problem areas.

The rapid expansion and growing diversity of the scope of WMEAC's activities produced a need for more organizational flexibility. Thus, in 1971, WMEAC established two separate tax deductible foundations to aid them in their work. The Michigan Environmental Protection Foundation (MEPF) was organized for the purpose of engaging in environmental litigation; and the WMEAC Education Foundation was created for the purpose of educating the public to environmental issues and problem areas. The budget for the Michigan Environmental Protection Foundation was drawn from donations specifically solicited to carry forward certain legal suits. The MEPF was commissioned to choose its lawsuits carefully in order to establish precedents and lay important groundwork in the field of environmental law.

In 1973, Mrs. Joan Wolfe was appointed to the Department of Natural Resources' Natural Resource Commission by Governor William Milliken. Succeeding Mrs. Wolfe as the executive director was Roger Conner, a graduate of the University of Michigan Law School. While in school Conner and some of his fellow law students had organized the Environmental Law Society. He also served as a research assistant to Professor Joseph L. Sax, the author of Michigan's Environmental Protection Act of 1970. Conner became the first full-time executive director of WMEAC. During his tenure, WMEAC involved itself more in court actions and sought in this fashion to support the progress made through legislation.

Conner left WMEAC in 1978 and Kenneth Sikkema, a native of Cadillac, Michigan, replaced him. Sikkema had been a legislative assistant and this experience had given him a knowledge of legislative personnel and procedures helpful to WMEAC in maintaining effective channels of communication with the state legislature. During Sikkema's tenure, several important pieces of environmental legislation supported and sponsored by WMEAC were passed by the state legislature. Among these were the Solid Waste and Hazardous Waste Act (1979) and the Wetlands Protection Act (1979). Significant new programs were also created by WMEAC during this period such as the Michigan Used Oil Recycling Program (MUORP) in 1979, and the establishment of a coalition of Michigan environmental groups called the Michigan Environmental Council (MEC) in 1980.

Throughout the 1980s and early 1990s WMEAC continued to play a vital role in both local and statewide environmental education, litigation and legislation. During this period, however, the group's emphasis shifted away from direct involvement in environmental lawsuits and towards more of a public "watchdog" to monitor actions and decisions in private and public sectors that could have an impact on West Michigan's environment, and to alert the community to potential environmental harm. WMEAC fulfilled this role through representing environmental concerns behind the scenes in local, state, and federal governmental offices; providing informed testimony at public hearings, commission meetings, in the legislature and before judicial bodies; and intervening directly to protect the environment through litigation and legislation when necessary.

As public environmental awareness continued to grow throughout this period and environmental battles became more intensified and polarized, WMEAC continued to promote itself as a moderate organization which provided a "grass-roots" reflection of the West Michigan community itself. WMEAC thus endeavored to build coalitions with diverse interests in order to find "common ground" solutions to environmental problems rather than pursue radical activism. This approach proved highly successful as WMEAC achieved numerous significant accomplishments and launched several important new programs under the leadership of executive directors Frank Ruswick, Jr. (1982-1987) and Robert Newberry (1988-1992).

With the departure of Ken Sikkema in September 1982, Frank Ruswick, Jr. was chosen by the Board of Directors to become WMEAC's new executive director. Ruswick, a University of Michigan Law School graduate, left his post as Attorney Advisor in the U.S. Department of the Interior's Division of Conservation and Wildlife, and accepted the position. Under his tenure, WMEAC expanded its sponsorship of Michigan's first used motor oil recycling program (MUORP), extending its scope from its West Michigan headquarters to cover virtually the entire state. As the Michigan legislature continued to balk at constructing a state-funded program, WMEAC by default became the organizer of this ambitious privately-run program, which provided the only recycling sources for "do-it-yourself" oil disposal in the state. Due to constraints upon WMEAC's financial and other resources this program was able to recover only a small portion of the used motor oil dumped by "do-it-yourself" oil changers. The program, however, raised awareness statewide of the need for a government-funded recycling effort to address this problem. Other major programs developed by WMEAC during this era included a two-year project to work cooperatively with the West Michigan industrial and agricultural communities to reduce "nonpoint source" pollution of lakes and streams, development of an annual "Youth Conference on the Environment," and creation of a "Speaker's Bureau," a committee of volunteers and staff available to speak on environmental issues for area schools, organizations and groups.

Several important pieces of environmental legislation were also enacted as a result of WMEAC's activities during the directorship of Ruswick. The most significant of these legislative victories included passage of the Surface and Underground Mine Reclamation Act (1982), the Great Lakes Oil Drilling Ban (1982), the Peat Mining Act (1984), and the statewide ban on the use of the pesticide Chlordane (1987).

Ruswick resigned in October 1987 to accept a position as chief of Michigan's Civilian Conservation Corps, and Robert Newberry, then a WMEAC program specialist and pesticides expert, was named acting executive director. Newberry, a longtime Grand Rapids resident and graduate of Grand Valley State College with a degree in environmental science, was officially appointed executive director in January 1988, and under his leadership WMEAC continued its legislative success and developed several new programs which further expanded the scope of the group's influence both locally and statewide.

Most notable among the new programs established by WMEAC during Newberry's tenure were "YIKES!" (Young Idealistic Kids with Environmental Sensitivity - 1989), Designs for Environmental Awareness (1989), the Adopt-A-Stream Program (1991) and Project Greenspace (1992). YIKES! was established as a WMEAC-sponsored high school group and has engaged in such activities as Christmas tree recycling, letter-writing campaigns and making recycled paper. Designs for Environmental Awareness was a grant-funded program created to extend community awareness of local environmental concerns and efforts through consultations and workshop applications. The Adopt-A-Stream Program is an ongoing project which enables school, service, church and community organizations to "adopt" West Michigan streams in order to protect water quality and wildlife habitats. Project Greenspace was created to identify, protect and connect parks, fields, gardens and wooded areas which exist within West Michigan urban landscapes.

As always, WMEAC was very politically active during this era and its success in helping to enact environmental legislation continued unabated. Notable accomplishments included the Statewide Sewer Overflow Policy (1988), the Used Oil Dumping Ban (1990), Polluters Pay (1990), and the successful campaign of environmental groups led by WMEAC to block Governor Engler's proposed shakeup of the Department of Natural Resources, which would have eliminated many of the DNR's boards (1992).

With the resignation of Newberry in September 1992, the Board of Directors culminated a five-month, nationwide search with the selection of Dr. Sandra Marlatt as its new executive director. Marlatt, a Grand Rapids native whose diverse background includes teaching at Michigan State University, marketing county parks for the Kalamazoo County Visitors and Convention Bureau and running a 1,600-acre nature center in Nebraska, was commissioned to engineer the fulfillment of the goals of a five-year strategic plan enacted by the WMEAC Board of Directors in 1991. This plan calls for the establishment of ecosystems land use planning, the creation of strategies/programs to control non-point source water pollution and reduce toxic air emissions in West Michigan, and efforts to increase WMEAC's endowment fund by $500,000 and membership to 5000 by 1996.

Martlatt's tenure was short, and WMEAC went through several leaders over the next few years. Thomas Leonard, who considers himself more of an administrator than an environmentalist, took over the leadership role in 1995.

The projects Leonard has been involved with include the US-31 Bypass, Kent County International Airport, and the Nordhouse Dunes litigation. He has also been a member of several committees with work related to WMEAC's mission. One such group is the West Michigan Sustainable Business Forum.

New Working Groups have continued to be formed. The Religion, Ecology, and Spirituality group has been active planning Earth Day celebrations, and other such activities.

WMEAC has applied for grants to fund a number of initiatives, and both the Board of Directors and Leonard have taken an active interest in the retention and recruitment of members, as well as insuring the continued financial solvency of the organization.

"Action Issue", WMEAC's primary publication continues to be published monthly, providing news and information related specifically to the group, and to environmental issues in general. Rachel Hood became WMEAC Executive Director in 2007. During Hood's tenure as the Executive Director, in 2013, WMEAC lounched IDEAL (Inclusion and Development of Environmental Allies and Leaders), a project created with a goal of "building relationships with community leaders and citizens from underrepresented communities to mobilize around environmental justice issues such as housing quality, health, energy insecurity, workforce development and pollution." The organization also focused on education programs, such as Teach for the Watershed (T4W), Teach our Energy Future (T4EF), and Zero Waste in Landfill (ZWIL). Bob Wood took over as the executive director of WMEAC organization in September 2017.

Acquisition Information:

The record group was donated by the organization (donor no. 6700 ) beginning in 1994. Subsequent additions have been received.

Rules or Conventions:

Describing Archives: A Content Standard
Subjects
Click on terms below to find any related finding aids on this site.
Subjects:

Formats:

Names:

Places:
Contents
Using These Materials
---
RESTRICTIONS:

The record group is open to research.

USE & PERMISSIONS:

Donor(s) have not transferred any applicable copyright to the Regents of the University of Michigan. Patrons are responsible for determining the appropriate use or reuse of materials.
PREFERRED CITATION:

[item], folder, box, West Michigan Environmental Action Council Records, Bentley Historical Library, University of Michigan