Back to top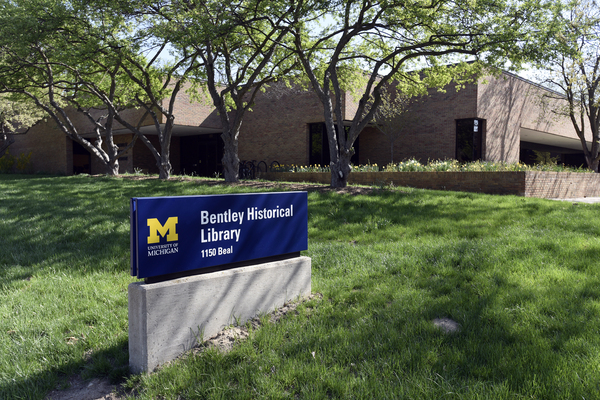 Address

:

1150 Beal Avenue

Ann Arbor, MI 48109-2113, USA
R. W. Fleming papers, 1920-2010
Using These Materials
---
Restrictions:

The collection is open to research. The collection contains audio tapes from which digital copies have been made. Source tapes are for staff use only. Audio files are only available in the...
Summary
Creator:

Abstract:

Ninth president of the University of Michigan, 1967-1978, later president of the Corporation for Public Broadcasting, chairman of the National Institute for Dispute Resolution, and member of the boards of the MacArthur and Johnson Foundations. Personal files, including general and family correspondence, papers detailing service with the U. S. Army military police in Europe during World War II, records concerning activities as labor arbitrator, topical files relating to work at universities of Illinois, Wisconsin, and Michigan; files relating to activities with the Corporation for Public Broadcasting concerning in part the Annenberg/CPB project; and photographs relating to his life and career.

Extent:

51 linear feet (in 52 boxes)
1 oversize folder
5.9 GB (online)

Language:

English

Call Number:

85232 Aa 2; UAm

Authors:

Finding aid created by Michigan Historical Collections staff
Background
Scope and Content:

The Robben Fleming collection documents a career marked by diversity in the areas of his public service. The cornerstone of his life is no doubt his years as ninth president of The University of Michigan. While this role is certainly documented in these papers, there is considerable other materials relating to his service in World War II, his work as a labor arbitrator and law professor, his work with the Corporation for Public Broadcasting, and his advocacy in other arenas of the importance of higher education. As Fleming worked in various educational and corporate settings, the records of that service properly belonged to those agencies. This collection, by and large, consists of personal materials retained by Fleming or copies of records given to Fleming as his own. Thus, for example, while this collection includes speeches, invitations, and personal correspondence, maintained while he was President of The University of Michigan, the records of the Office of the President for Fleming's tenure have been received and cataloged separately. Even so, the content of these materials is highly valuable on any number of topics, but specifically higher education broadly defined.

The series in the collection are Correspondence; World War II service; School materials; Labor Arbitration files; Career Activities to 1967; University of Michigan President, 1967-1978; Corporation for Public Broadcasting; Other Organizational Activities; Topical Files, 1978-2000; Knight v. State of Alabama; Publications, speeches, and reports; Personal and Autobiographical Materials; Travel Records; Clippings and Scrapbooks; Photographs; and Other visual and audio materials.

Biographical / Historical:

Robben Fleming was born in Paw Paw, Illinois, on December 18, 1916. He was active in student affairs and athletics throughout his student life. Fleming received his Bachelor of Arts degree in 1938 from Beloit College and went on to the University of Wisconsin where he received his LL.B. in 1941.

Soon after his graduation from Wisconsin, Fleming went to Washington, D.C. to work for the Reorganization Division of the Securities and Exchange Commission as a junior attorney. In April 1942, Fleming began working for the National War Labor Board, where he dealt with labor relations and wage control. That same month Fleming married Aldyth (Sally) Quixley, whom he had met while both were students at Beloit College. Fleming was inducted into the United States Army in October 1942.

After induction into the army, Fleming was sent to Fort Riley, Kansas to receive basic training. On January 16, 1943, Fleming arrived at Fort Custer, Michigan where he remained until May 1943, enrolled first in the Military Police Officer Candidate School, and later in the Occupational Police School. Here, Fleming was trained for service as a civil affairs officer in Military Government. Following close on the heels of the combat forces, the Military Government units were responsible for restoring order and establishing effective government in occupied territories.

In August 1943, having completed his training, Fleming, now a 2nd lieutenant, was sent to Italy along with other Military Government personnel to gain practical experience in administering occupied territories. Fleming remained in Italy only a few months before being transferred to England in preparation for the Allied invasion of Europe. Fleming's active military career began in October 1944. His unit was responsible for severing active Nazi party members from local government, housing and feeding displaced persons, organizing transportation for food delivery to the cities, and returning stability to local affairs and government. As a civil affairs officer, Fleming put his civilian training in law and labor relations to good use, supervising civilian labor agencies and services, providing liaison between these agencies and the military government, establishing wage scales and controls, and acting as legal officer, serving at various times as judge, prosecutor, and defense counsel in civil affairs trials. Fleming served in Luxembourg, and the German cities of Stolberg, Haltern, Uebach, Soligen, Mallersdorf, and Landshut, with the American 9th and 1st Armies.

Following his discharge from the army in March 1946, Fleming returned to Washington where he found a position as a labor specialist with the National Emergency Housing Program. In July 1947, Fleming was appointed director of the University of Wisconsin Industrial Relations Center. In 1952, he moved to the University of Illinois where he accepted a similar position, becoming director of the Institute of Labor and Industrial Relations. In 1958, Fleming was appointed professor of law at that university. From 1964 to 1967, Fleming served as provost, later chancellor, and professor of law at the University of Wisconsin's Madison campus. Throughout this period, 1948-1967, Fleming arbitrated numerous grievances between labor unions and various private companies.

Robben Fleming was inaugurated as the ninth president of the University of Michigan on March 11, 1968. He had been involved throughout his career in arbitration and education, which made Fleming ideally suited to head a major educational institution during the era of student unrest and institutional upheaval which followed. During Fleming's tenure, the Ann Arbor campus was rocked by a number of strikes and disturbances in which Fleming's abilities proved invaluable. These disturbances included the Black Action Movement (BAM) strike in March 1970, the AFSCME (American Federation of State, County, and Municipal Employees) strike in January 1971, the Graduate Employees Association (GEO) strike, which lasted from February 11 to March 14, 1975, and the second AFSCME strike which lasted from February 23 to March 20, 1977.

In 1978 Fleming retired as president, and in 1979 he became the president of the Corporation for Public Broadcasting. In 1981 he returned to the University of Michigan as a part-time professor of law and educational consultant for such projects as the Annenberg Project for the Corporation for Public Broadcasting, the Kellogg Foundation and the National Institute for Dispute Resolution.

In 1985 Fleming was appointed by Governor Blanchard to chair a committee to study medical malpractice insurance problems in Michigan. Fleming wrote a draft report in December 1985. A series of tort reform bills were passed in 1986, and Fleming submitted an analysis of these to the governor.

The Board of Regents appointed Robben Fleming interim president of the University of Michigan in 1988 following the resignation of Harold Shapiro. In this capacity he served from January 1988 through August 1988. During his second tenure as president, Fleming once again had to address questions pertaining to racism on campus that were raised by such groups as the United Coalition Against Racism (UCAR).

In the years after Fleming's retirement from the University of Michigan he continued to do part-time consulting work for various organizations. In 1988 Fleming was re-appointed by Governor Blanchard to study medical malpractice. Fleming reported to the governor on alternative adjudicatory procedures as well as on ways to reduce the incidence of malpractice.

Acquisition Information:

The collection (donor no. 5769 ) was the gift of Robben Fleming in 1979. Periodic additions have been received since 1979.

Accruals:

No further additions to the papers are expected.

Rules or Conventions:

Finding aid prepared using Describing Archives: A Content Standard (DACS)
Related
Additional Descriptive Data:

Related Material

As noted, the best source of information for the administration of Robben Fleming as President of The University of Michigan are the records of the Office of the President. Additionally, the researcher should note that although many of the letters are addressed to both Robben and Sally Fleming, there is a separate Sally Fleming collection documenting her interests and activities. A 1989 interview with Fleming concerning his career at the University of Michigan is located within the Historica Critica collection.

Alternative Form Available:

Digitization: The Library has undertaken the digitization of a number of sound recordings within this collection. The resulting audio files are available for playback only in the Bentley Library Reading Room. Links to item images and additional information are available within this finding aid. Original sound recordings are only available for staff use.
Subjects
Click on terms below to find any related finding aids on this site.
Subjects:

Formats:

Names:

Places:
Contents
Using These Materials
---
RESTRICTIONS:

The collection is open to research.

The collection contains audio tapes from which digital copies have been made. Source tapes are for staff use only. Audio files are only available in the Bentley Historical Library reading room on designated Bentley Library computers.

USE & PERMISSIONS:

The donor retains copyright to his writings. Patrons are responsible for determining the appropriate use or reuse of materials.
PREFERRED CITATION:

[item], folder, box, R. W. Fleming papers, Bentley Historical Library, University of Michigan