Back to top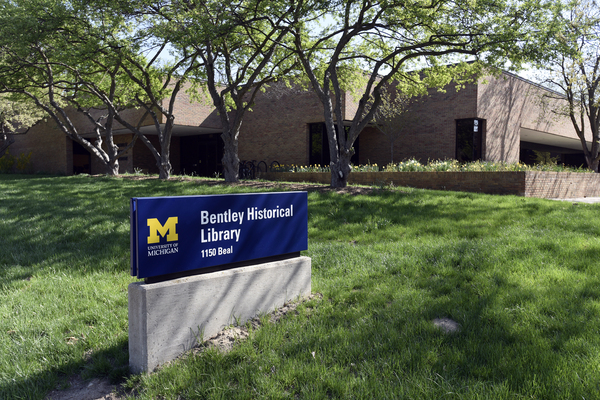 Address

:

1150 Beal Avenue

Ann Arbor, MI 48109-2113, USA
George Romney Papers, 1920s-1973
Using These Materials
---
Restrictions:

The collection is open for research. The collection contains audio tapes from which digital copies have been made. Source tapes are for staff use only. Audio files are only available in the...
Summary
Creator:

Abstract:

Republican Governor of Michigan, 1962-1969; Presidential candidate, 1968; Secretary of Housing and Urban Development, 1969-1972. Papers consist of extensive correspondence and subject files from his tenure as governor, campaign material, and files relating to service at HUD and his other political activities, includes photographs, films and videotapes and sound recordings.

Extent:

601 linear feet
194.6 GB (online)

Language:

English.

Call Number:

852178 Aa 2

Authors:

Finding aid prepared by: Thomas E. Powers and Gregory Kinney
Background
Scope and Content:

The papers of George Romney document the many faceted career of an automobile executive, governor of Michigan, candidate for President, cabinet officer, and activist on behalf of volunteerism. In this electronic version of the finding aid to the Romney papers, there are six subgroups of materials. These are Gubernatorial Papers covering the period of 1962 to 1969, Pre-gubernatorial Papers covering the period before taking office in 1963, Post-gubernatorial Papers covering the period after 1968, records of Romney Associates (a group established during his bid for the presidency), Visual Materials covering mainly the period up to 1969, and Sound Recordings also covering up to 1969. There is some overlapping of dates, particularly around the time when Romney was first elected governor in 1962 and the period when he joined the Nixon administration in 1969. The researcher should also note that the papers of Lenore Romney are not part of this finding aid.

Biographical / Historical:

George Romney was born on July 8, 1907 in Chihuahua, Mexico where his parents had gone to help establish a Mormon colony. Following missionary service in Scotland and England (1927-1928), Romney attended the University of Utah (1929) and George Washington University in Washington, D.C. (1929-1930). He served on the staff of U.S. Senator David I. Walsh in 1929-1930 as a tariff specialist, and afterward as an apprentice with the Aluminum Company of America and the Aluminum Wares Association. In 1931 he married Lenore LaFount.

From 1939 to 1948 Romney was employed by the Automobile Manufacturer's Association, serving as general manager from 1942 to 1948. In 1948 he joined the Nash-Kelvinator Corporation, and in 1954 became chairman and president of the newly formed American Motors Corporation.

In 1961, he was elected a Republican delegate to the Michigan Constitutional Convention, and served as its vice-president. In 1962, Romney decided to seek public office, announcing his candidacy for governor. He easily defeated Democratic incumbent John Swainson. A popular figure with the electorate, Romney was twice reelected. During the later part of his administration, he made a conscious bid for the Republican nomination for president. From about 1966 to 1968, George Romney, governor of Michigan, was an active candidate for the 1968 Republican nomination for president of the United States. Through most of 1967, Romney was in fact front-runner, but his candidacy rapidly faltered and Richard Nixon went on to become President.

Although there have been many reasons advanced for the failure of George Romney's campaign, at least part of the problem can be ascribed to the organizational machinery set up on his behalf, first, to assess his chances, and then, second, to seek delegate support. The fault, according to some national commentators, was the bifurcation of the campaign into two separate, and often, competing organizational arms: Romney Associates, headquartered in Lansing, Michigan, and Romney for President, headquartered in Washington, D.C.

Just when George Romney started thinking about the presidency is not clear. Perhaps the idea formed as a result of the national recognition he received from his leadership of American Motors in the 1950s. To this should be added his demonstrated voter appeal as evidenced by his overwhelming gubernatorial victories in 1962 and again in 1964. Party leaders were beginning to take Romney seriously. No wonder that sometime in 1965, Romney established a small office for himself in the Prudden Building in Lansing to answer the increasing correspondence he was receiving about national political issues, many of which urged him to run for president. After another resounding victory in 1966, Romney decided to have "a hard look" at his chances, and accordingly, he established Romney Associates, moving the files from the Prudden Building into an East Michigan Avenue office and shifting into leadership roles some of his most trusted political and administrative advisors, notably Robert J. McIntosh and Walter DeVries.

As established, Romney Associates was responsible for research, speech writing, press and public relations, scheduling and travel arrangements, and responding to the governor's out-of-state correspondence. At about the same time, believing that he needed a national presence, Romney selected Leonard Hall, former Republican National Chairman, to organize in Washington, D.C. a Romney-for-President Committee. The functions assigned to the Hall group included overall campaign strategy, searching out delegates, bringing together the various state Romney for President groups, preparing mailing lists, maintaining cordial relations with influential members of Congress, and planning for the nominating convention. Perhaps in the two organizations lay the seed of Romney's collapse as a candidate. Because of their geographic separateness and the frequent overlapping of functions, the Romney campaign was marked by internal conflicts and inefficiency. The candidate himself received much of the criticism and his stand on various issues was not as clear-cut as should be expected. Added to this was the resurgence of Richard Nixon as a viable candidate. Unfairly, some might argue, Romney's campaign was dead soon after his official announcement in November 1967; and that following the New Hampshire primary, in February 1968, Romney merely went through the motions, hoping for a political miracle that was not to be.

Following the election of Richard Nixon, Romney resigned as governor and went into the new president's cabinet as Secretary of Housing and Urban Development. He resigned in 1972 to retire to private life. In his later years, Romney was active in the promotion of citizen involvement in government affairs. George Romney died in 1995.

Acquisition Information:

The collection was the gift of George Romney (donor no. 4703 ) and came to the library in 1969. Subsequent accessions were received in 1983 and 1985. Multiple accessions were recieved by Patrick R. Foster (donor no. 11640 ) in 2016 and 2017.

Processing information:

Box 84 eliminated in 2004 reboxing. Contents merged into box 83.

In preparing digital material for long-term preservation and access, the Bentley Historical Library adheres to professional best practices and standards to ensure that content will retain its authenticity and integrity. For more information on procedures for the ingest and processing of digital materials, please see Bentley Historical Library Digital Processing Note. Access to digital material may be provided either as a direct link to an individual file or as a downloadable package of files bundled in a zip file.

Arrangement:

Summary Contents List

GOVERNOR'S PAPERS Subgroup

CHRONOLOGICAL (boxes 1-219)

1963

Boards and Commissions (boxes 1-27)
General Subjects (boxes 27-43)
Federal (boxes 44-46)
Military Affairs (boxes 46-47)

1964

Boards and Commissions (boxes 48-74)
General Subjects (boxes 75-86)
Federal (boxes 86-88)
Military Affairs (boxes 88-89)

1965

Boards and Commissions (boxes 89-114)
General Subjects (boxes 114-126; 419)
Legislative Files (boxes 127-128)
Federal (boxes 129-130)
Military Affairs (boxes 130-131)

1966

Boards and Commissions (boxes 131-154)
General Subjects (boxes 154-164)
Federal (boxes 165-166)
Legislative Files (boxes 166-167)

1967

Boards and Commissions (boxes 168-185)
General Subjects (boxes 186-194 and 343-346)
Federal (boxes 194-195)
Legislative Files (box 196)

1968

Board and Commissions (boxes 197-211)
General Subjects (boxes 212-217; 417-418)
Federal (boxes 217-218)
Legislative Files (box 219)

GOVERNOR'S OFFICE (boxes 220-352)

Topical file, 1962-1968: Margaret Little (boxes 220-227)
Press Office (boxes 228-292; 364; 427-438)

Topical files, 1963-1968 (boxes 228-246)
George T. Trumbull, Jr. files, 1965-1968 (box 247)
Speeches (boxes 248-266)
Speech material (boxes 267-270)
Biographical material/Romney Weekly Reports (box 271)
Special messages (box 272)
Proclamations (boxes 273-283)
Press releases (boxes 283-290)
Schedules (boxes 291-292)
Clippings (boxes 364 and 427-438)
Invitation Accepts (boxes 293-301)
Invitations (Lenore Romney) (boxes 302-303)
Governor Personal (boxes 304-313)
Staff Files (boxes 314-342 and 420-423)

Allen, Glenn (box 339)
Blizzard, Theodore (boxes 325-327)
Burns, J. Dennis (box 339)
Danhof, Robert. See Legal.
DeJong, Herbert (boxes 332-333)
DeVries, Walter (box 331)
Harmon, Charles (boxes 331 and 420)
Helmbrecht, Richard K. (boxes 420-421)
Human Resources Council (boxes 422-423)
Kapplinger, Lucille (box 421)
Kellogg, James C. (boxes 421-422)
Legal: Robert Danhof (boxes 314-324; 339; 420)
Orlebeke, Charles (boxes 327-330 and 421-422)
Whitbeck, William (box 332)
Area Interests (boxes 334-338)

Civil Defense (box 334)
Governmental Reorganization (box 423)
Water (boxes 336-338)

Program Development (boxes 340-342)

Study Commissions/Governor's Conferences (boxes 347-352)

POLITICAL/MISCELLANEOUS (boxes 353-414 and 424-426)

Political Files (boxes 353-363 and 429)
Boards and Commissions appointments (boxes 379-396)
Extraditions (boxes 397-398)
Orders for Appointments (box 399)
State Board of Education Agenda (boxes 400-407)
Michigan Employment Security Commission (boxes 407-408)
Printed Material (boxes 408-413)
Miscellaneous (box 414 and 424-426)

State Capitol Building Restoration (box 424)

PRE-GUBERNATORIAL Subgroup

Biographical Information (box 1-E)
Correspondence, 1939-1962 (boxes 1-E--3-E)
Speeches/Articles, 1941-1962 (boxes 4-E--12-E)
Business Career (box 13-E)
Public Services (box 14-E--15-E)
Miscellaneous (box 15-E)

POST-GUBERNATORIAL Subgroup

HUD Subject Files (boxes 1-P--14-P)
Voluntary Action (boxes 14-P--16-P)
Concerned Citizens Movement (boxes 17-P--19-P)
Other Public Activities (boxes 19-P and 42-P)
Personal Papers, 1969-1973 (boxes 20-P--23-P)
Speeches, 1969-1973 (boxes 24-P--41-P)

VISUAL MATERIALS Subgroup

Photographs

Portraits/Pre-gubernatorial (box 1-V)
Gubernatorial, 1962-1968 (boxes 1-V--3-V and 14-V)
Post-gubernatorial (box 3-V)

Videotapes, 1962-1968 (digitized copies available for use)
Films, 1956, 1962-1967, and 1970 (digitized copies available for use)
Filmstrip (box 9-V)

SOUND RECORDINGS Subgroup

7 in. reel-to-reel sound tapes

1952-March 1962 (boxes 16-E--21-E)
March 1962-1969 (boxes 365-375)

5 in. reel-to-reel sound tapes

1955-September 1961 (box 21-E)
May 1962-1968 (boxes 376 and 415)

3 in. reel-to-reel sound tapes

April 1965-December 1966 (box 415)

Cassette tapes

September 1967-January 1969 (box 415)

Non-Romney tapes

Undated and 1960-1968 (boxes 415)

ROMNEY ASSOCIATES Subgroup

State Files, 1964-1968 (boxes 1-RA--44-RA)
Correspondence, 1967-1968 (boxes 44-RA--45 RA)
Administrative Files, ca. 1964-1968 (boxes 46-RA--61-RA)
Topical Files (boxes 61-RA--68-RA)
Clippings (boxes 69-RA--71-RA)
Miscellaneous and campaign paraphernalia (box 72-A)

Physical Location:

Portions of the collection are located offsite; two days notice required for retrieval.
Related
Alternative Form Available:

All 2-inch videotapes and 16mm films in the Romney collection were digitized in 2009 and are available for use in the reading room on DVD. Streaming files were also created all streaming files are listed in this finding aid, but only a small selections are currently online. The latter can be viewed using the 'view video: link

Digitization: The Library has undertaken the digitization of a number of sound recordings within this collection. The resulting audio files are available for playback only in the Bentley Library Reading Room. Links to item images and additional information are available within this finding aid. Original sound recordings are only available for staff use.
Contents
Using These Materials
---
RESTRICTIONS:

The collection is open for research.

The collection contains audio tapes from which digital copies have been made. Source tapes are for staff use only. Audio files are only available in the Bentley Historical Library reading room on designated Bentley Library computers.

USE & PERMISSIONS:

Donor(s) have transferred any applicable copyright to the Regents of the University of Michigan but the collection may contain third-party materials for which copyright was not transferred. Patrons are responsible for determining the appropriate use or reuse of materials.
PREFERRED CITATION:

item, folder title, box no., George Romney Papers, Bentley Historical Library, University of Michigan