Back to top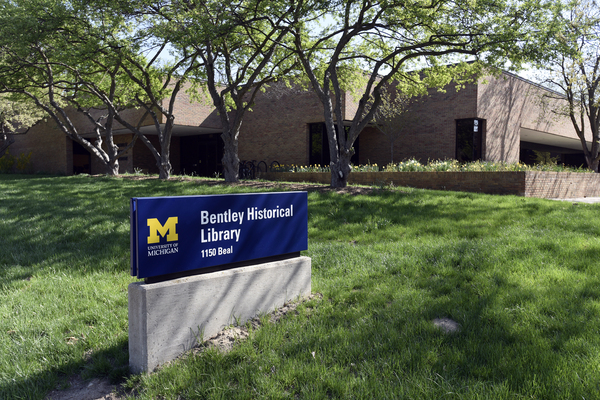 Address

:

1150 Beal Avenue

Ann Arbor, MI 48109-2113, USA
Interlochen Center for The Arts records, 1927-2005 (majority within 1935-1994)
Using These Materials
---
Restrictions:

The collection is open to research. Digitized audio files are currently available only in the Bentley Historical Library reading room on designated Bentley Library computers.
Summary
Creator:

Abstract:

Parent organization of the Interlochen Arts Academy and the Interlochen Arts Camp (formerly the National Music Camp) founded by Joseph Maddy. Includes administrative records of the Center, the Academy and the Camp and personal papers of Maddy, photographs, sound recordings, and motion pictures.

Extent:

86.4 linear feet (in 92 boxes)
51 volumes (scrapbook)
1 oversize folder
30.91 GB (online)

Language:

English

Call Number:

851981 BImu Bimu C367 2

Authors:

Finding aid created by Kenneth Scheffel, 1994-1996 Philip J. Deloria, 2005 accession
Background
Scope and Content:

The records of the Interlochen Center for the Arts were received in installments over many years. They came from several sources: the Camp office in Ann Arbor, the Tremaine family, an alumni leader, and various administrators at Interlochen, but the greatest proportion was assembled from Maddy's home and Interlochen offices, after his death, by Margaret (Peg) Stace, his long-time assistant.

The Camp files for 1935-1945 comprise the major portion received in their original order, and they were in disarray because of frequent changes in Camp secretaries and the practice of moving the office (along with relevant files) from Ann Arbor to Interlochen and back each summer. Also, Maddy kept many items of a personal and confidential nature at home.

In processing the records, an attempt was made both to preserve the original order, where ascertainable, and to highlight major subjects and individuals, some of whose importance only became apparent with the passage of time. A separate name index is available for major correspondents. Where extant, explanatory historical and background information has been placed at the front of records categories. Because of Maddy's influence on the development of Interlochen both past and present, his correspondence with later administrators has been included if practical, under "Administration" in their papers.

The surviving records have been divided into nine series: Chronological, Subject, Post-Maddy Administrators, Boards, Closed, Printed, Visual Materials, Sound Recordings, and Scrapbooks. The Chronological focuses on Maddy and the Camp until 1966 while the Subject, is composed of two subseries. The first, mainly 1928-1989, though also heavily relating to Maddy, also includes much on developments through the '90s. The second subseries, 1930-2003, Later Acquisition represents a group of files that were acquired in 2005. Many files pertain to the early camp and Joesph Maddy. The Post-Maddy Administrators series begins in the late 1950's when Maddy expanded the staff in anticipation of making Interlochen a year-round institution and continues unto the most recent accession. Boards (governing bodies) starts with the Camp's founding in 1928 and ends in 1989 while the Closed series covers the Maddy, Haas, and Wilson administrations through 1971. Printed offers coverage to the present but is more complete for the early years through the 1980's. While the Visual Materials and Sound Recordings series extend from the 1920's into the 1980's, it offers best coverage from 1924 to 1942 Scrapbooks, with gaps in the early years, documents both Maddy and the Camp, beginning with the National High School Orchestra and ending with the Camp's 50th anniversary celebration in 1978.

Biographical / Historical:

Joseph Maddy, Interlochen's founder and long-time leader, was born in Wellington, Kansas, on October 21, 1891. Both his parents were educators. His father taught before becoming a banker, and his mother served as county school superintendent. Both also enjoyed performing music, especially his mother, an accomplished amateur musician. Their first son, Harry, a year and a half older, served as a role model in Joe's early musical career.

As youths, the two brothers joined the newly formed Wellington Boys Band. Its director took the group on a musical camping trip, which Joe greatly enjoyed. Later, the boys graduated to the town band. They also performed in the family quartet, which was expanded during their early teens when another talented musical family, the Petits, moved to town. The Petits' youngest daughter, Fay, who years later eventually became Mrs. Joseph Maddy, and the two families spent part of a summer playing music while camping together.

Since musical instruction was unavailable in the public schools, Joe Maddy, like his brother before him, dropped out of high school after his freshman year. Following two semesters at Bethany (Kansas) College of Music and Fine Arts, he transferred to the Wichita (Kansas) College of Music, which his brother attended. In 1909, having joined the musicians union, he again followed his brother, becoming the youngest member of the Minneapolis Symphony. Two years later, he married Marie Mangan, and in 1913, the first of their three children was born.

While his brother remained for almost a half century as violinist with the Minneapolis Symphony, Joe, a violist, chaffed under the group's emphasis on seniority, rather than ability, for promotion. So in 1914, he switched to the new St. Paul Orchestra as Assistant Concertmaster.

The economic disruptions of World War I brought a quick end to the St. Paul Orchestra and Maddy's symphonic career, leading him eventually into music education. For the next four years, he expanded his knowledge and skills in a variety of musical jobs. He became a clarinetist with a vaudeville orchestra in Peoria, Illinois. Then, he learned conducting as head of the orchestra in his native Wellington (Kansas). In 1915, he moved to Wichita Falls, Texas, as director of the College of Music and Art. There, he started a non-credit orchestra among high school students. Relocating to Chicago, he played saxophone in jazz clubs and taught in several music schools.

In 1918, when philanthropist George Eastman created the position of superintendent of music in the Rochester, New York, public schools, Joe, because of his ability to play a variety of instruments, got the job. Although he lacked the required teaching certificate, the president of the University of Rochester, following a half hour interview, conferred the needed credential on him "by examination." During his two year tenure in Rochester, Maddy started school bands and orchestras which greatly impressed Eastman. Joe's efforts together with a follow-up survey by Pittsburgh music educator, Will Earhart, helped convince Eastman to endow the distinguished music school which bears his name.

While preparing the Rochester survey, Earhart approached Maddy about becoming supervisor of school music and director of civic music in Richmond, Indiana, a position which Earhart once held. Maddy hesitated because the job included choral work, but Earhart persuaded him that a summer course at Chautauqua under T. P. Giddings, a specialist in mass choral instruction (and head of the public school music program in Minneapolis), would qualify him.

The Chautauqua experience (1920) forged a strong bond between Maddy and Giddings. Almost immediately, they began collaborating on a master work of music instruction. Shunned initially by publishers because it contained familiar, and thus works which could not be copyrighted, it found a champion in Carl D. Greenleaf, head of C. G. Conn Company, the instrument manufacturer. Published initially by Conn in 1922, the Universal Teacher became the standard in the field, presenting the first practical system for teaching all instruments of the band and orchestra at the same time.

During Maddy's four years in Richmond, he scored a major breakthrough by getting music accepted into the regular school curriculum with credit toward graduation. He also developed the first complete high school symphony orchestra, which, in 1922, performed before the Music Supervisors (soon renamed Educators) National Conference in Nashville, Tennessee. In preparing for the trip, Maddy initiated another major reform. Remembering his frustration with the Minneapolis Symphony, he instituted weekly challenges for position determined by the votes of orchestra members. Following four months of intensive study, Maddy passed the subject examinations for a high school diploma, and he also began teaching part-time at Earlham College in Richmond.

In 1924, Maddy accepted a joint appointment as supervisor of music in the Ann Arbor, Michigan, public schools and head of the school music department in the University School of Music, which was affiliated with but separate from the University of Michigan. At first, he devoted most of his energies to developing the public school music program, organizing the high school band and other musical groups (where, previously, there had been only a mandolin club). By the fall of 1927, he switched totally to the conservatory, where he initiated the first conducting classes.

A few months before moving to Ann Arbor (1924), Maddy was named a member of the new Instrumental Affairs Committee of the Music Supervisors National Conference. The committee, with gifts from the National Bureau for the Advancement of Music, headed by C. M. Tremaine, funded band and orchestra contests on both the state and national levels. In 1926, Maddy became its chairman, and with assistance from Giddings, organized the first National High School Symphony Orchestra, composed of outstanding young musicians from throughout America. Its performance at the Music Supervisors National Conference in Detroit led to an invitation to assemble a similar group for the national convention of school superintendents in Dallas, Texas, the following spring.

The performance of the second National High School Orchestra (1927) led the superintendents to adopt a resolution that music receive "equal consideration and support with other basic subjects" in the public schools. An elated Joe Maddy, at a farewell party for orchestra members, promised to find them a permanent home, a summer camp where they could play music "all day long."

Returning to Ann Arbor, he placed an advertisement in the Sunday Detroit Free Press seeking a location for his proposed camp. Willis Pennington, owner of a resort hotel near Interlochen in northern Michigan, responded. He had vacant property close to a railroad station and to separate boys and girls camps owned by his family. After an inspection trip, Maddy and Giddings arranged a deal to board campers at the hotel in exchange for some land between the lakes. Tremaine, who served as their financial advisor, finalized the agreement in his office.

With a loan from band instrument manufacturers plus a personal gift from Greenleaf and additional funds from Traverse City bankers, construction of the camp began. It opened on schedule, June 24, 1928, as the home of the National High School Orchestra. Representing a pioneering venture in both musical and coeducational camping, it became the first truly independent, non-college, summer camp devoted strictly to music and probably the first to incorporate male and female campers on an equal basis. From the beginning, it also accepted members of all religions, rather than following the exclusionary practices of the time. While a strong Southern constituency delayed admission of African Americans, it became a leader in the post World War II integration of private camps, producing many distinguished black alumni, including Jessye Norman.

The first year of the National High School Orchestra Camp proved an artistic success, but a financial disaster. Ending $40,000 in the red, Maddy sold debenture bonds among supporters and area residents to meet the deficit. To protect the creditors, a Board of Control was formed to oversee the Camp's finances. It consisted of Maddy, Giddings, and Tremaine plus four creditor representatives (Pennington and three debenture holders).

When the Camp opened for its second year, it added an alumni or college division and featured band as well as orchestra training. Shortly thereafter, with the Depression effectively ending funds for the National High School Orchestra, the Camp began to advertise itself simply as "The National Music Camp."

Despite a doubling of enrollment in its second year, the deficit remained and became more of a problem with the onset of the Depression. The sale of nationwide broadcast rights in 1930 helped keep the Camp open. Two years later, Maddy secured enough in gifts and new debentures to make a down payment on purchasing the Camp, but within another year, it faced immanent bankruptcy. Tremaine, the treasurer, saved the Camp by persuading Pennington and the debenture holders to accept a reduction in their payments and by instituting rigid financial controls on Maddy's spending.

Although the Camp struggled financially, it continued to gain fame musically. In 1930, its orchestra performed in Washington, D.C., before President Herbert Hoover with Senator Arthur Vandenberg's daughter as soloist. Three years later, it played at the Century of Progress in Chicago. In 1937, an affiliation with Illinois State Normal University guaranteed college credit to members of its alumni division, and two years later, its orchestra appeared at the World's Fair in New York, conducted by nine year old child protégé, Loren Maazel. Early campers included Frederick Fennell and Seymour Lipkin, and guest artists and faculty: John Philip Sousa, Frederick Stock, Ferde Grofe, Percy Grainger, and Howard Hanson.

Despite Maddy's success, his preoccupation with the Camp created problems at the University School of Music where he taught. Although the School became a unit of the University of Michigan in 1929, it remained at first under the control of the University Musical Society. Charles A. Sink, head of the Society, grew increasingly critical of the time Maddy devoted to the Camp, rather than the School.

In 1930, the newly installed president of the University, Alexander Grant Ruthven, came to Maddy's rescue. Using funds from a Carnegie Foundation grant, he released Maddy from teaching for five years with instructions to promote music education as he saw fit.

Following Ruthven's mandate, Maddy experimented with the use of radio for music instruction. In 1931, under the aegis of the U. of M. Broadcasting Service, he started band and orchestra classes over a statewide network via WJR in Detroit. Eventually, they were expanded to include string and vocal instruction and a popular hymn program. In 1936, NBC picked up his band and orchestra classes on its national network. In Maddy's radio work, he relied heavily on University of Michigan students. They included announcers Mike Wallace (Myron Wallach) for the instructional and Camp broadcasts and Ward Quaal for the hymn program and technician Jerome Wiesner (later president of MIT), who also helped found the radio workshop at the Camp.

The same year (1936) as Maddy began his national broadcasts, he assumed the presidency of the Music Educators National Conference (MENC). Not surprisingly, educational broadcasting served as the theme of his inaugural address. Upon completion of his two-year term, he became director (1938-1940) of the MENC program, "Music and American Youth," which featured broadcasts of school music groups throughout the United States.

In addition to his radio work, Maddy, under the sponsorship of the university Extension Service, served as conductor for all-state, regional, and national high school orchestras and supervised state and national school band and orchestra contests and festivals. Often, he arranged his appearances in conjunction with his broadcasts, and everywhere he recruited students for the Camp.

Despite the successes, Maddy and the Camp experienced a series of crises at the end of the 1930's. Maddy's first marriage disintegrated, and he and Giddings battled over control of Interlochen. Meanwhile, Camp finances remained tight, and the expiration of Maddy's Carnegie grant at the university brought him into renewed conflict with the head of the University Musical Society. Finally, in 1939, NBC, given the growing commercial demand for air time, canceled his nationwide instructional program.

In 1937, Maddy divorced his first wife, Marie, who served as Interlochen's secretary. His remarriage a year later to his childhood friend, Fay Petit, a professional musician, restored happiness to his personal life, but the problem with Giddings remained.

Facing imminent retirement from the Minneapolis school system, Giddings opposed Maddy over the choice of Camp director and university affiliation. In order to force a settlement, Tremaine, who supported Maddy, threatened to resign. The tactic worked; the crisis passed, and amiable relations were restored (lasting until Giddings' death in 1954). Thereafter, Maddy, though occasionally restrained in fiscal policy by Tremaine and the Board of Trustees, lacked a serious rival in operating the Camp.

The easing of the Depression and a Hollywood movie contract, resulting in Paramount Pictures There's Magic in Music (1940), finally brought prosperity to the Camp. At the end of the 1941 season, Pennington exchanged the deed to the property for a mortgage on the amount due. Two years later, the mortgage was retired, and in another year, the debentures paid. The Camp also expanded, purchasing Camp Penn Loch (the new Junior Camp for Boys) in 1942 and Interlochen (the new Junior Girls Camp) in 1944 from members of the Pennington family.

Maddy's situation at the University of Michigan also improved. Early in 1940, Ruthven named Maddy acting director of Broadcasting Service, and soon afterward, the university took full control of the School of Music from the Musical Society. The new dean, Earl V. Moore, supported Maddy's work at the Camp. In 1942, when the contract with Illinois State University expired, the U. of M. assumed responsibility for the college division, and a year later, transferred its summer All-State high school program to Interlochen.

After the reduction in Maddy's instructional broadcasts, he turned to the civic orchestra movement as a means of utilizing graduates of his programs. In the fall of 1939, he surveyed civic music directors throughout the country, and the following summer, he convened a meeting at the Camp to discuss "mutual problems." Within a year, he assumed leadership of the Ann Arbor Civic (Symphony) Orchestra, and working for the U. of M. Extension Service, formed the Michigan Civic Orchestra Association to promote mass orchestra performances.

When America entered World War II, Governor Murray Van Wagoner appointed Maddy head of Michigan's Wartime Civic Music program to promote the war effort. As usual, Maddy based many of his activities at the Camp. In 1942, he held the organizing conference there, and the following year, a Clinic for civic music directors. Despite a battle with publishers over copyright, his group produced a patriotic songbook for general use. With university backing, he also led musical performances throughout the state and broadcast patriotic music over a network of Michigan stations fed by WJR in Detroit.

Just as the outlook for Maddy and the Camp improved, they suffered a double blow. The introduction of wartime restrictions threatened Camp operations. Then, in July 1942, James Petrillo, the new head of the American Federation of Musicians, forced NBC to cancel its broadcasts from Interlochen (after thirteen years), citing a threat to union jobs. While the Camp struggled with rationing, travel restrictions, and the virtual disappearance of college-age men, Maddy worked to remove the limitations on his own and the Camp broadcasts.

His efforts were two-fold: (1) to develop an alternative radio network, which ultimately, he decided, should use the new FM technology, and (2) to secure national legislation prohibiting union interference with student performances. NBC's cancellation of his instructional program convinced him that educators needed to create their own broadcasting network. In the late 1930's and early 1940's, he began soliciting support for such a project from state officials and leading educators.

By early 1944, with FM technology presenting a viable alternative, he secured the backing of President Ruthven to travel throughout southern Michigan in support of his proposal. His efforts led to the formation of the Michigan Educational Radio Association to plan FM broadcasting in the state, and in 1945, he became chairman of the new Michigan Community Radio Commission. Only the lack of sufficient state funding prevented the immediate implementation of his plan, which eventually led the University of Michigan to establish its own FM station (1948).

While Maddy labored to create an educational network, he succeeded in restoring Camp performances to the airwaves on a limited basis. In 1943, Michigan State College's new station (initially, AM) and Traverse City's WCTM resumed broadcasting from the Camp. As with his instructional programs, he also experimented with recordings to widen his audience. Eventually, they replaced live performances for broadcast, especially on the growing numbers of FM educational stations.

In attempting to secure legislation against Petrillo, Maddy relied heavily on former Camper father and friend, Senator Arthur Vandenberg. The issue was complicated by union efforts to secure compensation for recordings played on commercial radio. By January 1945, when Maddy appeared on the verge of success, Petrillo retaliated by putting the Camp on the American Federation of Musicians' "Unfair List", banning members from teaching or performing at Interlochen. A year later, shortly before Congress enacted relief legislation, Maddy was dismissed from the union for violating the ban.

While the Lea Act (1946) forbade restrictions on noncommercial broadcasts, Petrillo, through legal wrangling and skillful use of the "Unfair List," was able to circumvent it. In 1947, he reached a compromise with the leadership of the Music Educators National Conference. Under it, Petrillo waived all objections to performances by school groups, but by defining the Camp as a profit-making organization, he continued to limit its broadcasts. For over a decade, until Petrillo retired, the union ban remained in effect.

Despite the limitation, the Camp prospered. Publicity about Petrillo's actions attracted both students and donors. During the height of the controversy, Camp enrollment doubled, and Maddy began obtaining significant financial contributions from business leaders. In 1944, retailer S.S. Kresge, Jr., made the first of several substantial gifts to the Camp. Other donors followed, often attracted by Maddy's stand against unionization or the Camp's principles of free competition.

Although Maddy sought to end European dominance of American classical music, his success inevitably led him into international involvement. Early in 1940, he participated in the selection of a National Youth Administration orchestra to tour Latin America. Shortly thereafter, his old friend, Will Earhart, appointed him to the new State Department advisory committee on Inter-American Music. In his acceptance remarks, Maddy emphasized that music afforded the best means to overcome the language barrier. During the war, he encouraged Latin American music leaders to visit Interlochen and solicited support for their students as Campers. At the end of the conflict, he urged funding for a good will tour of Mexico by a high school orchestra.

Like his friend Vandenberg, the war convinced Maddy of the need for international cooperation, and he became a supporter of the United Nations. In 1946, under his direction, the student council at Camp adopted a "Charter for Youth," which set forth principles of world unity. Two years later, he dedicated Kresge Auditorium, the Camp's new performance center, "to the promotion of World Friendship through the Universal Language of the Arts."

When a mid-fifties thaw in the Cold War created opportunities for cultural exchange, Maddy lobbied the federal government for a Camp orchestra tour of Eastern Europe. Government, he argued, should aid groups of young amateurs, the world's future leaders, as it did the professionals. Having failed to secure federal assistance, he devoted the Camp's own resources to attracting foreign educators and students. Eventually, in 1964, he started the International (later World) Youth Symphony, composed of Campers from many nations, and two years later, arranged for the Camp to host the first meeting in America of the International Society of Music Educators.

Maddy and the Camp emerged from World War II in excellent condition. While Maddy was secure at the university, the Camp was successful both financially and artistically. Because of the Camp's growing prosperity, Maddy was able to reduce his university appointment to part-time and devote even more of his energies to Interlochen's development.

As the waiting list for Campers lengthened, he launched a vigorous program for new facilities and increased enrollment. In 1947, in order to better deal with the increased numbers, the Junior Division was split into Juniors (grades 3-6) and Intermediates (grades 7-9). Two years later, the All-State Piano Institute became the first of what were to be many post-camp programs for adults, and Maddy began to winterize new and existing buildings, so they could be used during colder weather. In the 1950's, loans from the University of Michigan helped considerably in Camp expansion.

During the two decades following the war, the Camp grew from 155 buildings to 400, from 500 acres to 1,200, and from 900 Campers to 3,000. Although the union effectively barred professional musicians, music educators filled the void, and the Camp continued to produce first-rate alumni, who occupied leading positions with symphonies, opera and dance companies, and in other areas of contemporary life, both inside the arts and out.

Amidst its growth, the Camp had to defeat threats from local boosters intent on developing the area economically. In 1953, Maddy thwarted a proposed state prison camp, and two years later, a federal air force base. The latter was vigorously promoted by Congresswoman Ruth Thompson of Whitehall, but Representatives Albert Engel of Lake City and Robert Griffin of Traverse City, both members of the Camp's Advisory Board, came to its defense.

As the Camp grew, Maddy began to dream of making it a year-round institution for artistically talented youth. He envisioned a boarding high school and, eventually, a university that would provide training in both academic and artistic subjects. In planning the curriculum for the school, he relied heavily on Camp Advisory Board member, Martin ten Hoor, a former University of Michigan professor, now a dean at the University of Alabama.

Nearing mandatory retirement from the university, Maddy initiated a major campaign to fulfill his dream. He added permanent staff, expanded facilities, and increased fund-raising efforts. On November 8, 1956, an alarmed Tremaine, in anticipation of his own imminent retirement as Camp Treasurer, wrote the Trustees a cautionary letter, based on his long experience with Camp finances. While he praised Maddy's vision and perseverance, he warned that Maddy's ambition needed to be restrained lest it put the institution in a precarious financial position as it had earlier.

Despite Tremaine's admonition, Maddy proceeded with his expansion plans. Prior to 1956, the permanent staff consisted only of himself and a secretary (Peg Stace since 1941). He began the expansion by appointing Roger Jacobi as Camp Secretary and Director of Personnel (succeeded three years later by John A. Merrill). In 1957, he named George Wilson Vice President for Camp Operations, and in another year, Don Gillis, a composer and member of the musicians union, Director of Development. In part because of the Trustees' desire to groom a successor, Gillis received manifold responsibilities: to achieve a reconciliation with the new head of the musicians union, to direct the Camp's fledgling American Opera program, to oversee the Interlochen Press (which Maddy started in 1957 in hopes of generating income), to assist with expansion of the broadcast program, and perhaps most importantly, to aid in fund-raising.

With Gillis' assistance, the dispute with the musicians union was quickly resolved, and in March 1959, the Camp was removed from its "Unfair List." Two years later, NBC broadcasts, now called "The Best from Interlochen," resumed on tape. The same summer, Maddy scored a major coup by enticing the young international award-winning pianist, Van Cliburn, to make the first of several appearances at Interlochen. Fund-raising went far less well, and in March 1961, Gillis submitted his resignation. Still, Maddy remained committed to converting the Camp into a year-round institution for youthful artists.

In the fall of 1961, having formally retired from the university, Maddy moved the Camp office, over the objections of the permanent staff from Ann Arbor to Interlochen. Shortly thereafter, Norma Lee Browning Ogg, a Chicago Tribune writer and Camp publicist, introduced Maddy to Chicago insurance executive and philanthropist Clement Stone. The two hit it off immediately, and Stone agreed to fund Maddy's long-planned boarding school for high school students, the Interlochen Arts Academy. Almost immediately, Stone was appointed to the Board of Trustees, on which he remained a leading force for nearly two decades (becoming its chair upon Roscoe Bonisteel's death in July 1972).

Within another year (1962), Maddy and the institutions he founded experienced more major triumphs. Van Cliburn again made a special appearance at the Camp, and in August, its dancers and orchestra performed for President and Mrs. John F. Kennedy on the White House lawn. The next month, the Interlochen Arts Academy, a major component of Maddy's dream, opened.

The following year (1963) witnessed additional achievements. The "Today" Show made a special telecast from Interlochen; the institution's new FM station, WIAA, went on the air, and the Browning biography of Maddy appeared. In another year, the University of Michigan awarded Maddy an honorary doctorate. At the commencement ceremony, his fellow honoree, President Lyndon Baines Johnson, announced plans for a "Great Society." Shortly thereafter, the President's daughter, Lucy Baines Johnson, appeared at Interlochen as narrator for the National Youth Symphony performance of Peter and the Wolf, which Van Cliburn conducted. The summer ended triumphantly with the first Interlochen Arts Festival, featuring the new World Youth Symphony and the Philadelphia Orchestra led by Eugene Ormandy.

On April 18, 1966, as Interlochen prepared for the opening session of the International Society of Music Educators (whose participants included Norman Dello Joyo, Dimitri Kabalevsky, and Zoltan Kodaly), Joseph Maddy died suddenly. Until a successor could be chosen, the Board of Trustees appointed an Administrative Committee to oversee operations. Chaired by John Merrill (Secretary of the Board), its members included George Wilson (Director of the Camp), Thor Johnson (Director of the Academy), Clare Burns (Treasurer of Interlochen), and Margaret Stace (Maddy's long-time secretary, now Assistant to the President).

Within a year, the Board selected national classical music broadcaster Karl Haas as Maddy's successor. Haas had worked with Maddy for several years as head of Interlochen's Advisory Board, which helped raise private funds. He also served as chair (with Maddy a member) of the Michigan Cultural Commission's music committee and the State Council for the Arts (created by Governor George Romney), which provided state assistance to Interlochen. In addition, the European born and educated Haas offered the strong international ties which Interlochen valued.

As president, Haas announced his major goal would be to "fulfill Joe Maddy's dreams," by securing funding for the proposed College of the Arts. To assist him, he named John Merrill Vice President for Administrative Affairs and Development. In 1968, a new institutional name, "The Interlochen Center for the Arts," was adopted to cover the Camp, Academy, and proposed college.

Despite great efforts, fund raising failed to fulfill expectations. The relationship between the Camp and Academy remained strained, and some Board members grew dissatisfied with student behavior (particularly at the Academy, where the new youth culture took hold). Changing tastes in music, especially among the young, and in family vacation patterns as well as the development of competing institutions, such as the Blue Lake Fine Arts Camp in Michigan (which opened the summer following Maddy's death), threatened Interlochen's unchallenged preeminence. In November 1969, Merrill announced his acceptance of a development position at Northwestern University, and four months later, after a board meeting at which he outlined his proposals for Interlochen's future, Haas submitted his resignation.

Until a permanent head could be chosen, George Wilson, who was nearing retirement as Camp director, agreed to serve as Interim President. A year later (1971), the Board named music educator and long-time Interlochen administrator and instructor Roger Jacobi to head the institution. Following his resignation in 1959 as Board secretary, Jacobi continued to teach summers at the Camp while holding a joint appointment with the University of Michigan and Ann Arbor public schools, much as Maddy once did. Then, in 1968, Jacobi became Assistant Dean of the Music School, in which capacity he served as Director of the Camp's University Division (Allen Britton and Paul Boylan, who held the post earlier and later, eventually became Deans of the Music School).

During Jacobi's eighteen year presidency, he defused tensions inherent in the transition from the Maddy era and put the institution on a solid financial basis. Physical facilities were significantly improved, and for the first time, a major endowment was established. Interlochen continued to attract leading artists and to produce high quality graduates. It also served as the model (with George Wilson's assistance) for a similar music camp in the Philippines, and in 1975, hosted a visit by President and Mrs. Gerald Ford. On the eve of Jacobi's retirement, he discontinued (after the 1988 season) the University Division, an important tie to the University of Michigan for thirty-seven years.

Jacobi's advance announcement of his intention to retire at age sixty-five gave the Trustees ample time to prepare for an orderly transition. In 1989, they chose Dean Boal, a distinguished college-level teacher and administrator and public broadcasting executive, to became the first Interlochen president who neither knew nor worked with Maddy. Prior to coming for his selection interview, Boal had only visited Interlochen once, and then, just briefly.

Shortly after his appointment (1989), the National Music Camp was renamed "the Interlochen Arts Camp," reflecting its incorporation into the larger institution and expansion beyond music. Despite a recession-induced cut in state funding, Boal kept the operation financially sound and oversaw the growth of the Academy and Camp to record enrollments. He also increased the scope of summer professional offerings, which attracted growing numbers of outsiders to the Camp. Like all of Maddy's successors, he faced the tensions inherent in trying to balance needed changes with valued traditions.

Early in 1994, Boal announced his intention of taking early retirement as soon as a successor could be chosen. A year later, the trustees named youth educator Richard F. Odell, headmaster of the Chicago Academy for the Arts, to lead Interlochen into the twenty-first century. Like Boal, Odell lacked previous association with Maddy and the institution he founded.

On becoming president, Odell spent much of his first year meeting with Interlochen supporters both on campus and throughout the country in order to define the institution's future goals. Then, he announced a major fund-raising program to renovate facilities and increase endowment, adding that he hoped to make Interochen better known both in its home area and beyond. In fact, during Odell's tenure, the camp was named one of the top ten camps in the country and the World Youth Symphony Orchestra performed in the Cultural Olympiad at the 1996 Olympics in Atlanta, GA.

Odell was succeeded by Edward J. Downing. During Downing's time in office, Interlochen merged with The Pathfinder School, a local independent day school for pre-school through eighth-grade students. Downing retired in 2002 and was succeeded by Jeffery S. Kimpton in 2003.

Acquisition Information:

The bulk of this record group came from the National Music Camp/Interlochen Center for the Arts (donor no. 1754 ) beginning in 1942. Periodic additions have been received and are expected. Separate accessions have been received from the C. M. Tremaine family (donor no. 5550 ) and others (donor nos. 6669 , and 7769 ).

Processing information:

During processing of the 2005 accession significant changes were made to the organization of the finding aid. Some new material was physically interfiled in existing series or subseries in the appropriate box. In other cases, additions to a series or subseries has been placed in a new box. This finding aid reflects the intellectual arrangement of the collection with the result that in the detailed container listing box numbers are not always consecutive.

In preparing digital material for long-term preservation and access, the Bentley Historical Library adheres to professional best practices and standards to ensure that content will retain its authenticity and integrity. For more information on procedures for the ingest and processing of digital materials, please see Bentley Historical Library Digital Processing Note. Access to digital material may be provided either as a direct link to an individual file or as a downloadable package of files bundled in a zip file.

Arrangement:

Summary Contents List

Chronological, mainly 1920-1966 (boxes 1-15)

Joseph Maddy (box 1)
Camp History (boxes 1-2)

Histories and anniversaries
Orchestra Camp Colony
Other Music camps
National High School Orchestra
National Music Camp
Pennington family

Camp records, 1935-1945 (boxes 3-12)
Camp records, 1945-1966 (boxes 12-13)
Special correspondence, mainly 1928-1966 (boxes 13-15)

Subject, (boxes 15-46 and 87-91)

mainly 1928-1989 (boxes 15-46)

Joseph Maddy (boxes 15-25)

Appearances
Broadcasting
Civic Music
Music education
Publications, speeches, and writings
University of Michigan

Giddings and Tremaine (boxes 25-26)
Interlochen (Camp and Academy) (boxes 26-41)

Alumni
Broadcasting
Campus
Financial
Fund raising
Interlochen Arts Festival
Interlochen Press
International
International Society of Music Educators
Michigan, State of
Organizations
Petrillo Controversy
Publicity/Promotion
Special Events
Traverse City
U.S. Government
University of Michigan

Camp (boxes 41-44)
Academy (boxes 44-46)
College (box 46)

1930-2003, Later Acquisition (boxes 87-91)

Alumni-Grainger, Percy (box 87)
Henethorne, Margaret-Federation of Music Clubs, WI (box 88)
Federation of Music Clubs, 1959-News Releases, Chron. (box 89)
News Releases, Alpha-Special Events, Jacobi Dinner (box 90)
Special Events, Milliken Dinner-Strategic Planning Update (box 91)

Post-Maddy Administrators; 1958-recent (boxes 46-56, 66 and 85-86)

Donald Gillis (boxes 46-47)
John Merrill (box 47)
Margaret Stace (box 47)
George Wilson (boxes 47-48)
Karl Haas (boxes 48-49)
Roger Jacobi (boxes 50-56)
Boal (boxes 66-67 and 85-86)
Szady (box 67)
Odell (box 86 and 67)
Downing (box 86)

Boards, 1928-1989 (boxes 56-64)

Board of Advisors (box 56)
Board of Control (box 57)
Board of Trustees (boxes 57-64)

Previously Closed Files (box 65)
Recent Leaders, 1989-1995 (boxes 66-66)
Printed, mainly 1928-1989 (boxes 68-72 and 81-83)
Scrapbooks, 1928-1979 (with gaps)
Visual Materials (boxes 73-79)
Sound Recordings (boxes 79-80 and 84)

Physical Location:

Portions located in offsite storage; prior notification required for access.
Related
Alternative Form Available:

Digitization: The Library has undertaken the digitization of a number of sound recordings within this collection. The resulting audio files are available for playback only in the Bentley Library Reading Room. Links to item images and additional information are available within this finding aid. Original sound recordings are only available for staff use.
Contents
Using These Materials
---
RESTRICTIONS:

The collection is open to research. Digitized audio files are currently available only in the Bentley Historical Library reading room on designated Bentley Library computers.

USE & PERMISSIONS:

Copyright for the bulk of the record group remains with the Interlochen Center for the Arts. Copyright to those materials received from the C. M. Tremaine family and from Sheryl Szady has been transferred to the Regents of the University of Michigan but the collection may contain third-party materials for which copyright was not transferred. Patrons are responsible for determining the appropriate use or reuse of materials.
PREFERRED CITATION:

[item], folder, box, Interlochen Center for The Arts Records, Bentley Historical Library, University of Michigan