Back to top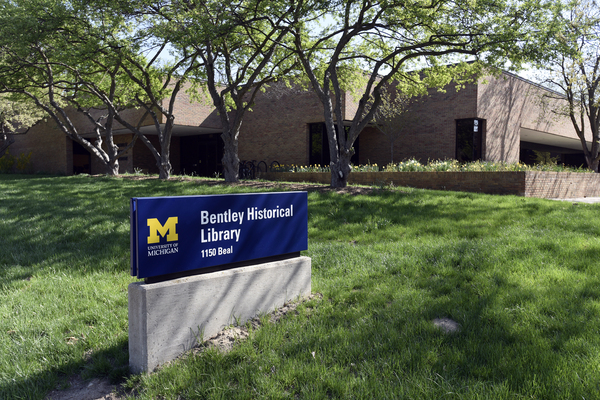 Address

:

1150 Beal Avenue

Ann Arbor, MI 48109-2113, USA
Arthur D. Moore Papers, 1916-1984
Using These Materials
---
Restrictions:

The collection is open for research.
Summary
Creator:

Abstract:

Professor of electrical engineering at University of Michigan and Ann Arbor, Michigan city councilman. Correspondence and other materials concerning professional interests and inventions, council activities, particularly urban renewal and effort to improve methods of garbage disposal and halt spread of trichinosis; and files relating to professional society, Tau Beta Pi, activities.

Extent:

8 linear feet

Language:

English.

Call Number:

851959 Aa/2

Authors:

Finding aid prepared by: Jim Flury
Background
Scope and Content:

The papers of Arthur Dearth Moore document his career teacher and researcher at the University of Michigan, pioneering work in the field of electrostatics, activities in professional organizations, and his service on the Ann Arbor City Council. The papers have been divided into the following groups of material: Biographical; Correspondence; Tau Beta Pi; Naval Ordnance Laboratory; Organizations; Instructional Materials; Published Works; Unpublished Works; Hydrocal; Electrostatics Society of America; Reference Files-Electrostatics; Ann Arbor City Council; and Miscellaneous.

Biographical / Historical:

Arthur Dearth Moore was born on a farm outside the town of Fairchance, Pennsylvania in January 1895. At an early age he expressed an interest in electrical phenomena. Curiosity regarding the buildup of an electrical charge in the fur of the family cat when the animal was stroked further stimulated this interest, though the experiment always terminated abruptly when he discharged the accumulated static on to the cat's nose.

At the age of six Moore announced to his family his intention to become an electrical engineer and a teacher. He attended various country schools, skipped several grades, and graduated from Uniontown High School. At age sixteen Moore entered Carnegie Tech, and he graduated in 1915 with a bachelor's degree in electrical engineering.

Moore joined Westinghouse Electric's Graduate Training Program immediately after graduation. After stints at several jobs within the program Moore became a teacher in the shop school. He remained at Westinghouse for about a year, and then joined the University of Michigan as an instructor in electrical engineering in 1916.

Moore's teaching career at the university spanned nearly forty-eight years. During this time he was promoted to assistant professor in 1920, to associate in 1928, and to full professor in 1931. He received a Master's degree in electrical engineering in 1923.

Though Moore's general area of interest was electrical engineering, his specialty was that branch of electrical engineering known as electrostatics. He defined electrostatics as "the branch of science that treats of electric phenomena associated with electric charges at rest or in motion."

In 1924 Moore was elected president of Tau Beta Pi, the national engineering honor society. He served two three-year terms, and then became fellowship director of the society for several years.

In 1940 Moore, as a Republican, successfully ran for election to the Ann Arbor city council. He was subsequently re-elected to eight consecutive terms and served on council until 1957. In 1955 he was elected council president, and in that position served as acting mayor on several occasions.

Moore's two most significant contributions while a member of the council were in the areas of sanitation, where he was successful in having his proposals implemented, and urban renewal, where he was not. In the area of sanitation, Moore pushed for city-wide refuse collection and for the establishment of a sanitary landfill, hoping to end the practice of feeding the city's garbage to hogs. Several diseases, most notably trichinosis, were spread as a result of this practice. In conjunction with this effort, Moore also helped organize and served as vice-president of the First and Second National Conferences on Trichinosis in 1952 and 1954 respectively.

Moore was not as successful with his urban renewal efforts. He proposed a comprehensive plan for the so-called north central area, which was the area in the city of Ann Arbor bounded by Catherine and Ann Streets and Miller Avenue on the south; Ashley Street on the west; Division Street on the east; and Depot Street to the north. Though the proposal was endorsed by groups such as the Ann Arbor League of Women Voters, Moore's plans were not implemented.

In 1941, with World War II underway and the possibility of American entry into the conflict growing more likely, Moore was asked to become a personnel recruiter for the Naval Ordnance Laboratory. It was felt that his connections with many scientists and engineers through Tau Beta Pi and other professional organizations would be valuable in helping to fill staff positions in that organization. In the next several months Moore recruited and hired over 150 men.

Moore gained a reputation in the field of electrostatics as a great inventor. Some of his more noteworthy inventions included the hydrocal, a hydraulic analog used to simulate and measure heat transients; the dirod, a generator which proved to be both reliable and rugged, and which served as a model for many high school science fair projects; and(although not an original invention but rather a continuation of work dropped by Professor Hele-Shaw at Oxford in the early twentieth century) fluid mapping devices of various kinds. These fluid mappers showed a visual portrayal of fluid flow of potential fields. Companies and individuals applied these fluid mapping techniques to solve engineering problems in areas such as underground gas recovery and storage and canal seepage.

While Moore received emeritus status from the University of Michigan at the end of the fall semester in 1963, his career in electrostatics did not slow down. In 1964, with a grant from Lapp Insulator and Union Carbide, Moore set out on a; lecture-demonstration tour of the western United States. He demonstrated his electrostatics equipment to thousands of engineers, students and other interested onlookers over the next seventeen years. Moore's travels during this period also took him to England, Scotland, Denmark, and Sweden, as he covered nearly 150,000 miles by air and by automobile to give his demonstrations.

During retirement Moore published several works on electrostatics, supplementing his earlier contributions of published articles and an unpublished monograph, "Comparative Animal Energy." In 1968 his book Electrostatics was published. This was an introductory text, part of Doubleday's Science Study Series, and eventually translations of the book were printed in Italian, German, and Japanese. Another book, Invention, Creativity, and Discover y followed in 1969 as part of the same series. Also, Moore approached John Wiley and Sons, publishers with an idea for a professional book on electrostatics. This was to be the first book of its kind on the subject. Moore recruited a team of seventeen experts in the field to write the chapters of the book, and he served as editor. The book, Electrostatics, was published in 1973.

The Institute of Electrical and Electronic Engineers did not include electrostatics as a recognized branch of the electrical engineering field. For this reason, as well as what Moore perceived to be an attitude of neglect toward the field of electrostatics in general, he founded on August 17, 1970 the Electrostatics Society of America. The society's first conference, sponsored by the American Meteorological Society, was held in Albany in 1971.

When not busy with his electrostatics pursuits Arthur Moore enjoyed billiards, juggling, and camping. A 1947 demonstration of billiards at the Michigan Union, organized by Moore and-featuring Willie Hoppe and Charles Peterson, played to a packed house. Two months out of each year were spent at the family cabin at Algoma Mills, Ontario, about halfway between Sudbury and Sault St. Marie. This tradition was carried on for over forty years. Moore maintained his combination office/laboratory in the university's electrical and computer engineering department until the mid-1980s.

Acquisition Information:

Professor Moore (donor no. 260 ) began donating his papers in May 1974. In November 1986 and May 1987, his daughter, Dr. J. C. Moore, deposited additional materials.
Subjects
Click on terms below to find any related finding aids on this site.
Subjects:

Formats:

Names:

Places:
Contents
Using These Materials
---
RESTRICTIONS:

The collection is open for research.

USE & PERMISSIONS:

Donor(s) have transferred any applicable copyright to the Regents of the University of Michigan but the collection may contain third-party materials for which copyright was not transferred. Patrons are responsible for determining the appropriate use or reuse of materials.
PREFERRED CITATION:

item, folder title, box no., Arthur D. Moore Papers, Bentley Historical Library, University of Michigan