Back to top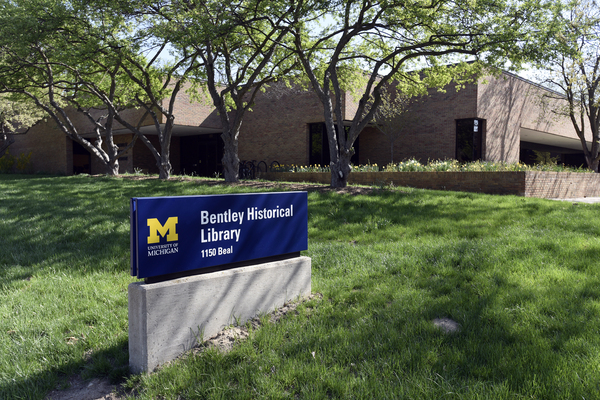 Address

:

1150 Beal Avenue

Ann Arbor, MI 48109-2113, USA
Philip A. Hart papers, 1949-1976 (majority within 1959-1976)
Using These Materials
---
Restrictions:

The collection is open for research. Use of original films and videotapes is restricted DVD copies of all and streaming files of some are available for use.
Summary
Creator:

Abstract:

U. S. Senator from Michigan, 1959-1976, a conscientious supporter of civil rights, consumer protection and environmentalism, Hart served as floor manager of the 1965 civil rights act and 1968 Open Housing Act, introduced legislation to create Sleeping Bear Dunes and Pictured Rock National Lakeshores and sponsored important consumer legislation. Papers include Legislative Files, Staff Files, Press Files, Subject Files, Constituent Correspondence, Office Files, Political Files, Miscellaneous, Sound Recordings, and Visual Materials.

Extent:

272 linear feet
3 oversize volumes
2 oversize folders
19.4 GB

Language:

English.

Call Number:

85193 Aa 2, UAm

Authors:

Finding aid prepared by: Thomas E. Powers
Background
Scope and Content:

The Philip A. Hart collection consists of those files maintained by Hart and his staff in Washington D.C. while serving as senator from Michigan in the period 1958-1976. A senate office in the 1960s and 1970s could employ as many as thirty staff and clerical workers. In 1975, Hart wrote: "My own office presently consists of 34 full-time people in Washington plus 4 in my Detroit office and one part-time employee each in Grand Rapids and Marquette." Received from Washington, the Hart collection documents the workings of his Capitol office. Excepting for a few files from the 1950s when Hart served in Michigan state government, the Hart papers relate exclusively to Senate activities and detail the variety and bulk of problems crossing the desk of a United States senator and his staff.

In a press release describing his office, Hart stated that the work of a senator falls into three categories: legislative, participating in the discussion and formulation of public policy, and serving as "ambassador" between his constituents and the Federal Government. Beyond the study of legislation, public policy debates, and the relationship between a senator and the people of his state, the Hart collection is a reflection of the times in which Hart served, the sixties and seventies, years of the presidencies of Kennedy, Johnson, Nixon and Ford, a time when public figures discussed issues of conscience and of war, matters of human rights and of public morality, areas where Hart's basic integrity and humaneness placed him in the forefront of public debate.

The collection falls into eleven principal series: Personal/Biographical, Legislative Files, Staff Files, Press Files, Subject Files, Constituent Correspondence, Office Files, Political Files, Miscellaneous, Sound Recordings, and Visual Materials. Except for Personal/Biographical and the series of audio-visual materials, the Hart collection is an office file and represents the activities of one senator and a dozen or so of his key staff members. To use the collection, the researcher after examining the "Series Description" (on the following pages) should note that for any topical study, information will usually be found in any number of series within the collection. The series represent functional divisions within the Hart office, legislation, press, or whatever. To study an issue such as consumer protection, therefore, the researcher should be prepared to examine the Hart finding aid under the series that might document that topic from different functional perspectives (Legislative Files, Staff Files, Subject Files, among others). The researcher interested in a narrower, more specific topic should recognize that the following inventory, for the most part, is not a folder-level description and thus specialized kinds of information will be filed first under a more general heading.

One more note: The Hart papers originally consisted of more than 700 linear feet of files. Hart himself and his staff had discarded certain types of files before donating them to the library, notably case files and constituent mail answered by form. In addition, the library discarded files of low research content - thank yous, invitations, and carbons of Hart correspondence duplicated in the other principal series of the collection. Furthermore, files containing similar types of correspondence from constituents have been sampled (the folders have "S" or "Samp" on them). Government publications, easily available in a government documents library, and unless heavily annotated, have been discarded. Researchers on any topic within the Hart collection should familiarize themselves with the standard sources on government documents (the indices to the Congressional Record for example). Topics on which Hart played a key legislative role or about which he was keenly interested have not been sampled. These topics include civil rights, the passage of various consumer legislation, the Sleeping Bear Dunes debate, his committee work, and the debate over the war in Vietnam to list a few.

Biographical / Historical:

Philip A. Hart was United States Senator from Michigan, serving from 1959 until his death in December of 1976. Born in Bryn Mawr, Pennsylvania on December 10, 1912, Hart graduated from Georgetown University in 1934 and the University of Michigan Law School in 1937. He practiced law in Detroit for four years until the outbreak of war when he enlisted in the United States Army. He served until 1946, and was wounded during the D-Day assault on Utah Beach during the Normandy invasion.

Following the war, Hart returned to the law and embarked on a career in public service. His law school classmate Governor G. Mennen Williams appointed him to the Michigan Corporation Securities Commission (1949-1951); he served as state director of the Office of Price Stabilization (1951-1952), and as United States district attorney of the Eastern Michigan District (1952-1953). As Williams established himself as governor, he relied increasingly on the demonstrated abilities of Hart, serving as his legal advisor (1953-1954), and as lieutenant governor (1955-1958).

In 1958 Hart was elected to the United States Senate where he served for eighteen years, winning decisive reelections in 1964 and again in 1970. Poor health decided Hart against running for reelection in 1976. He died December 26, 1976, a few weeks from completing his third full term.

As Senator, Hart earned the reputation of being an honest, hard-working, and conscientious spokesman for the policies and programs of the Democratic party and for liberal Democratic causes in general. When he first came to the Senate, Hart was appointed to two committees: Agriculture and Forestry, and Judiciary. He remained a member of the Judiciary throughout his three terms in the Senate, serving as chairman of its subcommittees on antitrust and monopoly and refugees and escapees in addition to being a member of various other subcommittees relating to immigration, juvenile delinquency, and patents and copyrights. With less interest in matters of agriculture, Hart in 1963 shifted over to the Commerce Committee, where he came to serve as chairman of its subcommittee on energy, natural resources and environment (name later changed to environment) and vice chairman of its consumer affairs subcommittee. Beyond responsibilities associated with these two committees, Hart was member at various times of the Senate Democratic Policy Committee, the Select Committee on Nutrition and Human Needs, and the Select Committee to Study Governmental Operations with Respect to Intelligence Activities among others.

Although he was a sponsor or key sponsor of many pieces of legislation, Hart himself was proudest of his work as floor manager of the 1965 Voting Rights Act and the 1968 Open Housing-Civil Rights Bill, his championing of the legislation to make Michigan's Sleeping Bear Dunes and Pictured Rocks national lakeshores, and his sponsorship of consumer-related legislation (e.g. truth-in-packaging, truth-in-lending, and truth-in-spending).

Acquisition Information:

The collection was the gift of Senator Philip A. Hart, and came to the library in several installments over the period of June 1976-January 1977. Donor number 5901

Processing information:

In preparing digital material for long-term preservation and access, the Bentley Historical Library adheres to professional best practices and standards to ensure that content will retain its authenticity and integrity. For more information on procedures for the ingest and processing of digital materials, please see Bentley Historical Library Digital Processing Note. Access to digital material may be provided either as a direct link to an individual file or as a downloadable package of files bundled in a zip file.

Arrangement:

Summary Contents List

Biographical/personal [box 1]
Legislative files

Bills, 1959-1960 (arranged alphabetically) [boxes 2-8]
Bills, 1961-1962 (arranged alphabetically) [boxes 8-16]
Bills, 1963-1964 (arranged by bill number) [boxes 17-23]
Bills, 1965 (arranged by bill number) [boxes 23-26]
Bills, 1966 (arranged by bill number) [boxes 26-29]
Bills, 1967-1968 (arranged by bill number) [boxes 29-35]
Bills, 1969-1970 (arranged by bill number) [boxes 35-40]
Bills, 1971-1972 (arranged by bill number) [boxes 41-44]
Bills, 1973-1974 (arranged by bill number) [boxes 44-50]
Bills, 1975-1976 (arranged by bill number) [boxes 51-56]
Legislation co-sponsored, etc. [boxes 57-61]
Committees - yearly file [boxes 62-63]
Committees - Chairman's file

Anti-trust and Monopoly Subcommittee [boxes 63-66]
Refugees and Escapees Subcommittee [box 66]
Select Committee on National Water Resources [box 67]
Environment Subcommittee [boxes 67-70]

Miscellaneous (voting records, PAH bills introduced and co sponsored, etc.) [boxes 71-72
Correspondence with members of Congress [boxes 73-75]
Correspondence with government officials, organizations, and other public figures [box 75]

Staff files

William B. Welch (Administrative Assistant) [box 76]
Muriel Ferris (Legislative Assistant) [boxes 76-79]
Donald F. Tucker (Legislative Counsel) [boxes 80-81]
Burton Wides (Staff Counsel) [box 81]
Peggy Crenshaw (Legislative Assistant) [box 81]
John M. Cornman (Staff Assistant; Acting Administrative Assistant) [boxes 81-83]
Mildred Wade (Health and education) [box 83]
Arnaldo Martinez (Native American responsibilities) [box 83]
W. Harrison Welford (Chief Legislative Assistant) [box 84]
Lorie Barnett (Office responsibilities, i.e. passports, social security, etc.) [box 85]
Various [boxes 85-89]
Office working and reference files Mainly files of William Welch, ca. 1959-1965 [boxes 90-95]

Press office

Press releases and newsletters [boxes 96-109]
Speeches [boxes 110-112]
Newspaper clippings [boxes 113-129]
Subject files (mainly files of press secretary Jerry Kabel) [boxes 130-131]
Articles [box 131]
Radio-TV scripts [box 131]
Miscellaneous [box 132]
Schedules [box 133]

Subject files

1959-1964 [boxes 134-151]
1965 [boxes 152-156]
1966 [boxes 156-161]
1967 [boxes 161-168]
1968 [boxes 168-175]
1969 [boxes 175-184]
1970 [boxes 185-193]
1971 [boxes 193-199]
1972 [boxes 200-205]
1973 [boxes 205-212]
1974 [boxes 212-219]
1975 [boxes 219-224]
1976 [boxes 225-230]

Constituent correspondence

1958-1965 [boxes 231-243]
Mail counts, 1967-1976 [box 244]
Form letter responses, 1959-1971 [boxes 244-245]
Activity logs, 1975-1976 [box 245]

Office files

General, 1959-1969 [boxes 246-248]
Administration, 1959-1976 [boxes 248-254]
Publicity, 1959-1976 [boxes 255-258]

Political files

1958-1964 [box 259]
1970 [boxes 260-263]
Post-1970 files [box 263]

Miscellaneous

National Commission on the Cause and Prevention of Violence [box 264]
Microfiche of selective portions of the Hart papers [boxes 265-266]
Pre-1959 files [box 267]
Awards, citations, diplomas [box 267]

Sound recordings

1959-1976 [boxes 268-271]

Visual materials

Slides and photographs [box 272 and oversize folder, UAm]
Cartoons [oversize folder, UAm]
Films [in cold rom]
DVDs - in preservation DVD boxes
Digital files, some streaming files online, other available on request
Related
Alternative Form Available:

Digitization:The 16mm films and two-inch videotapes in the collection were digitized in 2009 as part of a library video preservation project. Preservation master beta tapes for all titles and high resolution digital files of some titles were created along with DVD and streaming files for all titles. The DVDs are available for use in the library. A selection of the streaming files may be available online at a given time, others can be mounted on request.

The Library has undertaken the digitization of a number of sound recordings within this collection. The resulting audio files are currently available for playback only in the Bentley Library Reading Room. Links to item images and additional information are available within this finding aid. Original sound recordings are only available for staff use.
Contents
Using These Materials
---
RESTRICTIONS:

The collection is open for research. Use of original films and videotapes is restricted DVD copies of all and streaming files of some are available for use.

USE & PERMISSIONS:

Donor(s) have transferred any applicable copyright to the Regents of the University of Michigan but the collection may contain third-party materials for which copyright was not transferred. Patrons are responsible for determining the appropriate use or reuse of materials.
PREFERRED CITATION:

item, folder title, box no., Philip A. Hart papers, Bentley Historical Library. University of Michigan