Back to top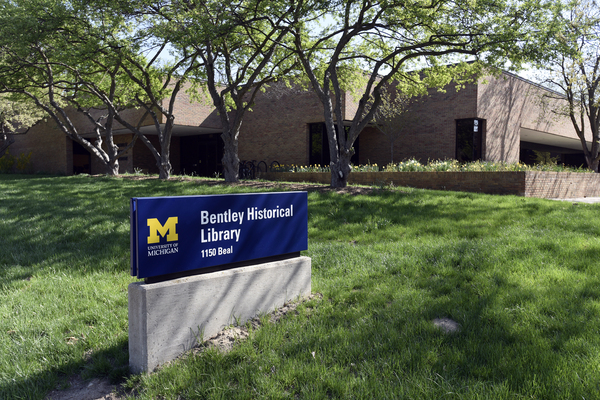 Address

:

1150 Beal Avenue

Ann Arbor, MI 48109-2113, USA
John Harvey Kellogg Papers, 1832-1965, (Majority of material found within 1874-1943)
Using These Materials
---
Restrictions:

The collection is open for research.
Summary
Creator:

Abstract:

Battle Creek, Michigan physician, food scientist, founder of the Battle Creek Sanitarium. Correspondence, student notebooks from University of Michigan and Bellevue Hospital, drafts of speeches and lecture notes, newspaper clippings and scrapbooks, and topical files; include material concerning medical theories and practices, especially matters of diet and hygiene, his work with organizations such as the National Vitality League, Race Betterment Foundation, Battle Creek Three Quarter Century Club, Chicago Workingmen's Home and Medical Mission, and Seventh-Day Adventists; also photographs.

Extent:

19.3 linear feet (in 21 boxes)
30.5 GB

Language:

English; some documents in French and German.

Call Number:

851724 Aa 2

Authors:

Finding aid prepared by: Matthew T. Schaefer (1988 reprocessing); Krista Gray, January 2014 (digital component)
Background
Scope and Content:

The John Harvey Kellogg papers document the career of a medical doctor and health reformer and advocate. The collection provides telling insight to the operation of the Battle Creek Sanitarium. The papers span the years 1869 to 1965, with the bulk of the materials covering the years 1874 to 1943. Significantly, there are some collected published items in the collection that date as early as 1832. The Kellogg papers consist of correspondence, lectures, notes, memoranda, clippings, scrapbooks, notebooks, photographs, articles, and book manuscripts. These diverse sources provide ample documentation of Kellogg's life, and are an excellent source with which to examine early twentieth-century medicine in general and Kellogg's important innovations in health reform. The collection is also very strong on the development of the Sanitarium and the "Battle Creek idea" of natural health. Kellogg's zealous efforts to proselytize the world at large on the wisdom of the "Battle Creek Idea" are reflected in the papers. Also included are materials relating to his work with organizations such as the National Vitality League, Race Betterment Foundation, Battle Creek Three Quarter Century Club, Chicago Workingmen's Home and Medical Mission, and Seventh-Day Adventists.

The Kellogg collection came to the Michigan Historical Collections in two primary accessions, one in 1962 and another in 1972. Parts of the collection were reprocessed in 1988 prior to the entire collection being microfilmed. The collection is now divided into the following series: Biographical/Personal; Correspondence; Lectures, Speeches, and Related; Notes and Articles; Subject Files (medical missionaries); Clippings/ Scrapbooks; Bound Manuscripts/Published Volumes; and Photographs.

Biographical / Historical:

John Harvey Kellogg, born February 26, 1852, earned worldwide acclaim in his lifetime as a health reformer and propagandist, and as head of the Battle Creek Sanitarium. Kellogg is now best known in connection with the line of breakfast cereal products made by the company that bears his name. While John Harvey Kellogg conceived the notion of flaked corn as a healthful morning repast, it was his brother, Will Keith, who turned his hand to the development of the breakfast food company. John Harvey Kellogg was also a skilled surgeon, an editor, and scientist who saw himself as primarily an educator determined to focus public attention on preventive medicine as the means to maintain good health. The main thrust of Kellogg's good health message was that vegetarian diet, regular exercise, fresh air, and sunshine are the keys to a long and vigorous life. Kellogg was a testament to the efficacy of his principles, living to age ninety-one and working diligently until succumbing to pneumonia on December 14, 1943.

Kellogg's father, a convert to Seventh Day Adventism, moved his family to Battle Creek when John Harvey was age four; thus the young Kellogg grew up well versed in the health reform principles of the Adventists. Many of these tenets, especially regarding vegetarianism and temperance, were elements of Kellogg's mature thinking on healthful "biologic living." Kellogg, an 1875 graduate of Bellevue Hospital Medical College, brought a solid training in orthodox medicine to his health reform efforts. In this, he differed from most earlier health reformers, whose systems often lacked grounding in science. Kellogg made repeated trips to Europe to keep abreast of developments in medicine, surgery, and physiology in order to buttress the scientific foundations which supported his health teachings.

Upon completion of his medical training, Kellogg returned as medical superintendent of the Adventists' Western Health Reform Institute in Battle Creek. Kellogg's vigorous efforts as a promoter and publicist soon brought the Battle Creek Sanitarium (as the Institute was renamed in 1876) to national prominence as "a place where people learn to stay well." Kellogg used the Sanitarium as a testing ground for the application of his "Battle Creek idea" on the effect of diet, exercise, correct posture, fresh air, and rest on the health and fitness of individuals. The program did enhance health. Kellogg and the Sanitarium prospered, despite policy differences with the Seventh Day Adventists, a 1902 fire which destroyed the building, and receivership debt due to overbuilding, until the 1930s Depression cut down patronage. In good times, Kellogg traded heavily on the celebrity of the Sanitarium's clientele to sell his health reform ideas. In hard times, he relied on the strength of the science which girded his system to keep pushing health. Throughout his sixty-seven year association with the Sanitarium, Kellogg never wavered in his faith in the rectitude of the "Battle Creek idea."

Kellogg was a prolific author and had a ready venue of publication in Good Health, a magazine he edited for nearly seventy years. Kellogg incorporated many of the ideas which appeared first as articles in Good Health into nearly fifty books. Included among them are: Body in Health, Colon Hygiene, New Dietetics, Plain Facts about Sexual Life, Practical Manual of Health and Temperance, and Rational Hydrotherapy. These books manifest Kellogg's efforts to bring the new medical science to the general public. Kellogg also lectured from coast-to-coast touring his message before as large an audience as possible. Finally, Kellogg's dynamic personality attracted disciples to Battle Creek to study at the feet of the master of "rational" medicine; these disciples in turn propagated Kellogg's ideas that medical science pointed to adherence to a vegetarian regimen of moderation as the surest way to good health.

Acquisition Information:

The collection was the gift of Gertrude W. Goodwin (Donor No. 3506 ), secretary of the Race Betterment Foundation of Battle Creek, Michigan.

Processing information:

In preparing digital material for long-term preservation and access, the Bentley Historical Library adheres to professional best practices and standards to ensure that content will retain its authenticity and integrity. For more information on procedures for the ingest and processing of digital materials, please see Bentley Historical Library Digital Processing Note. Access to digital material may be provided either as a direct link to an individual file or as a downloadable package of files bundled in a zip file.
Related
Additional Descriptive Data:

Related Material at the Bentley Historical Library

Published works of John Harvey Kellogg, including books, pamphlets, and periodicals. Includes the Good Health magazine.

Selective Index of Correspondents

| | |
| --- | --- |
| Barron, Clarence Walker, 1855-1928. | |
| Byrd, Richard Evelyn, 1888-1957. | |
| Edison, Mary Stilwell. | |
| Fisher, Irving, 1867-1947. | |
| Ford, Clara Bryant, 1866-1950. | Feb. 20, 1932, Feb. 21, 1932, April 1, 1932, Dec. 2, 1937, Feb. 21, 1940 |
| Ford, Henry, 1863-1947. | Feb. 21, 1932, April 3, 1937 |
| LeHand, Margaret. | |
| Liebold, Ernest G., 1884- | |
| Osborn, Chase S. (Chase Salmon), b. 1860 | Sept. 1, 1930, Feb. 22, 1936, June 27, 1936, July 2, 1936, Feb. 7, 1938, Feb. 11, 1938, Feb. 24, 1940, Feb. 19, 1943 |
| Pavlov, Ivan Petrovich, 1849-1936. | Oct. 22, 1924, Sept. 18, 1935; copy and letter of Pavlov to Professor Boldyreff, Mar. 22, 1924 |
| Pinchot, Gifford, 1865-1946. | Mar. 13, 1931, Oct. 31, 1931, May 27, 1932, June 7, 1932, June 17, 1932, Oct.-Dec. 1936 |
| Pingree, Hazen S., 1840-1901. | |
| Plunckett, Horace. | 1919, Dec. 21, 1921, 1922-1925, Sept. 1929-1930 |
| Rockefeller, John D. (John Davison), 1874-1960. | Oct.-Dec. 1922, July 23, 1929, Dec. 2, 1937, Jan-May 1935, Dec. 11, 1941 |
| Roosevelt, Franklin D. (Franklin Delano), 1882-1945. | |
| Shaw, Bernard, 1856-1950. | Feb. 7, 1936, May 17, 1936, June 21, 1936 |
| Taft, William H. (William Howard), 1857-1930. | Aug. 24, 1922, Sept. 1922 |
| Tarbell, Ida M. (Ida Minerva), 1857-1944. | July 20, 1939, July 28, 1939, Aug. 3, 1939, Oct. 28, 1939, Dec. 6, 1939, Jan. 5, 1940 |
| Tolstoy, Alexandra, 1884-1979. | |
| Tolstoy, Ilga. | |
| Tolstoy, Leo, 1828-1910. | Nov. 16, 1907, Dec. 11, 1907 |
| Van Shaick, Louis J. | |

Alternative Form Available:

A microfilm edition of the Kellogg papers is also available. The microfilm edition is described in a separate finding aid.
Contents
Using These Materials
---
RESTRICTIONS:

The collection is open for research.

USE & PERMISSIONS:

Donor(s) have not transferred any applicable copyright to the Regents of the University of Michigan. Patrons are responsible for determining the appropriate use or reuse of materials.
PREFERRED CITATION:

item, folder title, box no., John Harvey Kellogg Papers, Bentley Historical Library, University of Michigan