Back to top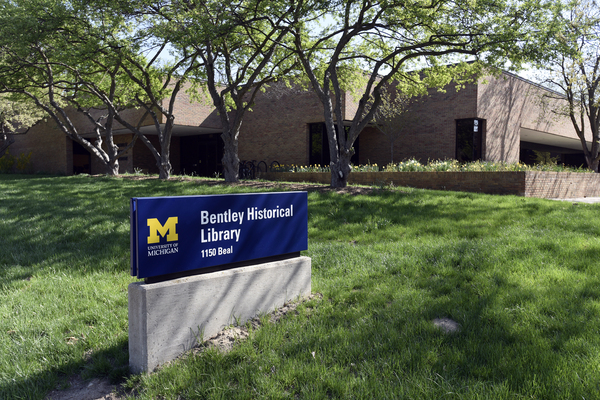 Address

:

1150 Beal Avenue

Ann Arbor, MI 48109-2113, USA
Virginia R. Allan papers, 1932-1995
Using These Materials
---
Restrictions:

The collection is open to research.
Summary
Creator:

Abstract:

Wyandotte, Michigan, businesswoman, chairwoman of the President's Task Force on Women's Rights and Responsibilities during the Nixon Administration, later deputy assistant secretary of state for public affairs. Papers and photographs relating to her interest in women's rights, the equal rights amendment, Republican Party politics, the activities of International Women's Year, 1975, and the National Federation of Business and Professional Women's Clubs.

Extent:

8.5 linear feet
1 oversize folder

Language:

English

Call Number:

8517 Aa 2 Ac

Authors:

Finding aid created by Michigan Historical Collections staff
Background
Scope and Content:

The Virginia R. Allan Papers have been grouped both according to types of documents covering her entire career (biographical, correspondence, writings and speeches, etc.). These are followed by three series of files pertaining to Allan's activities and organizational affiliations within specific time periods in her career. These chronological divisions (with some overlapping of dates) are 1950s-1972, 1971-1977, and 1977-1985. Although each of these chronological series documents Allan's life-long interest in women's issues, there are obvious highlights to each. The first chronological series - 1950s-1972, is especially solid with material relating to Allan's association with the Michigan and the National Federation of Business and Professional Women, and her service on the President's Task Force on Women's Rights and Responsibilities. The second of these series - 1971-1977 - obviously documents Allan's work at the State Department, her role with the International Women's Year and her participation in the Mexico City Conference in 1975. And the third chronological series - 1977-1985 - contain files pertaining to her participation in the second and third United Nations International Women's Conferences and to her faculty responsibilities at George Washington University.

The collection concludes with a small series -- Groups and Activities -- which contains both material dated after 1985 as well as earlier materials, a series of Personal materials, and a series of Audio-Visual materials that includes photographs, a videotape, and sound recordings.

Biographical / Historical:

Virginia R. Allan has had a distinguished career as an educator, business woman, civic leader, and national and international stateswoman. Born October 21, 1916 in Wyandotte, Michigan, Allan earned her A.B. and M.A. degrees from the University of Michigan in 1939 and 1945, respectively, graduating Phi Beta Kappa. Her education prepared her to be an educator and, with the exception of a year spent on a World War II assembly line, it was as a teacher of English in the Dearborn and Detroit school systems that Allan devoted the first part of her career. A well respected and innovative educator, Allan pioneered the Job Upgrading Program, which was designed to help drop-outs return to school or otherwise find meaningful employment. After establishing four job upgrading centers, Allan in 1953 was appointed assistant principal of Redford High School. In 1955, she left teaching to become co-owner and executive vice-president of Cahalan Drug Stores, Inc. in Wyandotte.

As a teacher and businesswoman, Allan developed an interest in local and state affairs, and during the early 1960s became especially active in the National Federation of Business and Professional Women's Clubs, serving in a series of increasingly responsible positions, as membership chairman, third, second, and first vice-president, and in 1964, as national president. With the BPW, Allan became a vocal advocate of women's rights, supporting and encouraging the role of women in the business world. She helped organize the National Federation's Young Career Women's Program, participated in numerous women's leadership conferences, and originated the concept of a nationwide network of State Commissions on the Status of Women. In addition to her BPW work, Allan in 1964 was appointed Regent of Eastern Michigan University, a position she held for ten years.

In 1969, Allan was named chair of President Nixon's Task Force on Women's Rights and Responsibilities and also served eight years on the Citizens' Advisory Council on the Status of Women. In 1972, she was appointed Deputy Assistant Secretary of State for Public Affairs where she served until the beginning of the Carter Administration. During her five years in the Department of State, Allan was a strong proponent of human rights, especially the rights of women, both nationally and internationally. In her official capacity she helped found and support the National Commission on the Observance of International Women's Year (1975) and the Decade for Women (1975-85). This was part of her more general responsibility to foster public/private cooperation in U.S. foreign relations. Allan served both as liaison with Nongovernmental Organizations for the International Women's Year Commission, and as member of the First United Nations World Conference for IWY which met in Mexico City in 1975. Allan later attended both the Mid-Decade Conference for Women in 1980 in Copenhagen (as an NGO representative), and the World Conference of the U.N. Decade for Women in Nairobi, Kenya in 1985. Allan was the only person to have attended all three of the UN World Conferences on Women. A tireless worker while in the State Department, Allan was also a delegate to UN Seminars on Women's Economic Participation in their Countries in 1970 in Moscow and in 1973 in Libreville, Gabon.

From 1977 to 1983, Allan accepted a position as special assistant to the dean for women's studies at George Washington University where a scholarship fund in her name was established to promote the study of women's issues. During her years at George Washington University, she organized a series of seminars and fundraisers which focused on the achievements of working women worldwide. In the early 1980s she was also an advocate of gender equality in education as the co-chair of the Citizen's Committee on Women's Education and as the shadow president of National Coalition for Woman and Girls in Education. In the 1980s she was the president of the U.S. Committee for the UN Fund for Women, Inc. (UNIFEM).

Allan has received many honors during her life, including a place in the Michigan Woman's Hall of Fame, which she helped found; honorary doctorates from Olivet College, Eastern Michigan University, and Central Michigan University. She was also a participant in the Old Masters Program at Purdue University in 1964. Allan retired in 1993. She died on August 8, 1999 in Sarasota, Florida.

Acquisition Information:

The collection was donated in several different accessions by Virginia R. Allan (donor no. 5667 ).

Accruals:

No further additions to the papers are expected.

Rules or Conventions:

Finding aid prepared using Describing Archives: A Content Standard (DACS)
Related
Additional Descriptive Data:

Related Materials

Bentley Historical Library houses Virginia R. Allan oral history interview (Collection ID 2010135 Aa 2; Aa 1), conducted in 1998 by Jean Rainey under the auspices of the Pennsylvania State University Archives as part of its "A Few Good Women" Oral History Collection (includes an edited transcript).
Contents
Using These Materials
---
RESTRICTIONS:

The collection is open to research.

USE & PERMISSIONS:

Donor(s) have transferred any applicable copyright to the Regents of the University of Michigan but the collection may contain third-party materials for which copyright was not transferred. Patrons are responsible for determining the appropriate use or reuse of materials.
PREFERRED CITATION:

[item], folder, box, Virginia R. Allan papers, Bentley Historical Library, University of Michigan