Back to top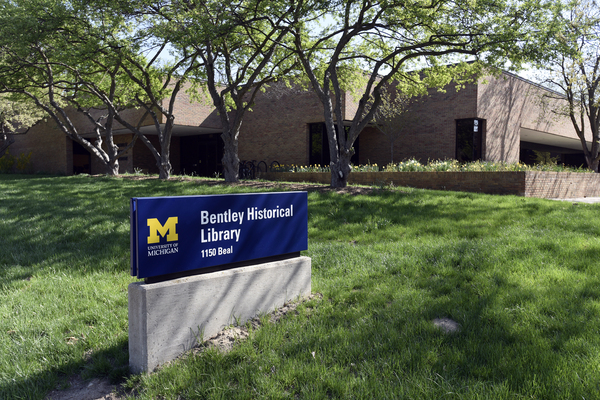 Address

:

1150 Beal Avenue

Ann Arbor, MI 48109-2113, USA
Alpheus Felch Papers, 1817-1896
Using These Materials
---
Restrictions:

The collection is open for research.
Summary
Creator:

Abstract:

Lawyer, Member of Michigan Supreme Court, 1842-1846, Democratic Governor of Michigan, 1846-1847, and holder of numerous other public offices; papers include correspondence and other papers documenting his career in public service.

Extent:

6 linear feet
6 oversize volumes
1 oversize folder

Language:

English.

Call Number:

851648 Aa 2; AC; Ac

Authors:

Finding aid prepared by: William E. Brown
Background
Scope and Content:

The Alpheus Felch papers details the active life of this nineteenth century Michigan public servant. Not only are public issues discussed in the correspondence files but the researcher will also gain an understanding of some of the personal problems associated with public service. The collection also includes several files of other family members.

Biographical / Historical:

Alpheus Felch was born in Limmerick, York County, Maine, on September 23, 1804. He died in Ann Arbor, Michigan, on June 13, 1896. Felch's career as a lawyer and politician crisscrossed the United States, although the majority of his life was devoted to service in his adopted state of Michigan.

Orphaned at the age of three, Alpheus Felch was raised by his paternal grandfather, and later a family friend, Edmund Hayes. In 1821 Felch entered Phillips Exeter Academy, at Exeter, New Hampshire. Financial problems led Felch to become a school teacher and to finish his initial schooling at the academy in Fryeburg, Maine. In 1823 Alpheus Felch was admitted to the freshman class at Bowdoin College, where he continued to supplement his income with teaching assignments. He graduated from Bowdoin in 1827.

In pursuit of a legal career, Felch entered the offices of Bradley and Barrow in Fryeburg and later continued his training in Bangor, Maine. Alpheus Felch was admitted to the bar in 1830, and almost immediately was commissioned to recover a law library in Houlton, Maine. He remained there in the practice of law until 1833, when he undertook a journey to the South for reasons of health. A combination of factors, including the contraction of Cholera, led Felch to Monroe, Michigan. He settled in Monroe until 1843, when Ann Arbor became his permanent residence.

Alpheus Felch's first political position was that of Monroe County representative in the State legislature, 1835-1837. He then served as State Bank Commissioner in 1838 and 1839, and is credited with exposing much of the corruption associated with "wild cat" banking. In 1842 Felch was made Auditor General of the state, but was appointed to the State Supreme Court only a few weeks later, upon the resignation of Judge William A. Fletcher. Felch served in this position until 1845, when he was elected governor.

Alpheus Felch served as governor of Michigan from January 5, 1846, to March 3, 1847, when he resigned this office upon his election to the United States Senate. Felch served in the Senate from March 4, 1847, to March 3, 1853. He was an active member on the Committee on Public Lands, and during his final four years in office was its chairman.

In 1853 Felch was appointed president of the commission to settle land claims in California. This commission acted upon Spanish, Mexican, and American claims to lands in California from 1853 to 1856. In June of 1856, with the commission's work complete, Felch returned to Ann Arbor and the practice of law. In the spring of 1879 he was appointed Tappan law professor at the University of Michigan, a position from which Felch resigned in 1883. Alpheus Felch remained an active figure in his later years, serving as president of the Michigan State Historical Society from 1888 to 1894.

Alpheus Felch married Lucretia Williams Lawrence of Monroe, Michigan, on September 14, 1837. They had eight children, five sons and three daughters. Mrs. Felch died on July 30, 1882.

Acquisition Information:

The collection was received from Felch family members in 1949 and 1981. Donor numbers 923 , 2671

Arrangement:

The Alpheus Felch collection came to the library in two separate accessions, the first in 1949, and the second in 1981. Because the core of each accession was correspondence and because the collection had been heavily researched, the decision was made in 1981 not to interfile the letters but rather to create two separate series for Felch's correspondence. In addition to correspondence, the other series in the collection consist of personal and family materials; records detailing Felch's work with the U.S. Commission to Settle Private Land Claims in California, 1853-1856; legal, financial, and miscellaneous files; and photographs.
Contents
Using These Materials
---
RESTRICTIONS:

The collection is open for research.

USE & PERMISSIONS:

Donor(s) have transferred any applicable copyright to the Regents of the University of Michigan but the collection may contain third-party materials for which copyright was not transferred. Patrons are responsible for determining the appropriate use or reuse of materials.
PREFERRED CITATION:

item, folder title, box no., Alpheus Felch papers, Bentley Historical Library, University of Michigan