Back to top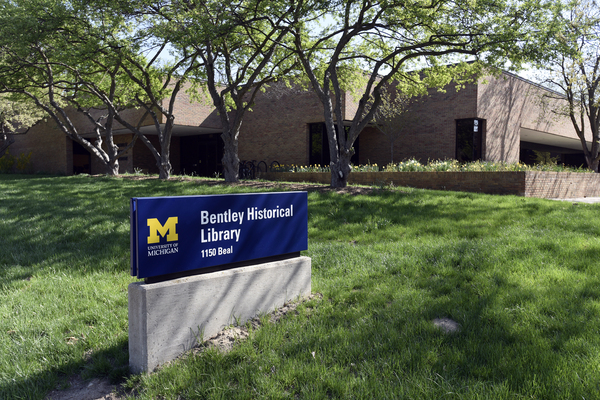 Address

:

1150 Beal Avenue

Ann Arbor, MI 48109-2113, USA
Robert Crouse papers, 1846, 1856-1866
Using These Materials
---
Restrictions:

The collection is open to research. Researchers must use microfilm of the Correspondence series.
Summary
Creator:

Extent:

1.5 linear feet (in 3 boxes)
1 microfilm

Language:

English

Call Number:

851009 Aa 2

Authors:

Finding aid created by Michigan Historical Collections staff
Background
Scope and Content:

The Robert Crouse papers consist of Civil War Era correspondence, including letters from soldiers describing camp life and other war-time activities. There is also letters received from businessmen in Michigan and New York state relating to business transactions. These letters date from the 1850s and 1860. Finally, the papers include business invoices and express and railroad receipts.

Biographical / Historical:

Robert Crouse was born in Avon, New York on October 2, 1813. He came to Michigan in 1832 and from 1834 to 1841, he was merchant at Kensington. He subsequently became a mill owner and farmer in Hartland, Michigan. In 1860, he became interested in real estate and the manufacture of salt at East Saginaw, and in 1862, he built the Crouse block and the Everett House in Hartland. He died in February 1869.

Acquisition Information:

The collection was the gift of members of the Crouse family (donor nos. 5435 and 9730 )

Accruals:

No further additions to the papers are expected.

Rules or Conventions:

Finding aid prepared using Describing Archives: A Content Standard (DACS)
Related
Additional Descriptive Data:

Partial Index of Correspondents:

Jerome Bussey: Five letters written to Robert Crouse (Apr. 1862-Mar. 1863). He speaks of a visit to their camp by Governor Blair; of prisoners, wheat, guns, horses and mules being taken; of deserters from the Rebel army enlisting in their regiment; and says that he is in charge of cooking. A letter written for him by Joseph Dewitt of his company says, "He is getting sick as hell of soldiering and wants to get back home. It is the meanest work he ever done. He makes a very good soldier." In a battle at Lebanon with Morgan's cavalry ("a band of highway robbers"), they capture prisoners, arms, horses and mules. They are fired on while on picket duty; his health isn't good; and Burnside has left them "stuck in the mud." Many men are deserting. He has heard that 150 regiments of Blacks are to be raised, officered by white men. He rather violently disapproves of the idea. Bussey was in Company K, 9th Michigan Infantry. He enlisted on September 30, 1861; was paroled and sent to Camp Chase Ohio July 13, 1862. There is no further record for him, though the last letter to Mr. Crouse is dated March 8, 1863.
James Coe: He enlisted in Company F, Second Infantry, in 1861; re-enlisted December 31, 1863, at Blain's Cross Roads, Tenn.; and was mustered Out July 28, 1865. Six letters written July-Dec., 1864, are from a camp in front of Petersburg. There is steady firing of artillery and musketry. He had not yet been engaged in the fighting, but had dug a "safe hole" in the side of a bank in a ravine. The soldiers cheered when they heard of the nomination of " Little Mac," and there was much betting in the ranks concerning the outcome of the election as many were against Lincoln. Three additional letters from Coe, Oct. 1864-Feb. 1865, have not been microfilmed.
Robert Findley: Fifteen letters written to Robert Crouse while he was serving in Company E, 26th Michigan Infantry, August 1862-October 1863. Robert Findley was an angry man. Nothing was right in the army, nor at home. He was first a nurse then a ward master in a hospital. There were smallpox and black measles in all the camps, and many men died. Findley himself was ill for some time. He wanted a disability discharge, but he and Doctor Church were at odds most of the time, and the discharge was refused. He wanted a promotion, but believed he would have to "buy "it. Men recruited from Hartland were being credited to Howell, and he wanted that stopped because of money involved. His wife was going in debt and he couldn't pay the bills. Camp Jackson he found to be "one of the filthiest places I ever saw, especially the camp grounds... As for the officers, they are no more fit to take charge of a lot of men than a hog is fit to superintendent a soap and candle manufactory." But one nice thing happened there. The ladies of Jackson had a picnic for the soldiers on the camp grounds, with many good things to eat; and they presented the soldiers with a banner, "a splendid affair." At Camp Alexandria he was arrested and ordered to the ranks for getting drunk, an alleged lie promoted by Doctor Church. The Soldier's Daily Prayer pleased him. "Our Father who art in Washington, Uncle Abraham is thy name. Thy victory won, Thy will be done at the South or at the North. Give us this day our daily rations of crackers and pork. And forgive us our shortcomings as we forgive our quartermasters. For thine is the power, the soldiers and Negroes for the space of three years. Amen." He thought he had enlisted for nine months, but found he would have to serve for three years. So, on October 14, 1863, he deserted at Fort Richmond, N. Y. In April 1864, however, he seems to have been back in the Army, in the Quartermaster's Dept.
Quintus Foster: He was in Company I and Company M, 3rd Michigan Cavalry (1864-1866) and discharged March 15, 1866. In the four letters written to Mr. Crouse (Mar.-Aug. 1864) he tells of being at Fort Pickens, dismounted Cavalry. He describes the "formidable fortifications," with the colored troops at work on them. In Memphis he works in the Commissary Department and one day a week he draws rations for the Post Commissary, describing in detail the kinds of food they get. He comments on the recent raids by General Smith and the casualties incurred. In some Indiana and Pennsylvania regiments boys of twelve and fourteen are fighting. "Large numbers of them are not as long as the swords they wear. They are the dirtiest set of small thieves I ever saw." He describes the chief attraction in Memphis, the monument and grounds in memory of General Jackson. He is sending Mr. Crouse a report George B. McClellan made to the Senate of the United States after a trip to Europe. "I consider it one of the greatest works in the world." He thinks military science should be taught in our district schools. The Southern people have the best kinds of military works in their homes, he says, and if Northern people had them, "we should not have been as green in that line as we are now." He describes his "cloth house" quarters. He asks Mr. Crouse to supply his wife with food and other necessities until he gets his pay and can send money home.
Albert L. Hathaway: He was in Company K, 8th Michigan Cavalry (1863-1864) as sergeant, sergeant major, first lieutenant. He was taken prisoner on Stoneman's raid, Aug. 3, 1864, and exchanged Sept. 27. He was commissioned captain of Company I Dec. 27, 1864, and mustered out at Nashville, Tenn. Sept. 22, 1865. He then went to Harbor Springs, Mich., to live. In the first letter to Mr. Crouse, from Camp Stockton, Mt. Clemens, March 30, 1863, he says some companies are full and some are not because of desertions. Some companies seem to be composed mostly of boys from fifteen to nineteen years of age. They have good quarters, good cooks and plenty to eat, and everything is clean. In the second letter, October 25, 1863, from near London, Tenn., he asks Mr. Crouse to write to the adjutant general or the governor for papers for recruiting for a position in one of the new regiments to be raised in Michigan. The regiment is facing a large rebel force, but the Union troops have the advantage because they are behind fortifications. Two additional letters from Hathaway dated Oct. 1863 have not been microfilmed.
Reuben B. Isham: From Oakland County, Mich., Isham enlisted in Company F, 7th Michigan Infantry, August 10, 1861, and re-enlisted December 18, 1863 at Stevensburg, Va., as sergeant. He was wounded in action at the Wilderness, May 6, 1864, and died of his wounds at home February 1,1865. The one letter (1862, date unclear), written to Robert Crouse, is about a long march "in the dust when you can't see six feet from you.4 There was some skirmishing also. "It was a hard march, eating hard crackers and raw corn. That you may call soldiering."
Newton T. Kirk: He was in Company E, 26th Michigan Infantry, enlisting August 11, 1862 as corporal; sergeant July 3, 1863; wounded and taken prisoner at Spotsylvania, Va., May 12, 1864, and returned to the regiment on December 15; discharged to accept promotion as captain of Company K, 127th U. S. Colored Troops, September 6, 1864. He was discharged January 30, 1865. In the three letters (Sept. 1862-Mar. 1864) written to Robert Crouse he tells of cleaning up the camp grounds after the "shocking conditions" in which the 20th Michigan Infantry had left them; of new companies being mustered in; about the good health of the men; of good food ("such as it is"); of drilling and guard duty. He criticizes officers, saying, "The more I see of this business, the more I am convinced that the best place for one half of the officers in the service would be in the ranks." He comments on soldiers voting, and on men in all conditions of health trying to enlist because of the bounty. In February 1864, he doesn't see any need for a draft because there will be enough volunteers to fill the ranks. In fact the last letter is almost an essay on such subjects as the future of our land; the Southern people having their eyes opened and deserting to the North; and how the Union people of the South are welcoming the soldiers of the North. Two additional letters from Kirk, Oct. and Dec. 1863, have not been microfilmed.
Major F. Lockwood: One letter, Nov. 4, 1861, (which has not been microfilmed) describes the raising of a battalion if artillery. Lockwood was captain of Battery H, 1st Michigan Light Artillery, at its organization Oct. 15, 1861.
Josiah G. Morgan: Morgan served in company G, 8th Michigan Cavalry. In one letter, Jan. 3, 1864, written from "camp near Nashville, Tenn." (which has not been microfilmed), he writes that he will repay his debt to Crouse.
John O. Rossetter: Fifteen letters (Jan. 1862-Mar. 1864) written to Robert Crouse while he was serving in Company I, 9th Michigan Infantry and later in the 11th Michigan Infantry. He was stationed at Bowling Green, Ky., and Murfreesboro and Chattanooga, Tenn. Because of ill health, much of the time, he saw little action, but was cook for his company and later a harness maker. He describes the countryside such as the beauties of Spring, or the red clay and mud; and called Stevenson, Ala. "a God-forsaken hole." He comments on food and foraging and the high prices for everything. He asks Mr. Crouse to send him tobacco, newspapers and stamps. He tells of guarding Rebel property and prisoners; of skirmishing; and mentions the Battle of Murfreesboro. Both armies destroy and pillage as they go through the country. He doesn't like Negroes, and he thinks the war is being fought to free them. However, he doesn't belong to any party but is "for the Union right or wrong." He likes General Rosecrans but not General Hooker. He is unhappy because he doesn't get paid so he can send money home to his wife for school shoes for his children. He talks about the new recruits and the bounty. He wants to go home to shear sheep. He was discharged in October, 1864, at the end of his three years of service. One additional letter from Rossetter, May 1865, which has not been microfilmed, describes life camped outside of Washington as part of the 8th Regiment Veteran Volunteers.
Samuel Sayers: He was in Battery H, 1st Michigan Light Artillery as corporal (1861-1865); re-enlisted June 1, 1864 and was mustered out July 22, 1865. Three letters: From Memphis, Tenn., February 19, 1863, he is sending money to Mr. Crouse. The weather is hot and the ground very muddy. From Milliken's Bend, La., April 21, 1863, he speaks of the nice plantations; good high, dry campgrounds; and the large numbers of troops in the vicinity. On May 25, 1863 Vicksburg is being besieged. A rebel came over one night and drank coffee with them. One additional letter, written Nov. 1863 from Vicksburg, which has not been microfilmed, mainly describes Sayers' health and the weather.
William George Smith: He was in Company E, 26th Michigan Infantry (1862-1864) as first lieutenant. He was discharged on a surgeon's certificate of disability, June 28, 1864. In the one letter to Robert Crouse, October 7, 1862, he asks Mr. Crouse to recommend him to the governor for a promotion to second lieutenant. He says the regiment has not yet been called up because it lacks one hundred men and some officers of being full. He speaks of improving the campground.

Alternative Form Available:

The correspondence series, which includes Civil War era letters, has been microfilmed and digitized, with online availability; see Contents List for more information.
Subjects
Click on terms below to find any related finding aids on this site.
Contents
Using These Materials
---
RESTRICTIONS:

The collection is open to research. Researchers must use microfilm of the Correspondence series.

USE & PERMISSIONS:

Copyright is held by the Regents of the University of Michigan but the collection may contain third-party materials for which copyright is not held. Patrons are responsible for determining the appropriate use or reuse of materials.
PREFERRED CITATION:

[item], folder, box, Robert Crouse papers, Bentley Historical Library, University of Michigan.

[item], [URL], Robert Crouse papers, Bentley Historical Library, University of Michigan.