Back to top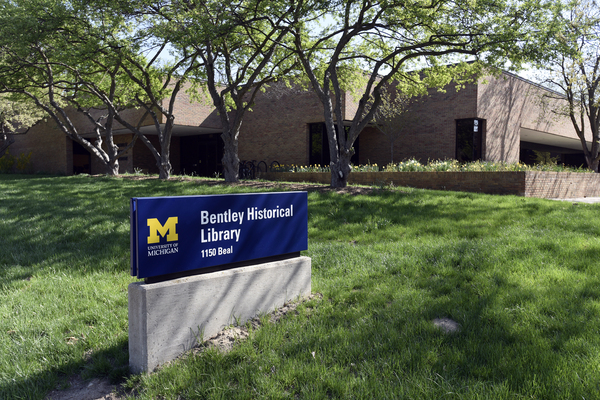 Address

:

1150 Beal Avenue

Ann Arbor, MI 48109-2113, USA
Josh Mack papers, 1957-2019 (majority within 1968-1999)
Using These Materials
---
Restrictions:

This collection is open without restriction.
Summary
Creator:

Abstract:

Papers of Josh Mack, an African American education specialist, civic leader, and former Detroit Board of Education member. The collection includes biographical materials, articles and press releases, correspondence (including some from former Michigan politicians), curriculum guidelines from the Wayne County Attention Centers, a small amount of photographs, an audio recording of a Testimonial event, a digital file comprising of several television interviews and news clips, and other collected materials pertaining to Mack's professional career and civic duties.

Extent:

0.80 linear feet

Language:

English

Call Number:

2019012 Aa 2

Authors:

Finding aid created by Nichole Manlove, August 2019
Background
Scope and Content:

The collection primarily focuses on Mack's tenure as an education specialist, Detroit Board of Education member, and as a civic leader, particularly in Detroit's North End neighborhood.

Records include biographical materials, articles and press releases about Mack's professional career and civic activities, correspondence, writings, curriculum materials --primarily from Mack's tenure as an administrative coordinator with the Wayne County Attention Centers,--and collected items pertaining to Mack's professional activities and his interest in education, job training, and counseling services for minorities. Also included several digital news clips and interviews.

Biographical / Historical:

Josh Mack was born in 1939 in Winter Garden, FL to migrant worker parents. In 1957, he began his academic career as an Education major at Knoxville College in Knoxville, TN. Unable to ignore the financial hardships his family was enduring, Mack returned home after one year of college to help support his family. With the urging of his father and with an athletic scholarship for playing basketball and football in tow, in 1963 Mack graduated from Edward Waters College in Jacksonville, FL with a B.S. in Physical Education. He received an M.S. in Educational Psychology from Wayne State University in Detroit in 1971, and spent 1972-1973 at the University of Michigan as a doctoral student in the Administration of Occupational Education program. In 1974, Mack went on to obtain an M.S. in Urban Adult Education from the University of the District of Columbia in Washington, DC.

Mack's professional career began in the early 1960s as a physical education teacher, athletic director, and head basketball coach at his alma mater, Charles R. Drew High School in Winter Garden, FL. From 1965 to 1968, he served as an Assistant Principal and instructor with the Castle Valley Job Corps at the U.S. Department of Interior, Bureau of Land Management. It was not until the late 1960s that Mack began to merge his educational interests with civic duties. From 1968 to 1969, he worked with the Detroit Public School (DPS) system as a Senior Adult Education Specialist. His passion for education and social reform influenced his advocacy for youth development, student achievement, and quality education for all DPS students. His passions also led him to become a staunch proponent for affirmative action in employment, education, and entrepreneurship. Mack played an important role in assisting with the decentralization of the DPS district. This was enacted into public law and established communicable relationships between school administration officials and the citizens of Detroit. It also allowed the community to participate in the decision-making processes of the DPS system. This law also ensured that all Detroit public schools would have their own parent organization to meet the needs of each school community. Also in the late 1960s, Mack worked as an administrator with the Area Manpower Institute for Staff Development where he was responsible for developing workshops and programs focusing on education staff development, counseling, and guidance.

In 1972, Mack was chosen to replace the honorable Longworth Quinn, Sr. of the Michigan Chronicle as a Region One (Detroit's North End) School Board member. With his new leadership role in place, Mack's influence on the Detroit School Board would lead to much needed changes within the DPS system.

In the early 1970s, Mack helped to establish the Equal Employment Opportunity Policy, the first program in the nation that allowed more minority contracting firms to be hired for district housing projects. Mack was also pivotal in bringing Northern High School administrators, the Central Board of Education, and citizens of Detroit together to turn the Northern High School Physical Plant into a more adequate facility, thus challenging the administration and the Board's desire to acquire residential homes and properties for the purpose of extension. In addition to his affirmative action and outreach initiatives, Mack was insistent that the Region One School Board incorporate curriculum materials that included historical contributions made by African Americans.

In 1973, Mack helped to obtain funding from the National Institute of Education to establish the first career education program in Region One, which was expanded to include the entire school district. As a result, that same year Mack was selected to serve as president of the Regional Board Members Caucus. Mack's support within the community was so strong that the community considered naming an educational facility "Josh Mack Elementary School" in his honor. His name fell second to the selected "William C. Loving Elementary School."

Mack's Region One School Board term ended in 1976 and from 1978-1979, he served as an administrative coordinator for the Wayne County Attention Centers. The Centers offered adult and special education services, pre-employment and psychological testing to delinquent state wards and children in foster care. In 1988, Mack's term with the District One Board was re-established when he replaced member George Bell. That same year, Mack was selected to serve as a Central Board member. Mack also served as the Board's Housing Committee Chairman where he oversaw millions of dollars of the district's general funds. He helped to secure a $100 million grant from the W. K. Kellogg Foundation to assist the community and feeder schools surrounding Northern High School in addressing the needs of the youth. As a result, he was elected as a founding member of the Kellogg Youth Initiatives Program (KYIP). His advocacy of KYIP led to the acquisition of a $441,000 grant from the Kellogg Foundation to establish in Loving Elementary School - an Elementary Science Resource Center that would also serve other elementary schools throughout the city.

In 1989, due to the failure of the November 1988 six-mil school millage increase, Mack along with Dave Bing and Isiah Thomas lead a fundraiser at the Pontiac Silverdome that raised over $300,000 to support extra-curricular activities within the Region One school district, particularly the interscholastic sports program. Under Mack's leadership, the Detroit school district also became the first in the United States to rescind the National Collegiate Athletic Association's (NCAA) Proposition 42 which had a habit of denying athletic scholarships to talented minority students by using culturally biased college entrance exams. The proposal was rescinded in 1990 and since then Mack has advocated for programs that hold colleges more accountable in ensuring that minority student athletes are able to complete their educations.

Mack has worked with numerous civic organizations. He served as a member of the Detroit Non-Profit Housing Corporation, the NAACP, the Welfare Reform Report Ad Hoc Committee, sponsored by the New Detroit, Inc. Community Development Committee, the Merrill Palmer Institute Development Committee, the National Education Association, Omega Psi Phi fraternity, and the Skillman Foundation. Since 2002, Mack has served as Executive Director and is a former Council President of Mobilizing Our Own Resources and Energy Community Council (M.O.O.R.E.). Under his leadership, the M.O.O.R.E. Community Council secured over $1,000,000 in federal and local grants in which 100% of the funds went directly toward low and moderate-income home rehabilitation, business property renovation, and recreational programs for youth.

Mack's commitment to social causes have posited him to receive awards and honors from the Michigan State Senate, the State House of Representatives, the Wayne County Commission, former Detroit Mayors Coleman A. Young and Dennis Archer, the Detroit City Council, Detroit Public Schools, the National Center for Careers in Public Life, and numerous other organizations.

Acquisition Information:

Donated by Josh Mack (donor no. 11869 ) in May 2018; (donor no. 11993 ) in April 2019.

Arrangement:

The collection is arranged into 2 series: 1. Biographical, 1957-2015. 2. Professional Activities, 1960-2019.

Accruals:

Periodic additions to the records are expected.

Rules or Conventions:

Finding aid prepared using Describing Archives: A Content Standard (DACS)
Contents
Using These Materials
---
RESTRICTIONS:

This collection is open without restriction.

USE & PERMISSIONS:

Donor(s) have transferred any applicable copyright to the Regents of the University of Michigan but the collection may contain third-party materials for which copyright was not transferred. Patrons are responsible for determining the appropriate use or reuse of materials.
PREFERRED CITATION:

[item], folder, box, Josh Mack papers, Bentley Historical Library, University of Michigan.

[item], [URL], Josh Mack papers, Bentley Historical Library, University of Michigan.