Back to top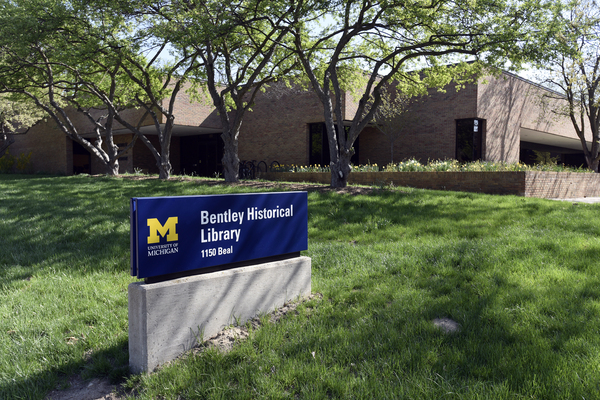 Address

:

1150 Beal Avenue

Ann Arbor, MI 48109-2113, USA
Macomb family papers, 1806-1892 (majority within 1813-1821)
Using These Materials
---
Restrictions:

This collection is open without restriction.
Summary
Creator:

Abstract:

The Macomb family papers chronicle the lives of an important family in southeast Michigan over a period of eighty-six years, from 1806 until 1892. The collection contains information pertaining to Major General Alexander Macomb's personal life and military career. This includes biographical information, Macomb's Last Will and Testament, poetry, and letters pertaining to military promotions, battles, legal claims, and public events. The collection also contains family letters authored by or addressed to Macomb's first wife Catherine, his sister Jane Macomb, daughter Jane Octavia (Macomb) Miller, Maria Bleecker Miller (Mother-in-law to Jane Octavia (Macomb)) Miller, associates, and later generations of the family. The majority of these family letters focus on genealogy and everyday life events.

Extent:

0.4 linear feet

Language:

English

Call Number:

2017041 Aa 2

Authors:

Finding aid created by Nichole L. Manlove, September 2017-January 2018.
Background
Scope and Content:

This collection highlights a small portion of the Macomb family's history between 1806 and 1892. The collection is composed primarily of family letters, however a large portion of the collection comprises of letters and documents pertaining to Major General Alexander Macomb's military career and personal life. This includes but is not limited to a letter of intent addressed to President John Quincy Adams seeking a position as Major General. The letter also mentions the likes of Army Commander Winfield Scott, Statesman John C. Calhoun, and General Andrew Jackson. Another of Macomb's letters serves as permission and instructions to Captain Benjamin Bonneville regarding Bonneville's request to further explore the western portion of the United States, specifically the Oregon Trail. This expedition would eventually broaden the path for westward expansion. Additional materials include General Macomb's Last Will and Testament, a typed summary of his life and career, a letter to General Johnathan Williams describing the events leading up to the Battle of Plattsburgh and the battle itself, and a letter to the United States Court of Claims from attorney's acting on behalf of Harriet Macomb, second wife and widow of General Macomb.

The Catherine Macomb series contains letters written by Catherine Macomb, Alexander Macomb's first wife. The series includes six letters written to various friends and family members over a period of fifteen years between 1806 and 1821. This includes a December 10, 1814 letter written by Catherine to Maria Bleecker Miller describing her intentions to reunite with her husband, General Macomb, shortly after his September 11, 1814 victory at Plattsburgh (also known as the Battle of Lake Champlain). This victory was a defining moment in the War of 1812 as it led to the signing of the Treaty of Ghent which ended the war on December 24, 1814. The series also contains letters addressed to Elizabeth Spencer (Eliza or Mrs. Cass), wife of Lewis Cass, first governor of the Michigan Territory. Catherine also authored a letter in which she mentions Commodore Isaac Chauncey. The remainder of the collection is comprised of letters authored by or addressed to various associates and family members including family friend Henry Authon, General Macomb's sister Jane Macomb, his daughter Jane Octavia (Macomb) Miller, Maria Bleecker (Mother-in-law to Jane Octavia (Macomb) Miller)),and later generations of the family. These letters chiefly discuss family ties and contain general well-wishes and goings on.

Biographical / Historical:

Alexander Macomb, Jr. (1782-1841) was a Major General who served in the United States Armed Forces from 1799 until his death. He was born April 3, 1782 in Detroit, when it was still classified as a garrison city within the Michigan Territory and died June 25, 1841 in Washington, D.C. He was the grandson of Irish immigrants John Gordon Macomb (1717-1796) and Jane Gordon (birth and death dates unknown) who settled in Albany, New York in 1755. The Macombs moved to Detroit, Michigan in 1769, where their sons engaged in the fur trade and provided supplies for the British Army -- the same profession as their father.

Alexander Macomb, Sr. (1748-1831) married Catherine Navarre (1757-1789) in Detroit on May 4, 1773. Born to this union were eleven children, eight of whom were born in Detroit, the remaining three were born in New York. Of this family line, Alexander Macomb, Jr. was the seventh child and his sister Jane Macomb (1776-?) was the third.

In 1785, when Alexander, Jr. was approximately two years old, his father moved the family to New York. In 1798, during the French Emergency, Alexander Macomb, Jr. joined the New York Rangers. The following year Macomb left the Corps and with the recommendation of Alexander Hamilton was commissioned as a Cornet in the Northern Army. Around 1802 Macomb went on to become the First Lieutenant of the Corps of Engineers. During this time he attended the West Point Military Academy where he also served as Adjutant of the Post. While at West Point, Macomb compiled a treatise upon martial law which became the forerunner of the Uniform Code of Military Justice (UCMJ).

On July 18, 1803 Macomb married his first cousin on his father's side, Catherine Macomb (1757-1822). Of this union, twelve children were born. Catherine Macomb died in 1822, leaving Macomb a widow for four years until he married Harriet Balch in 1826.

In 1805 Macomb was promoted to the rank of Captain of the Corps and in 1808 he was promoted to the rank of Major (Superintendent of Fortifications). When the War of 1812 broke out, he was promoted to Lieutenant Colonel, then Colonel. During the war Macomb commanded the Third Regiment of Artillery. He also served as Chief of Engineers, Adjutant General of the Army, and Colonel of Artillery. In 1814 he was promoted to the rank of Brigadier General and in that same year on September 11, together with Naval Lieutenant Thomas MacDonough, Macomb led a successful campaign along Lake Champlain against 14,000 British troops led by Lieutenant-General Sir George Prevost (1767-1816). As a result, Macomb was promoted to a brevet Major General rank by President James Madison. In addition to his promotion, Macomb received the Thanks of Congress and the Congressional Gold Medal for his gallantry and leadership.

Sometime after the War of 1812, Macomb returned to Detroit where in 1821 he was appointed Chief Engineer by President James Monroe. Macomb assumed command of the military station until 1828 when he was promoted to Major General. He served as the senior officer and commanding general of the Army until his death on June 25,1841.

Though detailed information on other members of the Macomb family may be limited, the legacy of the Macomb family name has resulted in a multitude of eponyms in honor of General Macomb and/or his family. On January 25, 1818, Macomb County was officially organized in General Macomb's honor as the third county in the Michigan Territory. Other places of note include Macomb, Illinois; Macomb Mountain in New York; Macomb, Ohio; Macomb Street in Plattsburgh, New York; and Macomb Hall at Plattsburgh State College, also in New York.

Acquisition Information:

Donated by Alexander M. Miller IV (donor no. 11747 ) in July 2017, December 2017, and January 2018..

Arrangement:

The collection is arranged into six series: 1. Major-General Alexander Macomb; 2. Catherine Macomb; 3. Jane Macomb; 4. Jane Octavia (Macomb) Miller; 5. Maria Bleecker Miller; 6. Unidentified author(s) and recipients.

Accruals:

No further additions to the records are expected.

Rules or Conventions:

Finding aid prepared using Describing Archives: A Content Standard (DACS)
Subjects
Click on terms below to find any related finding aids on this site.
Subjects:

Names:

Michigan (Schooner)
Macomb family (Detroit, Mich.)
Bleeker, Maria Millier.
Macomb, Alexander, 1782-1841.
Macomb, Catherine, 1787-1822.
Macomb, Jane, 1776-
Miller, Jane Octavia, 1822-1900.

Places:
Contents
Using These Materials
---
RESTRICTIONS:

This collection is open without restriction.

USE & PERMISSIONS:

Donor(s) have transferred any applicable copyright to the Regents of the University of Michigan but the collection may contain third-party materials for which copyright was not transferred. Patrons are responsible for determining the appropriate use or reuse of materials.
PREFERRED CITATION:

[item], folder, box, Macomb Family papers, Bentley Historical Library, University of Michigan.