Back to top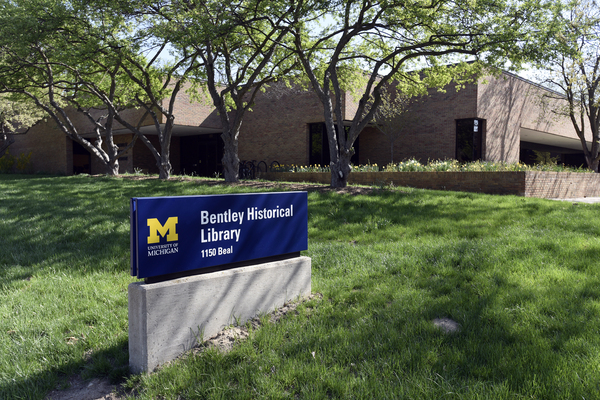 Address

:

1150 Beal Avenue

Ann Arbor, MI 48109-2113, USA
Starr Commonwealth records, 1916-2015 (majority within 1950-2000)
Using These Materials
---
Restrictions:

Access to select audio-visual materials is restricted to the reading room of the Bentley Historical Library.
Summary
Creator:

Abstract:

Organization dedicated to outreach, education, and intervention for troubled youth located in Albion, Michigan. The collection includes materials related to Floyd Starr, Foundtaion's administrative and development records, historic and promotional photographs, analog and digital audio-visual recordings, marketing materials, as well as publications.

Extent:

150.4 linear feet (157 boxes)
1.65 GB
50 oversize boxes

Language:

English

Call Number:

2017031 Bj 2

Authors:

Finding aid created by Elizabeth Hannigan, January 2018
Background
Scope and Content:

The Starr Commonwealth Records collection contains 150.4 linear feet (157 boxes), 1.65 GB, and 52 oversize boxes of the records from the main administrative office of the Starr Commonwealth organization. It also includes historical records from the Starr Commonwealth School for Boys and records from the organization's branch facilities located across Michigan and Ohio. The collection also contains a substantial amount of material related to Floyd Starr, the founder and first president of the organization. Materials include correspondence, records, publications, videocassettes, audiocassettes, digital files, photographs, scrapbooks. The collection highlights the life and work of Floyd Starr, the administrative work of Starr Commonwealth, and the impact of the organization on local communities in Michigan and Ohio.

The Starr Commonwealth records have been organized into seven series: the Floyd Starr series, the Visitors series, the Administrative records series, the Marketing records series, the Development records series, the Publications series, and the Visual materials and Artifacts series.

The Floyd Starr series contains correspondence, papers and audiovisual materials about the life of Starr Commonwealth's founder.

The Visitors series contains correspondence, speech transcripts, photographs, and clippings from the visits of influential individuals to Starr Commonwealth. The series highlights materials from the trips of George Washington Carver and Helen Keller to Starr Commonwealth to visit with the students and deliver inspiring speeches.

The Administrative records series contains records, notes, correspondence, clippings, audiovisual materials and photographs from the central administrative offices of Starr Commonwealth. The series also includes materials from the Starr Commonwealth Public Relations department and the Chapel-in-the-Woods religious facility on the Albion campus.

The Marketing records series contains records, photographs and audiovisual materials that illustrate publicity projects and strategies for the organization.

The Development records series contains records, publications, and photographs from fundraising and donor activities. These records highlight some of Starr Commonwealth's major fundraising strategies and activities.

The Publications series contains published materials produced by Starr's Albion, Van Wert and Columbus campuses. Publications include annual reports, student and faculty newsletters, student handbooks, and scholarly publications from Starr Commonwealth leadership.

The Visual Materials and Artifacts series contains a collection of scrapbooks, photographs, photograph albums, and slides. It also contains materials and artifacts from Bruecker Museum on the Albion campus. These materials provide a visual representation of the students, faculty, buildings and major events at Starr Commonwealth throughout its history.

Biographical / Historical:

The Starr Commonwealth organization was founded in 1913 as the Starr Commonwealth School for Boys by Michigan native Floyd Starr.

Born in Decatur, Mich. on May 1, 1883, Starr graduated from Marshall High School, then worked for several years in a half-way house in St. Louis, Missouri. He returned to Michigan where he attended Albion College, receiving his Bachelor of Arts degree in 1910. He was employed for a brief time at the Bernarr McFadden's Healthatorium in Chicago.

From an early age, Starr was driven by the desire to assist troubled youth and which led him to accept a job at the Beulah Farm Boys Character Factory. After the Beulah facility unexpectedly closed, Starr was inspired to fulfill his dream of creating his own school. He purchased a tract of land on Montcalm Lake in Albion, Michigan and in October 1913, Starr Commonwealth's first building, "Gladsome Cottage", was officially opened.

By 1915, the facility had over two dozen students and had built a one room schoolhouse to ensure the boys were properly educated. In the following years, Starr Commonwealth successfully navigated the challenges of two World wars, the Great Depression, and a 1936 fire in the Emily Jewell Clark building, as it continued to expand. By 1951, the organization had established new branch facilities in Jackson, Mich. and Van Wert, Ohio, in addition to the original Albion campus.

All of the Starr Commonwealth facilities were based on Floyd Starr's core philosophy that "there is no such thing as a bad boy" which formed the basis of the Starr Commonwealth creed. Starr believed that if children received love, structure, and guidance, they would become productive members of society. Starr developed a "strength-based peer group empowerment model" that focused on the mental, physical, and spiritual development of students. To guide his charges, Starr created a structured routine designed to improve the character of his students based on a detailed manual he developed for proper manners and behavior. While students were directly supervised by "house parents" who lived with them in their cottages, they relied on "Uncle Floyd" as a source of advice and emotional support.

Floyd Starr retired as president in 1967 and Dr. Larry Brendtro was named as the second president of Starr Commonwealth. After his retirement, Starr served as President Emeritus and continued to be closely involved in the operations of the organization until his death in 1980 at the age of 97. Many gathered to celebrate Starr and express their gratitude for the lives he had touched. Floyd Starr's life and values continue to influence Starr Commonwealth to this day.

Starr Commonwealth continued to grow under the leadership of Dr. Larry Brendtro, developing new partnerships with other child welfare organizations including the Hannah Neil Center in Columbus, Ohio. The Hannah Neil Center eventually merged with Starr Commonwealth in 1980. Brendtro was a leader in the field of child development, contributing to many national committees and publications that helped strengthen the reputation of Starr Commonwealth.

Brendtro was succeeded by Arlin Ness upon his retirement in 1981. Ness brought years of experience working in social services, corrections and dealing with juvenile delinquents to the office of president. His leadership led Starr Commonwealth to found new facilities in Detroit (1987), Battle Creek (1997), the Montcalm School for Boy (2000) and the Montcalm School for Girls in Van Wert, Ohio (2004). Ness stepped down in 2003 and Starr Commonwealth appointed Dr. Martin Mitchell as its new president.

Mitchell had over thirty years of experience with Starr Commonwealth and helped shape a new direction for the organization. He oversaw a reorganization of Starr Commonwealth which included closing facilities which were no long viable including the two Montcalm Schools and the Hannah Neil Center. Under Mitchell, Starr also created charter school programs in Detroit and established a strategic plan to increase the range and number of children served each year. This included the creation of the Starr Global Learning Network to train professionals in child welfare strategies and the establishment of behavioral health programs across Michigan.

In 2015, Mitchell stepped down as president and was replaced by the Chief Strategy Officer of Starr Commonwealth, Elizabeth Carey. Carey has continued to further the strategic initiatives established under Mitchell to help ensure Starr Commonwealth continues to be a national leader in the juvenile development and rehabilitation field. Today Starr Commonwealth has locations in Albion, Battle Creek, and Detroit, Michigan where it provides residential programs, in-home mental health services, youth assistance programs and a wide range of training programs through the Starr Global Learning Network.

Presidents of Starr Commonwealth:

| Date | Event |
| --- | --- |
| 1913 - 1967 | Floyd E. Starr |
| 1967 - 1981 | Dr. Larry Brendtro |
| 1981 - 2003 | Arlin Ness |
| 2003 - 2015 | Dr. Martin Mitchell |
| 2016 - | Elizabeth Carey |

Acquisition Information:

Donated by Starr Commonwealth (donor no. 505 ) in July 2016.

Processing information:

Boxes 42 and 203 were eliminated in processing.

In preparing digital material for long-term preservation and access, the Bentley Historical Library adheres to professional best practices and standards to ensure that content will retain its authenticity and integrity. For more information on procedures for the ingest and processing of digital materials, please see Bentley Historical Library Digital Processing Note. Access to digital material may be provided either as a direct link to an individual file or as a downloadable package of files bundled in a zip file.

Arrangement:

The collection is arranged into 7 series: 1. Floyd Starr, 2. Visitors, 3. Administrative Records, 4. Marketing Records, 5. Development Records, 6. Publications, 7. Visual Materials and Artifacts.

Rules or Conventions:

Describing Archives: A Content Standard
Related
Additional Descriptive Data:

Related Materials

The Bentley Historical Library also holds personal papers of the founder of Starr Commonwealth, the Floyd Starr papers.
Contents
Using These Materials
---
RESTRICTIONS:

Access to select audio-visual materials is restricted to the reading room of the Bentley Historical Library.

USE & PERMISSIONS:

Donor(s) have not transferred any applicable copyright to the Regents of the University of Michigan. Patrons are responsible for determining the appropriate use or reuse of materials.
PREFERRED CITATION:

[item], folder, box, Starr Commonwealth records, Bentley Historical Library, University of Michigan.

[item], [URL], Starr Commonwealth records, Bentley Historical Library, University of Michigan.