Back to top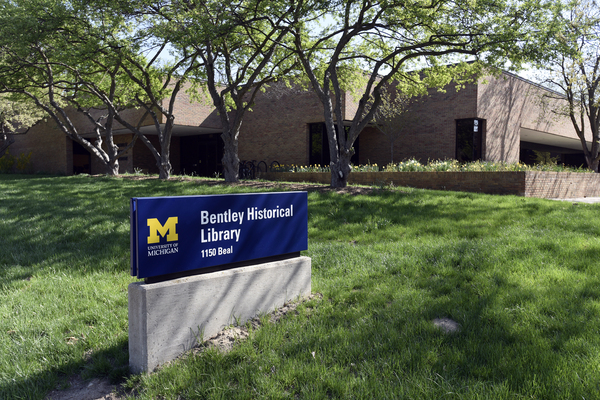 Address

:

1150 Beal Avenue

Ann Arbor, MI 48109-2113, USA
Eddie K. and Mary D. Edwards papers, 1980-2022, undated
Using These Materials
---
Restrictions:

Collection is open for research. Access to some online videos are restricted to the Bentley Historical Library's reading room.
Summary
Creator:

Abstract:

Reverend Eddie K. Edwards (1936-2004) was a Christian preacher and community activist in Detroit, Michigan. In 1976, he founded the Joy of Jesus faith-based nonprofit organization in Detroit. This organization sought to help Detroit residents—primarily neighborhoods and families experiencing poverty—through a summer camp and other programs, like the Ravendale Area Revitalization Project (R.A.R.E.). He was married to Dr. Mary D. Edwards, who was involved in Joy of Jesus and who currently serves as an author, life coach, and minister. The collection includes ten digital recordings of interviews and television programs featuring Rev. Eddie K. Edwards, Joy of Jesus publications, biographical information about Rev. Edwards, as well as papers related to the ministry of his wife, Dr. Mary D. Edwards.

Extent:

0.5 linear feet
51.49 GB (online)
1 oversize folder

Language:

English

Call Number:

2016014 Aa 2 Ac

Authors:

Finding aid created by Benjamin Bond in January, 2016; Steven Gentry, April 2021; Gideon Goodrich, May 2023.
Background
Scope and Content:

This collection documents the activism and ministry of Reverend Eddie K. Edwards and his wife, Dr. Mary D. Edwards. Manuscript materials are separated into two series documenting the work of both ministers.

Rev. Eddie Edwards' series contains Edwards's biographical information, letters received on the occasion of Rev. Edward's retirement, and memorial publications and articles. Of special interest is the 1996 publication "Re-Neighborhooding Revitalization Manual for the Re-Neighborhooding Detroit Program." The manual was based on the results of a survey conducted among the residents of a 38-block area of Ravendale community on the eastside of Detroit, near the Detroit Metropolitan Airport. Also included are digital images of a Point of Light a ward, memorial for Rev. Edwards, and an "Others" Award from the Salvation Army.

Audio-visual materials include a documentary by broadcast journalist Mort Crim, an audio recording of an interview with Edwards by Evangelical radio host Al Kresta in "A Vision for our Detroit", a video recording of a sermon delivered by Edwards at the Second Chapel Hill Baptist Church in Detroit, a video recording of the first annual Friends of Joy of Jesus Banquet in 1991, an episode from the Christian Television Network (CTN Live!) featuring Edwards, a Detroit Public TV program entitled "A Neighborhood Redeemed", a Sue Marx film in which Edwards is presented the 1991 Winning Ways Award, and a few videos made by the church including an interview with Caroline Thomas and Bob Ivory, a "New Child Development Plan" as described by Edwards, and a program highlighting Joy of Jesus' plan for solving urban decay presented in "A Hand Up, Not a Hand Out".

Dr. Mary Edwards' series consists largely of her works published through Leaves of Gold consultancy, a publishing consultancy started by Dr. Edwards in 2007. Among those publications are her autobiography, meditations and ministry materials, and collections of prose and poetry tied to her Widows with Wisdom work. Her papers also include a collection of her writings that document the history of Joy of Jesus Ministries. Of special interest is the description of the 52-questions needs assessment survey that was prepared and conducted by Dr. Edwards. This project resulted in the 1996 "Re-Neighborhooding Revitalization Manual."

Biographical / Historical:

Reverend Eddie Karl Edwards was born on June 1, 1936 in Detroit, Michigan, to Eddie Edwards and Lafrance Hider. He later studied at Detroit's Northeastern High School.

Prior to 1976, Edwards worked at various other institutions, including AT&T. Early in his ministry, he also worked with Project Start, a nonprofit agency that assisted people who completed their prison sentences find jobs. He left Project Start in 1976 to found Joy of Jesus—also known as Joy of Jesus Inc., Joy of Jesus ministry, and Joy of Jesus ministries—a faith-based nonprofit organization that began as an after-school program. Joy for Jesus sought to improve the lives of Detroit's children and young adults. It held Bible study classes as well as operated a summer camp and other recreational and skill-building programs aimed at breaking the cycle of poverty.

While serving at Joy of Jesus, Edwards—who was eventually ordained as a Baptist minister—also began the Ravendale Area Revitalization Project (R.A.R.E.) program in circa 1987. Sponsored by Joy of Jesus, and co-led by Rev. Edwards and Ravendale resident Toni McIlwain, R.A.R.E. was a neighborhood revitalization program that focused on reversing the urban decay and poverty of the Detroit east side community of Ravendale. R.A.R.E. also connected Ravendale's community members and suburban Detroit residents. Rev. Edwards was also involved in several other organizations, such as the education-focused Detroit Partnership for Parental Choice, a citizens' group known as the Metropolitan Detroit Anti-Crime Coalition, and the Michigan Neighborhood Partnership. He stepped down as president of Joy of Jesus in 2001 and began a new project aimed at linking churches and schools to tutor students. Edwards died in 2004.

Rev. Edwards received several awards and accolades during his life. In 1989, he was named Michiganian of the Year by The Detroit News. For their efforts on the R.A.R.E. project, former President George H.W. Bush awarded the Daily Point of Light Award to Rev. Edwards and McIlwain in 1990. Additionally, in 1991, Rev. Edwards received the Winning Ways Awards and joined the Wayne County Winners Circle.

Dr. Mary Darlene Edwards was married to Rev. Edwards and was his close collaborator. She was born in Toronto on October 11, 1942, to Audrey Gertrude Fontaine. Dr. Edwards migrated to the United States as a child, and later attended Northwestern High School as well as the Detroit Business Institute (1960-1962). Dr. Edwards married Rev. Edwards in circa 1982. While Rev. Edwards led Joy of Jesus, she worked in various Joy of Jesus programs and founded numerous organizations, including The Called and Ready Writers Christian writers group in circa 1999, as well as several ministries. After the death of Rev. Edwards, Dr. Edwards established Widows with Wisdom—a support and consulting organization dedicated to improving the lives of widows—in 2004. She also serves as director of the Leaves of Gold publishing and consulting company, which she founded in circa 2007. She has contributed to the Michigan Chronicle, served in roles ranging from author to minister, and is a recipient of numerous awards and honors, including the Salvation Army's "Others" award.

In circa 2016, Dr. Edwards received her Doctor of Divinity Degree from Destiny Christian University.

Acquisition Information:

Donated by Dr. Mary D. Edwards (donor no. 11226 ) in January 2015 and January 2017.

Processing information:

This collection was initially processed as the Eddie K. Edwards papers by project archivist Benjamin Bond in 2016. The original collection included materials by Dr. Mary D. Edwards; she donated her publications to the Bentley Historical Library in 2017. In accessing the her materials, processing archivist Gideon Goodrich combined Dr. Edwards papers with those of her late husband, organizing the combined colection into two series highlighing each the work of each minister and renaming the collection accordingly.

In preparing digital material for long-term preservation and access, the Bentley Historical Library adheres to professional best practices and standards to ensure that content will retain its authenticity and integrity. For more information on procedures for the ingest and processing of digital materials, please see Bentley Historical Library Digital Processing Note. Access to digital material may be provided either as a direct link to an individual file or as a downloadable package of files bundled in a zip file.

Accruals:

No further additions to the collection are expected.

Rules or Conventions:

Finding aid prepared using Describing Archives: A Content Standard (DACS)
Subjects
Click on terms below to find any related finding aids on this site.
Subjects:

Formats:

Names:

Places:
Contents
Using These Materials
---
RESTRICTIONS:

Collection is open for research. Access to some online videos are restricted to the Bentley Historical Library's reading room.

USE & PERMISSIONS:

Copyright is held by the Regents of the University of Michigan but the collection may contain third-party materials for which copyright is not held. Patrons are responsible for determining the appropriate use or reuse of materials.
PREFERRED CITATION:

[item], folder, box, Eddie K. Edwards papers, Bentley Historical Library, University of Michigan.

[item], [URL], Eddie K. Edwards papers, Bentley Historical Library, University of Michigan