Back to top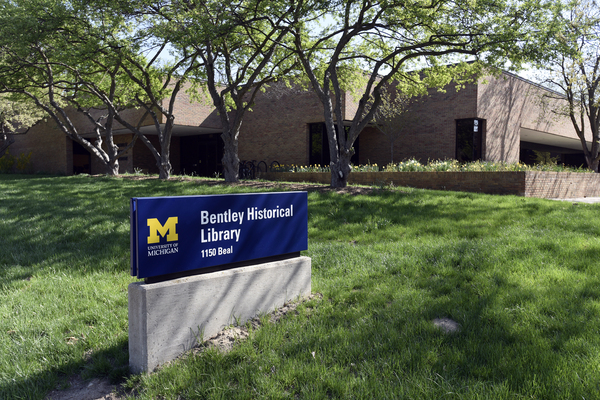 Address

:

1150 Beal Avenue

Ann Arbor, MI 48109-2113, USA
Cornelia G. Kennedy papers, 1932-2012, (Majority of material found within 1970-1999)
Using These Materials
---
Restrictions:

The collection is open to research.
Summary
Creator:

Abstract:

Cornelia G. Kennedy, "First Lady of the Michigan Judiciary," was the first woman appointed to the federal bench in Michigan and the first woman to become a chief judge for a United States District Court. Judge Kennedy was nominated to U.S. District Court in 1970 and to U.S. Circuit Court (Federal Appeals Court) in 1979. Although never actually nominated to the Supreme Court, she was mentioned in connection with vacancies there during the administrations of three different U.S. Presidents. In addition to her court-related duties, the collection reflects Kennedy's service to the Judicial Conference of the U.S. and the Federal Judicial Center as well as the American Bar Association and other professional organizations. The collection also contains materials from Wayne County Circuit Court. This finding aid includes a Summary Contents List and expanded Scope and Content Note to provide a brief summary of the Federal Court System's structure and history as well as notes on some of the organizations comprising the context of a legal career that spanned more than half a century.

Extent:

65 linear feet
1 oversize folder
4.78 GB (online)

Language:

English

Call Number:

2014163 Aa 2 Ac

Authors:

Finding aid created by Olga Virakhovskaya, 2012-2013 and Sandy Kortesoja, 2013-2014
Background
Scope and Content:

The Cornelia G. Kennedy papers span Kennedy's career as a judge, beginning with her election to Wayne County Circuit Court (the 3rd Judicial Circuit of Michigan, which includes the City of Detroit) in 1966. The bulk of the collection documents her service as an active federal judge, from the time of her appointment to Federal District Court in 1970 through her confirmation and service in Federal Appeals Court, until she assumed senior federal judge status in 1999.

The collection is valuable not only in that it documents the professional and some of the private life of a federal judge who achieved many 'firsts' as a woman but also for the collection's contribution to an understanding of the federal court system and the evolution of judicial ethical standards and practices, especially with respect to financial disclosure, confidentiality, and conflicts of interest.

To some extent, the history of information and communications technology during the period is also represented in the collection through its examples of different correspondence media in different eras and through materials pertaining to the advent of computer-aided legal research in court libraries and the use of new technologies in federal courtrooms.

Inevitably, Judge Kennedy's long family history in the practice of law coincided with significant milestones in American history and in the development of judicial administration organizations and policy. Kennedy's father had graduated from law school and begun his legal career with World War I on the horizon. Kennedy graduated from law school as the national economy was transforming itself after World War II, and as the federal court system was beginning a new era in judicial practice and in judicial review of administration.

Description of Series Content

This collection is divided into ten series: Personal and Biographical; Correspondence; Speeches and Writings; Wayne County Circuit Court; U.S. District Court, Eastern District of Michigan; U.S. Court of Appeals, 6th Circuit; Judicial Conference of the United States; Federal Judicial Center; American Bar Association; and Other Professional Organizations and Meetings.

Of necessity, some series include materials of multiple formats, located together primarily with regard to conceptual content rather than format and some types of materials are found in multiple series. For example, correspondence can be found not only in the Correspondence series but also within court-related series to the extent that it relates to matters addressed there.

Throughout the collection, Judge Kennedy's own phrasing is used whenever possible to describe file folder contents. Some examples of her original file folders of administrative papers and office files also contain handwritten notes and have been retained in the collection to provide additional information to the researcher. These original folder labels and notations also help to illustrate the use of different terminology in different time frames.

Biographical / Historical:

Cornelia Groefsema Kennedy, the third of four sisters, was born on August 4, 1923 to Elmer and Mary Groefsema. The whole family had strong ties to the University of Michigan as well as an interest in the legal profession. Elmer Groefsema, was a 1917 graduate of the UM Law School who became a distinguished trial lawyer in Detroit. Cornelia's mother had also attended the UM Law School; however, Mary's attendance at law school was interrupted by her untimely death when Cornelia was nine years old.

The three Groefsema sisters to survive infancy all graduated from Redford High School in Detroit and remained close throughout their lives. The youngest sister, Christine Groefsema Gram, earned her Ph.D. in economics; she became a professor at, then president of, Oakland Community College, Auburn Hills campus.

Both Cornelia and her older sister, Margaret, studied law and graduated from the University of Michigan Law School. Cornelia and Margaret practiced law with their father in Detroit until his death in 1952. Both Cornelia and Margaret later became judges, Margaret Groefsema Schaeffer in Michigan's 47th Judicial District Court.

Kennedy graduated from law school in 1947 then served as a law clerk for the Honorable Harold M. Stephens, Chief Judge of the U.S. Court of Appeals for the District of Columbia Circuit. She was one of the first women to serve as a law clerk in that court and considered it a prestigious appointment. In 1948, she returned to Detroit where she practiced law for 18 years.

By 1965, she was a wife and mother as well as a partner in the private law firm Markle and Markle. Encouraged by her husband, Detroit advertising executive Charles S. Kennedy, Jr., she ran for judge in the Third Judicial Circuit of Michigan (i.e., Wayne County Circuit Court, which includes the City of Detroit). Although she lost that election, she ran again successfully the following year. She was elected a Wayne County Circuit Court judge in December of 1966 for the term beginning January 1967.

In September 1970, as the women's movement was enjoying political support throughout much of the nation, President Richard M. Nixon nominated Judge Kennedy to United States District Court for the Eastern District of Michigan where she also chaired the Bankruptcy Committee for a time. When confirmed by the Senate on October 6, 1970, she became the first woman to be appointed to the federal bench in Michigan, for which she has been called the "First Lady of the Michigan Judiciary."

In spite of heavy workloads in her district court as elsewhere in the federal court system, Kennedy was well-regarded by judicial system administrators in Washington, D.C. as well as by her fellow federal judges. In 1977, she became the first woman to become a chief judge for a U.S. District Court. Kennedy's strength in correspondence with colleagues, prior courtroom and rules committee experience, and perspective as a woman uniquely qualified her for a role both in the development of ethical standards for federal judges and in the improvement of operational procedure in federal courts.

In November 1973, Chief Justice Warren Burger appointed Kennedy to the Judicial Conference of the United States committee known originally as the Advisory Committee on Judicial Activities. This appointment acknowledged her prior experience and marked the beginning of her many future years of service to the federal courts in judicial conferences and councils dedicated to improving judicial practice.

In the spring of 1979, President Jimmy Carter nominated Judge Kennedy to the U.S. Court of Appeals for the Sixth Circuit to fill one of the many new judgeships created by Congress the previous year to ease overwhelming backlogs of cases throughout the court system. The Detroit News reported Kennedy's nomination on March 14, 1979.

However, in spite of her 'well-qualified' rating by American Bar Association (ABA) standards, and much public support, her confirmation was opposed by groups including the NAACP, the Wolverine Bar Association, and others who questioned Kennedy's record on civil rights issues during lengthy hearings throughout the summer.

Judge Kennedy was confirmed by the U.S. Senate on September 25, 1979 and received her commission as a U.S. Court of Appeals judge for the Sixth Circuit the next day. According to newspaper accounts, both of Michigan's senators had been absent for the vote as Kennedy became the second woman judge in the 6th Circuit Court's history. (Florence E. Allen, the first woman judge in the 6th Circuit, had been nominated by President Franklin D. Roosevelt in 1934). Some of the editorials published at the time of Kennedy's confirmation complained that her nomination had been appraised on political rather than judicial grounds.

Over Kennedy's more than thirty years as a judge in federal appeals court she became an expert in appellate advocacy, also traveling frequently to attend Moot Court sessions at law schools and speaking engagements on the topic at professional meetings. Judge Kennedy assumed federal senior judge status in 1999, continuing to serve as a visiting judge until her retirement from the Sixth Circuit Court of Appeals in 2012.

During her pioneering career on the federal bench Kennedy achieved some notable 'almost firsts' as well as many 'firsts.' Her name had been put forth in the news media as a possible first woman nominee to the U.S. Supreme Court. The first such occasion came in the fall of 1971, at a time when accomplished women were enjoying improved opportunities for career advancement to positions formerly held only by men.

However, in spite of growing political support for an Equal Rights Amendment (which passed both houses of Congress in 1972), perhaps the nation was not yet ready to accept a woman on the Supreme Court. President Nixon's two nominees who joined the Court in that era were Harry Blackmun (1970) and Lewis Powell, Jr. (1972). When the next Supreme Court vacancy occurred, President Gerald Ford was also urged by many to nominate a woman but declined, instead choosing John Paul Stevens (1975).

By 1981, a decade had passed since the public first became aware of Kennedy's eligibility to be the first woman justice. That year, Kennedy was one of two women nominees under final consideration by President Ronald Reagan for the Supreme Court vacancy created by the resignation of Justice Potter Stewart.

In nominating Sandra Day O'Connor, President Reagan finally achieved the objective of nominating the first woman Supreme Court justice. However, for Judge Kennedy, his choice represented personal disappointment for a third time. With characteristic grace when the announcement was made, Judge Kennedy congratulated the new justice, thanked her own many supporters, then resumed her busy work schedule.

In addition to her court caseload, Kennedy continued to serve the legal profession through its bar associations and law schools and the judiciary through its many committees, conferences, and councils. She served on the Board of the Federal Judicial Center from 1981 to 1985, and as a Supreme Court Fellow from 1982 for more than a decade. In 1985, she was appointed by President Reagan to the Commission on the Bicentennial of the U.S. Constitution, serving there for six years.

Kennedy's years as an active federal judge coincided for the most part with the terms of two Supreme Court Chief Justices: Warren E. Burger, 1969-1986, and William H. Rehnquist, 1986-2005. Although considered 'too conservative' by some of her critics, she reportedly held herself to a high standard of impartiality, 'bound by the law' rather than influenced by political trends or popular opinion. Her admirers considered her to be well-prepared, fair-minded, and consistently successful at maintaining public trust, and sometimes admiration, in her courtroom.

Judge Kennedy assumed senior federal judge status in 1999 and continued to share the workload of the Sixth Circuit Court of Appeals until her retirement from the court in 2012. As reflected in an abundance of continuing correspondence, she was remembered fondly by her law clerks as well as by her colleagues on the bench. Judge Kennedy died on May 12, 2014 in Grosse Pointe Woods, Michigan.

The University of Michigan honored Kennedy with a Distinguished Alumni Service Award and Sesquicentennial Award in 1967. She received Honorary LL.D. degrees from Northern Michigan University (1970), Eastern Michigan University (1971), Western Michigan University (1973), the Detroit College of Law (1980), and the University of Detroit (1987).

In addition to the State Bar of Michigan and Detroit Bar Association, Kennedy was an active member of the ABA's Judicial Administration Division and a fellow of the American Bar Foundation. She was a founding member of the ABA's National Conference of Federal Trial Judges and the National Association of Women Judges.

Although never herself a member of the U.S. Supreme Court, she has been credited with being the first to support omitting any reference to gender or marital status in addressing members of the high court. (By tradition to date, the U.S. President has been addressed as 'Mr. President'). When acting as a Supreme Court Justice during a university law school moot court session early in her federal career, Kennedy stated her preference to be addressed simply as 'Justice,' rather than 'Mrs. Justice,' and the practice became an accepted one for actual Supreme Court justices as well.

In 1971, the Women's Economic Club of Detroit had recognized Kennedy's ground-breaking career role as a federal judge with its "Women Who Work" award. In 2000, she received the Michigan Women's Hall of Fame Life Achievement Award.

Her portrait as a federal judge was dedicated in 2002.

Judge Cornelia Groefsema Kennedy died on May 12, 2014 in Grosse Pointe Woods, Mich. She was 90 years old.

The Federal Court System

During the 18th and 19th centuries, expansion of the U.S. court system had been necessary due to the nation's population growth and geographical expansion westward across the continent. As early as 1861, one of the nation's most famous lawyers, Abraham Lincoln, is said to have remarked as President in his first message to Congress, "the country has outgrown our present judicial system." (See www.uscourts.gov and www.fjc.gov for additional history on the court system and the Judicial Branch).

Throughout the 20th century, new technological capabilities facilitated rapid communications but also resulted in more complicated legal issues and ever-growing caseloads throughout the court system. In American business and finance, the post-World War II expansion of corporations, capital markets, and financial intermediaries created opportunities for new types of federal crime (or 'white collar crime,' informally).

These and other factors contributed to steady pressure on judges at all levels to improve practice. As the federal court system sought to keep pace with an increasingly complex workload an innovative solution emerged in the early 1980s: creating a court of appeals within a subject-matter circuit, rather than only within circuits defined by geographic boundaries. Bankruptcy courts, for example, represent this type of system-wide capacity expansion through special purpose courts.

In 1939, by action of the Legislative Branch in establishing the Administrative Office of the U.S. Courts, Congress for the first time had shifted budgetary responsibility for judicial administration from the Executive Branch (primarily the Department of Justice) to the Judiciary. The Judiciary Act of 1939 extended the autonomy of the Judicial Branch beyond judicial policy review and marked the beginning of internal federal judicial administration within the Judicial Branch of the federal government.

Judicial Policymaking and the U.S. Judicial Conference

As the federal court system grew, the process of judicial policy review and judicial administration became more cumbersome, more complex, and more needed than ever before. In describing the work of the federal judiciary, the nation's first Chief Justice recognized the difficulties involved in achieving lofty national goals. In 1789, as now, phrasing attributed to Chief Justice John Jay captures the essential challenge of American constitutional law: "carrying justice to every man's door;" but how to do it?

For more than a century, the process of judicial policy analysis for federal judges and courts was carried out informally through the work of committees. Most policy decisions were made within the federal circuits by judicial councils. Legislation passed by Congress in 1922 formally created a policy-making body for administration of the U.S. court system. Originally, this body was known as the Conference of Senior Circuit Judges. It was renamed the Judicial Conference of the United States in 1948, the year that Kennedy returned to Detroit from Washington D.C.

In 1973, at the time of Kennedy's first U.S. Judicial Conference committee appointment, members of the Conference were particularly focused on ethical issues, codes of conduct, and the problem of how to manage judicial discipline as well as the increasingly complex judicial administration process.

Concerns about the work of judicial councils with inadequate sources of information for sound decision making had led Chief Justice Earl Warren to appoint an ad hoc committee in 1961. Such concerns only increased over time and extended beyond the judicial branch of government.

The role of Judicial Councils within the Circuits became a major agenda item at the 1974 Judicial Conference of the U.S. A National Conference of Federal Trial Judges also convened during 1974. Concerns addressed during these two conferences, publicized further in connection with other events of 1974 including President Nixon's resignation, culminated in adoption of the Ethics in Government Act of 1978.

Soon afterward, the Judicial Councils Reform and Judicial Conduct and Disability Act of 1980 established a "...procedure for the resolution of alleged disability or misconduct of a Federal judge," and highlighted the era's public concern for higher standards of ethical behavior throughout the federal government.

Judge Kennedy's legal career had begun as the Judicial Conference of the U.S. was expanding its role in coordinating policymaking throughout the Circuit Councils and coincided with an era in which the influence of mass media technologies on public opinion and the federal government was growing rapidly. Her career as a federal judge also spanned decades of U.S. Supreme Court history.

Twentieth Century Supreme Court Style and the Influence of the Chief Justice

The Supreme Court experience1 of retired Justice John Paul Stevens suggests that the style of the Court changes with the Chief. Through the Chief Justice's power in appointing its committees, the Chief's priorities and influence also extend throughout the Judicial Conference of the United States. According to Justice Stevens, Chief Justice Warren E. Burger, who became Chief Justice of the Supreme Court in 1969, is today remembered not only for his legal opinions but also for his emphasis on updating court administrative procedure.

From its original advisory role, the Advisory Committee on Judicial Activities evolved into new committees, reflecting new judicial personalities and opinions as well as new political circumstances. Several other retirements from the high court, and subsequent new appointments by Chief Justice Burger, also contributed to updated committee styles and new perspectives on old policy issues such as equal rights under the law (with respect to gender as well as race), appellate advocacy, and consistent sentencing guidelines throughout the federal court system, notably with regard to sentences for illegal drug dealing and possession.

The basic design of the federal government as a system of checks and balances also evolved during the twentieth century, expanding through organizational changes to accommodate growth. In the Executive Branch, for example, several departments (including the President's Cabinet) had been created by the U.S. Constitution. However, many new federal agencies created during the Great Depression and since World War II (some independent of executive departments) also function as part of the Executive branch of government.

As the composition of the Supreme Court changed, differences of opinion reemerged over interpretation of the Constitution by the judiciary. Changing emphasis on the role of the Supreme Court--interpretation alone versus 'judicial activism'--also influenced the system of checks and balances and further complicated judicial review of administration. Justice Antonin Scalia, for example, has been known as a strong proponent of 'textualism' or 'original analysis:' i.e., the goal of interpreting legal texts in accordance with the impact their words had when they were drafted. In effect, Justice Scalia's long service on the high court has had a great influence on public discourse as well as on Supreme Court decisions in individual cases; it also influenced federal judges across the nation through the Judicial Conference of the U.S.

The Federal Judicial Center's Role in Education and Research

The Federal Judicial Center (FJC) was created in 1967 with the goal of facilitating judicial fact-finding and the hope of improving overall delivery of justice. Although essentially an administrative body, the FJC attempted to maintain close two-way communication with federal judges and, during its first decades, the center continued working to establish its procedures and to find its conceptual footing.

By the 1980's, nearly two hundred years had passes since the Constitution of the United States was adopted and much had changed in the operation of the federal court system. However, the underlying principles established by the Judiciary Act of 1789 remained unchanged. As the nation prepared to celebrate the bicentennial anniversary of its Constitution, the FJC played a role in that celebration by preparing to launch an ongoing educational campaign about the history and purpose of the Judicial Branch of the federal government.

Because the application of fundamental principles to modern day ethical issues still presents challenges, and because the general public is still largely unaware of judicial history, the original scope of the FJC was expanded to include public education as well. As the global internet takes on increasing importance for reporting news and current events in today's society, the judicial system's traditional goal of maintaining public trust faces new challenges. Today, the FJC website, www.fjc.gov helps to provide another source for historical background and public education on the federal judicial system.

In 1981, while still a relatively new member of the federal appellate court system, Judge Kennedy was invited to join the Board of the FJC, serving a term-limited four-year term there. In addition to her service to the FJC Board, she also actively assisted the FJC through the Judicial Fellows Program from 1982 through 1994.

The Judicial Fellows Program, jointly sponsored by the Supreme Court, the FJC, and the Administrative Office of the U.S. Courts, not only consolidated the administrative function of these separate organizations but also provided a unified approach to educating new judges on court procedure and to assisting them with background research for their decision making. This unified approach is especially helpful when cases center on national policy issues.

Given ongoing expansion of the federal court system, orientation of new federal judges represented a new FJC service that was popular among federal judges across the country. Judge Kennedy, for example, participated (while she was Chief Judge of the Eastern District of Michigan court during the late 1970s) in a Conference of Metropolitan District Chief Judges intended to help prioritize the FJC's agenda. Kennedy also participated, both as a new appointee and as an instructor, in continuing education seminars for newly appointed federal judges.

Like the administrative staff of the FJC, Kennedy took the goal of maintaining the public's trust in the judicial system very seriously. Although her work (including, for example, attendance at a National Conference of Federal Appellate Judges in 1988), introduced her primarily to colleagues within the judicial branch, her judicial activities were reported on occasion in the press. In an era of widespread reliance on newspapers, any notice by newspaper journalists thus also introduced her to members of the other branches of government and to the public as well.

Acquisition Information:

The collection was the gift of the Honorable Cornelia G. Kennedy (Donor No. 10838 ) in October 2012. Addition of an oral history interview donated by Allyson A. Miller (Donor No. 11073 ) for Women Trailblazers in the Law Project, February 2014.

Processing information:

In preparing digital material for long-term preservation and access, the Bentley Historical Library adheres to professional best practices and standards to ensure that content will retain its authenticity and integrity. For more information on procedures for the ingest and processing of digital materials, please see Bentley Historical Library Digital Processing Note. Access to digital material may be provided either as a direct link to an individual file or as a downloadable package of files bundled in a zip file.

Arrangement:

Summary Contents List (Series Level)

Personal and Biographical -- Boxes 1-3
Correspondence -- Boxes 3-6
Speeches and Writings -- Boxes 6-7
Wayne County Circuit Court (3rd Judicial Circuit of Michigan) -- Box 7
U.S. District Court, Eastern District of Michigan -- Boxes 8-18
U.S. Court of Appeals, 6th Circuit -- Boxes 19-30 and 43-65
Judicial Conference of the United States -- Boxes 31-38
Federal Judicial Center -- Box 39
American Bar Association -- Box 40
Other Professional Organizations and Meetings -- Boxes 41-42

Accruals:

No further additions to the papers are expected.

Rules or Conventions:

Finding aid prepared using Describing Archives: A Content Standard (DACS)
Contents
Using These Materials
---
RESTRICTIONS:

The collection is open to research.

USE & PERMISSIONS:

Copyright is held by the Regents of the University of Michigan, except for copyright in the oral history interview which is held by Women Trailblazers in the Law, but the collection may contain third-party materials for which copyright is not held. Patrons are responsible for determining the appropriate use or reuse of materials.
PREFERRED CITATION:

[item], folder, box, Cornelia G. Kennedy papers, Bentley Historical Library, University of Michigan