Back to top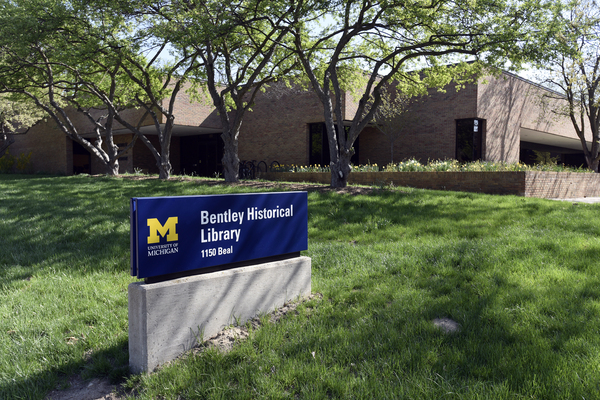 Address

:

1150 Beal Avenue

Ann Arbor, MI 48109-2113, USA
Michael and Janice Neubecker papers, 1996-2010 (majority within 1996-2004)
Using These Materials
---
Restrictions:

The collection is open to research.
Summary
Creator:

Abstract:

Papers of Michael and Janis Neubecker, co-founders and past Presidents of Parents, Families, and Friends of Lesbians and Gays Downriver, Michigan (PFLAG Downriver). Michael Neubecker served as the PFLAG Great Lakes Regional Director and Vice-President/Regional Director Council Chair. Researchers will find records of PFLAG Downriver, materials of other PFLAG chapters and of the national PFLAG organization, and material related to Michael and Janice Neubecker PFLAG activities. Also subject files and photographs.

Extent:

3.5 linear feet

Language:

English

Call Number:

2014052 Aa 2

Authors:

Finding aid created by Olga Virakhovskaya, April 2014
Background
Scope and Content:

The Michael and Janice Neubecker papers contain material about Neubeckers' activism, records of organizations in which they participated. Also included correspondence and background material on various subjects related to the LGBT community rights. The collection is organized into three series: Michael and Janice Neubecker Files; Parents, Families and Friends of Lesbians and Gays (PFLAG), and Subject Files.

Biographical / Historical:

Janice Michael and Neubecker are Newport, Michigan residents. Michael Neubecker grew up Catholic in greater Detroit area and graduated from the Wayne State University.

In the 1980s, two of Neubeckers' gay family members and Janice's former teacher fell victims of hate crimes; another gay family member was physically assaulted. In 1991, their son William (Lee), at the time a freshman in college, was not able to join the Reserve Officers' Training Corps program at Eastern Michigan University because of the military's policy at the time of not accepting openly gay troops. Michael and Janice supported Lee in his public protest.

In 1995 the Neubeckers started coming to local Parents, Families and Friends of Lesbians and Gays (PFLAG) meetings, the organization for parents, families, friends, and straight allies united with people who are lesbian, gay, bisexual, and transgender. They were inspired to join PFLAG-Detroit after hearing then-national president Mitzi Henderson speak at the 1995 Human Rights Campaign dinner event at the Fox Theatre. Only 6 months later, in 1996, Michael and Janice founded PFLAG Downriver. Michael and Janice scheduled the first monthly PFLAG Downriver meeting in their basement in June of 1996. In September of 1996 the meetings moved to the Southgate church location. A Steering Committee was formed to formalize the FLAG/Downriver chapter and prepare bylaws and affiliation papers. The chapter received their affiliation papers in October of 1996. They became a chartered chapter in the fall of 1997. Michael was the first PFLAG Downriver President and served for two years. Janice followed as President and has served several years followed by Maryan Mackie who served for two years, then Michael returned to his role as President again. He also was the chapter newsletter editor. PFLAG provided a venue for parents and family members of LGBT teenagers and adult children, enabling them to learn more about being a positive parent or family member of an LGBT person, find common ground with other parents and learn how to be there for the gay person in their life. The chapter took active part in state, regional, and national PFLAG campaigns and petitions, and local events.

In 1998, with support of the PFLAG Downriver Board, the Neubeckers started a Straight Spouses group dedicated to helping straight persons to understand and accept their LGBT spouses. The group became an outreach of the PFLAG Downriver chapter.

In April 2004 Michael Neubecker was elected to fill a midterm vacancy on the PFLAG's national Board of Directors, only six months after he was voted Director of PFLAG's Great Lakes Region (Indiana, Michigan, Ohio, and later Illinois). As Regional Director, Neubecker represented the concerns of local chapters in these three states to the national organization, communicated with chapters about national programs and goals, and acted as a facilitator between chapters to resolve any problems or disputes in the organization.

After a 2012 house fire, Neubeckers moved to Newport, Mich. PFLAG Downriver members continued to meet until January 2013 but were not able to find effective leadership to run the chapter, after which the PFLAG Downriver chapter disbanded. Members continue to attend other local PFLAG chapters meetings.

Neubecker's son Lee is married to David who changed his last name to Neubecker and together in 2009 they have adopted two children from the foster care system in the Chicago area. These children have been in their home since 2007 and are brother and sister. In February 2013 PFLAG National filed an amicus brief in support of the plaintiffs in the landmark Perry v. Hollingsworth case. The case challenged the constitutionality of the discriminatory "Proposition 8" legislation in California that eliminated the right for same-sex couples to marry. The brief shared the stories of PFLAG families and the very real impact that their lack of equal protection under the law has on their families. The Neubecker family story was among the stories presented to the Supreme Court.

Neubeckers personally lobbied their elected representative on their concerns for equality for the LGBT community. Michael Neubecker is member of Gay, Lesbian & Straight Education Network (GLSEN)/Detroit and PFLAG liaison, member of Triangle Foundation Board of Advisors, and American Friends Services Committee non-violent training and dialogues participant. Neubeckers are Human Rights Campaign Federal Club members and supporters. They are also active in the Reconciling Congregations Movement to remove barriers to LGBT persons in the United Methodist Church. Michael is the First United Methodist Church of Flat Rock--Reconciling member, lay speaker and choir member.

Among their numerous awards, the Neubeckers received the Pride Award for Community Service in 1997, the Spirit of Detroit Award in 1999, the Pride Partnership Award from the Triangle Foundation in 2000, the Lifetime Achievement Award from the Human Rights Campaign in 2001, and the 2002 Motor City Pride Award, among others.

Michael Neubecker is the author of the 1995 book "Out of the Closet Into Our Hearts," and is an occasional contributor to Between the Lines, a periodical published by Pride Source Media Group, LLC. based in Livonia, Mich. He has been a talk-radio guest on WXYT, WJR, and WMUZ in Detroit. Together Neubeckers have represented PFLAG on six cable programs in the Downriver area.

Michael Neubecker also performs as a stand-up comedian. His comedy is rooted in his family experience and his time spent working with PFLAG. A good chunk of his routine is about having an openly gay son, and his humorous message is intended primarily for parents of gay children.

Acquisition Information:

Donated by Michael Neubecker (donor no. 11071 ) in February 2014.

Processing information:

Materials in this collection have suffered in a fire and have been restored by a professional paper conservation service. As a result, some documents carry signs of past water and mold damage. The majority of documents are legible, however, researchers may come across partial loss of text in select documents.

In preparing digital material for long-term preservation and access, the Bentley Historical Library adheres to professional best practices and standards to ensure that content will retain its authenticity and integrity. For more information on procedures for the ingest and processing of digital materials, please see Bentley Historical Library Digital Processing Note. Access to digital material may be provided either as a direct link to an individual file or as a downloadable package of files bundled in a zip file.

Accruals:

No further additions to the papers are expected.

Rules or Conventions:

Finding aid prepared using Describing Archives: A Content Standard (DACS)
Related
Additional Descriptive Data:

Related Collections

Bentley Historical Library houses manuscript records, printed materials, and contents of archived web sites of the following Michigan PFLAG chapters:

Parents, Families and Friends of Lesbians and Gays, Ann Arbor:

Records, 1982-1996

Printed newsletters, 1985-current

Web Archives, 2010- https://wayback.archive-it.org/5486/*/http://www.pflagaa.org/index.html

Parents, Families and Friends of Lesbians and Gays, Detroit:

Records, 1986-1996

Printed newsletters, 1994-2010

Web Archives, 2010- https://wayback.archive-it.org/5486/*/http://www.pflagdetroit.org/index.htm

Parents, Families and Friends of Lesbians and Gays, Lansing Area:

Records, 1972-1999. Finding aid to this collection is available online: http://www.hti.umich.edu/cgi/f/findaid/findaid-idx?c=bhlead=umich-bhl-00140
Contents
Using These Materials
---
RESTRICTIONS:

The collection is open to research.

USE & PERMISSIONS:

Copyright is held by the Regents of the University of Michigan but the collection may contain third-party materials for which copyright is not held. Patrons are responsible for determining the appropriate use or reuse of materials.
PREFERRED CITATION:

[item], folder, box, Michael and Janice Neubecker papers, Bentley Historical Library, University of Michigan