Back to top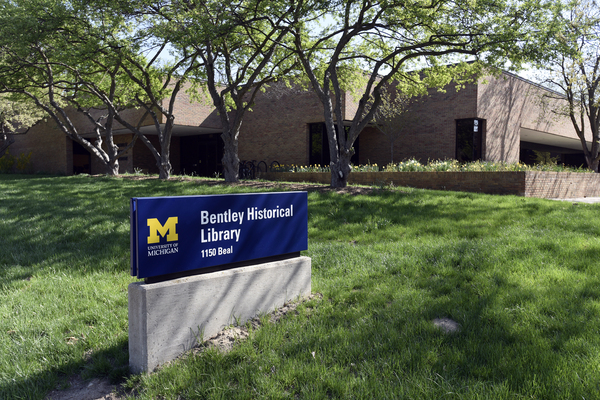 Address

:

1150 Beal Avenue

Ann Arbor, MI 48109-2113, USA
Project Community (University of Michigan) records, 1964-2007 (majority within 1972-1999)
Using These Materials
---
Restrictions:

The Project Community (University of Michigan) records are open without restriction.
Summary
Creator:

Abstract:

Project Community at the University of Michigan is one of the nation's oldest continuously-running community service-learning courses. Started by student activists in 1961, Project Community grew out of the Civil Rights movement to promote undergraduate students' service learning and social activism in education, criminal justice, public health, and social work. The collection includes project records, oral histories, scrapbooks, photographs, publications, and a program history.

Extent:

3.5 linear feet (in 4 boxes)
5.73 MB (online)
1 archived website

Language:

English

Call Number:

2014017 Bimu

Authors:

Finding aid created by Lexy deGraffenreid in 2014
Background
Scope and Content:

The collection includes project records

Biographical / Historical:

Project Community (PC) is a service-learning program at the University of Michigan. It is one of the nation's oldest community-service learning courses and served as model for similar programs across the country. The project's evolution reflects the social activism of the time, beginning with the Civil Rights Movement and evolving with other social movements such as those related to women's liberation, disabilities, and Hispanic culture.

Project Community began in 1962 as the Ann Arbor Tutorial and Cultural Exchange Project. Founded by activist Richard Sleet to involve students in community service and social action to improve racial inequalities in Ann Arbor, the project began as a student-run big brother/big sister-style after school program, evolving to provide more tutoring services in the mid-1960s. In 1964, the project became affiliated with U-M as a student organization with an office in the Student Affairs building with Sleet as a volunteer director and Professor Morton Shaevitz as faculty sponsor.

The transition from a student organization to a University of Michigan program was gradual and complex. In 1965, the unit was partly funded with a grant from the State of Michigan's Office of Economic Opportunity and in 1967 the project became the University of Michigan Tutorial Project.(1) In 1969, the unit was briefly renamed Innovative Tutorial Experience (ITE), only to be renamed Project Community (PC) in 1970 with ITE demoted to a program. Project Community was then, in turn, a program within Community Services in the Office of Special Services and Programs and received some university financial assistance and a constitution.(2) Project Community was also slowly institutionalized through offering course credit. Through the 1960s, volunteers arranged independent study credits with U-M faculty members. As the project evolved, the School of Education, Department of Sociology, Department of Psychology, and other U-M departments began offering formalized course credit for certain programs. In 1973, PC's Income Tax Project and Project Community course were offered through the Department of Psychology as Psychology 413 and Psychology 483 respectively, while credit for the Inmate Project and ITE were offered through individual faculty sponsorship.(3) In 1974, the Department of Sociology created Sociology 389, a formal course partnership between the Department and Project Community under the supervision of Professor Mark Chesler.(4) By 1979, the School of Education offered pre-student teaching credit through course D312.

Early opportunities included the Black Tutorial Project, an after-school program, and the Willow Run tutoring and day care programs. Until ended by the Detroit riots, the unit collaborated with the United States National Student Association's Institute for Tutorial Development during the summer of 1967. Wanting to re-focus efforts on the African-American community, the project's first full-time director, Thomas Moorehead, created the Black Liberation School in 1971 to promote cultural and educational programs between African American college students and the community. Projects expanded into criminal justice during the late 1960s, beginning with the Maxey Boys Training School tutoring program. The growth of criminal justice projects split PC into two distinct projects in 1973: ITE, a collection of tutoring and educational programs, and the Inmate Project, a collection of programs in area correctional facilities, training centers and jails. The Inmate Project expanded in the 1970s to create the Ex-Offender Contact Center which provided assistance to ex-offenders. Other notable projects included the Income Tax Program, which provided tax preparation services around Ann Arbor, and the Markley Tutors project, which brought students to the Green Glacier Community Center to tutor students from the Baxter Housing Project.

Project Community underwent dramatic changes during the 1980s due to financial strains and declining enrollment. Initially, PC was comprised of three project areas: the ITE, the Inmate Project, and the Consumer Advocacy Service (which included tax assistance, child care, and tenant's rights advocacy). A new section called Health Care and Special Population was created in 1982, placing students in health care projects with U-M hospital patients, the developmentally disabled, mentally ill, and elderly care. A 1984 reorganization of U-M's Office of Student Services cut PC staff, but moved to fully fund PC through tuition and lab fees (instead of fundraising), renamed the Inmate Project "Criminal Justice", and shifted the program's primary emphasis from serving minority populations. The Consumer Advocacy Service eventually disbanded due to lack of resources. Gradually, the program began to coordinate with other community service groups on campus such as Project SERVE and Alternative Spring Break.

PC also became heavily involved with the 1980s Ann Arbor School Desegregation movement. In 1984, the Ann Arbor school district launched the "Committee on Excellence" to resolve desegregation and racial inequality issues in local schools. This led to the development of the 1985 "Plan for Excellence." PC students studied the school desegregation movement, worked with the Black Student Parent's Support group, and organized spring panels to disseminate information about the plan.

In 1990, PC was funded by a grant from the W. K. Kellogg Foundation to support hiring staff, increasing training, and adding projects.5 PC was placed into the Office of Community Service Learning (OCSL), which later became the Edward Ginsberg Center for Community Service and Learning. Internally, PC was comprised of three branches: Criminal Justice, Trained Volunteer Corp, and Students Educational Rewarding Volunteer Experience. During the 1990s, PC became increasingly associated with the Department of Sociology and distanced from the School of Education. A major PC project was the Migrant Labor Camp Project, which placed students with migrant labor workers in Michigan to promote better education and better awareness of migrant rights. The 1990s also saw a new emphasis on peer training, and by 2000 graduate students taught the courses while undergraduates assumed the role of project coordinators. In addition to the service learning initiatives, students began the OCSL Press to publish the Michigan Journal of Community Service Learning. In the summer of 2013, Project Community moved from the Ginsberg Center to become fully part of LSA's Department of Sociology.

Notes

1. University of Michigan, President's report to the Board of Regents for the academic year 1971/1972, vol. 3, pg. 4

2. Project Community Constitution, 1971, box 14, folder 19, coll. 87290 Bimu B7 2, Vice President for Student Affairs, Bentley Historical Library

3. Final Evaluation, 1974, box 31, folder 21, coll. 87290 Bimu B7 2, Vice President for Student Affairs records, Bentley Historical Library

4. Sociology Practicum Committee, undated, box 2, folder 34, coll. 0191 Bimu 2, Program in American Culture records, Bentley Historical Library

5. News Release, July 26, 1990, box 61, folder 44 (Howard, Jeffrey P.F.), coll. 87265 Bimu C475 2, News and Information Services records, Bentley Historical Library

Acquisition Information:

This record group (donor no. 10972 ) was received from the unit on August 6, 2013 and August 26, 2013.

Arrangement:

This record group is comprised of six series: Awards, History, Projects, Publications, Audio-Visual Materials, and Archived Websites.

Accruals:

Periodic additions to the records expected.

Rules or Conventions:

Finding aid prepared using Describing Archives: A Content Standard (DACS)
Related
Additional Descriptive Data:

Related Material

Supportive materials can be found in the Labadie Collection in the U-M Special Collections Library, including The Ann Arbor Tutorial and Cultural Relations Project: An Overview by Morton H. Shaevitz (1966) and the Tutorial and Cultural Relations Project Tutor Handbook (1966). Related collections within the Bentley Historical Library include the Henry J. and Suzanne M. Meyer Papers (call number 85301 Aa 2) and the Lorren Barritt papers (call number 9786 Aa).

The Final Report on the Institute for Tutorial Development, April 1967-1968, a program of the Tutorial Assistance Center developed by Tom and Susan Isgar which collaborated with the Ann Arbor Tutorial and Cultural Relations Project in Detroit is available at the Institute of Education Sciences: http://eric.ed.gov/?id=ED023731

The Michigan Journal of Community Service Learning can be accessed through the U-M Libraries or online at: http://ginsberg.umich.edu/mjcsl/.

HathiTrust contains a full report from Project Community in The President's Report to the Board of Regents for the Academic Year, 1971/1972, vol. 3 with project summaries in subsequent volumes.
Contents
Using These Materials
---
RESTRICTIONS:

The Project Community (University of Michigan) records are open without restriction.

USE & PERMISSIONS:

Copyright is held by the Regents of the University of Michigan but the collection may contain third-party materials for which copyright is not held. Patrons are responsible for determining the appropriate use or reuse of materials.
PREFERRED CITATION:

[item], folder, box, The Project Community (University of Michigan) records, Bentley Historical Library, University of Michigan