Back to top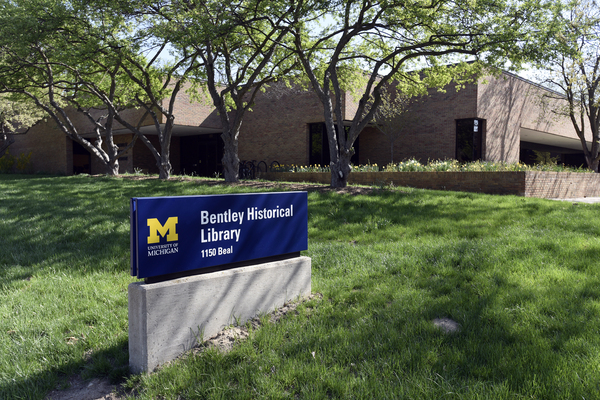 Address

:

1150 Beal Avenue

Ann Arbor, MI 48109-2113, USA
Division of Public Safety & Security (University of Michigan) records, 2006-2020 (with gaps)
Using These Materials
---
Restrictions:

This collection is open without restriction.
Summary
Creator:

Abstract:

Originally founded in 1970 as the Safety Department, the Division of Public Safety and Security (DPSS) is the university's public safety and law enforcement unit. The collection consists of digital Clery Act reports from 2006-2020 (with gaps).

Extent:

115.3 MB (online)

Language:

English

Call Number:

2013136 Bimu 2

Authors:

Finding aid created by Steven Gentry, May 2021.
Background
Scope and Content:

This collection contains digital copies of the University of Michigan's Campus Safety Handbook, Annual Security Report and Annual Fire Safety Report, and Annual Security and Fire Safety Report. These documents—also known as Clery Act reports—were published between 2006-2020 (with gaps). They include crime statistics in the previous three years, safety tips, and information about various health and safety agencies, laws, policies, programs, regulations, resources, and services. Beginning in 2010, these reports also included fire safety information and statistics.

Biographical / Historical:

Prior to the establishment of an official university police and public safety unit, the University of Michigan hired guards and police from different backgrounds. At first, the university relied on watchmen—the first of whom was hired in 1898—to maintain its rules and regulations as well as safeguard its property from damage. This practice continued for several decades, even as the passage of several laws—Public Act 180 of 1905 and Public Act 98 of 1929—afforded the university's Board of Regents' greater capability to police the University of Michigan-Ann Arbor campus. The university began subsidizing the City of Ann Arbor in 1946 in exchange for having city police patrol university parking lots. In 1959, the university also employed members of the Sanford Security Service to safeguard the campus. The university lacked official control over these personnel, however, who often clashed with student protestors in the latter part of the 1960s.

In 1970, the Safety Department was established. It included several units, such as the Key Office, Fire Marshall, and guards charged with safeguarding the Art Museum and library. It also coordinated non-university security and police forces and its head reported to the Associate Vice President and Director of Business Operations. However, this new department did not oversee Housing Security and Hospital Security personnel. The unit was eventually renamed the Department of Public Safety and Security (DPSS) in 1982, although it was also frequently referred to as the Department of Public Security (DPS). During the 1980s, the department faced significant accusations of racism and homophobia, including from The Michigan Daily. In 1988, the university's Board of Regents authorized the Washtenaw County Sheriff to deputize two DPS officers—Director Leo Heatley and Assistant Director Robert Pifer—with the power to arrest others. Numerous protests, including from student organizations like the Black Student Union and Asian Students Association, followed this decision.

By 1989, concern about increasing crime resulted in the formation of the first Task Force on Campus Safety and Security. Organized by Charles Vest (Provost and Vice President for Academic Affairs) and Farris Womack (Vice President and Chief Financial Officer) and consisting of university faculty, staff, and students, the task force was charged with analyzing the campus's climate and recommending improvements. Its twelve recommendations, published in a March 1990 report, included improving coordination with the Ann Arbor Police Department and adding more DPS personnel with arrest capability. Several units—including Parking Enforcement and Michigan Union Security—were also brought under the administrative umbrella of the department, although Housing Security and Hospital Security continued to remain distinct. Student protests—which began after the report's release—intensified in the coming months, particularly after the Washtenaw County Sheriff's office deputized several additional public safety officers.

In Spring 1991, the Provost's Office established the Safety and Security Advisory Committee (SSAC). Consisting of twelve members, this advisory committee's responsibilities included reviewing progress made on implementing the task force's recommendations as well as receiving and reviewing complaints. In early 1992, the university's Board of Regents—using power afforded to them by the State of Michigan's Public Act 120 (1990)—deputized additional personnel, in spite of protests by the Coalition of Students Against Deputization (CSAD).

In the summer of 1992, a Police Grievance Committee was formed to accept and examine grievances concerning university police officers. It also reviewed the campus climate following the 1996 arrest of John Matlock, a Black university employee and Director of the Office of Academic and Multicultural Initiatives (OAMI), by DPS officers. The grievance committee—later renamed the Department of Public Safety Oversight Committee (and, soon thereafter, the Police Oversight Committee)—faced noticeable challenges while conducting this investigation. A second Task Force on Campus Safety and Security was soon established, with a similar charge as its predecessor. Following the publication of the task force's 1997 report, a Campus Safety and Security Committee (CSSAC) was established in 1998. A replacement for the SSAC, the CSSAC received commentary from university community members on public safety; advised several university administrators on public safety issues; and reviewed DPS policies, procedures, and data.

Between 1999 and 2012, the department grew to include a canine unit as well as a motorcycle unit. It also adopted a community outreach program, the Team Community Oriented Policing (TCOP) program, although concerns about departmental racism continued to be voiced in The Michigan Daily. Also significant during this period was a critical 2009 article, published in The Michigan Daily, about how Police Oversight Committee elections had been conducted.

In 2012, it was revealed that staff from the university's Hospital Security unit delayed reporting that a medical resident was in possession of child pornography. An investigation—ordered by the Board of Regents and conducted by a legal firm (Latham and Watkins) and consulting firm (Margolis, Heady, and Associates)—produced reports that severely critiqued the university's current public safety organizational structure. Consequently, a Division of Public Safety (also known as DPSS) was created to replace the Department of Public Safety. The new division included the original department's units, Hospital Security, Housing Security, and several units that comprised University Security Services. In 2013, Eddie L. Washington Jr. began serving as the division's first permanent executive director.

The Division of Public Safety and Security participated in diversity, equity, and inclusion (DEI) strategic planning, after President Mark Schlissel charged the university community with centering and reinforcing DEI. In 2016, the DPSS Student Advisory Board was established. Consisting of university students, the board provides an avenue to connect students' voices and concerns with the division.

Following the killings of George Floyd, Breonna Taylor, and other Black Americans in 2020—and the subsequent international protests that occurred that year—the Office of the Provost launched several anti-racism initiatives. Included among these was the Advancing Public Safety at the University of Michigan Task Force, convened in January 2021 by President Mark Schlissel and Provost Susan Collins. Its members—who include University of Michigan faculty, students, and staff, including DPSS Executive Director Washington—were charged with reviewing DPSS's current and historical activities and relationship with the university community as well as providing recommendations for improvement.

In early 2021, DPSS consisted of twelve departments—among these were the public safety departments for the University of Michigan-Dearborn and University of Michigan-Flint. The division's responsibilities included—in addition to receiving reports about and responding to potential or actual crimes—offering educational information and presentations on a range of topics. The division also publishes crime data on their website, including crime alerts, a crime and fire log, and crime statistics. Notably, DPSS also publishes an annual crime, fire, and safety report in compliance with both the Jeanne Clery Disclosure of Campus Security Policy and Campus Crime Statistics Act (Clery Act) and Higher Education Opportunity Act.

For more information, consult the Bentley Historical Library's report to the Advancing Public Safety at the University of Michigan Task Force, History of Policing and of the Department of Public Safety and Security at the University of Michigan, Ann Arbor Campus.

Directors and Executive Directors

| Date | Event |
| --- | --- |
| 1970-1979 | Fredrick E. Davids |
| 1979-1999 | Leo Heatley |
| 1999-2008 | William (Bill) Bess |
| 2008-2011 | Kenneth Magee |
| 2011 (Interim) | Joe Piersante |
| 2011 | Greg O'Dell |
| 2012-2013 (interim) | Joe Piersante |
| 2013-ongoing | Eddie L. Washington Jr. |

Departmental Name Changes

| Date | Event |
| --- | --- |
| 1970-1977 | Safety Department |
| 1977-1982 | Department of Safety |
| 1982-2012 | Department of Public Safety and Security |
| 2012-ongoing | Division of Public Safety and Security |

Acquisition Information:

Donated by Division of Public Safety and Security (donor no. 8823 ) in October 2013, October 2018, November 2019, and January 2021.

Processing information:

In preparing digital material for long-term preservation and access, the Bentley Historical Library adheres to professional best practices and standards to ensure that content will retain its authenticity and integrity. For more information on procedures for the ingest and processing of digital materials, please see Bentley Historical Library Digital Processing Note. Access to digital material may be provided either as a direct link to an individual file or as a downloadable package of files bundled in a zip file.

Accruals:

Periodic additions to the records expected.

Rules or Conventions:

Finding aid prepared using Describing Archives: A Content Standard (DACS)
Related
Additional Descriptive Data:

Related Materials

The Bentley Historical Library houses physical copies of the Campus safety handbook and annual security report from the 1992/1993 through the 2014/2015 school years (with gaps). Duplication between these physical materials and the digital Clery Act reports in this collection is possible.

Additionally, the Bentley Historical Library houses the following related collections: Safety Department (University of Michigan) photograph collection and the Division of Public Safety and Security (University of Michigan) Web Archives.
Subjects
Click on terms below to find any related finding aids on this site.
Contents
Using These Materials
---
RESTRICTIONS:

This collection is open without restriction.

USE & PERMISSIONS:

Copyright is held by the Regents of the University of Michigan but the collection may contain third-party materials for which copyright is not held. Patrons are responsible for determining the appropriate use or reuse of materials.
PREFERRED CITATION:

[item], [URL], Division of Public Safety & Security (University of Michigan) records, Bentley Historical Library, University of Michigan.