Back to top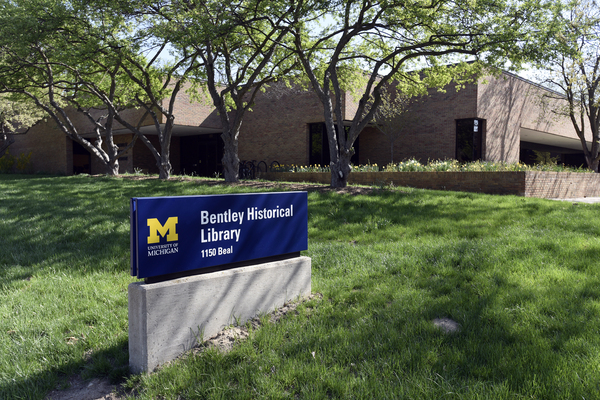 Address

:

1150 Beal Avenue

Ann Arbor, MI 48109-2113, USA
Glen Sheppard Papers, 1940s-2010 (majority within 1990-2008)
Using These Materials
---
Restrictions:

The collection is open without restriction.
Summary
Creator:

Abstract:

The Glen Sheppard Papers document the research and writing undertaken by Sheppard during his 40-year tenure as editor, publisher, and writer for the North Woods Call, a small conservation newspaper dedicated to the stewardship and protection of Northern Michigan's natural resources. The collection's three series contain Sheppard's articles and writings, press releases and newspaper articles written by others, government reports and publications, audio and visual materials.

Extent:

35.5 linear feet (in 36 boxes)

Language:

English

Call Number:

2013030 Aa 2

Authors:

Finding aid created by Lauren Murtagh, March 2013
Background
Scope and Content:

The Glen Sheppard Papers comprises materials collected and maintained by Glen Sheppard over the course of his career as editor and writer for the North Woods Call. The collection is divided into three series entitled Topical Files (First Alphabet), Topical Files (Second Alphabet), and Visual Materials. The Topical Files (First Alphabet) series contains materials on a greater array of topics than the Second Alphabet, though the latter is the larger of the two series. The two Topical files have been kept separate in accordance with Sheppard's own filing system. Materials within topical headings have likewise been maintained largely as Sheppard had organized them. Photographs are found interspersed with other materials in various topical files throughout the collection. The Visual Materials series comprises photographs, negatives, and maps that have been filed separately from the rest of the collection. A large proportion of the photographs in this series are alphabetized according to topic. Such topics include wildlife (namely birds, fish, and game animals), hunting and fishing, people (mainly politicians and important figures involved in Michigan conservation), and landscape photographs.

The Topical Files are primarily composed of various drafts of articles, press releases and newspaper articles written by other environmental journalists, research materials and notes, correspondence (mainly faxes), and photographs. The collection also contains a great deal of material pertaining to various government agencies, including bills and acts of legislation, memoranda, interoffice communications, reports and research studies, and pamphlets and other literature published and distributed by said agencies. These agencies include government bodies devoted to conservation issues, chief among which is the DNR (Department of Natural Resources). Other government agencies represented in this collection include the NRC (Natural Resources Commission) and the DEQ (Department of Environmental Quality). The collection also contains selected clippings from the North Woods Call along with logistical papers pertaining to the Call's operation.

The collection features materials on a broad array of topics of environmental import for the state of Michigan. The First Alphabet and Second Alphabet series feature articles, reports, environmental impact statements, and resource management plans pertaining to environmental issues impacting particular Michigan towns and counties. Such issues include the impact of corporations, factories, oil and gas resource exploitation, and pollution. The collection also includes files on the topics of land use management, water resource management, fisheries management, and Native American rights to Michigan's natural resources. The collection contains Sheppard's researches on Michigan flora and fauna (concentrated in the Second Alphabet series), with particular emphasis on deer, wolves, bears, and various species of fish. Sheppard's researches also include coverage of endangered wildlife, invasive species, and zoological diseases. The collection contains articles and research materials concerning hunting, fishing, tourism, and outdoorsmanship. Michigan's islands, rivers, lakes (particularly the Great Lakes), national and state parks, nature preserves and conservancies, wilderness areas, and wildlife refuges are all well represented in the collection (mainly in the Second Alphabet series). The collection also includes papers pertaining to the administrations of Michigan governors John Engler and Jennifer Granholm.

Biographical / Historical:

Glen Sheppard was raised in Romulus, Michigan, and exhibited an early interest in the newspaper business, which was encouraged by his father. Sheppard enlisted in the army in 1950 and served for three years during the Korean War. Upon his release and return to Michigan, Sheppard worked for various newspapers in the greater Detroit area. A few years later he returned to the army for another three-year tour, during which time he was stationed at Fort Greely, Alaska. Upon his second release Sheppard again worked for a number of newspapers, including the New York Herald Tribune and the Charlevoix Courier.

In 1969 Sheppard took over the North Woods Call, a small conservationist newspaper founded in 1953 by Marguerite Gahagan. Sheppard would be the owner, publisher, editor, and principal writer of the Call for the next 40 years. The Call published conservation news, editorials, and expository pieces on the topics of conservation legislation, scientific research, and outdoorsmanship. Sheppard built a network of well-placed sources ranging from politicians to scientists and members of environmentalist organizations. Under Sheppard's leadership the Call became a publication to which various politicians, government agencies, and environmental journalists for larger newspapers subscribed.

Sheppard's journalism challenged the actions of government agencies, corporations, and individuals threatening the integrity of Michigan conservation. During Governor John Engler's administration, Sheppard's criticism of government bureaucracy resulted in the Call being banned from field offices of the Michigan Department of Natural Resources. Sheppard built a journalistic reputation as a staunch and unapologetic defender of the natural resources and wildlife of Northern Michigan. Sheppard died on January 5th, 2011 at the age of 74. The North Woods Call has since been purchased and re-launched.

Source: Volgenau, Gerald. "Sheppard's Call." MyNorth.com (Traverse, Northern Michigan's Magazine), 6 May 2009.

Acquisition Information:

The records were donated to the library in 2012 by Mrs. Mary Sheppard (Donor No. 10337 )

Accruals:

No further additions to the records are expected.

Rules or Conventions:

Finding aid prepared using Describing Archives: A Content Standard (DACS)
Subjects
Click on terms below to find any related finding aids on this site.
Subjects:

Formats:

Names:

Places:
Contents
Using These Materials
---
RESTRICTIONS:

The collection is open without restriction.

USE & PERMISSIONS:

Copyright is not held by the Regents of the University of Michigan. Patrons are responsible for determining the appropriate use or reuse of materials.
PREFERRED CITATION:

[item], folder, box, Glen Sheppard Papers, Bentley Historical Library, University of Michigan