Back to top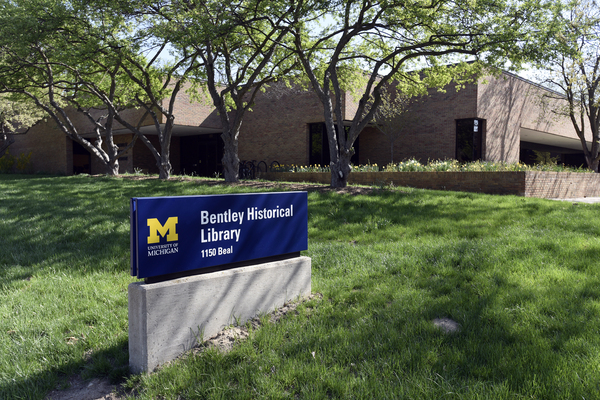 Address

:

1150 Beal Avenue

Ann Arbor, MI 48109-2113, USA
Netzorg Family papers, late 1880s-2012 (majority within 1938-1998)
Using These Materials
---
Restrictions:

The collection is open without restriction.
Summary
Creator:

Abstract:

Papers of Morton Isadore and Katherine Smit Netzorg; their son Morton Jacob Netzorg and his wife Petra Fuld Netzorg; Petra Netzorg's mother Charlotte Fuld, and Petra's younger sister Bracha Fuld. The collection chronicles the history of the Philippine Islands in the 20th century, specifically during the Second World War; life of German Jewry on the eve of World War II; Zionist Insurgency in the British Mandate Palestine; developments in the scholarly field of South East Asian Studies and international publishing and book trade industries related to the region. The collection is a rich source of bibliographic material related to the Pacific Islands, primarily the Philippines, as well as the entire South East Asian region.

Extent:

30 linear feet (in 35 boxes, 1 oversize box, and 1 audio cassette box)

Language:

English
German
Hebrew
Spanish

Call Number:

2012143 Aa 2

Authors:

Finding aid created by Olga Virakhovskaya, October 2012
Background
Scope and Content:

Family and business correspondence, including internment camp communications of Morton I. and Katherine; journals and diaries; published works and manuscripts of Morton J.; material related to Bracha Fuld's death; photographs; the Cellar Book Shop card catalog; also World War II-period artifacts, and Bracha's military ribbon.

Photographs and slides depicting Fuld and Netzorg families and their friends, Netzorgs' house in Detroit, Detroit street scenes, and the Cellar Book Shop. Of special interest are the World War II period photographs in the Morton I. and Katherine S. Netzorg part of the series depicting the conditions in liberated Philippines in 1945, military action and military life, and Jewish life in the U.S. military. Also of interest are the Fuld family photographs depicting Jewish life in Germany from the late 1800s to late 1930s. Slides with images taken during 1970s trips to the Philippines featuring Banaue, Cebu, Jolo, and Zamboanga, locations in the Southeast Asia, and Europe.

Recorded reminiscences of Morton J. Netzorg and Petra Fuld Netzorg.

Biographical / Historical:

Morton I. Netzorg and Katherine S. Netzorg were both born in 1884. Morton was a Michigan native and a University of Michigan graduate (Literature, 1910). They came to the Philippines in 1911 to teach in the Philippine public schools as part of the Tomasites teacher corps. They had three children: Morton Jacob (born in 1912), called by most "Jock", David Leon, and Leah. Morton and Katherine soon became prominent and active members of the Manila Jewish community, public figures, and business owners. In the 1930s Morton I. worked on bringing European Jewish refugees to the Philippines as the Jewish Refugee Committee secretary. After the Japanese forces occupied Manila on January 2, 1942 Morton I. and Katherine were imprisoned in the Santo Tomas internment camp. They were liberated by the American forces in early February 1945. In April 1945 Morton became Regional Director of the Manila branch of the National Jewish Welfare Board and worked to organize community services and activities, and services for Jewish military personnel in the Philippines. In spring 1946 Morton I. Netzorg returned to the United States and died very suddenly shortly after his arrival. Katherine, who also returned, died in 1949. David L. Netzorg died of malaria in Japanese POW camp in 1942. Leah (married name Stine) resided in the United States.

Morton J. Netzorg arrived in the United States before the start of the War. There he met Hannelore "Floh" Fuld (born in 1923), a Jewish emigrant from Berlin, Germany. Hannelore subsequently changed her name to Petra and was known as Petra or Pete for the rest of her life. Morton J. and Petra were married in 1941 and had two children, Susan and David.

In the 1950s the Netzorgs settled in Detroit, Michigan and opened the Cellar Book Shop specializing in material published in and about the Southeast Asia region and the Philippines and the Pacific Islands in particular, as well as East and South Asia, and Africa. Their business became the essential source of material dedicated to these regions in North America. Morton acquired warehouses of books, maps and other Filipiniana material, and shipped them to Detroit. He built the largest collection of Philippine children's book and textbooks. Morton himself became one of the most important bibliographers of the Philippines. He published extensively in Kinaadman (Wisdom), journal published in the Philippines, and other scholarly journals, and authored a number of important Filipiniana bibliographies and bibliographical essays, notably about children's literature and about the World War II period in the Philippines, as well as memoirs.

Morton J. Netzorg died in 1995. Petra Fuld Netzorg continued running the Cellar Book Shop for a few years until her retirement. She died in 2008.

Petra's mother Charlotte "Lotte" Fuld and her younger sister Barbara "Bracha" (born in 1926) left Germany for England in 1938, then settled in the British Mandate Palestine in 1939. Petra's father Lothar Fuld stayed in Nazi Germany. He committed suicide after the pogroms of November 1938. As a teenager Bracha joined the Jewish Resistance movement against the British authorities in Palestine. She was killed in action during operation "Wingate Night" (March 27, 1946), when the Resistance units attempting to help illegal immigrants on the S.S. Wingate to land in Tel Aviv were attacked by British forces.

Lotte Fuld together with Petra and Morton established Bracha and Lotte Fuld Memorial Collection at the Jewish National and University Library in the late 1950s. Lotte resided in Israel then moved to California. Lotte Fuld died in 1968.

Acquisition Information:

The collection was donated by David M. Netzorg (Donor No. 10682) on November 29, 2011. Title at acquisition: "The Papers of Morton Jacob ("Jock") Netzorg and Petra Fuld ("Pete") Netzorg, Husband and Wife."

Arrangement:

The Netzorg Family Papers are arranged into seven series: The Fuld Family Papers, Morton J. and Katherine S. Netzorg Papers, Morton J. and Petra Fuld Netzorg Papers, Visual Materials, Sound Recordings, Oversize Material, and Artifacts.

Accruals:

No further additions to the papers are expected.

Rules or Conventions:

Finding aid prepared using Describing Archives: A Content Standard (DACS)
Related
Additional Descriptive Data:

Related Material

Researchers should note that the Bentley Historical Library holds a separate collection of Morton J. Netzorg papers that contains source material collected as part of National Endowment for Humanities study of children's literature in the Philippine Islands. Also audio recordings of Jock Netzorg interviews, conducted by Michael P. Onorato in 1987.
Contents
Using These Materials
---
RESTRICTIONS:

The collection is open without restriction.

USE & PERMISSIONS:

Copyright is held by the Regents of the University of Michigan but the collection may contain third-party materials for which copyright is not held. Patrons are responsible for determining the appropriate use or reuse of materials.
PREFERRED CITATION:

[item], folder, box, Netzorg family papers, Bentley Historical Library, University of Michigan