Back to top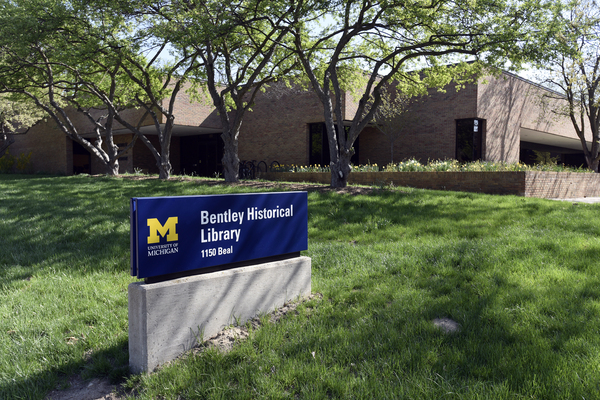 Address

:

1150 Beal Avenue

Ann Arbor, MI 48109-2113, USA
Out of the Blue: The Michigan Difference (television program), 2008-2011
Using These Materials
---
Restrictions:

The collection is open without restriction.
Summary
Creator:

Abstract:

Division within the Office of the Vice President for Communications; comprised of Michigan Radio and the Michigan Channel and also responsible for content contributed to other outlet. Includes three seasons of Out of the Blue: The Michigan Difference, a program that originally aired on the Big Ten Network; also includes archived websites.

Extent:

112.4 GB

Language:

English

Call Number:

2012091 Bimu

Authors:

Finding aid created by Elise Reynolds, 2012
Background
Scope and Content:

The Michigan Public Media records document the unit's operations and provide varied examples of its creative output. The materials will be useful to researchers interested in news and information about the University of Michigan as well as for those exploring how a major research institution communicates its mission and activities to the general public. The record group is comprised of the Out of the Blue series and the Archived Website series.

Biographical / Historical:

Michigan Public Media (MPM) is a division Office of the Vice President for Communications at the University of Michigan. As of 2012, the office was led by Director Stephen Schram and was comprised of Michigan Radio, a National Public Radio news station broadcasting in Ann Arbor, Grand Rapids and Flint; and "The Michigan Channel," the University's cable channel devoted to lifelong learning. Michigan Public Media is also responsible for content contributed to other outlets, including the Big Ten Network (BTN), a joint project between the Big Ten Conference and Fox Entertainment Group. MPM previously produced Michigan Television (WFUM-TV, Flint), but the station was acquired by Central Michigan University in 2009. MPM has won numerous state and national awards for excellence in reporting and innovative programming. Michigan Radio received six awards for excellence in journalism from the Society of Professional Journalists for news coverage in 2005 and eight awards from the Michigan Associated Press for news coverage in 2005.

From 2008-2011, Michigan Public Media contributed three seasons of the program Out of the Blue: The Michigan Difference to the Big Ten Network. The show, presented by the Office of the Vice President for Communications and produced by Michigan Productions, aired on the Big Ten Network and was dedicated to highlighting the people, research, outreach, and events that make the University of Michigan a premier institution of higher learning.

Acquisition Information:

Donated by Michigan Public Media (donor no. 10796 ) in 2011.

Processing information:

In preparing digital material for long-term preservation and access, the Bentley Historical Library adheres to professional best practices and standards to ensure that content will retain its authenticity and integrity. For more information on procedures for the ingest and processing of digital materials, please see Bentley Historical Library Digital Processing Note. Access to digital material may be provided either as a direct link to an individual file or as a downloadable package of files bundled in a zip file.

Accruals:

No further additions to the records are expected.

Rules or Conventions:

Finding aid prepared using Describing Archives: A Content Standard (DACS)
Related
Additional Descriptive Data:

Index to Out to the Blue Participants

The following index lists individuals who appeared in episodes of Out of the Blue. The index is arranged by season (broadcast year) and episode. It includes University of Michigan faculty, staff and students and outside guests.

Season One

Episode 01

Campbell, Myron
Gingerich, Philip
Muraskzko, Karin
Rabuck, Carol

Episode 02

Ball, Deborah
Lalendran, Ashwin
Sparling, Peter

Episode 03

Longone, Dan
Longone, Jan
Slavin, Ruth
Parsons, Michael
Stewart, James
Weinzweig, Ari

Episode 04

Bernitsas, Michael
Harris, Amy
Oey, Sally
Wagner, Brent

Episode 05

Mitsak, Annie
Samorezov, Julie
Sayer, Jim

Episode 06

Etkin, Stephanie
Moriarity, Brendan
Moss, Thylias
Tucker, Mark

Episode 07

Feldman, Eva
Gelderloos, Orin
Hilden, Jakob
Kirchner, Jessie
Morrison, Sean
Montejo, Andres

Episode 08

Dailey, Ian
Kinnunen, Paivo
O'Grady, Shawn
Sinha, Siddarth
Tobier, Nick

Episode 09

Andreatta, Pamela
Colosimo, Kristine Ann
Doering, Charlie
Hofer, Erik
Maslowski, Eric
Sharrief, Sultan
Shimi, Woojin
Wali, Rajat
Wrobel, Clare

Episode 10

Bacon, John
Beam, Kathryn
Beauchamp, Andrea
Delbanco, Nicholas
Gott, Sue
Gross, Samuel
Kasdan, Lawrence
Levine, Zoe
Li, Xu
McCormack, Bridget
Miller, Arthur
Moran, David
Season Two

Episode 01

Nadelhoffer, Knute
Crumsey, Jasmine
Ulrich, Dale
Meadows, Guy

Episode 02

Herbert, Sharon
Gazda, Elaine
Soloway, Elliot
Bornhorst, Jason

Episode 03

Smith, Carl
Eisendrath, Charles
Gagos, Traino

Episode 04

Dewar, Margaret
Duweke, Eric
Klionski, Dan
Essl, Georg

Episode 05

Alexander, Terry
Verge, Bill
Allen, Erin
Mabry, Deanna
Gott, Sue
Weiss, Janet
Kolevar, Kris
Kennedy, Tim
Rife, Dan
Beall, Libby
Campos, Susan
Artley, Tracy

Episode 06

Fischer, Ken
Kondziolka, Michael
Rice, Claire
Ball, Deborah
Lampert, Magdalene
Ghousseini, Hala
Yim, Jennifer

Episode 07

Snodgrass, Ken
Murabito, Jeanne
Tobin, James
Biron, Bethany
Newman, Dan
White, Allie
Smilovitz, Jacob
Kuo, Art

Episode 08

Weinert, Daryl
Noble, Brian
Klinke, Amy
Samson, Perry
Washabaugh, Peter

Episode 09

Ayyash, Marya
Mallette, Karla
Charney, Tamar
Guerra, Jennifer
Hulett, Sarah
Blomquist, Amber
Hagen, Gottfried
Cornwell, Bettina
Naveira, Ariadna
Li, Victor
Li, Mo
Sakulich, Aaron

Episode 10

Alexander, Buzz
Paul, Jamie

Episode 11

Bregman, Joel
Wight, Karen
Lindnor, Rudi
Seitzer, Patrick
Kinner, Thomas
Porter, Tom
Murillo, Gloria Maria
Kleinman, Enriqueta
Sanchez, Fernando
Pyreddy, Ramu

Episode 12

Strecher, Vic
Considine, Shannon
Warner, Kenneth
Badgley, Catherine
Rothstein, Mark
Sickler, Brett

Episode 13

Davis, Cinda-Sue
Saville, Jamie
Nesbit, Ken
Glick, Gary
Rasor, Robin
Gumucio, Deborah
Edwards, Chris

Episode 14

Ni, Jun
Daida, Jason
Stein, Jeff
Boulton, Matthew
Montgomery, Jo Lyn
Coleman, Mary Sue
Ma, Madame

Episode 15

Mendeloff, Kate
Gray, Carol
Pickrel, April
Monts, Lester
Collins, William
Prevo, Amy
Turner, Michael
Jackson, Helki
Tobin, James
Season Three

Episode 01

Burnstein, Jim
Doyle, Lee
Mortell, Catriona
Kubarych, Kevin
Baiz, Carlos

Episode 02

Norri, Margaret
Kimewon, Howard
Quinn, Robert
Spreitzer, Gretchen
Wooten, Lynn
Brown, Susan
Hurvitz, Edward

Episode 03

Daugherty, Michael
Clague, Mark
Fulton, George
Cutler, Jamie

Episode 04

Gerber, Elisabeth
Bartlett, Robert
Hirschl, Ronald
Annich, Gail

Episode 05

Cook, Connie
Kaplan, Matthew
Steiger, Jeffrey
Saltiel, Alan
Smith, Janet
Gestwicki, Jason
Rosenwasser, Mitch
Schumacher, Hazen

Episode 06

Clifford, Kay
Greisberger, John
Renno, Nilton
Musko, Stephen B.
Blouin, Francis
Coombs, Leonard
Jania, Karen

Episode 07

Coleman, Mary Sue
Nesbitt, Ken
O'Connell, Jim
Hartmann, Dave
Kopelman, Raoul
Yerkey, Rachel
Galura, Joe
Naasko, Rachel
Harper, E. Royster

Episode 08

Diamond, Jarrett
Shoberg, Inga
McDonald, Terrence
Yim, Jennifer
Johnson, Laura
Mackie-Mason, Jeffrey
Craven, Jim
Flowers, Ann

Episode 09

Falk, Emily
Heusmann, Rowell
Carp, Joshua
Egnatios, Edward S.
Miller, Pat
Gant, Larry
Salinas, Maria
Brown, Nicole
Dockery, Patricia
Colbert, Calvin
Bare, Rebecca
Anderson, Gene
O'Leary, Ted
Dittmar, Amy

Episode 10

LaPorte, Elizabeth
Diana, Jim
Chiotti, Justin
Larsen, Larissa
Cervenak, Thomas
Grese, Bob

Episode 11

Haithcock, Michael
Ball, Steven
Harris, James E.
Wise, Kensall D.

Episode 12

McMorrough, John
Armstrong, Mashawnta
Rodgers, Phil
Peck, Dan
Lee, Joanna
Peggs, James
Rodriquez, Mabel
Piskorowski, Bill
Bagramian, Robert
Subjects
Click on terms below to find any related finding aids on this site.
Subjects:

Formats:

Names:
Contents
Using These Materials
---
RESTRICTIONS:

The collection is open without restriction.

USE & PERMISSIONS:

Copyright is held by the Regents of the University of Michigan but the collection may contain third-party materials for which copyright is not held. Patrons are responsible for determining the appropriate use or reuse of materials.
PREFERRED CITATION:

[item], folder, box, Out of the Blue: The Michigan Difference (television program (University of Michigan), Bentley Historical Library, University of Michigan