Back to top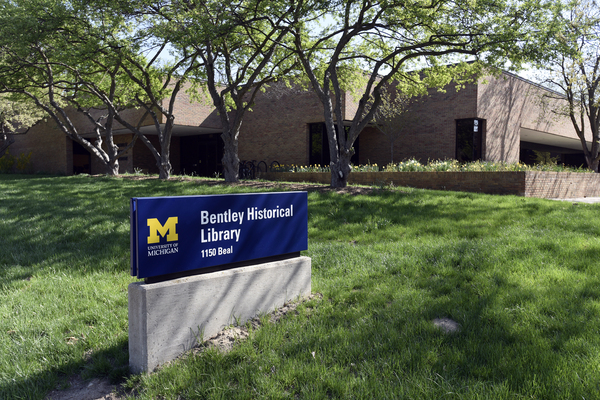 Address

:

1150 Beal Avenue

Ann Arbor, MI 48109-2113, USA
A. Alfred Taubman papers, 1942-2014
Using These Materials
---
Restrictions:

The collection is open to research except for some designated files closed for reasons of privacy for either 70 years (until 2082) or 35 years (until 2048). Some financial records are closed for...
Summary
Creator:

Abstract:

A. Alfred Taubman was an entrepreneur, real estate developer and philanthropist. The Taubman collection consists of business and personal records documenting his development of retail and mixed-use real estate projects, his role as a leader in the real estate industry in Michigan and nationally, his transformation of Sotheby's, his investments and business interests, his contributions to the arts, to American educational institutions, and to the city of Detroit.

Extent:

220 linear feet (approximate; in 247 boxes)
3 tubes
20 oversize volumes
12 panels
25.6 GB (online)

Language:

English

Call Number:

2011097 Aa 2

Authors:

Finding aid created by Jennifer Barr, Julia Corrin, Krista Gray, and other Michigan Historical Collections staff members
Background
Scope and Content:

This collection documents the business and philanthropic activities of A. Alfred Taubman. While this collection is not a comprehensive archive of Taubman's business and personal activities, it offers a rich and abundant resource for researchers interested in the history of commercial real estate development and those interested in Taubman's varied business concerns and philanthropic work. The bulk of the materials date from the early 1960s to the mid-1990s and include both records created by Taubman and a number of staff members of The Taubman Company. The collection is organized into eight series:

Shopping Centers/Commercial Development
Industry Leadership
Detroit Development
Business Investments
University Endowments
Topical
Personal
Athena Azerbaijan and Russia Development Projects

Biographical / Historical:

Adolph Alfred Taubman was born in 1924 in Pontiac, Michigan, to Philip and Fannie Taubman, who immigrated to the United States from Bialystok, Poland. Philip Taubman worked for the Wilson Foundry Company in Iowa, and after World War I he was transferred to Pontiac, Michigan. In the 1920s, he ran several small fruit farms near Pontiac, and later developed small commercial real estate projects and custom homes. The Taubmans had a daughter, Goldye, and three sons, Samuel, Lester, and A. Alfred.

A. Alfred Taubman enrolled at the University of Michigan in 1942, but during his freshman year he left to join the service; he worked in intelligence for the Thirteenth Air Force, serving in the Pacific theater. At the end of the war, Taubman returned to the University, where he studied architecture, joined the Phi Sigma Delta fraternity, and worked at a variety of jobs. During his third year at Michigan, he transferred to Lawrence Technological University, where he continued to study architecture in night classes. He left Lawrence to work as a draftsman for the architect Charles N. Agree and later he worked for the construction firm of O.W. Burke. It was at the University of Michigan and at Lawrence Tech that Taubman developed his sophisticated sense of design and space.

In 1950, A. Alfred Taubman started a retail real estate development company in Pontiac, Michigan with a $5000 loan from Manufacturer's National Bank of Detroit, and hired his father Philip as his first employee. The Taubman Company's first project was a bridal shop in Detroit, but within a few years they were working on larger retail projects and hotels. In the mid-1950s, the company developed two strip shopping centers, in Flint and Taylor, Michigan, and in 1959 they began development of Arborland (Ann Arbor, Michigan), their first large shopping center project.

In the early 1960s, the company began developing enclosed malls. In 1964, Southland opened in Hayward, California. This was the company's first west coast project, the first enclosed mall in Northern California, and included the first food court called "World's Fare." This was followed in 1967 by Sunvalley in Concord, California, which, at 1.25 million square feet, was a good deal larger than the company's previous centers. Sunvalley served as proof of concept for Taubman's idea that because of America's new post-war highway systems the surrounding trade areas would support these new large malls with two hundred shops and department stores of 200,000 square feet or more. The company's west coast projects were handled by Bayshore Properties, a partnership of A. Alfred Taubman, Arthur Rubloff, and Charles Allen, Jr. In 1974, Bayshore Properties was absorbed into the Taubman Company, and from then on it operated as the company's Western Regional Office. By the early 1970s, the Taubman Company had opened three more malls in the Bay Area, followed by malls in Michigan, Illinois, and Wisconsin. When the two million square foot Woodfield Mall (Schaumberg, Illinois) opened in 1971, it was the nation's largest enclosed mall.

In the 1980s, Taubman continued to develop high-end shopping centers, but the company's focus broadened to include sites with smaller footprints, several of them in urban locations. These include the eight-story Beverly Center in Los Angeles, Stamford Town Center in Stamford, Connecticut, and Charleston Place, a mixed-use development in Charleston, South Carolina that includes a hotel, conference facilities, and retail space. Another mixed-used project was 712 Fifth Avenue in midtown Manhattan. Taubman partnered with Solomon Equities to construct this 52-story Art Deco office tower on top of three restored brownstones at street level.

From the early 1980s to the mid-1990s, Taubman owned two historic regional department store chains, Woodward and Lothrop and John Wanamaker. After several years of declining sales, the stores were sold through a bankruptcy process.

In 1993, he invested in Athena Group, a private real estate development and investment firm. This company developed residential and office sites in the United States, Russia, and Azerbaijan, and offered real estate opportunity funds to investors. In the mid-1990s, Taubman, with his considerable experience in commercial real estate development, served as a consultant for projects in Russia. Working with local partners in Moscow and Baku, Azerbaijan to develop retail, office, warehouse, and mixed-use sites, the Athena Group's Moscow projects included the Arbat Center and Balchug Plaza, two office/retail centers in the heart of the city; Moscow Logistics Park, a large warehouse and industrial park in the northeast comer of the city; Four Winds Plaza, an office tower with retail space; and Leninsky Prospekt, an enclosed, two-level shopping center. In Baku, Azerbaijan, the company managed the renovation of the Landmark Building, preserving its historic façade and updating its interior for modem office use.

From its beginnings in Pontiac, the Taubman Company has grown into one of the country's major developers of urban and suburban shopping centers. It was incorporated in 1973 as Taubman Centers, Inc., and in 1986, the company moved its headquarters to Bloomfield Hills. In 1992, Taubman Centers began trading on the New York Stock Exchange as a Real Estate Investment Trust (REIT). Between 2002 and 2003, the Simon Property group attempted a hostile takeover of Taubman Centers, which was ultimately rejected by Taubman's board of directors. As of 2011, Taubman Centers operates 26 regional malls, and is actively developing new centers.

Taubman has been influential in the national real estate industry, particularly on matters concerning urban planning and retail development. He was on the board of the National Realty Committee (NRC), an organization that develops policy agendas for the real estate industry. In 1999, the NRC changed its name to the Real Estate Roundtable. Taubman was the organization's chairman in 1967-1977 and served on several committees, including the Environmental and Political Action Committees. Taubman has also been a long-time member of the Urban Land Institute, which researches urban planning and land use. He has held positions on the Board of Governors, the Steering Committee for Shopping Centers, and the Commercial and Retail Development Council.

Taubman has made notable contributions to the efforts to revitalize the infrastructure and economy of the city of Detroit. He was one of the founding members of Detroit Renaissance, an organization established in 1970 by Michigan business leaders with the aim of revitalizing the city of Detroit. Taubman led the Development Committee which guided planning and development for several major projects in downtown Detroit and on the Detroit riverfront. Taubman also served on the board of directors of the Economic Growth Council of Detroit, and continued on as a board member of its successor organization, the Detroit Economic Growth Corporation. These organizations were formed by area business leaders to offer recommendations for the recovery of Detroit's economy, and to encourage the expansion of commercial and industrial activity in the city. In the early 1980s, Taubman and his friend and mentor Max Fisher formed a partnership to develop the 800-unit Riverfront Apartments in Detroit. In 1994, he was appointed by Governor John Engler as a member of the Governor's Blue Ribbon Commission on Michigan Gaming.

In addition to his local and national real estate development work, Taubman has owned and operated several noteworthy businesses. In 1977 Taubman, Charles Allen, Jr., and a consortium of investors including Joan Irvine Smith, Donald Bren, Max Fisher, Henry Ford II, Howard Marguleas, and Milton Petrie, purchased the Irvine Ranch, a 77,000 acre property in Orange County, California. The land was largely used for agriculture, but also included residential communities, retail centers, and office and industrial buildings. For the next six years, Taubman served as chairman of the Irvine Company as it continued to develop the property. In 1983, Taubman and his investing partners sold their interest in the company to Donald Bren.

In the 1970s, Taubman, along with Max Fisher and other partners, purchased 52% of United Brands, a major food distributor. In 1982, he bought the A&W Restaurants franchise from United Brands. He closed underperforming stores and worked on improving quality and consistency across the franchise. He sold the franchise in 1994.

In 1982, Taubman started the Michigan Panthers with an ownership group that included Max Fisher and team president Judge Peter Spivak. The Panthers were a charter member of the newly established United States Football League (USFL), which began with 12 teams playing a spring/summer schedule. The league signed broadcast agreements with ABC and ESPN. In the league's inaugural season, the Panthers won the championship, and made the playoffs the following year. At the end of the 1984 season, the team owners voted to shift the league's schedule to the fall, which would put them in direct competition with the National Football League. Taubman, who had wanted to maintain the original spring/summer schedule, decided to merge his team with the Oakland Invaders. The USFL folded before the 1986 season got underway.

In 1983, Taubman purchased British auction firm, Sotheby's, which at the time was being pursued for a takeover by investors Marshall Cogan and Steven Swid. Taubman bought out their interest and purchased a majority stake in the firm with investing partners Max Fisher, Milton Petrie, Henry Ford II, and Leslie Wexner. Under Taubman's chairmanship, the auction house broadened its customer base, expanded its outreach to international customers, redesigned several of the auction and office spaces, and became a publicly traded company.

In the late 1990s, the U.S. Justice Department began investigating the art market for antitrust activities. In 2000, Sotheby's CEO, Diana "Dede" Brooks confessed to having engaged in price fixing with her counterpart at Christie's auction house, Christopher Davidge. To avoid prison, Brooks implicated Taubman in the scheme. Taubman, who denied having any knowledge of the wrongdoing, was arraigned on a charge of price fixing in 2001, and after a four-week jury trial, he was convicted. He was sentenced to a year and a day in federal prison, of which he served 10 1/2 months. Taubman sold his controlling interest in Sotheby's in 2005.

In addition to running these businesses, Taubman has served as a director of a number of major corporations, including United Brands, Getty Oil Company, Manufacturers Bank of Detroit, Chase Manhattan Bank, and R.H. Macy Company. He has also been a major stockholder in a number of businesses, including the Broadcast Group, a media company in Phoenix, and National Shower Manufacturing Company/Florida Extrusion, a manufacturing firm owned by his brother Samuel.

Taubman, beyond his business interests, has made significant contributions to educational reform in Michigan and to institutions of higher learning throughout the United States. In 1980, Governor James Blanchard and a number of Michigan business, labor, and academic leaders formed the Michigan Partnership for New Education. Taubman served as the chairman of this organization whose goal was to improve education and teacher training in the state. He also co-founded and financed the Leona Group, a charter school company.

Taubman has also made major contributions of funding and expertise to a number of universities around the country. In 1984, he funded the Taubman Center for Public Policy and American Institutions at Brown University. In 1988, Taubman's giving established the Taubman Center for State and Local Government at Harvard's Kennedy School of Government. He funded the A. Alfred Taubman Student Services Center at Lawrence Technological University, which opened in 2006. He is a trustee of Detroit's College for Creative Studies (CCS), and provided lead funding for the renovation of CCS's Argonaut Building, which was reopened as the A. Alfred Taubman Center for Design Education in September 2009. He is a major contributor to Wayne State University Law School's Damon J. Keith Center for Civil Rights, and has provided funds for an endowed chair at the Keith Center. He served as the first chairman of the advisory board of the Zell/Lurie Real Estate Center at the University of Pennsylvania's Wharton School, and remained in that role until 1990.

His gifts to the University of Michigan total over $142 million dollars, making him the largest donor in the University's history. Schools and departments throughout the University have benefited from his support. In the 1970s, he served on the Planning Advisory Committee working on renovating the University Hospital and was very active in the related fundraising efforts for a new medical library; the new A. Alfred Taubman Medical Library was dedicated in 1980, and the A. Alfred Taubman Health Care Center opened in 1986. In 2007, he established the A. Alfred Taubman Medical Research Institute. This institute supports innovative medical research, allowing senior-level research scientists to pursue new avenues of investigation. The building housing the Taubman Institute was renamed the A. Alfred Taubman Biomedical Science Research Building in 2011.

In 1981, he provided funding for the establishment of the Taubman Program in American Institutions within the College of Literature Science and the Arts. This was a program for undergraduates to study American economic and social institutions and a fellowship program for government, industry, and labor workers to study at the University. In 1999 he provided major funding to the College of Architecture and Urban Planning. This gift allowed the college to offer new scholarships, develop new initiatives in urban planning, and to fund additional faculty appointments. The college was renamed the A. Alfred Taubman College of Architecture and Urban Planning. In 2006 he provided financial support to the University of Michigan Art Museum, where a suite of exhibition spaces are named in his honor.

In addition to his contributions to American educational institutions, Taubman is active in civic and cultural affairs, and contributes to a range of arts, education, health care, and Jewish causes. He has been particularly active in his support of the arts. He served as president and chairman of the board of trustees of The Archives of American Art of the Smithsonian Institution; he is now the organization's chairman emeritus. He was also on the board of directors of the Whitney Museum and the board of trustees of the Wexner Center Foundation, which oversees the Wexner Center for the Arts at Ohio State University. Taubman is president of the City of Detroit Arts Commission, a role he has held for more than twenty years, and has served on the board of trustees of the Founders Society of the Detroit Institute of the Arts (DIA). He is a major supporter of the DIA: the A. Alfred Taubman Wing of European Art was dedicated in 2009.

In 1948, Taubman married Reva Kolodney, whom he had met at Michigan. They had three children: Gayle (Kalisman), Robert S., and William S. All of their children would eventually work with the Taubman family business or other civic initiatives. Robert joined the Taubman Company in 1976 and began working in the areas of development and leasing. He was named president in 1990, and when the company began trading on the New York Stock Exchange assumed the additional roles of chief executive officer and eventually chairman of the board. William joined the company in 1986 in the area of finance. He was named chief operating officer in 2005, and serves as executive vice president. Gayle Taubman Kalisman is President of The A. Alfred Taubman Foundation, which supports education and human service organizations, many of them in the Detroit area. In 1982, several years after he and his first wife divorced, Taubman married Judith Mazor Rounick, who has two children, Tiffany and Christopher, from her first marriage. Judith Taubman is an art connoisseur and collector, and is fluent in seven languages.

Taubman is the author of Threshold Resistance: The Extraordinary Career of a Luxury Retailing Pioneer (2007), which debuted on the New York Times Best Seller List. He has received honorary degrees from the University of Michigan, Eastern Michigan University, Lawrence Technological University, Michigan State University, Northern Michigan University, the College for Creative Studies, and Ferris State University. He has received many awards and citations, including the Urban Land Institute Lifetime Achievement Award, Detroit Institute of Arts Lifetime Service Award, the Harvard Business School Club of Detroit Business Statesman Award, and the Detroit News Michiganian of the Year.

Acquisition Information:

The collection was donated by A. Alfred Taubman (donor no. 10424 ) in March 2011 and February 2012, May-June 2013, and August 2014.

Accruals:

Periodic additions to the records are expected.

Rules or Conventions:

Finding aid prepared using Describing Archives: A Content Standard (DACS)
Contents
Using These Materials
---
RESTRICTIONS:

The collection is open to research except for some designated files closed for reasons of privacy for either 70 years (until 2082) or 35 years (until 2048). Some financial records are closed for 20 years (until 2032). Restricted files are located in boxes, 244 and 245 and have been moved to the vault.

USE & PERMISSIONS:

Donor(s) have transferred any applicable copyright to the Regents of the University of Michigan but the collection may contain third-party materials for which copyright was not transferred. Patrons are responsible for determining the appropriate use or reuse of materials.
PREFERRED CITATION:

[item], folder, box, A. Alfred Taubman papers, Bentley Historical Library, University of Michigan.

[item], [URL]folder, box, A. Alfred Taubman papers, Bentley Historical Library, University of Michigan.