Back to top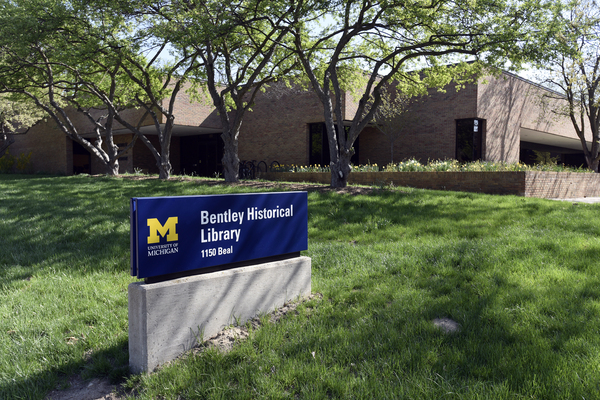 Address

:

1150 Beal Avenue

Ann Arbor, MI 48109-2113, USA
Bradley v. Milliken case files, 1962-1976 (majority within 1970-1974)
Using These Materials
---
Restrictions:

The collection is open to research.
Summary
Creator:

Abstract:

The Honorable Stephen J. Roth presided over the landmark school desegregation case Bradley v. Milliken in the United States District Court for the Eastern District of Michigan, Southern Division from 1970 until his death in 1974. Roth ruled that the Detroit Public School system was guilty of de jure segregation and ordered the implementation of an inter-district metropolitan busing plan to achieve integration. The case eventually reached the U.S. Supreme Court, which declared Roth's remedy to be impermissible and emphasized local control of schools in its July 1974 decision (Milliken v. Bradley 418 U.S. 717). The case files include trial materials (pleadings, desegregation plans, court transcripts, etc.), appellate materials, opinions and orders, correspondence, and clippings.

Extent:

12 linear feet

Language:

English

Call Number:

2009170 Aa 2

Authors:

Finding aid created by Michael Shallcross, November 2009
Background
Scope and Content:

The Stephen J. Roth Bradley v. Milliken case files provide original source materials from one of the most contentious and influential desegregation cases in our nation's history. In addition to transcripts, court documents, and rulings, the collection permits scholar and citizen alike the opportunity to better understand Roth's conclusions and rulings with its rich trove of annotated briefs, personal law notes, manuscript drafts of opinions, and personal correspondence. Numerous secondary sources, including news clippings, appellate and Supreme Court decisions, and reports and journals consulted by Roth offer a rich context in which to understand the significance of the case in the history of Michigan and the nation as a whole. The Bradley v. Milliken case files consist of one series divided into seven subseries; the present arrangement reflects the order in which the materials were received from John Runyan, a former law clerk of Judge Roth's. Relevant materials have been added to case files over the years and this accumulation accounts for materials extant from 1975-1976.

Biographical / Historical:

Stephen J. Roth was born in Hungary on April 21, 1908 and immigrated to the United States at an early age. He was raised in Flint, Michigan, attended Notre Dame University, and received his law degree at the University of Michigan. His first foray into the public sphere occurred when, having served as a prosecutor in Genesee County, he was elected state Attorney General in 1948. Defeated in 1950, Roth was named a Genesee County judge in 1952 and remained in this position until President Kennedy nominated him for a seat on the United States District Court for the Eastern District of Michigan in 1962.

Bradley v. Milliken had its roots in an integration plan put forth by the Detroit Board of Education on April 7, 1970. The 'April 7th Plan', as it was known, called for the reassignment of 9,000 high school students to achieve a measure of desegregation and drew immediate protest from white enclaves in Detroit and led to the formation of Concerned Citizens for Better Education (CCBE). Composed mainly of white parents' and homeowners' groups, CCBE organized a petition drive to recall the liberal Board of Education members responsible for the April 7 plan. The public outcry also led the Michigan State Legislature to nullify the April 7 plan by enacting Public Act 48, section 12 of which stated, "the implementation of any attendance provisions for the 1970-71 school year determined by any first class school board shall be delayed."

In an effort to overturn section 12, a group of mostly black families including Ronald and Richard Bradley and their mother, Vera, joined with the NAACP to challenge its constitutionality. Their suit was initially brought forth in the United States District Court for the Eastern District of Michigan on August 18, 1970. Defendants initially included Governor William G. Milliken, Attorney General Frank Kelley, the Michigan State Board of Education, State Superintendent of Public Instruction John W. Porter, the Detroit Board of Education and the Superintendent of Detroit Public Schools but subsequently included a number of intervening defendants. After Judge Roth refused to grant a preliminary injunction, the U.S. Court of Appeals for the Sixth Circuit found section 12 to be unconstitutional but at the same time declined to rule on the school board's obligations or the merits of any desegregation plan. Although the plaintiffs sought to force the implementation of the April 7 plan, Roth instead required the Detroit Board of Education to develop a plan that would parallel the previous integration levels. On December 3, 1970, Judge Roth selected the 'McDonald' (or Magnet) Plan from three submissions and ordered its implementation by the next full school year.

The plaintiffs once more appealed to the Circuit Court, which in turn directed that a trial in the District Court proceed on the merits. This trial ran from April 5, 1971 to July 22, 1971 and concluded in Judge Roth's decision on September 27, 1971 that the defendants were liable for de jure segregation (that is, segregation enforced by law). Roth's finding in the matter noted that "Governmental actions and inaction at all levels, federal, state, and local, have combined with those of private organizations [...] to establish and maintain the pattern of residential segregation throughout the Detroit Metropolitan area."

The next stage of the Bradley v. Milliken involved the remedy with which to correct the segregation endemic to the Detroit Public School system. Hearings were held intermittently from October 4, 1971 through March 21, 1972 on Detroit-only desegregation plans. These proceedings sought to determine if an effective--and constitutionally sound--desegregation plan could be promulgated within Detroit alone or if the entire metropolitan area would have to be involved. On March 24, Roth produced a "Ruling on the Propriety of Considering a Metropolitan Remedy to Accomplish Desegregation" and this led to hearings on inter-district plans from March 28 through April 14, 1972. Various plans were produced by plaintiffs, the State Board of Education, the Detroit Board of Education, and intervening defendants, Denise Magdowski, et al. The culmination of these hearings was Roth's June 14, 1972 "Ruling on Desegregation Area and Order for Development of Plan of Desegregation" which established a nine person (soon to be eleven) panel to produce a plan for integration in Detroit and 53 surrounding school districts.

Following Roth's ruling, State defendants sought a stay or suspension of proceedings; denied by Roth, they eventually asked the Supreme Court to review the entire case theretofore. In the meantime, Roth moved forward with the transportation logistics necessary to implement a desegregation plan and to that end found that the Detroit Board of Education was required to purchase an additional 295 school buses. From July 1972 through June 1973, the Sixth Circuit heard various appeals of Roth's rulings; an en banc rehearing initiated in January 1973 vacated portions of Roth's Ruling on Desegregation Area but ultimately supported his metropolitan remedy.

The Supreme Court granted defendants' petitions for a writ of certiorari on November 19, 1973 and hearings began on February 27, 1974. The sharply divided Court rejected Roth's solution in its opinion on July 25, 1974, ruling that:

Before the boundaries of separate and autonomous school districts may be set aside by consolidating the separate units for remedial purposes or by imposing a cross-district remedy, it must first be shown that there has been a constitutional violation within one district that produces significant segregative effect in another district.

By virtue of its emphasis on local control in schools, the Court's decision in Bradley v. Milliken (418 U.S. 717) effectively exempted suburbs from aiding in the desegregation of inner-city schools and gave further impetus to 'white flight' from cities.

Two weeks before the Court's ruling, Stephen J. Roth suffered his third heart attack in three years and died on July 11, 1974. His four years at the helm of Bradley v. Milliken saw him praised by civil rights activists and honored by the ACLU and excoriated in newspapers and bumper stickers ("Roth is a four letter word" being a particularly popular one). Noted as a conservative among his friends, Roth was initially skeptical of the involvement of 'outsiders' in the affairs of the Detroit Public Schools. Nonetheless, the evidence and testimony of Detroit's segregation made a profound impression and led him to take a principled--and highly unpopular--stand for equality and fairness in education. Bradley v. Milliken continued after Roth's demise and it was not until 1989 that it was adjudged "that the Detroit school system is a 'unitary' school system and has eliminated all vestiges of past de jure segregation."

Acquisition Information:

The case files were donated by John R. and Ann M. Runyan (donor no. 10277 ) in October 2009.

Accruals:

No further additions to the papers are expected.

Rules or Conventions:

Finding aid prepared using Describing Archives: A Content Standard (DACS)
Subjects
Click on terms below to find any related finding aids on this site.
Contents
Using These Materials
---
RESTRICTIONS:

The collection is open to research.

USE & PERMISSIONS:

Copyright is not held by the Regents of the University of Michigan. Patrons are responsible for determining the appropriate use or reuse of materials.
PREFERRED CITATION:

[item], folder, box, Bradley v. Milliken case files, Bentley Historical Library, University of Michigan