Back to top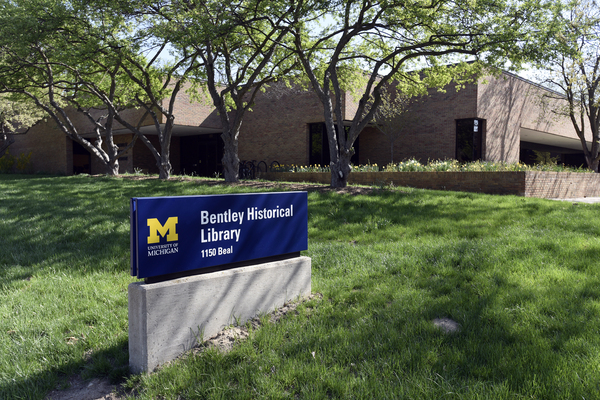 Address

:

1150 Beal Avenue

Ann Arbor, MI 48109-2113, USA
Michigan Quarterly Review Records, 1968-2007
Using These Materials
---
Restrictions:

The collection is open without restriction.
Summary
Creator:

Abstract:

Founded in 1962 Michigan Quarterly Review is the University of Michigan's flagship scholarly journal. It is a multidisciplinary publication devoted to new and creative works of fiction, essays, book reviews, memoirs, interviews, poetry, and the graphic arts. The collection is primarily comprised of records and correspondence created during the tenure of the magazine's third editor, Laurence Goldstein relating to the journal's regular publications, as well as its books and special issues.

Extent:

8 linear feet

Language:

English

Call Number:

2009165 Bimu 2

Authors:

Finding aid created by Kate Donovan Jarvis, October 2009
Background
Scope and Content:

The Michigan Quarterly Review collection documents the history of the University of Michigan's premier scholarly journal. The records in this collection measure 8 linear feet, and date from 1968 to 2007, with the majority of the records from the period 1971-2007. The collection is primarily comprised of correspondence, manuscripts, clippings, and administrative materials, and is arranged into four series: Administrative Materials, Audio-Visual Materials, Correspondence, and Publications.

Biographical / Historical:

When Michigan Quarterly Review (MQR) was launched in the winter of 1962 as the University of Michigan's flagship scholarly journal, it proclaimed itself "A Journal of University Perspectives," devoted to expressing the scholarly activities and "intellectual interests" of Michigan's "cosmopolitan" student body, alumni, faculty, and university community.[1] The journal was created out of the dissolution of The Michigan Alumnus Quarterly Review, which was subsequently reincarnated as two separate publications: The Michigan Alumnus published by the Alumni Association and Michigan Quarterly Review, published by the university. Since its founding, Michigan Quarterly Review has included essays, book reviews, fiction, interviews, and poetry from some of the century's most accomplished writers, and helped launch the careers of countless others. Among the many writers to have contributed works to the journal are Diane Ackerman, Rudolf Arnheim, John Ashbery, Margaret Atwood, Russell Banks, Charles Baxter, Marvin Bell, Paul Bowles, Malcolm Cowley, Joan Didion, Annie Dillard, Richard Ford, Mary Gaitskill, Nadine Gordimer, Jorie Graham, Donald Hall, Robert Hayden, Donald Justice, Maxine Hong Kingston, Richard Kostelantz, Maxine Kumin, Philip Levine, Arthur Miller, Toni Morrison, Joyce Carol Oates, Sharon Olds, Amos Oz, Walker Percy, Marge Piercy, Adrienne Rich, Carolyn See, W.D. Snodgrass, Wole Soyinka, Wallace Stegner, Wislawa Szymborska, John Updike, Tom Wolfe, and Yevgeny Yevtushenko.

Frank E. Robbins, formerly the editor of The Michigan Alumnus Quarterly Review, served as the interim editor of Michigan Quarterly Review until the appointment of the new journal's first editor, Sheridan Warner Baker, in 1963. The "Editor's Corner" of Michigan Quarterly Review's first edition outlined the magazine's goal to publish works of poetry, fiction, and nonfiction, that encompassed "university perspectives and general intelligence."[2] The magazine seemed well on its way to achieving its vision by the mid-sixties, with University of Michigan President Harlan Hatcher saying that Baker had "set a blazing standard of what this kind of publication can be."[3]

Baker, who was also on the faculty in the department of English literature at the University of Michigan, served at the editorial helm of Michigan Quarterly Review until 1970. He was born in 1918 in Santa Rosa, California and received his B.A. and advanced degrees from the University of California, Berkeley (M.A. 1946, Ph.D. 1950). Baker came to the University of Michigan as an instructor in English in 1950, and was promoted to assistant professor in 1957, associate professor in 1961, and full professor in 1964. Baker stayed at Michigan until his retirement as an emeritus professor in 1984. He passed away in June 2000. An accomplished poet and author of numerous scholarly works on Henry Fielding, Baker was especially interested in the teaching of writing and wrote numerous books on rhetoric including The Practical Stylist, The Essayist, The Complete Stylist, and The Practical Imagination. Baker sought to model the Quarterly Review after the eighteenth-century journal The Spectator, which "transplant[ed] philosophy from the study to the coffee house," as well as the venerable The New Yorker magazine.[4] Baker described his aspirations for the journal, writing, "If we can make the university universal, the intellect amiable, and the magazine readable, we shall rest content."[5]

When University of Michigan English professor Radcliffe Squires took over the editorship of Michigan Quarterly Review in 1970, he transformed it from an interdisciplinary journal to a literary magazine. Like Baker, Squires' background was in poetry and English literature. Squires was born in 1917 in Salt Lake City, earned his bachelor's degree from the University of Utah in 1940, a master's degree from the University of Chicago in 1946, and a doctorate from Harvard in 1952. Squires, a poet and a critic, joined the University of Michigan in 1952 as an instructor in the English department, became a full professor in 1963, and remained in the department until his retirement in 1982. He died in 1993. Squires, whose poetry focused on classical Greece and the Western United States was described by one critic as "one of the finest American poets writing today."[6] Squires also earned respect and was known for his critical treatments of Robert Frost, Robinson Jeffers, and Allen Tate. During his tenure as editor, 1970-1977, Squires published works by a wide range of notable authors including, Jorge Luis Borges, Brewster Ghiselin, Anaïs Nin, Wes Magee, William Stafford, and Anne Stevenson.

In 1977 Michigan Quarterly Review underwent yet another shift with the appointment of Laurence Goldstein as editor of the journal. Although a poet and literary critic like his predecessor, Goldstein returned the magazine to its roots as an interdisciplinary journal, expanding its scope to include graphics as well as essays, interviews, memoirs, fictions, poetry, and book reviews. Born in Los Angeles, California in 1943, Goldstein was educated at the University of California, Los Angles (B.A., 1965) and Brown University (Ph.D., 1970). He came to the University of Michigan as an assistant professor of English in 1970, and was subsequently promoted to associate professor in 1978, and full professor in 1985. Of his childhood in California, Goldstein once wrote that he thought that "southern California is a good place for an editor to grow up. One is nourished there first by a progressive offbeat lifestyle, and then by nostalgia for a greater degree of order and meaning in life."[7]

As editor, Goldstein established Michigan Quarterly Review as one of the country's premier scholarly journals, putting his editorial imprint on the magazine from the outset. The journal covered a wide range of subject areas and sought to "publish manuscripts that demonstrate an alert sense of living in the present historical moment."8 Beginning in 1979, the journal devoted one issue a year to a special theme, such as "The Moon Landing and Its Aftermath," "The Automobile and American Culture," or "Detroit: An American City," and invited a wide swath of contributors, from poets, fiction writers, essayists, graphic artists, politicians, and scientists, to include written or visual works for the issue. So popular and well regarded were these theme issues that a number of them were expanded into full-length books published by the University of Michigan Press.

Although it was an academic journal, Goldstein took pains for Michigan Quarterly Review to be accessible to any "intellectual" reader. He considered it his responsibility as editor to "serve as a guide, at best a pathfinder" leading readers "through the thickets of everyday discourse."[9] However, while Goldstein took his role as editor seriously, he said it was "the authors, eminent and emerging, who make the magazine exciting or not."[10] While serving as editor of the journal, Goldstein established the reputation of the magazine as an important venue for new creative work, first publishing pieces that would later be selected for inclusion in anthologies such as the Pushcart Prize, Best American Essays, Best American Short Stories, and Best American Poetry. Goldstein left an indelible mark on Michigan Quarterly Review during his thirty-two years as editor, and the writers published by the journal over the course of his editorship constituted some of the most well-regarded authors of twentieth century poetry and prose.

In 2009, Laurence Goldstein retired from his post as editor. University of Michigan professor of English and American culture Jonathan E. Freedman was named the new editor of Michigan Quarterly Review. A former contributor to the journal and guest co-editor with Sara Blair of MQR's "Jewish in America" theme issue, Freedman's primary scholarly interests include late nineteenth-century British and American literature, as well as Jewish and multicultural literature, and he is known for his critical treatments of Henry James, Oscar Wilde, and Alfred Hitchcock. In addition to his previous work with the Quarterly Review, Freedman was a founding editor of Yale Journal of Criticism. Born in Iowa in 1954, Freedman earned a bachelor's degree in English from Northwestern (1977), as well as a master's of philosophy (1980) and a doctorate in English (1985) from Yale University. Prior to coming to the University of Michigan, Freedman served as an assistant and associate professor at Yale (1985-1990) and as an instructor at the Bread Loaf School of English at Middlebury College (1987-1991, 1998-2001). He began his career at the University of Michigan in 1991 as an associate professor of English, with tenure, and was promoted to full professor in 1999. Friedman's first issue as editor of Michigan Quarterly Review was the Summer 2009 issue, Obama and the Challenge of the Real.

------------------------

Notes:

1. "The Editor's Corner," Michigan Quarterly Review, vol. 1, no. 1 (Winter 1962): 71.

2. Ibid.

3 University of Michigan, Proceedings of the Board of Regents, November Meeting, 1964: 606.

4. "Introduction," Michigan Quarterly Review.

5. Ibid.

6. J. Radcliffe Squires Obituary, The University Record, Ann Arbor: The University of Michigan, 1 March 1993.

7."Laurence Goldstein," Contemporary Authors Online, Gale, 2002.

8. "Who We Are," Michigan Quarterly Review website, accessed on 5 May 2004, .

9. Laurence Goldstein, "An Editor's Farewell to Michigan Quarterly Review," Michigan Today, 14 April 2009.

10. Ibid.

Acquisition Information:

Accession received through Michigan Quarterly Review editor Laurence Goldstein in 2009 (donor no. 10260) 10260

Processing information:

The Michigan Quarterly Review collection was received by the Bentley as 8 linear feet of records in July 2009, through Laurence Goldstein, the third editor of the journal. Prior to donating the records to the Bentley, Goldstein organized them into three primary groupings: alphabetically organized correspondence, records filed by the issue, and miscellaneous materials. The processor attempted to respect this original order, keeping the alphabetical and issue-related records intact.

In preparing digital material for long-term preservation and access, the Bentley Historical Library adheres to professional best practices and standards to ensure that content will retain its authenticity and integrity. For more information on procedures for the ingest and processing of digital materials, please see Bentley Historical Library Digital Processing Note. Access to digital material may be provided either as a direct link to an individual file or as a downloadable package of files bundled in a zip file.

Accruals:

Periodic additions to the records expected.

Rules or Conventions:

Finding aid prepared using Describing Archives: A Content Standard (DACS)
Related
Additional Descriptive Data:

Related Material

Researchers should note that material related to Michigan Quarterly Review may also be found in the John W. Aldridge papers, also located at the Bentley Historical Library. Aldridge served as editorial board chair of the MQR from 1978 to 1992. In addition, the Bentley Historical Library holds bound copies of The Michigan Alumnus, Michigan Quarterly Review, and several books published by the University of Michigan Press. Michigan Quarterly Review is also available electronically in a searchable full-text archive.
Subjects
Click on terms below to find any related finding aids on this site.
Subjects:

Names:

University of Michigan -- Periodicals.
Baker, Sheridan Warner, 1918-2000.
Freedman, Jonathan, 1954-
Goldstein, Laurence, 1942-
Squires, Radcliffe, 1917-1993.
Arnheim, Rudolf.
Atwood, Margaret, 1939-
Cowley, Malcolm, 1898-1989.
Mailer, Norman.
Miller, Arthur.
Nin, Anaís, 1903-1977.
Stegner, Wallace Earle, 1908-1993.
Updike, John.
Contents
Using These Materials
---
RESTRICTIONS:

The collection is open without restriction.

USE & PERMISSIONS:

Copyright is held by the Regents of the University of Michigan but the collection may contain third-party materials for which copyright is not held. Patrons are responsible for determining the appropriate use or reuse of materials.
PREFERRED CITATION:

[item], folder, box, Michigan Quarterly Review Records, Bentley Historical Library, University of Michigan