Back to top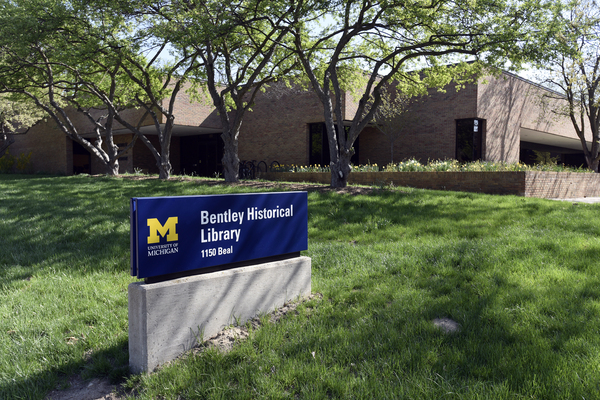 Address

:

1150 Beal Avenue

Ann Arbor, MI 48109-2113, USA
Richard H. Solomon papers, Circa 1962-1972 (majority within 1965-1967)
Using These Materials
---
Restrictions:

The collection is open for research use.
Summary
Creator:

Abstract:

Richard Solomon was a professor of political science at the Univerity of Michigan, a White House staffer who worked on "ping-pong diplomacy" under Henry Kissinger during the Nixon administration, and a scholar of Chinese history and politics. This collection consists primarily of interviews with Chinese refugees and subsequent computer data printouts and analysis of these interviews.

Extent:

7.3 linear feet (in 8 boxes)

Language:

Chinese
English

Call Number:

2008034 Aa 2

Authors:

Record created by Bentley Historical Library staff; finding aid revised by Emily Mathay, September 2019
Background
Scope and Content:

This collection is organized into two series: Interview Materials and Professional Materials, and primarily documents interviews conducted by Solomon and his associates, likely for Solomon's dissertation on Chinese political culture. The majority of the materials are written in Chinese, although there are some interview transcriptions, interview analyses, and reports written in English.

The Interview Materials series is divided into two subseries: (1) Interviews; and (2) Data and Analysis. The Interviews subseries is comprised of interview responses and transcripts; various tests, evaluations, and score sheets; and handwritten materials. The Data and Analysis subseries is comprised primarily of computer data printouts, although it also contains some reports authored by Solomon on changing Chinese culture, as well as a magnetic data tape.

Researchers may find the folder "Interview Materials, General," located in Box 3 of the Interviews subseries, helpful in understanding some of the abbreviations used throughout the papers, the reasoning behind the interviews, and how the interviews were written up. Some commonly used acronyms are: "RT," which stands for Rorschach Test; a T or H preceding a number stands for either Taiwan or Hong Kong; "Trad-Mod" stands for "Traditionality - modernity," which was an attitude scale used by Solomon to quantitatively measure degrees "of modernity."

The Professional Materials series is comprised of a single folder titled "Ping Pong" that contains handwritten notes and various newspaper clippings related to the Chinese ping pong team's visit to the United States in 1972.

Biographical / Historical:

Richard Harvey Solomon was born in Philadelphia, Pennsylvania in 1937. He began attending the Massachusetts Institute of Technology (MIT) in the fall of 1955. Halfway through his junior year, he took a break from school for a nine-month hitchhiking trip around Europe with a friend from MIT, during which he deepened a love for photography that had begun in high school. When Solomon returned to MIT, he enrolled in a few sociology courses, including one taught by renowned scholar Lucian Pye. After graduating with an S.B. in chemistry in 1960, Solomon immediately enrolled in MIT's graduate program in political science, working closely with Pye. Solomon received a scholarship to study Chinese at Yale during the summer of 1961, and continued studying the language at Harvard during the course of his Ph.D. He then received a research fellowship to travel to Asia to complete his dissertation, focusing particularly on Taiwan and Hong Kong. For this project, he aimed to study Chinese political culture by interviewing one hundred Chinese refugees who had fled mainland China. The interviewees were comprised of three generations: those who had lived most of their lives under the Ching dynasty that had collapsed in 1912; those who had lived during the Warlord era (the period from 1916-1927 during which China was broken up into various regions, each of which was controlled by a local ruler); and those who had grown up under communism (Chairman Mao Zedong's 1949 founding of the People's Republic of China saw the solidification of communism in China).

Solomon completed his Ph.D in Political Science and Chinese Politics in 1966, and began his teaching position at the University of Michigan almost immediately after. He spent five years as a Political Science professor at the University before joining the National Security Council under Henry Kissinger as a Senior Staff member for Asian Affairs in 1971. During this time Solomon, Kissinger, and others helped develop the so-called "ping pong diplomacy," named for the development of friendly relations between the US and Chinese ping pong teams in the early 1970s that resulted in the American team's visit to China in 1971, and the Chinese team's subsequent visit to the US in 1972. President Richard Nixon and Chairman Mao used the success of these trips to help normalize relations between the two countries.

In 1976, Solomon joined the Rand Corporation, a nonprofit think tank focused on national security and domestic public policy, as the head of the Political Science Department as well as associate director of the Research Program on International Security and Defense Policy. He remained there until 1986, when he left to join the US Department of State as the Director of Policy Planning, and was later appointed assistant secretary of state for East Asian and Pacific Affairs. It was in this position that Solomon helped to advance the US relationship with the Soviet Union (until it dissolved in 1991), encouraged the discussion of nuclear issues between North and South Korea, and helped negotiate the 1991 Paris Peace Agreements that ended the Cambodian-Vietnamese war.

President George H. W. Bush appointed Solomon U.S. Ambassador to the Philippines in 1992. Solomon served for six months, after which he served as president of the United States Institute of Peace from 1993-2012, a federally funded, nonpartisan institution that focuses on nonviolent resolutions of conflicts. In 2012, Solomon returned to the Rand Corporation as a senior fellow researching international diplomacy.

Solomon wrote over a dozen works, including Mao's Revolution and the Chinese Political Culture (1971) and the influential Chinese Political Negotiating Behavior, 1967-1984 (1995). He also received multiple awards in his lifetime, including the State Department's Foreign Affairs Award for Public Service in 1995 and the American Political Science Association's Hubert H. Humphrey career award for "notable public service by a political scientist" in 2005.

Solomon passed away in March of 2017.

Acquisition Information:

Donated by Lois Oksenberg (Donor no. 6466 ) in 1986.

Processing information:

The materials in this collection were kept in the organization in which they were received due to the possible correlation between the folder order and the computer data printout sheets and findings.

In preparing digital material for long-term preservation and access, the Bentley Historical Library adheres to professional best practices and standards to ensure that content will retain its authenticity and integrity. For more information on procedures for the ingest and processing of digital materials, please see Bentley Historical Library Digital Processing Note. Access to digital material may be provided either as a direct link to an individual file or as a downloadable package of files bundled in a zip file.

Arrangement:

This collection is arranged into two series: 1. Interview Materials and 2. Professional Materials.

Accruals:

Further accruals are not expected.

Rules or Conventions:

Describing Archives: A Content Standard
Related
Additional Descriptive Data:

General Note

The files were received as part of the Michel Oksenberg papers, which are held at the Bentley Historical Library.

Related Materials

The Association for Diplomatic Studies and Training (ADST) conducted an oral history interview with Richard Solomon in September of 1996, as part of their Foreign Affairs Oral History Program. The Oral History collection is part of the Library of Congress (LOC) American Memory collection, and can be found (as of 2019) in the LOC catalog under "Frontline Diplomacy: The Foreign Affairs Oral History Collection of the Association for Diplomatic Studies and Training." It can also be found on the ADST website.
Subjects
Click on terms below to find any related finding aids on this site.
Contents
Using These Materials
---
RESTRICTIONS:

The collection is open for research use.

USE & PERMISSIONS:

Copyright status is unknown. Patrons are responsible for determining the appropriate use or reuse of materials.
PREFERRED CITATION:

[item], folder, box, Richard H. Solomon papers, Bentley Historical Library, University of Michigan.