Back to top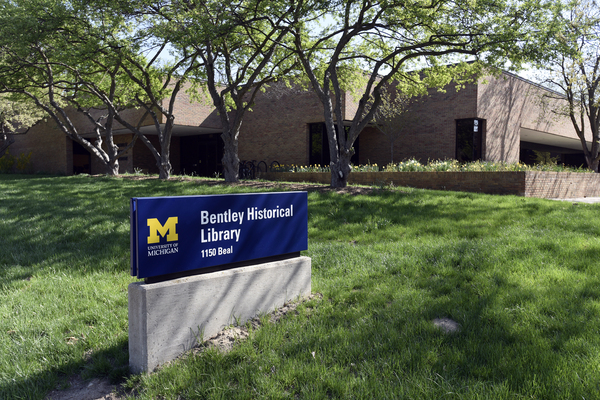 Address

:

1150 Beal Avenue

Ann Arbor, MI 48109-2113, USA
G. M. (Gerard M.) Faeth papers, 1964-2005 (majority within 1985-2005)
Using These Materials
---
Restrictions:

The collection is open without restriction.
Summary
Creator:

Abstract:

Gerard Faeth (1936-2005) professor of aerospace engineering and mechanical engineering was a world-renowned scholar, researcher, and NASA advisor on theoretical and experimental research on combustion, heat transfer, fluid dynamics, and instrumentation. The collection includes correspondence, teaching materials, research proposals, presentations and publications, photographs and other visual materials reflecting his academic, research, and consulting career. The collection covers the years 1964-2005, but primarily documents 1985-2005.

Extent:

12 linear feet (in 13 boxes)

Language:

English

Call Number:

0726 Aa 2

Authors:

Finding aid created by Lanell Evon James, August 2006
Background
Scope and Content:

The Gerard Faeth papers include correspondence, teaching materials, research proposals, presentations and publications, photographs, and other visual materials documenting his career. The Faeth papers (approx. 12 linear feet) date from 1964-2005, but primarily document the period 1985-2005. The papers are organized into six series: Biographical; Teaching and Academic Activities; Professional Activities; Research; Presentations, Publications, and Reviews; and Visual Materials.

Biographical / Historical:

Gerard Michael Faeth was born in New York City on July 5, 1936. He was the son of Joseph Faeth and Helen Wagner.1 He started undergraduate coursework in mechanical engineering at Union College in Schenectady, New York, and was a recipient of the Frank Bailey Scholarship. In 1958 he received his Bachelor's of Mechanical Engineering (BME).2 Upon graduation Faeth accepted a graduate assistantship at Pennsylvania State University (PSU) to study mechanical engineering. He joined A. W. Hussman's diesel laboratory, where he learned fundamentals of experimental research.3 Upon completion of his Master's in 1961, Faeth pursued his Ph.D., and in 1964 he was awarded his Ph.D. in Mechanical Engineering. In 1964, Faeth was offered and accepted a joint appointment with the department of mechanical engineering and the Applied Research Laboratory (formerly the Ordnance Research Laboratory) at PSU [1], where he worked from 1964-1985.

Though his research primarily drew from mechanical engineering, Faeth's research stretched across many disciplines, such as physics and chemistry. Faeth distinguished himself as a high caliber researcher and scholar in the area of "combustion science, heat transfer, propulsion systems, and fluid dynamics with a particular emphasis on the properties of evaporating and combustion sprays, explosions and unwanted fires." [1]. He conducted his work as both researcher and consultant within a variety of organizations and corporations. Most notably, was his work for the Applied Research Laboratory where he researched the development of underwater power and propulsion systems. On October 1, 1974, Faeth was granted a patent for the United States Navy for the development of a steady heat generating reactor. In 1977, Faeth was a consultant for the Union Carbide Corporation studying the exothermic decomposition of liquids and a researcher at the National Aeronautics and Space Administration (NASA) Lewis Research Center examining aircraft emissions (1978) and combustion fundamentals (1984). He also consulted for General Motors Corporation Research Laboratories, researching internal combustion engines.

In 1979 he was awarded the Outstanding Achievement in Research Award from the College of Engineering at PSU. Faeth served as a member of the Editorial Advisory Board of Combustion Science and Technology from 1977-2002 and was a member of the Editorial Board for Combustion and Flame from 1978-1983.

Between the years of 1975 and 1985, Faeth was not only a professor of mechanical engineering at PSU, he was also the acting head for the department in 1983.4 At PSU and the University of Michigan, Faeth "taught courses in Mechanical and Aerospace Engineering at both the undergraduate and graduate level." He also directed "thirty-two post-doctoral Research Fellows, and fifty-three doctoral students in Aerospace and Mechanical Engineering, as well a Fulbright Fellow." For his excellence in teaching Faeth was given the distinction of Professor Emeritus of Mechanical Engineering at PSU in 1985, and in 1990 was honored with an Outstanding Alumnus Award. [3]

In July 1985, Faeth joined the University of Michigan as an associate research scientist and professor. Soon after he became the Arthur B. Modine Professor of Aerospace Engineering and the Head of the Gas Dynamics Laboratories, where he specialized in combustion, heat transfer, and fluid dynamics.5 Three years following this appointment, Faeth became a Fellow of the American Institute of Aeronautics and Astronautics, he won the Heat Transfer Memorial Award from the American Society of Mechanical Engineering, and the Excellence in Research Award from the College of Engineering. [3]

In 1989, "Faeth began studying the structure of soot and the conditions under which it is produced, with the aim of finding ways to control soot during the combustion process."6 His work focused on the "Laminar Soot Processes (LSP) Experiment, which flew as part of the NASA Microgravity Science Laboratory (MSL) Mission in 1997."[5] The data collected from the nearly 21 experiments conducted on that mission provided a strong base for subsequent experiments focused on laminar soot processes and had many practical applications such as the prevention of flame spread during the combustion process in engines, and the development of cleaner automobile and jet engines. He also researched microgravity conditions in spacecraft environments by conducting several experiments aboard the Space Shuttle Columbia (Flights STS-83, 94, and 107) as well as the International Space Station (ISS). Tragically, Faeth lost several of his student colleagues when the Space Shuttle Columbia disintegrated upon re-entry in 2003.7 In 1993, Faeth was again recognized for his excellence in research by the University of Michigan. In 1992 he received the Distinguished Engineering Faculty Research Award and in 1993 he was recognized with the Stephen S. Atwood Award, which is the highest award given to faculty of the engineering college.[3]

Throughout his academic, research, and consulting career, Faeth was very active in several professional associations. He sat on the board of directors of the Combustion Institute for nine years (1988-1997) and chaired several of its committees, he was an active and member and chaired several committees in the Heat Transfer Division of the American Society of Mechanical Engineers. Most prominently, he was an active member and advisor for NASA, chairing the Microgravity Research Advisory Committee and the Life and Microgravity Sciences and Applications Advisory Committee from 1997-1999. He was also the Vice-Chair for the Biological and Physical Research Advisory Committee from 2001-2005, as well as member (1998-2001) and Chair (1993-1997) of the Microgravity Combustion Science Discipline Working Group. Faeth was well-known for his role on the NASA Advisory Council where he served from 1997-1999. [3]

Faeth wrote over 500 articles and gave numerous presentations and talks, especially as an advisor for the United States Government. Some of his most critical publications center around the work he did with laminar flames and soot. Of particular note are Structure of Round, Fully Developed, Buoyant Turbulent Plumes and Turbulence Generation by Drops in Dense Sprays.

In 2005, Faeth was awarded a distinguished university professorship for his excellence in teaching and research; the highest honor the University of Michigan can bestow upon a faculty member. On January 24, 2005, Gerard Faeth died in his Ann Arbor home. The Department of Aerospace Engineering at the University of Michigan established the Gerard Faeth Memorial Fund to remember him and his many contributions to aerospace engineering and sponsors an annual memorial lecture."8 He was survived by his wife Mary Ann Faeth and three daughters- Christine Louise, Lorraine Vera, and Elinor Jean.

____________________________________

Notes:

1. Marquis Who's Who on the Web

2. ASME Fellow News Release, 2/29/1980, Folder 4 in Biographical Series.

3. History of Mechanical Engineering, Chapter 6, Pennsylvania State University Website- http://www.mne.psu.eduHistory/ch6.html

4. Gerard Faeth's Resume, Folder 8 in Biographical Series

5 "Distinguished professor dies," Michigan Daily, January 27, 2005.

6."Laminar Soot Processes: Gerard Faeth's Biography" Microgravity News, Spring 2000, NASA Marshall Flight Center in conjunction with Hampton University or http://microgravity.grc.nasa.gov/combustion/lsp/lsp_faeth.htm

7. Obituaries-Gerard Faeth The University Record Online, January 31, 2005, http://www.umich.edu/~urecord/0405/Jan31_05/obits.shtml

8."The G. M. Faeth Memorial Fund", The Combustion Institute, http://www.combustioninstitute.org/documents/TheGMFaethMemorialFund.pdf

Acquisition Information:

The papers (donor no. 9591 ) were received from Mary Ann Faeth on April 22, 2005.

Accruals:

Periodic additions to the records expected.

Rules or Conventions:

Finding aid prepared using Describing Archives: A Content Standard (DACS)
Subjects
Click on terms below to find any related finding aids on this site.
Subjects:

Formats:

Names:
Contents
Using These Materials
---
RESTRICTIONS:

The collection is open without restriction.

USE & PERMISSIONS:

Copyright is held by the Regents of the University of Michigan but the collection may contain third-party materials for which copyright is not held. Patrons are responsible for determining the appropriate use or reuse of materials.
PREFERRED CITATION:

[item], folder, box, G.M. (Gerard M.) Faeth papers, Bentley Historical Library, University of Michigan