Back to top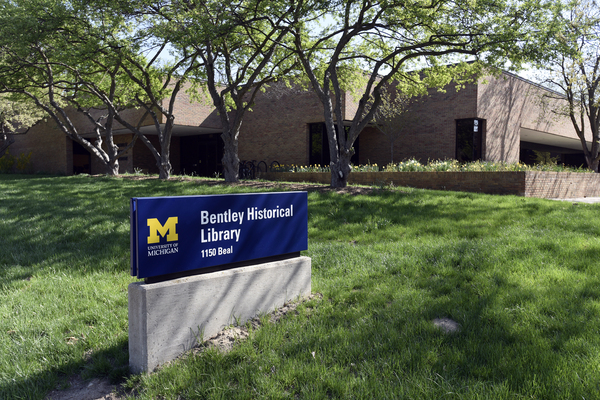 Address

:

1150 Beal Avenue

Ann Arbor, MI 48109-2113, USA
Lemuel A. Johnson papers, 1942-2002
Using These Materials
---
Restrictions:

The collection is open to research.
Summary
Creator:

Abstract:

Lemuel A. Johnson (1941-2002) was born in Maiduguri, Nigeria. An expert in African literature and the Diaspora, a literary critic, and poet, he taught English at the Fourah Bay College of the University of Sierra Leone and comparative literature at the University of Michigan. From 1985 to 1991 he served as director of the Center for Afroamerican and African Studies; author of a three-volume work of poems entitled the Sierra Leone Trilogy. and numerous works of literary criticism. Papers include biographical information, correspondence from colleagues and family, and information about his work in the Center for Afroamerican and African Studies and the Department of English Language and Literature. There are also notes and drafts of Johnson's literary criticism, poetry, and his other writings.

Extent:

6 linear feet

Language:

English

Call Number:

0574 Aa 2

Authors:

Finding aid created by Marilyn M. McNitt, July 2005
Background
Scope and Content:

The Lemuel A. Johnson papers (6 linear feet) date from 1942-2002. The papers include biographical information, correspondence from colleagues and family, and information about his work in the Center for Afroamerican and African Studies and the Department of English Language and Literature. There are also notes and drafts of Johnson's literary criticism, poetry, and his other writings. They are arranged into six series: Biographical Information, Conferences, Correspondence, University of Michigan, Writings, Materials Related to, and Writings.

Biographical / Historical:

Lemuel A. Johnson was born on December 15, 1941 in Maiduguri, Nigeria. The son of Sierra Leone natives, Thomas and Daisy Williams Johnson, he was sent to live with his grandparents in Freetown at the age of twelve. There, he was educated at the Sierra Leone Grammar School, the city's most exclusive secondary school. Already fluent in the three languages of Nigeria (Yoruba, Hausa, and Igbo), his family's language Krio, and English, he learned French and Latin. Johnson excelled in all his studies graduating with the highest score ever achieved in Africa on the Cambridge University School Leavers Examination. When Johnson left secondary school (as head boy) in 1961, he was destined to attend Cambridge University. However, the United States government, to celebrate the newly independent status of Sierra Leone, offered eleven scholarships from America's top universities and colleges, such as Harvard, Yale, and the University of California, Los Angeles, to the best Sierra Leone students. Johnson was given one and attended Oberlin College, graduating in 1965 with a degree in modern languages, and mastery of his eighth language, Spanish. He would later develop, at least, reading fluency in German, Italian, Portuguese, and Russian.

While a student at Oberlin, Johnson attended receptions held at the Sierra Leone embassy for Sierra Leonean students living in Canada and the United States. At the 1964 gathering, he met Marian Yankson, who was studying dental hygiene at Howard University. They were married on August 28, 1965, in Washington, D.C.

The government in Sierra Leone expected him to continue his language study at Georgetown University or to study diplomacy at McGill University in Montreal, Canada. Torn between a love of literature and writing and a fascination with languages, Johnson decided that he didn't want to spend the rest of his life in a translator's box at the United Nations. Instead, he decided to go out on his own and earn a master's degree in Spanish and comparative literature from Pennsylvania State University in 1966. He then moved to Ann Arbor to study in the newly established Ph.D program in the University of Michigan's Department of Comparative Literature.

Focused on literature, Johnson became a prolific writer while studying at Michigan. He wrote short stories for Generation, a student-run literary publication. He submitted collections of his short stories and essays and won two Avery Hopwood and Jule Hopwood prizes. He also translated and published two plays, Night and War in the Prado Museum (Spanish Noche DeGuerra en el Museo del Prado) written by Rafael Alberti and The People's Dreamer (Un Sonador Para Un Pueblo) by Antonio Buero Vallejo. The Smithsonian Institution and the Kennedy Center for the Performing Arts produced his translation of Alberti's play in 1971.

During this time he was also writing his doctoral dissertation, tracing "blackness in human form" in Spanish, French, Portuguese, and English literatures. The work for his Ph.D. was completed and the degree was awarded during the summer of 1969. He reworked his dissertation, and, in 1970, published it under the title The Devil, the Gargoyle, and the Buffoon. Johnson's analysis of American and European literatures concluded that for centuries these three caricatures were assigned to Africans and other dark-skinned people of the world, with destructive results for these peoples.

In 1970 Johnson, with Marian and their two American-born children, Yma and Yshelu, returned to Sierra Leone to teach English at Fourah Bay College of the University of Sierra Leone. Occasionally, he wrote columns for the Sierra Leone Daily Mail and hosted a radio show. Johnson became an outspoken critic of the colonial legacy and the social and political systems of post-independence Africa. The government in Freetown grew increasingly unhappy with his criticism, and when the University of Michigan offered him a teaching position as an associate professor in 1974, he and his family returned to the United States to stay (though they made frequent trips to Sierra Leone for visits with family and friends). In 1980 he was promoted to full professor.

Regarded as an exciting and energetic teacher, a careful and enthusiastic researcher, a gifted poet, and a brilliant colleague, Johnson was recognized for his many achievements at the University of Michigan with the presentation of the Faculty Recognition Award by the Board of Regents in 1984. In 1985 he was named director of the Center for Afroamerican and African Studies. He sought to make Black Studies and the center a vibrant part of the intellectual life of the university. He remained director until 1991. In 1992 Johnson was named the Steelcase Research Professor in the Institute for the Humanities.

While Johnson was busy on Michigan's campus, he also found time to serve the international scholarly community. He was president of the African Literature Association from 1977 to 1978 and vice president of the Association of Caribbean Studies from 1983 to 1985. He also served on the Africa Committee of the Social Science Research Council from 1985 to 1990.

During his lifetime he published three volumes of poetry entitled the Sierra Leone Trilogy (1995). These works include Highlife for Caliban (1974) documenting his early years, 1940-1960, many of which he lived in Sierra Leone. These poems, based on the rhythms of traditional Kiro songs, are meditations on his life as a native of Freetown. The second volume Hand on the Navel (1978) records the effects of colonialism on the soldiers of the Royal West Africa Frontier Force as they are sent throughout the world to defend the interests of Great Britain (1900-1940). The third volume is Carnival of the Old Coast (1984). It begins with the discovery of Sierra Leone by the British in 1789 and continues to 1900. It describes the effects of the slave trade on the people of Sierra Leone and beyond into the rest of the world. All of his volumes of poetry are rich with allusions and other languages, requiring his readers to be very well read to understand his voice.

Johnson's early work of literary criticism reflected his interest in African literature and the African Diaspora, he authored numerous works on Shakespeare, including his volume entitled Shakespeare in Africa & Other Venues: Import and the Appropriation of Culture (1998) that discusses how racial, cultural, and ethnic influences affect the interpretation of Shakespeare's universally popular works and how those works affect society. Later, he began an investigation of African eroticism variously titled (en)Countering Traditions of the Erotic in African Narratives (2001 and undated working drafts), Genesis and Genitalia (2001 and undated working drafts) and Genesis and Genitalia: African Literature and Narratives of the Sexual (undated working drafts). He also studied the issue of homosexuality in African culture in No Sweetness Here?: (dis)Counting Homosexuality (1998 working drafts) and Mahmud Bilateral, or (en)Countering Homosexuality (2001 and undated working drafts).

In September 2001 Johnson was diagnosed with cancer. He died on March 12, 2002.

Acquisition Information:

The papers were donated to the library by Mrs. Lemuel Johnson (Donor no. 9578 ) in April 2005. 9578
Subjects
Click on terms below to find any related finding aids on this site.
Subjects:

Formats:

Names:

Places:
Contents
Using These Materials
---
RESTRICTIONS:

The collection is open to research.

USE & PERMISSIONS:

Copyright is retained by Mrs. Lemuel (Marian) Johnson until April 8, 2015. Patrons are responsible for determining the appropriate use or reuse of materials.
PREFERRED CITATION:

[item], folder, box, Lemuel A. Johnson Papers, Bentley Historical Library, University of Michigan