Back to top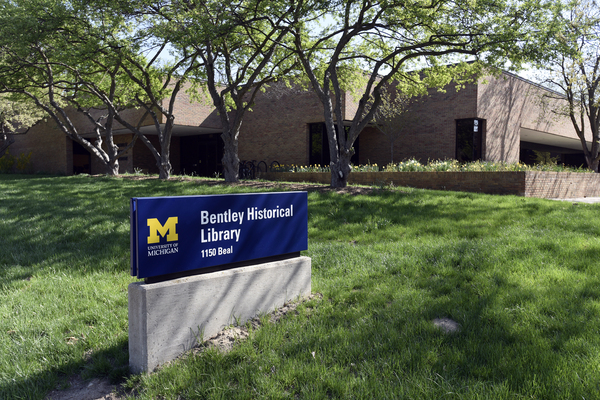 Address

:

1150 Beal Avenue

Ann Arbor, MI 48109-2113, USA
Michigan Historic Preservation Network Records, 1980-2004
Using These Materials
---
Restrictions:

The record group is open to research.
Summary
Creator:

Abstract:

Statewide organization established in part to create an awareness of Michigan's cultural heritage and architectural history and to encourage the preservation and stewardship of important state historic resources. Records document the administration and programs of the Network, including conferences, publications, training sessions, and awards given for local preservation achievements.

Extent:

9 linear feet (in 17 boxes)

Language:

English

Call Number:

0519 Bp 2

Authors:

Finding aid created by Michigan Historic Preservation Network, 2004-2005
Background
Scope and Content:

These records were assembled and processed in 2004 in preparation for a conference marking the organization's 25th anniversary. The records are organized in five series corresponding to the creators of the records.

Biographical / Historical:

The Michigan Historic Preservation Network is the largest membership organization in the state dedicated to recognizing and preserving Michigan's rich cultural and architectural heritage. Membership includes owners of residential, commercial, industrial, institutional and agricultural property; students and educators; governmental officials and appointees; archaeologists, architects and designers; landscape architects and landscapers; interior designers, contractors, developers, realtors, bankers and insurance agents; and preservation volunteers and professionals. The volunteer board of directors and staff help Network members maintain the neighborhoods where they live and the downtowns where they work, build new in ways that respect and reinforce local character, revitalize some of Michigan's oldest urban centers, adapt all types of buildings for current uses and use to best advantage the rich rural, agricultural and maritime heritage of Michigan.

The founders saw a need for a nonprofit organization that fostered the protection of the state's irreplaceable historic buildings, structures, sites, objects, features and open spaces. They saw the benefits of informing others that these were community assets appropriate for continued use or creative adaptive reuse. They wanted to give recognition to successful preservation projects and coordinate and publicize efforts across the state. Most of all, they wanted to share their experience and expertise with others.

On May 30, 1981, members of the Detroit Historic District Commission convened a meeting of fellow commissioners from around Michigan. Seeing that they had much to learn from each other, the more than 50 people who gathered that day at historic Fort Wayne decided to continue meeting. The group met on again on June 18, 1981, to develop bylaws, find dollars for a budget, establish a newsletter, and assign responsibilities for the work at hand. They chose the name "Michigan Historic District Network" to reflect their objectives to provide commissioner education, serve as an information clearinghouse, lobby for stronger state enabling legislation for local historic district ordinances, and market a compelling preservation message. Staff from Michigan's State Historic Preservation Office were on hand in Detroit, establishing from the start a close working relationship with the Network in support of its objectives.

Monroe hosted the first statewide conference that October. There, the first of the objectives was tackled: strengthening Public Act 169 (1970) to allow commissions design review over both historic and non-historic resources in historic districts.

The fledgling group soon felt overwhelmed, however, and, after the 2nd Annual Statewide Conference was hosted by Livonia in May of 1982, its efforts languished. The Network's leaders held an "emergency meeting" that fall at the historic Holly Hotel the decision was made to concentrate on education and legislation.

To conserve funds and volunteer energy, the Network piggybacked its 1983 spring conference with Wayne State University's Local History Conference. Nellie Longsworth of Preservation Action came to this initial Wayne State gathering and advised the Network on how to amend PA 169. A single-topic fall workshop then was held in the Lansing offices of the State Historic Preservation Office. This schedule of biannual meetings continued through 1986, with volunteers thus able to focus on getting PA 169 amended. Governor James Blanchard signed the amendment into law on October 1, 1986, giving commissions the right of review over all district resources.

The Network had seven years of solid programming under its belt when, with assistance from the National Trust for Historic Preservation, four "Forums" were hosted to determine Michigan's preservation needs at the close of its Sesquicentennial Year of 1987. Gathering in Grand Rapids, Durand, Marquette, and Traverse City from late 1988 to early 1989, Forum participants asked that the Network promote further strengthening of PA 169, assist with new local protective ordinances, serve as an information exchange, develop training programs, and advocate for local and state preservation efforts. In response to these objectives, the Network -- now renamed the Michigan Historic Preservation Network to reflect its expanding audience -- initiated intensive Commissioner Training Workshops in 1989, filed for incorporation that same year, secured 501(c)(3) not-for-profit status in the Fall of 1990, worked with the SHPO on their first collaborative Fall workshop in 1991, and succeeded with sweeping amendments to Public Act 169 signed into law by Gov. John M. Engler in 1992.

The Network hosted the National Trust's Midwest Regional Meeting as part of the 1993 statewide conference in Kalamazoo. By the summer of 1994, the Network had become one of seven statewide organizations competitively selected for the Trust's Statewides Initiative Program. The Initiative offered help to statewides that had no paid staff but were in a position to expand services if staff were added. When later that year the Network became one of four statewides awarded matching Trust funds, the $35,000 received allowed Jennifer Radcliff, longtime elected head of the Network, to be hired. With Jennifer on board, the Network soon implemented its first 3-year plan, its first blueprint for fundraising, and a program-driven budget.

The Network expanded programming in 1995. The statewide conference in Muskegon was the first to have sponsors and to earn a much-needed surplus to help cover salary. The Michigan Humanities Council provided funding for six barn rehabilitation workshops co-sponsored by the Network and MSU Extension. Network participation with the Detroit Heritage and Community Development Forum continued. Looking for a way to attract new members as well as fund an increased operations budget, the Network launched an Annual Fall Benefit Evening.

In 1996 the pace quickened. The Americana Foundation made a $14,000 grant to produce a video about the Network's efforts, and gave another $13,000 for promotional and membership brochures. The 1996 annual statewide conference in Ann Arbor was a breakthrough, doubling the usual audience, netting over $9,000 in gifts and sponsorships, attracting more than 50 new members, and hosting National Trust president Richard Moe as the keynoter. The Sweetwater Trail officially opened in the fall, promising to attract tourists to the back roads that lead to historic buildings and maritime sites. The first of the regional workshops developed by the Network for its Rural and Small Town Preservation Initiative was held in Boyne City, as was the 1st Annual Michigan African American Symposium with the Network as a co-sponsor.

The Construction Trades Council formally got underway in the spring of 1998. It has since become the arm of the Network bringing together trades people, contractors, design professionals, and owners of historic properties to study "lost" techniques of historic construction and present-day preservation practice. In April of 1998, the Network joined with the Michigan Historical Center and others to create the Michigan Lighthouse Project, a landmark effort to promote the transfer of over 70 Michigan lighthouses from the U.S. Coast Guard to local groups and private individuals.

January 1, 1999, witnessed the kickoff of a 25% state investment tax credit signed into law by Governor John M. Engler to benefit owners restoring historic properties in locally designated historic districts. A series of tax act workshops spread the word and has resulted in the first 70 applications for preservation projects. In the summer of 1999, the 1st Annual Fayette Field School, held in the UP's Fayette State Park, provided students academic credit and hands-on training in preservation technology and conservation. And on the 1st of December, the Network met a goal it thought it never would reach: the leasing of real office space in a historic Henry Ford cottage industries building in Clarkston. It all was reported on the Network's new web site online by year-end.

Acquisition Information:

The records were deposited by the organization in January 2005 (donor no. 9555 ).
Subjects
Click on terms below to find any related finding aids on this site.
Subjects:

Formats:

Names:

Places:
Contents
Using These Materials
---
RESTRICTIONS:

The record group is open to research.

USE & PERMISSIONS:

Donor(s) have not transferred any applicable copyright to the Regents of the University of Michigan. Patrons are responsible for determining the appropriate use or reuse of materials.
PREFERRED CITATION:

[item], folder, box, Michigan Historic Preservation Network Records , Bentley Historical Library, University of Michigan