Back to top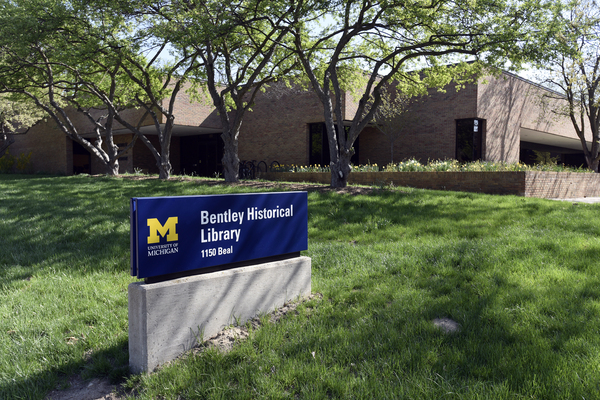 Address

:

1150 Beal Avenue

Ann Arbor, MI 48109-2113, USA
Bright Sheng papers, 1962-2004 (majority within 1982-2004)
Using These Materials
---
Restrictions:

The papers are open with the exception of certain student compositions and recordings that fall under provisions of the Family Educational Rights and Privacy Act. Access Restrictions for...
Summary
Creator:

Abstract:

Bright Sheng, a composer born in China, is also renown as a conductor, pianist, and researcher. The Bright Sheng Collection contains the papers of University of Michigan composition professor Bright Sheng. In addition to Sheng's own files and correspondence, it includes manuscript, printed, and published versions of his scores (printed scores are for musicians' use, while published scores are for a wider audience), published and unpublished recordings of his works, interviews, programs and reviews featuring his works, and work from Sheng's students. Also included are field recordings and an audio diary from the 2000 Silk Road project in China.

Extent:

11.5 linear feet
13 oversize boxes (22 boxes total)
76.6 GB (online)

Language:

English

Call Number:

0497 Aa 2

Authors:

Finding aid created by Pamela Chen, 2004 Leilani Dawson, September 2004.
Background
Scope and Content:

The Bright Sheng Collection contains the papers of University of Michigan composition professor Bright Sheng. It is comprised of 17 series: Biographical, 1982-c2000; Correspondence, 1962-2004; Professional, 1997-1998; Career, 1988-1995; Program Notes [undated]; Awards and Citations, 1984-2003; Photographs, 1985-2004; Reviews, 1986-2004; Programs, 1973-2003; Libretti, 1999-2003; Published Scores, 1988-1999; Printed Scores, 1982-2002; Manuscripts and Revised Scores, 1985-2004; Audio Recordings [undated]; Student Works, 1996-2004; Silk Road Trip, 2000; and Moving Images, 1985-2003. Together, these series document Sheng's career from his early days as a student to his current status as world-renowned composer and professor.

The first six series in the Bright Sheng Collection are extremely short, with a combined physical extent of approximately .5 linear foot. The Biographical, 1982-c2000 series is comprised of a single folder containing biographical material about Sheng. The Correspondence, 1962-2004 series contains topical files of Sheng's correspondence with colleagues in China, with his professors, and with his family, as well as a partial chronological file of correspondence falling outside of those three categories. The Professional, 1997-1998 series includes an article written by Sheng, as well as articles in Chinese about Sheng's music. The Career, 1988-1995 series contains materials related to Sheng's various appointments and positions over the years. The Program Notes series contains an article about the Sung Dynasty and the work Two Poems from the Sung Dynasty. The Awards and Citations, 1984-2003 series includes materials related to various honors Sheng has received in the course of his career, including a MacArthur 'Genius' grant and the University of Michigan's Leonard Bernstein Distinguished University Professorship.

Biographical / Historical:

Bright Sheng (1955- ) is the Leonard Bernstein Distinguished University Professor of Music in the Composition Department of the University of Michigan's School of Music. Now a widely-renowned composer, conductor, pianist, and researcher, Sheng embarked in music as a career as a teenager in China in the remote province of Qinghai, where he was sent during the Cultural Revolution. After several years performing and studying folk music and dances, Sheng was one of the first students to be admitted to the Shanghai Conservatory of Music when China's universities reopened in 1978. In 1982, Sheng moved to New York, obtaining graduate degrees at Queens College (M.A.) and Columbia University (D.M.A.). While a student, Sheng not only won praise from teachers Leonard Bernstein, George Perle, and others, but also gained citations and awards from the National Endowment for the Arts, the Kennedy Center, and several foundations.

Since 1998, Sheng has been the Artistic Advisor to the highly regarded Silk Road Project, an international program that identifies, archives, and interprets musical traditions of the peoples in the regions of the trade routes that once were the primary linkage between Europe and the Far East. In this capacity he has conducted field research in outlying provinces in China and has both published articles and composed musical works based on his experiences and findings. Other highlights of Sheng's career include several world premieres by artists and ensembles such as the Boston Symphony Orchestra, the New York Philharmonic, Yo-Yo Ma, and Emanuel Ax; collaborations with librettists Andrew Porter, Colin Graham, David Henry Hwang, and others; and numerous guest lectureships, artistic directorships, and residencies at universities and conservatories nationwide. Additionally, in 1999 Sheng was commissioned by the White House to create a new work for a state dinner honoring Chinese Premiere Zhou Rongji. In 2001, Sheng was granted the prestigious MacArthur Foundation Fellowship.

Orchestras and ensembles have recorded Sheng's music on a variety of labels. Sheng's music is published exclusively by G. Schirmer Inc., and he is represented as a conductor and pianist by Columbia Artists Management.

For a fuller biography, see Pamela Chen's essay in Appendix 1. Pamela Chen is a doctoral student in Composition at Michigan State University.

Acquisition Information:

The collection was initially received from Bright Sheng in 2004. Periodic accessions are anticipated. Donor No. 9540 .
Related
Additional Descriptive Data:

Appendix 1

Biographical Essay by Pamela Chen, Bentley Historical Library project archivist and Ph.D. student, Michigan State University, 2004

"I am 100% Chinese. I am also 100% American" is an identity Chinese-American composer Bright Sheng offers of himself. Born on December 6, 1955 in Shanghai, Sheng began to study piano with his mother at age four. During China's Cultural Revolution, he was sent to the remote province of Qinghai, where for seven years he performed as a pianist and percussionist in a folk music and dance troupe. He also collected and studied folk music during his years in Qinghai. When China's universities reopened in 1978, he was among the first students with the best grades who were admitted to the Shanghai Conservatory of Music. He earned his undergraduate degree in music composition there. He moved to New York City in 1982, and received graduate degrees there at Queens College (M.A.) and Columbia University (D.M.A.). Among his important teachers were Leonard Bernstein (composition and conducting), George Perle, Hugo Weisgall, Chou Wen-Chung, and Jack Beeson.

"Give me five years. If I do not succeed as a musician, I will choose another profession." Bright Sheng made this promise to his father the year after his arrival in the United States, at a time when his father was pushing him to change his mind from music to business. His father had warned him that, "music will never make you a good living." Bright Sheng's talent, however, emerged of its own accord soon after he had given his word to his father. In addition to the awards he received in China and Europe, Sheng also received a number of prizes in the United States already as a student: from the National Endowment for the Arts; American Academy and Institute of Arts and Letters; the Guggenheim, Rockefeller, Naumberg, Jerome, Koussevitzky, and Copland foundations; the Mary Flagler Cary Charitable Trust; the Kennedy Center; and Tanglewood Music Center.

In 2001, Sheng was the recipient of the Michigan Arts Award and a Rackham fellowship from the University of Michigan. He has been a member of the composition faculty at the University of Michigan since 1995, and now holds the title of Leonard Bernstein Distinguished University Professor of Music. In April 1999, at the invitation of President William Clinton, Sheng received a special commission from the White House to create a new work for a state dinner. The resulting Three Songs for Pipa and Cello was premiered by soloists Wu Man and Yo Yo Ma during a dinner hosted by the president at which the Chinese Premiere, Zhou Rongji, was honored. Of all of Sheng's awards, the most significant is the so-called "Genius Award" -- the MacArthur Foundation Fellowship. Awarded in November 2001 with a cash prize of $500,000, Sheng was proclaimed by the Foundation Committee to be "an innovative composer who merges diverse musical customs in works that transcend conventional aesthetic boundaries." His music was further described as "a fresh voice in cross-cultural music." The foundation committee anticipated that "Bright Sheng will continue to be an important leader in exploring and bridging musical traditions."

Inspired by the folk music of China, Bright Sheng's music is noted for its lyrical, limpid melodies, particularly from Qinghai; a Shostakovich sense of breath in the music phrases; a Bartokian sense of rhythmic propulsion; and musical and theatrical gestures borrowed or derived from Chinese opera. Sheng's works are also well known for their dramatic style and historical signification. Two of his major orchestral works were indeed inspired by events in recent Chinese history. They are H'un: In Memoriam 1966-76 and Naking! Nanking!, a work for pipa and orchestra honoring those who endured the atrocities of the Rape of Nanjing.

Within the first week of the new century, Bright Sheng had two world premieres. One was Naking! Nanking commissioned and premiered on January 2, 2000 by the North German Radio Symphony Orchestra in Hamburg, and conducted by Christoph Eschenbach. The other was Red Silk Dance, a piano concerto premiered on January 6, 2000 by the commissioning Boston Symphony Orchestra in Hamburg, with the soloist Emanuel Ax and conductor Robert Spano. Around the same time, there were major performances of Sheng's instrumental music. These included the world premiere of Tibetan Dance (2001) by the Verdehr Trio; the New York premieres of Red Silk Dance (Ax, Masur, New York Philharmonic); Naking! Naking! (Spano, Brooklyn Philharmonic); Flute Moon (Schwarz, New York Chamber Symphony); China Dreams (Spano, Saint Louis Symphony); and Leonard Slakin's presentation of H'un with the National Symphony in Washington, D.C. H'un had been commissioned and premiered in 1988 by the New York Chamber Symphony. This frequently performed piece, of "naked emotionalism ...a battle of the spirit" according to The New York Times, is Sheng's landmark portrait of the Chinese Cultural Revolution. It established his reputation as a composer and has been performed by major orchestras around the world, including the New York Philharmonic, Chicago Symphony, Cleveland Orchestra, and Tokyo Philharmonic. Kurt Masur and the New York Philharmonic performed H'un in six cities on their 1993 European tour; in 1994, it was also featured at the Warsaw Autumn Festival.

In 2002, Spano led the world premiere performance, with the Brooklyn Philharmonic, of Sheng's spirited Tibetan Swing, a ten-minute concert opener based upon a Tibetan dance rhythm and co-commissioned by the Singapore Symphony; the Dortmund Philharmonic performed Naking! Naking! under the direction of Arthur Fagen, the city's general music director; Hugh Wolf conducted Postcards with Frankfurt's Radio-Symfonie-Orchester; and the Dusseldof Symphony, conducted by John Fiore, gave the European premiere of Tibetan Swing. The Liverpool Philharmonic, under the guidance of its music director Gerard Schwarz, one of the composer's first champions in the West, offered concerts of Sheng's chamber music as well as performances of H'un. In March 2003, Carnegie Hall presented a Sheng Portrait concert in their "Making Music" series with members of the New York Philharmonic; and the New York Philharmonic, featuring soloists Yo-Yo Ma and Emanuel Ax conducted by David Zinman, premiered a major commission by Sheng: a quadruple concerto for cello, piano, pipa, and sheng entitled the Silk Road Region in the Summer of 2000.

In early February 2004, Bright Sheng enjoyed another world premiere, as Gerard Schewarz led soprano Jane Eaglen and the Seattle Symphony in the first performance of the orchestral song-cycle The Phoenix. Based on Hans Christian Andersen's mythical bird with Sheng's own English lyric adaptation, The Phoenix was co-commissioned by the Danish Radio Orchestra for the coinciding occasions of the Seattle Symphony's centennial celebration and for the bicentennial birthday of Andersen. In April 2004, the Seattle Symphony and Eaglen brought the work to Carnegie Hall for its New York premiere. Other firsts of Sheng around this time include the ISCM World Music Days 2003 presenting the Slovenian premiere of his Concertino for Clarinet and String Quartet by soloist Mate Bekavac and the Tartini String Quartet; Orchestra Luxembourg's national premiere of Flute Moon; the world premiere of his new choral work for young voice, The Boatmen's Song, performed by the Young People's Chorus of New York City in April 2004; and the Asian premiere of his quadruple concerto The Song and Dance of Tears by The Silk Road Ensemble (featuring Yo-Yo Ma) and the Singapore Symphony in June 2004.

Bright Sheng's compositional gifts have also shown him to be a natural for the theater. In July 2003, the Santa Fe Opera presented the world premiere of Madam Mao. This two-act opera portrays Jiang Qing, Chairman Mao's repressed, vengeful wife who was one of the leading architects of the disastrous Cultural Revolution that nearly destroyed China. Set to a libretto by its stage director Colin Graham, the work garnered worldwide acclaim. Heidi Waleson of The Wall Street Journal wrote that, "The opera begins and ends with the body of Jiang, who hanged herself in prison, dangling from the roof; in between, Mr. Sheng offers us an artist's insight and understanding of that startling image. She adds that, "Stylistically, Sheng is a master of fusion." Deborah Baker from The Daily Camera.com wrote that, "Sheng's writing for the voice is quite beguiling, with ruminative duets with wistful melodies, cushioned by subdued orchestral music that finds common ground between wide-space Coplandesque harmony and the pentatonic elements of Chinese idioms. The orchestra writing is brilliant." Said Anthony Tommasini, The New Yotk Times, "Sheng's [style] is an exquisite blend of the musical East and West." Mark Swed, Los Angeles Times, observed that, "Every aspect of this production was magnificent. No scene is too long, and there is plenty of contrast between violence and warm lyricism. Sheng's music is eclectic and the scoring is imaginative." Michael Kennedy, the Telegraph (London), called it "...extraordinary music and a riveting evening in the theater."

Sheng's important works for the theater have extended to dance. In 2002, choreographer Helgi Tomasson compiled for the San Francisco Ballet three of Sheng's extant pieces as a new work entitled Chi-Lin. (The title refers to the unicorn, one of the four mythical beasts in Chinese mythology). Sheng conducted the premiere of Chi-Lin, as well as the company's tour performances in New York City. Chi-Lin was also presented at the Kennedy Center in Washington, D.C. by the troupe. At the North Carolina Dance Theater, Jean-Pierre Bonnefoux choreographed Sheng's Four Movements for Piano Trio as the work Zoomin'.

In the summer of 2000, the Spoleto USA Festival unveiled one of Bright Sheng's most important recent works: a multi-cultural music theater piece entitled The Silver River (1997; rev. 2000). Based on an ancient Chinese tale about star-crossed lovers, and set to a libretto by David Henry Hwang, this visually stunning production was directed by Ong Keng Sen, the Singaporean director well-known for a creative fusion of diverse Asian theatrical genres. The Silver River has been performed subsequently in Philadelphia at the Prince Music Theatre Festival; in Singapore; and in July 2002 it was a highlight of the Lincoln Center Festival in New York, where it was accompanied by concerts of, and symposia on, Sheng's music.

While serving as composer-in-residence for the Lyric Opera of Chicago from 1989 to 1992, Sheng wrote The Song of Majnun (1992) -- a one act "Persian Romeo and Juliet" -- in collaboration with librettist Andrew Porter. Majnun has subsequently received five other productions nationwide and was recorded by the Houston Grand Opera on the Delos label. Sheng's musical passion will also soon materialize as a Broadway show. He is currently working on a Broadway show to be based on one of China's four famous stories, The West Journey.

Bright Sheng has collaborated with many distinguished musicians including Leonard Bernstein, Kurt Masur, Christoph Eschenbach, Gerard Schwarz, Leonard Slatkin, David Zinman, Neemi Jarvi, Robert Spano, Hugh Wolff, Yo-Yo Ma, Peter Serkin, Emanuel Ax, and Cho-Liang Lin. In addition to the ensembles mentioned above, many other organizations have commissioned and performed his works including the Boston Symphony, Philadelphia Orchestra, the Los Angeles Philharmonic, Houston Symphony, Seattle Symphony, Saint Paul Chamber Orchestra, Carnegie Hall, the CBC Radio Orchestra, Winnipeg Symphony, Orchestra Luxembourg, the Shanghai Symphony, Singapore Symphony, the Danish and Finnish Radio Symphony Orchestras, Hong Kong Philharmonic, Orchestre de Paris, Orchestra Sinfonica dell'Accademia Nazionale de Santa Cecilia, Italy, the BBC Symphony Orchestra, Rotterdam's Philarmonisch Orkest, Frankfurt Radio Symphony, Royal Liverpool Philharmonic Orchestra, National Symphony of Russia, National Symphony of Spain, the Chamber Music Society of Lincoln Center, the Tanglewood and Aspen music festivals, the Cheltenham (U.K.) International Music Festival, and the Hong Kong Arts Festival.

In addition to composing, Sheng enjoys an active career as a conductor, concert pianist, university scholar, and frequent music advisor and artistic director to leading orchestras and festivals. He has performed in many of the world's most important music venues, including Lincoln Center, Carnegie Hall, and the Kennedy Center. He has been a guest conductor and pianist with the San Francisco Symphony, New York Chamber Symphony, Seattle Symphony Orchestra, Royal Liverpool Philharmonic Orchestra, Vancouver Symphony Orchestra, Hong Kong Chinese Orchestra, China National Symphony Orchestra, New West Symphony Orchestra, Lexington Symphony Orchestra, Orchestra 2001 (Philadelphia), Asian Youth Orchestra, San Francisco Ballet, Lincoln Center Festival, Tanglewood Music Center, Prince Music Theater (Philadelphia), Spoleto Festival, Brevard Music Festival, Silk Road Project Workshop (Tanglewood Music Center), Bravo! Vail Valley Music Festival Bowdoin Summer Music Festival, Santa Fe Chamber Music Festival, Chamber Music Society of Lincoln Center, La Jolla Chamber Music Festival, Seattle International Music Festival, Seattle Chamber Music Festival, and University of Michigan Contemporary Direction.

Since 1998, Bright Sheng has been the Artistic Advisor to the highly regarded "Silk Road Project," an international program that identifies, archives, and interprets musical traditions of the Far Eastern trade route. In 2002, Sheng was Director of the Festival of Contemporary Music at Tanglewood. He has also served as composer-in-residence for the Art Institute of Chicago (April 2003); the Brevard Music Festival (June 2003 and June 2004); the Winnipeg New Music Festival (2001); co-Artistic Director (with Gerard Schwarz) of the Seattle Symphony's "Pacific Rim" Festival (2001); Artistic Director of the San Francisco Symphony's "Wet Ink 93" Festival; and Composer-in-Residence with the Santa Fe Chamber Music Festival (1993). From 1992 to 1995, he was the resident composer with the Seattle Symphony. Bright Sheng currently serves as a featured composer and performer at the Pacific Symphony's 2004 Chinese American Composers Festival. His chamber music will be highlighted at the Chamber Music Society of Lincoln Center, as they present their commissioned work Concerto for Clarinet and String Quartet as part of society's 35th anniversary season.

As a scholar, Sheng has published a number of articles. These include Melodic Migration along the Silk Road-Northwest China (2002); The Love Songs of Qinghai (1995) published by Asian Art & Culture, Sackler Gallery, Smithsonian Institution; Bartok, the Chinese Composer (1998), published by Freer Gallery, Smithsonian Institution; H'un (Lacerations): in Memoriam 1966-1976 for Orchestra (1995) by Perspectives of New Music; Leonard Bernstein: Portrait of the Artist by a Young Man (1989) by Ear Magazine of New Music. Sheng has also undertaken translations of Brahms' Ein Deutsches Requiem, from German to Chinese, in 1996, as well as an adaptation from Danish into English, in 2003, of Hans Christian Andersen's story The Phoenix for his own lyric adaptation.

Sheng has taught at the University of Michigan since 1995. His courses have included: Composition, Graduate Seminar in Composition, Undergraduate Seminar in Composition, Orchestration I (Theory 371), Advanced Orchestration (Theory 471), Creative Composition (Composition 421), Advanced Orchestration (Theory 471), and Turning Points (a cross-disciplinary course with faculty from Department of English and School of Arts). During summers, he has served as guest conductor and composer giving concerts and master classes at Bowdoin Summer Music Festival, Tanglewood Music Center, Brevard Music Center, and Atlantic Center for the Arts. In the summers of 1992 through 1994, he taught at the Young Composer Workshops with the Seattle Symphony Orchestra. During 1994-1995, Bright Sheng taught at the University of Washington, where he offered courses entitled Composition, Composition Seminar, 20th Century Counterpoint, and Advanced Theory.

Sheng has given numerous lectures in many universities including:

Princeton University (1992)
Harvard University (1994)
University of Chicago (1992-1996)
Northwestern University (1991-92)
City University of New York (1988-98)
University of Pennsylvania (1998-99)
University of Minnesota (1990)
University of Pittsburgh (2000)
Indiana University (1999)
University of Cincinnati (1995-02)
Duquesne University (2000)
University of Maryland (1991)
University of California at Los Angeles (1994)
Carnegie Mellon University (2000)
University of Iowa (1993)
University of Colorado (1993)
University of Kansas (1994)
University of Hawaii (1998)
De Paul University (1992)
Ohio State University (2002
University of Ohio at Bowling Green (1988-03)
The Julliard School, NY (1993-00)
Curtis Institute, PA (2001-03)
New England Conservatory, ME (1990)
Cleveland Institute, OH (1996-98)
Peabody Conservatory, MA (1991)
Mannes College of Music, NYC (1999-03)
St. Mary's College, ME (1997).

Bright Sheng's music is published exclusively by G. Schirmer. As a conductor and pianist, he is represented worldwide by Columbia Artists Management (www.cami.com). His discography includes recordings on the Sony Classical, BIS, Delos, Koch International, New World, and Naxos labels.
Subjects
Click on terms below to find any related finding aids on this site.
Subjects:

Formats:

Names:

Places:
Contents
Using These Materials
---
RESTRICTIONS:

The papers are open with the exception of certain student compositions and recordings that fall under provisions of the Family Educational Rights and Privacy Act.

Access Restrictions for University of Michigan Records

University records are public records and once fully processed are generally open to research use. Records that contain personally identifiable information will be restricted in order to protect individual privacy. Certain administrative records are restricted in accordance with university policy as outlined below. The restriction of university records is subject to compliance with applicable laws, including the Michigan Freedom of Information Act.

Categories of Restricted Records

Student educational records: FERPA's protection of personally identifiable information in a student's education records ends at the time of a student's death and therefore is a matter of institutional policy. As a courtesy to the families of recently deceased students who were enrolled at the time of death, the University generally will not release information from their education records for five years without the consent of the deceased student's next of kin. Eighty-five (85) years after the date the records were first created, the University will presume that the student is deceased. Thereafter the student's education records will be open. Student records at the Bentley Historical Library are restricted for eighty-five (85) years, but may also be made available upon proof of the death of the student.

Restricted files are indicated in the contents list of the collection's finding aid with a restriction note indicating the restriction type and the date of expiration.

For further information on the restriction policy and placing Freedom of Information Act requests for restricted material, consult the reference archivist at the Bentley Historical Library (bentley.ref@umich.edu) or the University of Michigan Freedom of Information Office website (https://foia.vpcomm.umich.edu/).

USE & PERMISSIONS:

Copyright on certain items in the collection, such as student materials, reviews, and printed programs, remains with their creators. Patrons are responsible for determining the appropriate use or reuse of materials.
PREFERRED CITATION:

[item], folder, box, Bright Sheng Papers, Bentley Historical Library, University of Michigan