Back to top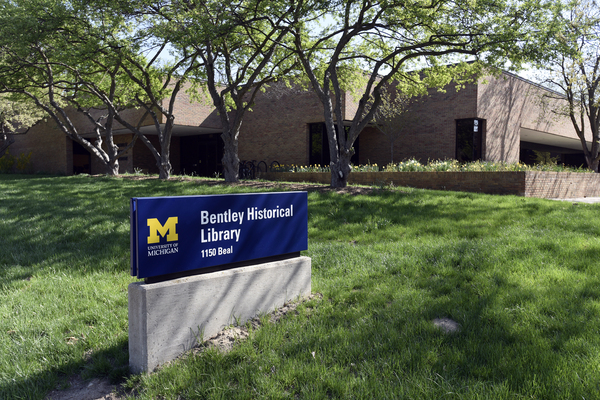 Address

:

1150 Beal Avenue

Ann Arbor, MI 48109-2113, USA
Sherwin T. Wine papers, 1930s-2011
Using These Materials
---
Restrictions:

The collection is open to research.
Summary
Creator:

Abstract:

Sherwin T. Wine was the iconoclastic founder of Humanistic Judaism and an openly gay rabbi who established the Birmingham Temple and formed the Society for Humanistic Judaism, the Center for New Thinking (a community forum for discussion of current events and issues), and various groups devoted to free thought and humanism. Papers include biographical content, correspondence, writings, educational and worship materials, sound recordings, visual materials, and various organizational records.

Extent:

36.5 linear feet (in 42 boxes)
1 oversize folder

Language:

English

Call Number:

045 Aa 2 UAm

Authors:

Finding aid created by Michelle Sweetser (2003); Michael Shallcross (2009)
Background
Scope and Content:

The Sherwin T. Wine papers illustrate the intellectual traits and organizational acumen of a man who devoted his life to the establishment of a new branch of Judaism and the advancement of humanistic values and rationalism. The collection will be of value to those individuals who seek a deeper understanding of Wine as a person as well as the founder of Humanistic Judaism. Writings, correspondence, and clippings detail the process by which Wine broke free from the traditions of Reform Judaism to found a new denomination. Materials from the Birmingham Temple and other Secular Humanist Judaism organizations trace the development and expansion of the movement. Content related to the many other groups with which Wine was involved reveal an individual able to organize and inspire others to act at local, national, and international levels.

Biographical / Historical:

Rabbi Sherwin T. Wine was born in Detroit, Michigan on January 25, 1928 to Polish immigrant parents (Tieblei, or "Tillie," and Herschel, who changed the family name from Wengrowski upon his arrival in America). The public schools he attended in Detroit had largely Jewish student bodies and he was raised in an environment of Conservative Judaism, with a kosher home and regular observance of Shabbat. He attended the University of Michigan where he became interested in empirical philosophy as well as the humanistic outlook of some professors. After earning a B.A. and M.A. in philosophy, Wine decided to join the clergy rather than pursue a Ph.D and he enrolled in Reform Judaism's Hebrew Union College in 1951.

Following his ordination, Wine volunteered for the U.S. Army as a chaplain and he served briefly as an assistant rabbi at Detroit's Temple Beth El prior to his induction. Deployed to Korea in January 1957, Wine returned to Detroit in November 1958 and resumed his duties at Beth El. He remained there until 1959 at which point he founded a Reform congregation in Windsor, Ontario. While he had always been skeptical of orthodox religion, it was during this time that Wine's philosophic doubts about the nature of God grew stronger. When a sympathetic group of eight families from suburban Detroit approached him in 1963 with the idea of forming a new congregation, he jumped at the opportunity.

The Birmingham Temple was established in 1963 and held its first service at an elementary school on September 15, 1963. Wine's approach to Judaism de-emphasized the significance of a higher power, and instead extolled Jewish history and culture and promoted humanistic values. To express more accurately the true beliefs of his congregation, Wine eliminated the word "God" from his services so that a phrase such as "You shall love the Lord your God," became instead "We revere the best in man." This stance helped lay the foundations for Humanistic Judaism as a distinct alternative to other established denominations within the Jewish faith (Orthodox, Conservative, Reform, and Reconstructionist). At a basic level, Humanistic Judaism was based upon the belief that humans may achieve meaningful lives within themselves and have the power and responsibility for their own lives and actions without divine intervention.

These bold innovations courted controversy; by 1965, coverage in the Detroit Free Press, Time, and the New York Times had publicized the Birmingham Temple's exclusion of God from their service. Wine was asked to recant or leave the Jewish tradition, and the Council of Orthodox Rabbis in Detroit publicly denounced Humanistic Judaism. The congregation was expelled from the Masonic temple where they had begun to meet and the temple eventually relocated to Farmington Hills where a newly built facility opened in 1971. Despite these challenges, Wine's message found an increasingly receptive audience: the Birmingham Temple grew to 140 families by 1965 and over 400 by the time of his death in 2007. As of 2009, Humanistic Judaism has over 50,000 followers worldwide in more than 100 congregations.

Wine devoted his life to the advancement of Humanistic Judaism; in a personal statement from the 1990s, he wrote "Throughout the years of my work as a Jewish educator, my motivation has remained the same--to create the educational framework for a viable Secular Humanistic Judaism." In 1969, the Birmingham Temple and likeminded congregations in Illinois and Connecticut formed the Society for Humanistic Judaism to better promote the religion throughout the United States and develop educational and programmatic materials. The movement would later expand its reach with the 1986 creation of the International Federation of Secular Humanistic Jews (IFSHJ), for which Wine served as the founding chair. While the IFSHJ would serve as the global expression of the faith, Wine had already begun to strengthen the foundations of Humanistic Judaism the previous year (1985) with the inauguration of the International Institute for Secular Humanistic Judaism (IISHJ) in Jerusalem. Wine, who served as the Dean and Provost of the IISHJ's North American branch (which would be located at the Ben and Lorraine Pivnick Center for Humanistic Judaism in Farmington Hills, MI), envisioned the Institute as the intellectual and educational arm of the IFSHJ. From its inception, the IISHJ's primary purposes were to commission and publish materials for the movement and to train rabbis, leaders, teachers, educators and spokespersons. This second goal was realized more fully with its initiation of a Rabbinic Program for the training of Humanistic rabbis in 1991; the curriculum includes Institute studies with the acquisition of a PhD in Judaic Studies from a secular university. Although he had retired from the Birmingham Temple in 2003, Wine remained active in the movement until his untimely death in 2007.

Beyond his work as a rabbi and founder of Humanistic Judaism, Wine was a passionate advocate for humanist values in general. In 1976, he established the Center for New Thinking as a community forum for emerging thinking in religion, politics, arts, sciences, and philosophy. Wine's lectures, forums, and seminars examined literature, notable biographies, and current and historical events to help his audiences better understand the world and confront the challenges of everyday life. Although Wine served as director and chief lecturer of the Center until his death, he would become involved with a variety of other groups. Dismayed by the rise of right-wing fundamentalism in the early 1980s, he helped found the Voice of Reason (it would merge with the Center for Moral Democracy in 1982 and become known as Americans for Religious Liberty) to advocate for the separation of church and state. Wine was also responsible for the formation of the North American Committee for Humanism (NACH) and its affiliated Humanist Institute in 1982. Wine served as the president of the NACH, a confederation of the six major humanist organizations in North America, as well as its Institute, a graduate school in New York City that trains humanist leaders, until 1993. In addition, Wine founded the Conference on Liberal Religion (an association of liberal religious professionals) in 1985 and an advocacy group called Clergy and Citizens United in 1995 and served on the board of the Triangle Foundation and the Arts Foundation of Michigan. To recognize his lifelong contributions, the American Humanist Association named Wine Humanist of the Year in 2003. Past recipients of the award, which was established in 1953 to recognize individuals who have made "a significant contribution to the improvement of the human condition," include Betty Friedan, Carl Sagan, Stephen Jay Gould, Kurt Vonnegut, Margaret Sanger, and Jonas Salk. More recently, Wine continued to lecture frequently in the Detroit area and in 2007 helped found the advocacy group Scientists and Citizens United to counter reactionary responses to issues such as stem cell research. Sherwin T. Wine died in a car accident on July 21, 2007 while on vacation in Essaouira, Morocco with his longtime life partner Richard McMains.

Acquisition Information:

The first accession was received from Sherwin T. Wine (donor no. 9404 ) in December 2003; additional materials were received from the International Institute for Secular Humanistic Judaism (donor no. 10153 ) in 2009.

Accruals:

No further additions to the papers are expected.

Rules or Conventions:

Finding aid prepared using Describing Archives: A Content Standard (DACS)
Contents
Using These Materials
---
RESTRICTIONS:

The collection is open to research.

USE & PERMISSIONS:

Donor(s) have not transferred any applicable copyright to the Regents of the University of Michigan. Patrons are responsible for determining the appropriate use or reuse of materials.
PREFERRED CITATION:

[item], folder, box, Sherwin T. Wine papers, Bentley Historical Library, University of Michigan