Back to top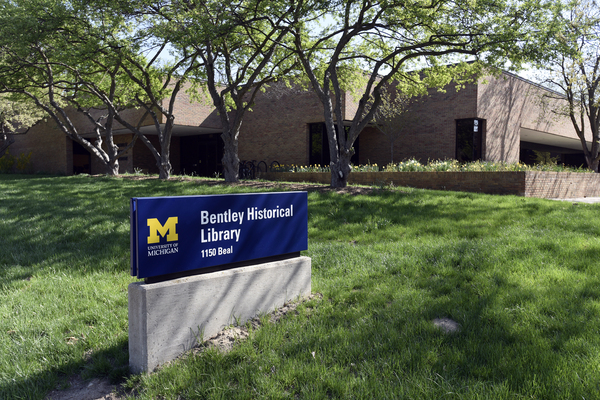 Address

:

1150 Beal Avenue

Ann Arbor, MI 48109-2113, USA
Learning Disabilities Association of Michigan Records, 1965-2003, (Majority of material found within 1975-1998)
Using These Materials
---
Restrictions:

The records are open without restriction.
Summary
Creator:

Abstract:

The records of the Learning Disabilities Association of Michigan (LDAM) document the history, activities, and affiliations of the organization over its more than forty years of existence. The organization has played an important role in helping to influence the crafting of Michigan's special education laws. It continues to pursue its mission of enhancing the quality of life for all individuals with learning disabilities and their families through advocacy, education, training, service and research. Contained herein are also materials of affiliated organizations (CAUSE), commissions (SEAC), grant projects, and publications concerning learning disabilities and special education in Michigan with which the LDAM has affiliated itself.

Extent:

3.75 linear feet

Language:

English

Call Number:

0435 Bh 2

Authors:

Finding aid created by Josue Hurtado, February 2004
Background
Scope and Content:

The records of the Learning Disabilities Association of Michigan document the administration, activities, and history of this organization and members who have participated in its activities programs since its founding in 1962. The record group is divided into three distinct series: Organization and Administration; Activities; and Affiliated Organizations and Activities.

Biographical / Historical:

The Learning Disabilities Association of Michigan (LDAM) is devoted to defining and finding solutions for the broad spectrum of learning disabilities. The organization is affiliated with the Learning Disabilities Association of America, the largest non-profit volunteer advocacy organization for individuals with learning disabilities. There are nearly 300 state and local affiliates of the Association, totaling more than 40,000 members. The Learning Disabilities Association of Michigan began during the 1962-1963 school year as a result of a special education program established by the Oakland County Intermediate School District called the "Perceptual Development Program." Parents of the sixteen children involved in the program started meeting under the auspices of the Oakland County schools. It was out of these meetings that LDAM was ultimately established.

The Perceptual Development Program was conceived by Jean Lukens with funding from the Physically and Otherwise Health Impaired Act (POHI) of Michigan and provided weekly occupational, physical, speech, and language therapy as part of an educational approach meant to address the learning needs of each child in the project. Teachers were specially trained by Ms. Lukens at Wayne State University for about a year before the program began in 1962. Ms. Lukens also organized and sponsored several meetings of parents whose children were enrolled in the program.

In spring of 1962 the Royal Oak Tribune featured a favorable article which described the program and named Ms. Lukens as a contact. As a result of this article for the next several months Ms. Lukens received hundreds of phone calls from parents who believe that their children could benefit from such a program. Parents of children in the program also pressed for an expansion of the program. By the end of the 1962-1963 school year this small group of parents whose children were in the Perceptual Development Program decided to organize an independent association in order to advocate for improved educational services for children with learning disabilities. This association was named the Michigan Association for Children with Learning Disabilities (MACLD, later the LDAM).

The first officers of the MACLD were Ruth Katzman (President), Al Katzman (Vice President), Fran King (Membership Secretary), and C.P. "Connie" Bittner (Treasurer). Regular monthly meetings began during the 1963-1964 school year. The MACLD also assembled a group of advisors which included psychologists, neurologists, and medical doctors from Wayne State University, the University of Michigan, and Children's Hospital of Michigan.

The nonprofit Articles of Incorporation were filed in August 25, 1965. The stated principle purpose of the Association was "to advance the education and general welfare of children and youth of normal or potentially normal intelligence who have learning disabilities of a perceptual, conceptual, or coordinative nature, or related problems." At the time the total budget of the Association was $55. Activities were performed by members out of their own homes and out of their own pockets. The first LDAM office was located in Royal Oak. The office has moved several times since its founding and the organization is now headquartered in Lansing.

The Association of Children with Learning Disabilities, a national organization, approved the full charter of the MACLD on March 7, 1969 at the National Conference in Chicago. The name of the Association was changed to the Michigan Association for Children and Adults with Learning Disabilities in 1980. In 1989 the name was changed to its current form, the Learning Disabilities Association of Michigan.

In 1966 the Association established fifteen regional chapters. Eventually, over thirty chapters were established in both the upper and lower peninsulas. These local chapters held coffees, had educational meetings, lent support to parents, approached schools, held day and residential camps, implemented educational programs, published newsletters, and wrote letters to support the organization in statewide and national lobbying efforts.

From the start the association applied pressure to local school boards and administrations by focusing on the perceived failure of the educational system to adequately address the needs of children with learning disabilities. They also developed various projects to specifically address these needs including Project Genesis, Swim-Gym, several educational camps throughout Michigan, and the "Bucket-Brigade" tutoring program.

The "Bucket Brigade" was one of the more successful activities performed by LDAM chapters. The "Bucket Brigade" was a concept first designed by Barbara Thompson as a master's thesis in 1970. The concept was for parent volunteers to go into schools with their "bucket" of flash cards and to work with children with learning disabilities. Chapters throughout the state developed "bucket" programs in their schools. This enlarged concept was taken to several national conferences and it spread to other states and countries.

Parent training has also been an integral part of the LDAM's mission. Beginning during the 1972 school year LDAM chapters began sponsoring parent training in an effort to educate parents about new laws, their rights and responsibilities, and ways to improve their learning disabled children's educational experiences.

In order to share information and communicate with its members the LDAM begin publishing a newsletter called the "Outlook" in the early 1960s. At first published monthly to coincide with the meetings, it later was published twice a month and has since developed into a bimonthly newsletter.

The LDAM's first conference was held at Farmington High School in 1967. Conferences have been held yearly since 1968 and have attracted educators, parents, social workers, psychologists, vocational rehabilitation counselors, and personnel from facilities for incarcerated youths and adults. National leaders in the field of learning disabilities have attended and presented at these conferences.

Legislatively, the organization's first impact came in 1967 when they sought to explicitly include learning disabilities in state special education funding. Former state Senator Sander Levin became the Association's lobbyist in Lansing and, together with Advocacy and Resource Center of Michigan and the Michigan Association for Emotionally Disturbed Children, the LDAM played an instrumental role in enacting PA 198 in 1968 which included learning disabilities as an impairment.

The LDAM then worked vigorously on defining the term "learning disabilities" in the legislation as well as codifying the certification of teachers, teacher/student ratios, and other educational requirements for people with learning disabilities. Weekly trips were made to Lansing to attend Department of Education meetings or meet with legislators. The Lansing chapter was especially involved in these activities. The Department of Education promulgated further rules to formalize the Compliance Section of the Department after the LDAM filed several complaints demanding the de-funding of noncompliant Learning Disabilities programs during the 1971-1972 school year. The Compliance Section was established and the Department did, indeed, de-fund a noncompliant Learning Disability program in Oakland County. During this same year many hearings were held regarding compliance issues with the LDAM representing families of children with learning disabilities at no cost.

Early on several members of the LDAM played important roles in helping to guide and develop Michigan's special education policy. Nan Hinrichsen, then president of the MACLD, was appointed to the State Advisory Committee for Special Education and served from 1970 to 1973. Around the same time another Association member, Diane Dingman, was named to the State Education Advisory Committee and served throughout the 1970s. Through this and other forms of member participation and advocacy the LDAM was able to influence the development and implementation of Michigan's special education legislation.

As a national legislative effort to pass a federal law for special education began in 1973, the LDAM began another letter writing campaign to their national senators and representatives requesting the inclusion of learning disabilities into federal law. Partly as a result of their efforts, learning disabilities were included in legislation known as the Individuals with Disabilities Education Act (IDEA) passed in 1975. The LDAM remains an active participant in the monitoring and development of federal laws governing the education of children and adults with learning disabilities.

The LDAM is affiliated with several other special education organizations and committees, two of which are also documented in this collection: the Citizens Alliance to Uphold Special Education (CAUSE) and the Special Education Advisory Committee (SEAC), part of Michigan's Department of Education

CAUSE is a coalition which provides a forum for special education consumers and providers to exchange ideas and information with other groups in the state of Michigan. CAUSE also provides information to decision-makers to assist them in formulating policy. The CAUSE Board of Directors consists of 51% or more representation of persons with disabilities or parents of persons with disabilities.

CAUSE was founded in 1975, but its roots go back to 1970, when several consumer and provider organizations interested in special education formed the Citizens Committee for Mandatory Special Education. The committee drafted Michigan's Mandatory Special Education Law (Public Act 198) and worked to achieve its passage in 1971. In the years since its founding, several groups have joined the alliance including the Learning Disabilities Association of Michigan.

In 1984, CAUSE became the designated Parent Training and Information Center for the state of Michigan. Today the Michigan Department of Education, Special Education Services, funds a portion of CAUSE information and referral activities and other services for parents

Representatives of CAUSE monitor the activities of the Legislature, State Board of Education, and other bodies affecting special education services. CAUSE initiates programs and projects to improve services to students with disabilities, keeps its members informed of policy developments regarding special education, and formulates methods to coordinate the activities of parent advisory committees and local consumer and provider organizations. CAUSE also informs policy and decision-makers of relevant factors regarding new or revised legislation, rules, or policies, represents parents and educators at the national level, provides free workshops, information, and support, and participates in statewide and national activities that have an impact on persons with learning disabilities and their families.

These materials also document the LDAM's activities as a part of the Special Education Advisory Committee (SEAC). The LDAM plays an important role on SEAC and has done so since the committee's inception in 1975. SEAC is requirement of the Federal Individuals with Disabilities Education Act (IDEA). Its purpose is to advise the State Board of Education in the field of special education. The Board appoints the Committee's 27 members for three-year terms. Each member represents an interest group who has a stake in the teaching and learning of special education students. A delegate on this committee represents the LDAM.

For the past 40 years and continuing to this day, the Learning Disabilities Association of Michigan has played an important role in advocating for and helping people with learning disabilities and their families in Michigan and nationally. The organization continues to promote enhancements in the quality of life for all individuals with learning disabilities and their families as well as the advancement of knowledge about learning disabilities through advocacy, education, training, service and support of research.

Presidents of the Organization

| Date | Event |
| --- | --- |
| 1962-1963 | Ruth Katzman |
| 1963-1964 | Al Katzman |
| 1964-1966 | Conrad P. Bittner |
| 1966-1968 | Lee Hasslinge |
| 1968-1970 | Robert Riggs |
| 1970-1971 | Nan Hinrichsen |
| 1971-1972 | Elain Niver |
| 1972-1973 | Al Katzman |
| 1973-1974 | Jim Eubanks |
| 1974-1975 | Gerald "Jerry" Everson |
| 1975-1976 | Carol Bollman |
| 1976-1977 | Ed and Lorraine Notman |
| 1977-1978 | Judith Haught |
| 1978-1980 | Jackie Sipple |
| 1980-1981 | Lou Stewart |
| 1981-1983 | Helene Gruber |
| 1983-1985 | Pat Lustig |
| 1985-1986 | Sylvia Perttunen |
| 1986-1988 | Florence Curtis |
| 1988-1990 | Pat Lewis Gawne |
| 1990-1992 | Linda Ries |
| 1992-1994 | Caryn Edwards |
| 1994-1996 | Walt DeRyke |
| 1996-1998 | Linda Ries |
| 1998-1999 | Amy Winans and Linda Ries |
| 1999-2001 | Kendra Tobes |
| 2001-2003 | Amy Winans |

Acquisition Information:

The record group was donated by the Association in November 2003. Donor # 9365
Subjects
Click on terms below to find any related finding aids on this site.
Contents
Using These Materials
---
RESTRICTIONS:

The records are open without restriction.

USE & PERMISSIONS:

Copyright is held by the Regents of the University of Michigan but the collection may contain third-party materials for which copyright is not held. Patrons are responsible for determining the appropriate use or reuse of materials.
PREFERRED CITATION:

[item], folder, box, Learning Disabilities Association of Michigan Records, Bentley Historical Library, University of Michigan